Looking for the best restaurants in Portland, Oregon? This Portland Restaurant Guide is an in-depth and constantly updated list of some of our personal favorite best Portland restaurants.
Allora
NW Portland | Italian | Pastas, Salads, Italian Wine
Allora is a sweet, cozy little Italian cafe on the corner of NW 9th and Glisan Street in Portland's Pearl District neighborhood. The restaurant is split with a loft level, and there is outdoor patio seating on 9th.
The service is warm and friendly here, and the food is just as comforting. The Rigatoni Pomodoro e Prosciutto is rich and creamy, and the Spaghetti Carbonara got a special double nod of approval from our son, who is a bit of a Carbonara connoisseur.
You'll find Italian wines by the glass or bottle, reasonable priced. The desserts include a luscious Nutella Tiramisu that cannot be missed!
This is a cozy neighborhood eatery that's great for meeting friends. The inside can get a little noisy so it might not be the best place for an intimate date, as you're also pretty close to your neighboring diners. But it's a fun, lively, warm atmosphere with fantastic Italian food.
HOURS: Daily, 4 - 10pm
504 NW 9th Avenue, Portland, OR 97209
Read our full Allora restaurant review.
For more information or to make reservations, visit the Allora website.
Fogo de Chao
Downtown, SW Portland | Brazilian | Steak, Chicken, Meat
Fogo de Chao is a meat lover's dream restaurant. Fogo elevates the centuries-old Brazilian cooking technique of churrasco – the art of roasting high-quality cuts of meat over an open flame. Dining here is truly an experience you won't forget!
There's also a ginormous salad bar and vegetarian options, so nobody walks away hungry.
930 SW 6th Ave
Portland, OR
HOURS:
Lunch 11:30am - 2:00 pm
Dinner:
MON - THU 3:00 - 9:30 PM
FRI 2:00 PM - 10:00 PM
SAT 2:00 PM - 9:00 PM
SUN 2:00 PM - 9:00 PM
Read our Fogo de Chao restaurant review for more details.
Lechon
Downtown Portland | South American-Inspired | Tapas, Empanadas, Ceviches
South American-inspired restaurants aren't exactly plentiful in Portland, so when one as good Lechon comes along, you need to check it out. Chef Jaco Smith opened the space in 2015 after working for renowned chefs (and as one) in locations around the world.
Items to explore on the menu include the tapas dish Pastel de Choclo (Chilean beef and corn pie), the Spiced Tuna Tiradito (a Peruvian raw fish dish with orange leche de tigre), and the Peruvian Roasted Chicken with corn, sweet potatoes, and salsa criolla.
HOURS: Tue-Thu: 4pm to 9pm
Sat-Sun: 4pm to 10pm
113 SW Naito Pkwy, Portland, OR 97204
Full restaurant review coming soon
Olympia Provisions
Downtown, SE Portland | American | Charcuterie, Brunch, Sandwiches
When you mention the word charcuterie in Portland, Oregon, there's one restaurant that instantly comes to mind: Olympia Provisions. They offer several charcuterie boards to choose from in case you have a hard time deciding between all of the delicious options.
They range from the Spanish Board (including 3 Spanish salamis and chorizo), the French Board (with 2 French saucissons and pâté) and the Ham Board (featuring sweetheart ham and capicola). But meat isn't the only thing they do. The Seafood Stew with mussels, clams, and trout in a white wine broth is hearty and satisfying.
HOURS: Mon-Thu: 11:30am to 9pm (SE Washington location)
Fri: 11:30am to 10pm
Sat: 10am to 10pm
Sun: 10am to 9pm
107 SE Washington St, Portland, OR 97214 (Restaurant)
3384 SE Division St, Portland, OR 97202 (Public House)
780 SW Broadway, Portland, OR 97205 (Food Cart)
Read the Urban Bliss Life restaurant review of Olympia Provisions
PDX Sliders
SE Portland | American | Burgers, Sandwiches, Salads
If you're going to focus on one thing, it helps to do it really well. This Southeast Portland eatery offers larger sandwiches and salads on their menu, but it's the sliders that should command your attention.
For something more traditional, go for the Fremont, made with beef, bacon, American cheese, and roasted jalepeño. If you prefer something other than beef on your sliders, check out the Broadway featuring braised pork with peppers and baby arugula. And the vegetarian St Johns, made with portabella, roma tomatoes, and goat cheese is a solid non-meat option.
HOURS: Mon-Sun: 11am to 10pm
1605 SE Bybee Blvd #5714, Portland, OR 97202
Phuket Cafe
NW Portland | Thai
Everything we have ever eaten at Phuket Cafe - every single bite - has been incredible. Not just good, but amazing. This is Thai food at its finest. Phuket Cafe is the sister restaurant to Langbaan, which takes over the main dining space on Friday and Saturday so Phuket Cafe has seating in their heated outdoor space on those days.
We love the whole fried pompano fish, the Thai paella, and the rib eye. For dessert, don't skip the dairy-free panna cotta if it's available, and the shaved ice.
You'll find delicious cocktails, a small but thoughtful beer & wine list, and sides.
Hours: Sunday - Thursday, 5 - 9pm
Address: 1818 NW 23rd Place, Portland, OR 97210
Website: https://www.phuketcafepdx.com/
Piazza Italia
NW Portland | Italian | Pasta
Eating at Piazza Italia is like having a meal with your favorite Italian relatives. The fact that one of the owners was from Rome and the staff is mainly family and friends may have something to do with it. The cozy space is adorned with soccer (or football) jerseys and the air is filled with familiar aromas of Italian cooking.
Pasta is the star player here. Dishes such as La Burina (rigatoni pasta with crumbled Italian salsiccia) and Bucatini All'Amatriciana (with pancetta in a red wine and tomato reduction) are popular mainstays. The Linguine with Clams is also delightful.
With menu items like Kids Bolognese and Kids Creamy Pesto, Piazza Italia is also great for families. We LOVE Piazza Italia!!
Hours: Sun-Wed: 5pm to 9pm, Thu-Sat: 5pm to 10pm
Address: 1129 NW Johnson St, Portland, OR 97209
Website: piazzaportland.com
Full restaurant review coming soon
Pine State Biscuits
SE, NE, NW Portland | Southern | Breakfast, Brunch, Sandwiches
Photos coming soon
A hankering for some familiar tastes of home led to the creation of this longstanding, popular Portland concept. The 3 guys behind it longed for the buttery, flaky biscuits they used to have in their native North Carolina. But failing to find them in the Rose City, they decided to take matters into their own hands. And Pine State Biscuits was born.
Here, biscuits are transformed into pillowy soft sandwiches like the Essential (made with grilled marinated steak, grilled onions, and roast pepper aioli) and the Veggie Reggie (vegan sausage patty, tofu bacon and shiitake mushroom). But if you're more of a traditionalist, you can't go wrong with the straight up Biscuits and Gravy. You'll just have to decide between the sausage or mushroom gravy topping.
HOURS: Mon-Thurs: 8am to 2pm (SE Portland location)
Fri-Sun: 7am to 3pm (SE Portland location)
1100 SE Division St #100, Portland, OR 97202
1717 NW 23rd Ave, Portland, OR 97210
2204 NE Alberta St, Portland, OR 97211
Portland City Grill
Downtown Portland | American/Pacific Northwest-Inspired | Steak, Seafood
A popular Portland restaurant for business meetings, prom dates, and other special occasion dining, Portland City Grill will celebrate its 20th anniversary in 2022. This upscale fine dining restaurant is located on the 30th floor of the US Bancorp Tower – AKA Big Pink – in downtown Portland, offering some of the best restaurant views of the city.
Here you'll find classic Pacific Northwest-inspired cuisine for diners seeking good, reliable, traditional fare with a view. As part of the Restaurants Unlimited group, the menu sticks safely with tried and true dishes like crab cakes, prawn cocktails, and Caesar salads.
For your main course, enjoy the Seared Scallops ($45) or splurge on arguably the city's fanciest surf and turf: the American Wagyu Top Sirloin and Salmon Oscar ($70). The wine list is extensive and sways heavily toward Pacific Northwest wines, which is a treat especially if you've got guests dining with you from out of town.
111 SW 5th Ave. 30th Floor
Portland, OR 97204
(503) 450-0030
Hours:
Sun-Wed: 4:00 PM - 9:00 PM
Thur-Sat: 4:00 PM - 10:00 PM
Currently not serving happy hour
For the latest restaurant updates, visit the Portland City Grill restaurant website
Punchbowl Social
Downtown Portland | Upscale Bar Food | Tacos, Burgers, Cocktails
Located in downtown Portland on the third floor of Pioneer Place Mall, Punchbowl Social is a fun, happening place to meet up with friends and coworkers.
Throughout this sprawling 32,00 square foot indoor adult playground, there's bowling, private karaoke rooms, table games, and an arcade. Punchbowl social is reportedly working on a new menu, but right now you can grab food such as tacos, burgers, nachos, hummus, and fries.
And, of course, you'll find beer, wine, and an assortment of cocktails. Unfortunately, with the current state of the world, you won't find their namesake punchbowls on the menu right now. But you will find creative seasonal cocktail punches you can order as single drinks.
340 SW MORRISON ST. SUITE 4305
PORTLAND 97204
On the third floor of Pioneer Place Mall
(503) 334-0360
HOURS: Mon-Thurs: 11 AM -11 PM
Friday-Sat: 11 AM-1 AM
Sun: 11 AM -11 PM
Must be 21+ from 11 PM -CLOSE
HAPPY HOUR: Sun-Fri: 4 PM -6 PM
BRUNCH: Sat & Sun: 11 AM -3 PM
Q
Downtown Portland | Pacific Northwest-Inspired | Pork, Seafood, Steak
Located in the heart of downtown Portland, Q is the ideal place for date night, to meet up with a friend for drinks, or to take out of town guests who want to enjoy regional cuisine. Its Northwest-inspired menu features what its chefs call "hyper seasonal food, sourced locally." That means the menu changes frequently, based on what's freshly available. It also means an ever-evolving array of delicious dishes to try.
Some highlights currently on the menu include the airy Smoked Trout Mascarpone Mousse, the Grilled Whole Branzino (bass fish) with pistachio basmati rice, and the Pork Shank braised in stout and cider.
HOURS: Tue-Fri: 11:30am to 8:45pm
Sat: 5pm to 8:45pm
828 SW 2nd Ave, Portland, OR 97204
Read the Urban Bliss Life restaurant review of Q
Quaintrelle
SE Portland | New American | Seafood, Vegetarian, Duck
Recently relocated from its previous space in North Portland to a fresh, new spot on Southeast Clinton, Quaintrelle features what it calls "unpretentious dishes" using Pacific Northwest ingredients.
Currently, some of those ingredients are being used to create dishes like Oysters with Watermelon and Jalapeno and Mousse de Foie Volaille (a kind of chicken liver pâté served here with apricot, celery, and peanut brittle). You can order from the menu à la carte or opt for one of three Chef's Tasting menus ranging in price from $105 to $185.
Wine lovers will find one of our personal favorite wine lists here at Quaintrelle.
HOURS: Wed-Sun: 5pm to 9pm
2032 SE Clinton St, Portland, OR 97202
Full restaurant review coming soon
Radar
North Portland | New American | Brunch, Seafood, Brisket, Pork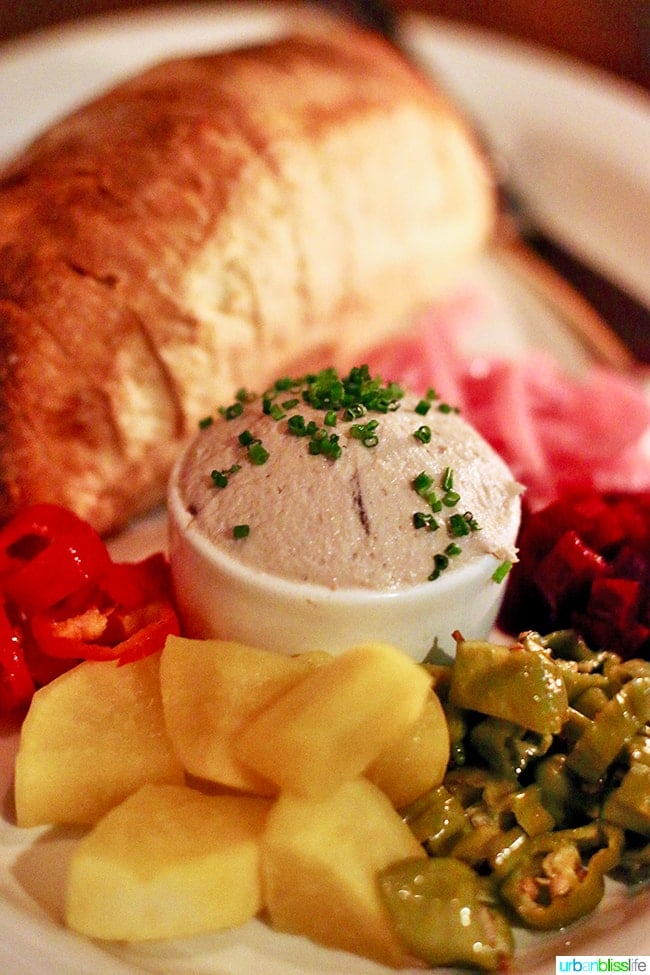 If you don't know where Radar is, you might miss it: it's a sliver of a restaurant wedged between other businesses on bustling North Mississippi Avenue. But you'll be kicking yourself if you do.
This cozy bar and restaurant specializes in Northwest food with Scandanavian influences. The Smoked Pork Shoulder with chile puree is a delectable starter, as is the Smoked Bluefish Pâté with pickled vegetables. For an entree, try the Swordfish with kalamata tapenade. If you go, limited walk-in tables are available but reservations are recommended.
HOURS: Thu-Fri: 5pm to 8:30pm
Sat-Sun: 9:30am to 1pm; 5pm to 8:30pm
3951 N Mississippi Ave, Portland, OR 97227
radarpdx.com
Read the Urban Bliss Life restaurant review of Radar
RingSide Steakhouse
West Portland | American | Steak, Seafood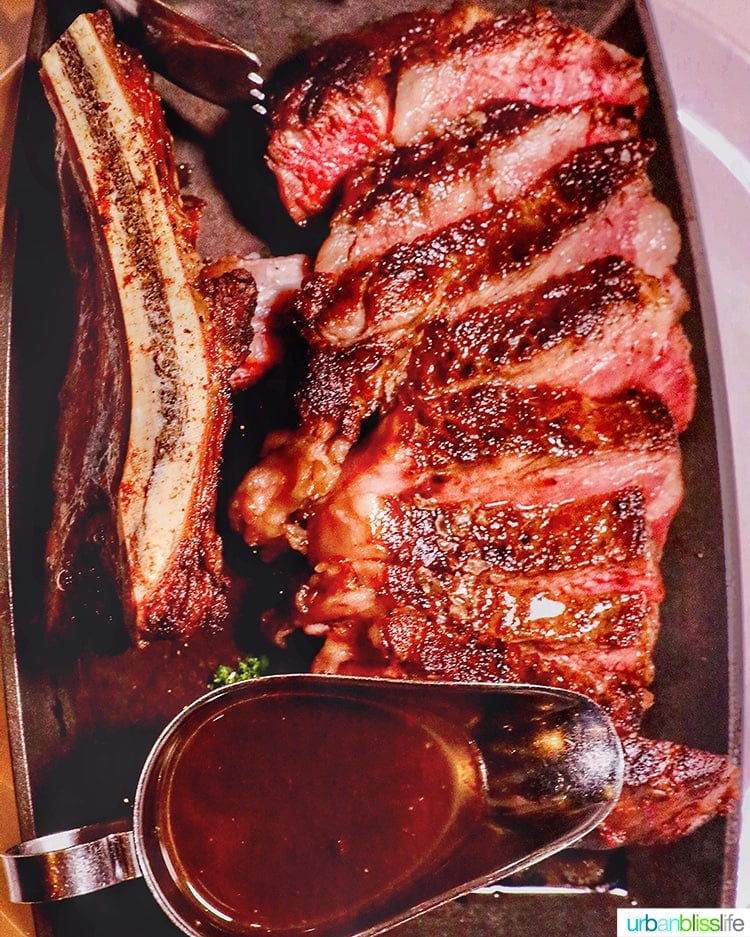 Walking through the doors of RingSide steakhouse is like stepping back in time. The dark, intimate-feeling dining room is home to formally dressed waiters who know their steaks and will have you feeling like you're their only table.
This local mainstay has been serving up some of the city's finest steaks for over 75 years, so they know what they're doing. When it comes to red meat, you can choose from Choice, Prime and Dry Aged options (that are aged a minimum of four weeks). We recommend the Dry-Aged Prime Bone-in Ribeye cooked medium rare. But there's more to RingSide than just steak. Combine it with the Maine Lobster Tail for a delicious surf and turf.
HOURS: Wed-Fri: 5pm to 10pm
Sat-Sun: 4pm to 10pm
2165 W Burnside St, Portland, OR 97210
Rock Paper Fish
East Portland | American | Seafood
If you've had traditional fish and chips, chances are the batter was the thicker, maybe beer-battered crust used in many British recipes. Rock Paper Fish does something different. Their "New England Style" fish and chips forgoes the heavy batter for a thinner, airier one. That helps prevent the fish from becoming soggy and helps it travel better -- important these days since they only do take-out right now.
You won't go wrong with either the cod or halibut fish and chips here. The Dungeness Crab and Shrimp Roll (Marlynn's favorite) is worth reeling in as well. And for an extra special catch, try the Clam Chowder Poutine Chips.
HOURS: Wed-Sun: 11am to 9pm
2605 E Burnside St, Portland, OR 97214
Full restaurant review coming soon
Screen Door
East Portland, NW Portland | Cajun/Creole | Fried Chicken, Gumbo, Seafood
If you're the kind of person who could eat fried chicken for breakfast, lunch, and dinner (that's Marlynn), then you owe it to yourself to head over to Screen Door. There are 2 locations; one on East Burnside, the other in the Pearl, making it a convenient option for whatever side of the city you're on.
If you stop in for brunch, you can't go wrong with the Chicken and Waffles, made with sweet potato waffles and buttermilk-battered fried chicken. There are also plenty of chicken items to choose from on the dinner menu, but if you're feeling adventurous try the Seafood Jambalaya featuring rockfish, shrimp, oysters, and andouille sausage over long grain rice. It's a southern dish sure to put a smile on your face.
HOURS: Mon-Sun: 9am to 2:30pm; 5pm to 9pm (SE location)
2337 E Burnside St, Portland, OR 97214
1131 NW Couch St, Portland, OR 97209
Full restaurant review coming soon
Serratto
NW Portland | Italian | Pasta, Pizza, Seafood
Anyone who's lived in Portland for a while is probably familiar with Serratto. But if you haven't been in recently, now be the time for another visit. Serratto specializes in Italian favorites like pizza and pasta, but with an elevated flair. And not all dishes fit the traditional Italian mold.
Take for example the Kale Salad. This simple yet delightful starter features pine nuts, honeycrisp apple, and tart cherries in an apple cider vinaigrette. When you've finished that, try the Seared Sea Scallops with asparagus and cherry tomatoes. For a satisfying pasta dish, the Four Cheese Ravioli with roasted butternut squash cream is fresh and delicious.
HOURS: Sun-Thu: 4pm to 9pm
Fri-Sat: 4pm to 10pm
2112 NW Kearney St, Portland, OR 97210
Read the Urban Bliss Life restaurant review of Serratto
Soro Soro Bakery
East Portland | Bakery | Cakes
If you need to satisfy your sweet tooth, or you just need something to smile about, consider stopping by Korean cafe Soro Soro. It's the cutest bakery in Portland! The eastside bakery serves up whimsical and decorative Japanese desserts that taste as good as they look.
Some of our favorites include the multi-colored and multi-layered Rainbow Cake, the adorable Chocolate Bear Roll Cake, and the light and airy Tiramisu. If you're looking for something to drink along with your dessert, Soro Soro also has a full menu of iced and hot coffee and tea drinks.
HOURS: Tue-Fri: 8am to 6pm
Sat-Sun: 11am to 3pm
2250 E Burnside St, Portland, OR 97214
sorosoropdx.com
St. Honore Boulangerie
Downtown, NW, SE Portland | French Bakery | Pastries, Desserts, Quiche
St. Honore bakeries, located around the Portland metro area, have the feeling of a typical French cafe. The charming old-world decor creates a cozy, welcoming vibe. But it's the food that will give all the feels. From freshly baked bread and pastries to French-inspired entrees, St. Honore has your French fix covered.
Start with the Croque Monsieur made with brioche, Emmental cheese, and Black Forest ham. Then try the vegetarian Provence Panini featuring fresh mozzeralla, basil, and Niçoise olives. For dessert, we're a sucker for the Eclair Chocolat and the Macarons.
HOURS: Mon-Sun: 6:30am to 7pm (NW location)
2335 NW Thurman St, Portland, OR 97210
501 SW Broadway, Portland, OR 97205
3333 SE Division St, Portland, OR 97202
St. Jack
NW Portland | French | Seafood, Steak Frites, Pâté
St. Jack offers a Pacific Northwest-meets-South-of-France vibe. The large dining space is great for a meal with friends or a more intimate night out for two.
As for the food, if you like French and seafood, you're in the right spot. The unfussy yet delicious Mussels Mariniere features garlic, shallots, and capers in a white wine sauce is a good place to start. Then move on to the Salmon aux Champignons made with porcini mushrooms. If red meat is more your jam, the simple yet satisfying Steak Frites will fill you up in the best way.
St. Jack also has a newer location in Lake Oswego that we haven't had a chance to visit just yet but hear it's just as fantastic!
HOURS: Tue-Sat: 5pm to 10pm
1610 NW 23rd Ave, Portland, OR 97210
Read the Urban Bliss Life restaurant review of St Jack
Swift and Union
North Portland | American | Sandwiches, Burgers, Salads, Steak
You can never have too many great pubs in a neighborhood. And if you're lucky enough to live in the Kenton area of North Portland, Swift and Union may become your next go to. Specializing in seasonal, comforting pub food, this eatery serves up familiar dishes that will satisfy everyone in your family.
If you're craving a burger, they have several to choose from, including the Lamb Burger with dijon mustard, arugula, and pickled red onions and the Swift Burger with bacon jam and buttermilk bleu cheese. Other favorites include the Smoked Pork Chop and the Steak Banh Mi. There's also a kids' menu featuring staples like Fish & Chips and Chicken Tenders.
HOURS: Sat-Thu: 11:30am to 9pm
Fri: 11:30am to 10pm
8103 N Denver Ave, Portland, OR 97217
Tusk
East Portland | Middle Eastern | Hummus, Falafel, Salads
Portland's list of Middle Eastern inspired restaurants continues to grow. Among the best, in our humble opinions, is Tusk. Everything here is well thought-out, from the elegant speckled plates, bowls, and smiley face coffee cups to the beautiful bar and European cafe chairs.
But it's the food that really shines. The menus at Tusk consist mainly of vegetable-forward dishes. You can certainly order items with meat in them, but even the biggest meat-and-potatoes lover can order a complete vegetarian meal here and easily be more than satisfied. Try the Falafel and Labneh with zhoug, squash amba, rose petals, and sicilian pistachio or the Hot Turkish Hummus with buttered leeks and fried chickpeas. If you're craving meat, the Berbere Spiced Kafta is a tasty choice.
HOURS: Wed-Sun: 5pm to 9pm
2448 E Burnside St, Portland, OR 97214
Read the Urban Bliss Life restaurant review of Tusk
Vaux
NW Portland | Pacific Northwest | Seafood, Pork, Pizza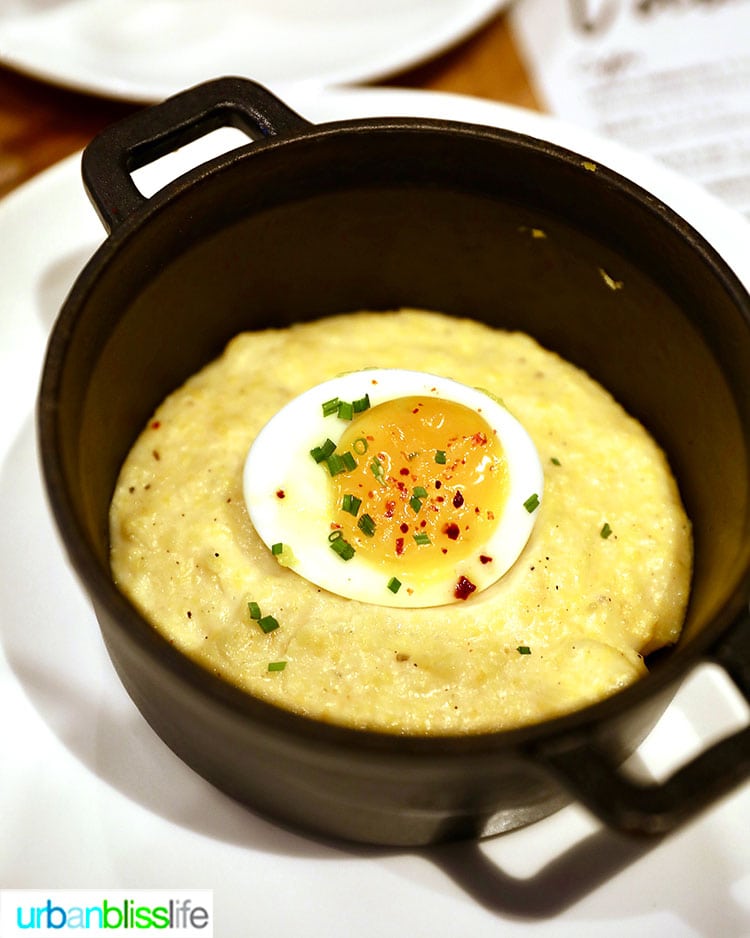 Vaux is the on-site restaurant of Portland's Canopy Hilton hotel in the Pearl District. It's located on the first floor just behind the lobby. The menu currently features a variety of breakfast and dinner items using seasonal, local ingredients.
The dishes are inspired by the Pacific Northwest, but they also have some French and Italian influences. For starters, we suggest the oak and hickory Smoked Steelhead. For a hearty entree, try the Beef Bourguignon with garlic mashed potatoes. If you have room for dessert, consider the Basque Style Cheesecake with brown turkey fig and honey whipped cream.
HOURS: Tue-Thu: 5pm to 9pm
Sat-Sun: 5pm to 10pm
425 NW 9th Ave, Portland, OR 97209
Read about Vaux restaurant in our full travel article featuring the Canopy Hilton hotel
Verdigris
NE Portland | French | Chicken, Beef, Seafood
Verdigris is the kind of neighborhood spot you wish for when you move to a new 'hood. It's an inviting bistro space with a cozy and casual vibe. Not only does it serve a 3 course French-inspired dinner menu for just $40, it's also one of the city's best brunch options.
Popular brunch items include the Ham & White Bean Cassoulet with fried eggs, fennel sausage, and persillade and the Eggs Benedict with country ham, brown butter hollandaise and crispy russets. If you go for dinner, try the Shellfish Fettuccine with scallops, mussels, clams and shrimp.
HOURS: Wed-Thu: 3pm to 7pm
Fri: 3pm to 8pm
Sat: 10am to 8pm
Sun: 10am to 7pm
1465 NE Prescott St, Portland, OR 97211
verdigrisrestaurant.com
Read the Urban Bliss Life restaurant review of Verdigris
---
The Portland restaurants featured in this Portland Restaurant Guide are establishments that we have personally visited, both on our own dime and as part of media visits. This guide is updated monthly. For the most recent photos, be sure to follow us on Instagram, where we regularly highlight Portland restaurants in our Instagram stories and feed.
If you visit, please be sure to let them know that you read about it on Urban Bliss Life! And if you snap some pics, tag us @UrbanBlissLife and #UrbanBlissLife on Instagram, TikTok, Twitter, and Facebook.
More Portland, Oregon guides
More food and travel guides
PIN IT to save this guide for later!
---
Restaurant Photography
We take every single photo for this website. These photos may not be used anywhere else, including (especially!) on social media, without our written permission.
Some of the food photos, especially from 2020 and 2021, are from take-out orders that have been re-plated at home.
We do offer restaurant photography services and licensing of our photos on a very limited basis.