The words Russian Food Portland may seem like an odd combination, but one local eatery is looking to change that. Kachka offers a large happy hour menu with the most interesting and delicious array of Eastern European dishes and house vodkas.
I fell in love with Kachka under the most intense summer sunset.
It was at Night Market during Feast Portland, and every time I think of Kachka, I think of that plate of near perfect little pelmenis.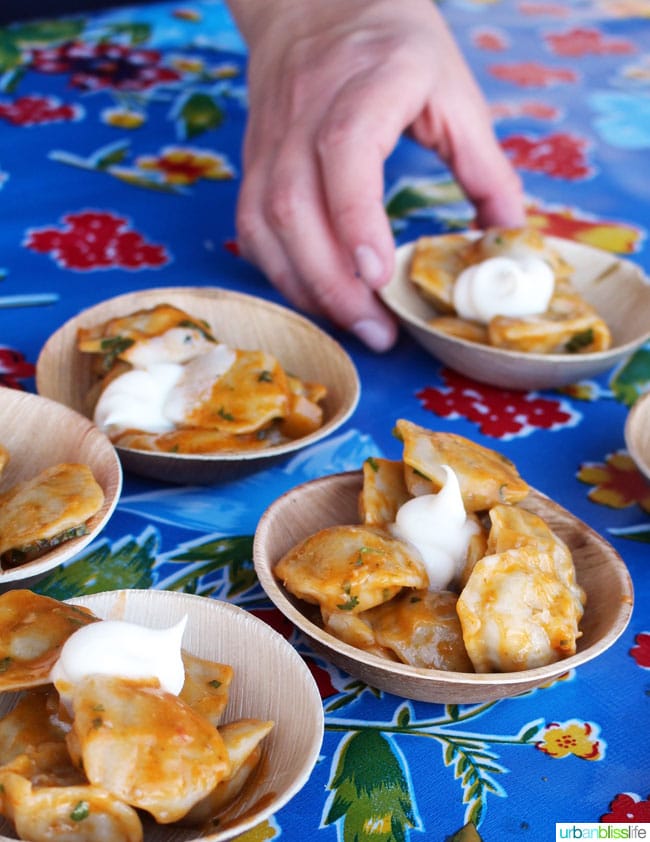 Until that night, I didn't even know what a pelmeni was... and since that night, I can't stop thinking about them!
Luckily, you and I can both get our fill of these delicious Russian dumplings at Kachka.
Russian food in Portland
Chef Bonnie Morales and husband Israel Morales opened Kachka in 2014. A long, narrow space on Grand Avenue in Southeast Portland, Kachka envelopes you into its world of Eastern European cuisine and casual, comfortable vibe as soon as you step through the doorway into the low-lit restaurant. Here, Chef Morales creates dishes from the former Soviet Union, including many dishes she grew up eating with her Belarusian family.
Happy hour
Kachka is open daily from 4pm to midnight, with the full dinner menu being served from 4 pm to 10pm. Meals here, both during happy hour and dinner times, begin with traditional zakuski, plates of various Russian appetizers. If you're new to Russian cuisine and Kachka, I highly recommend checking out their happy hour, which is served between 4 and 6pm and again between 10pm and midnight. This year, Kachka expanded its happy hour menu with some exciting new additions. Prices for dishes shown below are for current happy hour prices, unless otherwise noted.
Start with the caviar, because it's probably not something you order every day in restaurants, but the caviar served at Kachka is accessible and served in abundance. And, it's currently a summertime special (although that may change).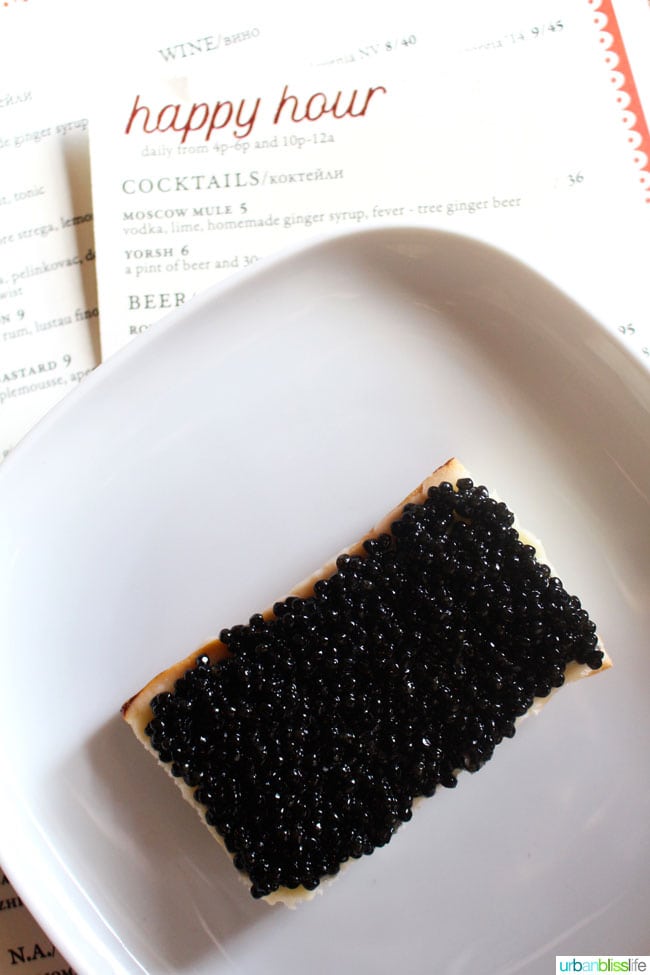 Caviar & Egg Salad ($10) Egg and cheese salad served on rye grenki and topped with sustainably raised Tsar Nicoulai white sturgeon caviar.
Now that you have indulged right off the bat, move onto some of the plates that are meant to be shared.
From the Dacha ($6) is a delightful plate of crudités inspired by the summertime produce grown in the countryside farms of the former USSR and served with buckwheat honey butter and dill vinaigrette. From the Dacha is pictured above alongside Semechki ($2), which are black sunflower seeds.
Another great sharing plate is Slava's Drinking Board ($12). Named after Chef Bonnie Morales' father, this platter includes a spread of house made pickles, cured meats, Russian druzhba cheese -- all the proper foods to consume with vodka, according to Slava.
You can also order a plate of Assorted Pickles ($6), which usually consists of watermelon, patty pan squash, cucumbers, tomatoes.
Crimean Mussels ($5) are a tasty little happy hour treat! These are soy-marinated Mediterranean mussels.
One of the more adventurous and unique offerings at Kachka, which is on both the dinner and happy hour menus, is Taranka ($3). It's like fish jerky, and it's a great happy hour dish to nosh on while enjoying one of Kachka's many, many, MANY vodkas on the drink menu.
You can, of course, order those delicious dumplings I mentioned in the beginning. During happy hour times, you can choose from the Tvorog Vareniki ($8), which is the beautiful dish of scallion and farmer's cheese-filled dumplings pictured above, and the Siberian Pelmeni ($9) which are dumplings filled with beef, pork, veal and onion (pictured at the top of this post).
For a super light, refreshing happy hour menu item, try the Pickle Soup ($4). Also known at Kachka as "Russian Gatorade" for its ability to restore electrolytes, this chilled soup is tart & cooling, made with pickle brine, sour cream and herbs.
Many of the happy hour menu items pictured above are also served at dinnertime, and one item that is on the dinner menu but not the happy hour menu is Baltic Sprat Buterbrodi ($7) - tiny smoked fish with parsley mayo on pumpernickel toast.
Drinks
Of course, I would be remiss if I were to write about Kachka and not mention the vodkas.
The drink menu is extensive, with plenty of cocktails and wines by the glass, and, as you might expect, an impressive selection of vodkas. Earlier this year, Kachka released their Horseradish Vodka, which you can enjoy at the restaurant, or purchase at New Deal Distillery and select Oregon liquor stores. This vodka is MADE for bloody marys, y'all!
Visit
I adore Kachka, and the hardworking and fun team behind it. This is probably one of my fave picks for happy hour in Portland, and a great place for date night happy hour, or to meet up with friends or co-workers after a long day's work. It is kid-friendly (there have always been kids here in the three times I have visited), but if you have super picky eaters like mine, try starting with the pelmeni or vareneki before diving into the other items.
Whether you go for happy hour or dinner, I think you'll enjoy the casual, jovial vibe, the attention to detail Chef Morales and her team pay to each plate, and you'll soak up the fact that you can have a happy hour that is more elegant than baskets of heaping fried everything.
720 SE Grand Avenue
Portland, Oregon
HOURS: Daily, 4pm - midnight
Happy Hour: 4-6pm and 10pm-midnight
Dinner: 4pm - 10pm
kachkapdx.com
Have you enjoyed a meal of Eastern European zakuski before?

I attended a happy hour media event as well as the launch of their Horseradish vodka and enjoyed the food and drinks pictured here courtesy of Kachka, but I have also eaten here on my own dime. As always, all opinions and photos are my own. I only write about places, events, experiences, and products I personally enjoy and believe you will as well!