Welcome to Urban Bliss Life, a leading expert food, wine, and travel blog! If you are a food, wine, and/or travel company looking for a brand partner, this is the place for you.
Since 2004, Urban Bliss Life has been providing food, wine, and travel lovers expert travel advice, well-tested recipes, expert wine reviews, tips, and pairings, and home entertaining ideas. We work with high-end food brands, restaurants, wineries, hotels, airlines, visitors bureaus, and more to help connect you with the right audience.
Please e-mail info [at] urbanblisslife.com to discuss sponsorship ideas.
NOTE: currently, we are scheduling long-term brand partnerships for 2024. We prefer to work with brands for a minimum of three months, with preference for year-long partnerships. If you are a high quality food brand seeking a long-term online recipe development partner with a mostly female, family-focused audience in the US, please reach out. We'd love to chat!
Work with our Food, Wine, Travel Blog
We work with high quality gourmet & artisan food, wine, and travel brands in a variety of ways. For food and wine brands, we offer the following:
Sponsored blog posts featuring our experience using food, wine, and travel products (samples are non-returnable).
Sponsored recipe development & photography for feature on UrbanBlissLife.com.
Recipe development and photography for brand websites and marketing materials.
Sponsored social media campaigns.
Year-long brand ambassador positions for food, wine, and travel brands.
Sponsored Travel, Press Trips
All travel stories on Urban Bliss Life are first-hand experience stories gathered from press trips or sponsored media visits. We happily travel all around the globe, with a strong culinary travel story angle combined with family travel and adventure travel.
Please e-mail Marlynn for day rates for sponsored press trips, as well as more information. We would love to work with you to help promote your fabulous destination!
Wine Samples + Winery Features
All wine content on Urban Bliss Life are first-hand experience posts featuring wineries we have personally visited and wines we have personally tried and enjoyed. We do accept wine samples; please e-mail Marlynn for the mailing address for wine shipments. We do usually do wine unboxing/happy mail day videos in our Instagram stories within a week of receipt of wine shipments, but please note that we never guarantee coverage. Our content is usually built 2 to 3 months out; for example: we create our winter holiday wine content in August/September.
Note: we're currently working very hard to revamp the wine section of the blog. In 2022, it will be a new, sparkling, robust section that will help our audience learn more about wines in easy, accessible ways; find the wines they're looking for faster; and we'll have wine tasting itineraries.
About Marlynn Jayme Schotland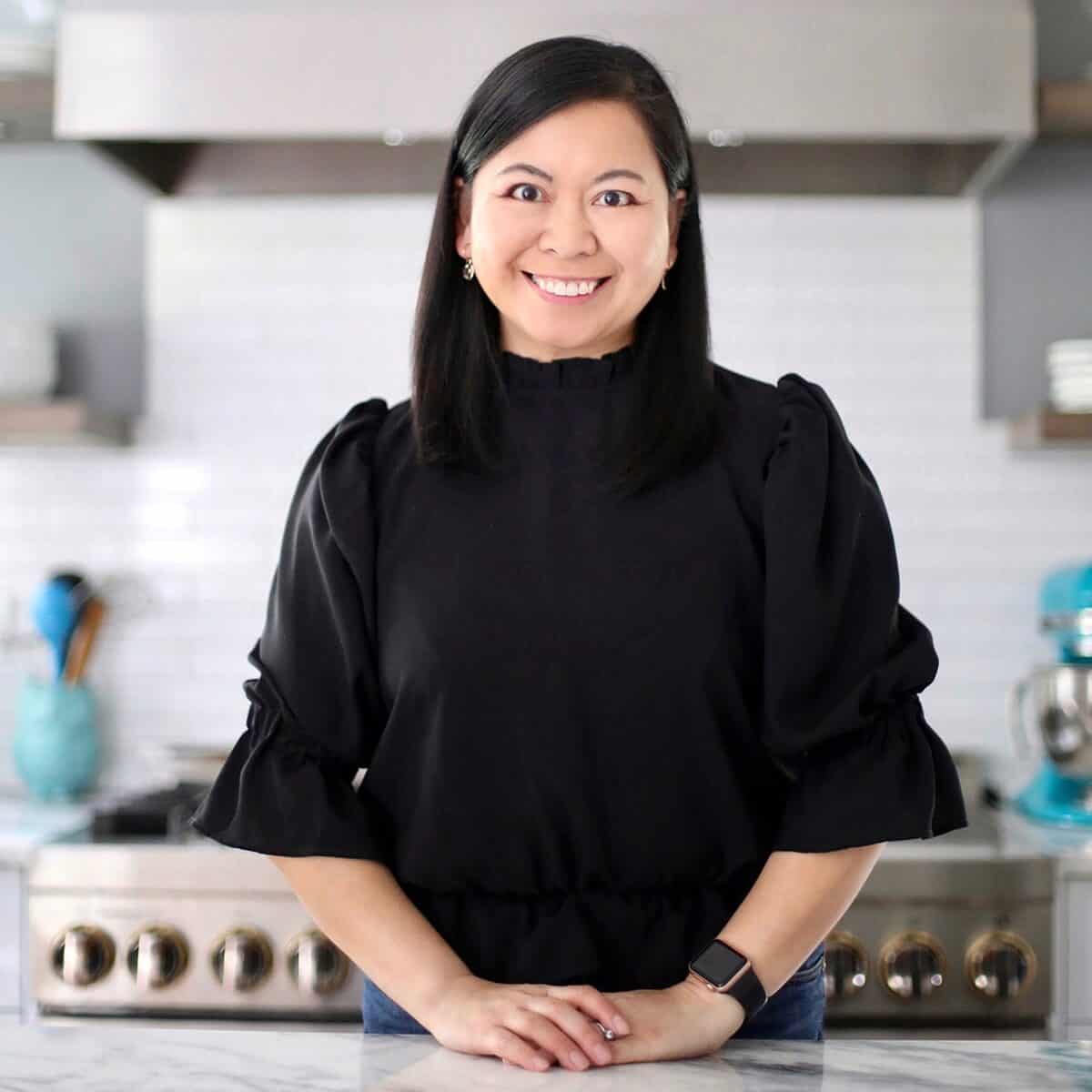 Marlynn launched Urban Bliss Life as a new mom in 2004, sharing her life, recipes, wine finds, and travels in the then brand new blog-o-shphere. A self-taught cook, she takes cooking & baking classes whenever she can. Her favorite foods: pasta pasta pasta, shrimp, and bacon.
Marlynn has deep appreciation for wine - how it's made, for the grapegrowers and winemakers, for how it can enhance the flavors of food - and holds a WSET 2 with Distinction wine certification. Her favorite wines: Oregon Pinot Noir and Sparkling Rosé.
Marlynn travels 1 to 3 times a month, both with and without family. Her favorite places: Japan, Greece, Switzerland, the Oregon Coast, and New York City.
Above all, Marlynn is a friend, confidante, and cheerleader for all of the good people she meets on line and in person. She's a breast cancer survivor, a recovering CEO of too many businesses (sweats over pantsuits!), former PSO (PTA) President and former Soccer and Softball Coach, current British TV and Real Housewives addict, dog lover, and owns too many hoodies to count. She lives her life fully in Portland, Oregon with her college sweetheart husband (go Emerson College!), two kids ages 14 and 17, and furry dog child, Urban Bliss Dog.
About Alain Schotland
Alain joined the Urban Bliss Life team officially in 2019. He's responsible for video content, design, and business management. A former television news producer and longtime marketing executive, Alain brings a creative eye, sharp strategy, and technical skill to the Urban Bliss Life team.
His favorite foods are: steak frites and Thai food.
His favorite wines are: Syrah, Pinot Blanc, and Côte du Rhone.
As a Mid-West boy who spent his middle school and high school years in Switzerland, and is now a citizen of the United States, Switzerland, and the United Kingdom, Alain loves to travel as much as Marlynn does. Sometimes they even travel together! And sometimes, they even bring the kids! 😉
His favorite places are: Italy, Switzerland, and New York City.
Food, Wine, Travel Blog Stats
Site launch: 2004 as Maternity to Madness
Rebranded as Urban Bliss Life in 2012
Audience: Majority of readers are college-educated, professional women, ages 25-45, with school age and older children, residing in the United States. We have a readership that spans across the country, with the majority of our audience based out of major cities and large suburban neighborhoods in California, Oregon, Texas, Washington, New York, Illinois, Massachusetts, and Florida. Outside of the US, Canada and the UK make up the largest international audience group.
Stats as of 2023
2.6 Million Impressions/month
150,000+ Average Monthly Page Views
120,000+ Average Monthly Sessions
39,000 + followers on Instagram
14,000+ followers on Twitter @UrbanBlissLife
7,500+ followers on Facebook
21,300+ followers and 2 million monthly viewers on Pinterest
9,500 newsletter subscribers
Food, Wine, Travel Brands I Have Worked With
::: FOOD BRANDS :::
Finex Cookware // Daiya Foods // Draper Valley Farms // Kroger // Smithfield Foods // Franz Bakery // KitchenAid // OXO // Blue Diamond Almonds // Horizon Organic // Whole Foods Market // UDI's Gluten Free Bakery // Minute Rice // Cape Cod Chips // Foster Farms // Grocery Outlet // McMenamins // KIND snacks // WearEver cookwear // Feast Portland // Tillamook // Pepperidge Farm // Pompeian Oils // Grocery Outlet // New Seasons Market // Graceland Fruit
PLUS: Many BLISSful restaurants
::: WINE BRANDS :::
Walla Walla Valley Wine Alliance // Brooks Winery // Hazelfern Cellars // Rodney Strong Vineyards // Cameron Hughes Wines // Vovetti // McMenamins Distillery // Willamette Valley Vineyards // Dobbes Family Estate // Stoller Vineyards // Durant Vineyards // Argyle Winery // Gallo Family Wines // Columbia Crest Winery // 14 Hands Winery // The Wine Road - Sonoma Wine Country // Starbucks // Thirsty Girl // Snoqualmie Wines // Skinnygirl® Cocktails // Budweiser/Anheuser-Busch
::: TRAVEL BRANDS :::
Visit Japan // Tourism Ireland // Wild Atlantic Way (Ireland) // Visit Karpathos (Greece) // Hilton Athens // Kauai Visitors Bureau // Discover Atlanta // Port of Portland (#NextStopAMS - Amsterdam) // Outrigger Resorts - Hawaii // Fraser Valley, British Columbia, Canada // Hotel Europa - Sorico, Italy // Hawaii, the Big Island Visitor's Bureau // Sonoma Wine Country // Travel Oregon // Visit Atlanta // New Orleans Visitors Bureau // Seattle Visitors Bureau // Idaho Visitors Bureau // Western Montana Visitors Bureau // Destination Missoula // Glacier County Visitors Bureau // Whitefish Mountain Resort // The Wine Road - Sonoma County // Yakima Craft Beverage Tour // Hyatt Regency Hotel
Oregon Coast Aquarium (Newport, OR) // Lava Hot Springs (ID) // The Oregon Coast // Visit Park City (UT) // Sunriver Resort // Visit Walla Walla // Yakima Valley Visitors Bureau
and many more BLISSful food, wine, and travel brands!
E-mail info [at] urbanblisslife.com to discuss sponsorships and brand partnerships.
Testimonials
"Marlynn was by far the best Influencer I've ever worked with! I worked with her on an Influencer Tour from Portland, Oregon to Amsterdam for Sparkloft's Social Media Client - The Port of Portland. From the first out-reach to the follow-up blogs and deliverables post trip, Marlynn was easy-going, fun, savvy, and highly dependable. I would highly recommend Marlynn to any person looking to gain influencer and work with a professional." - Alexandra, Sparkloft Media
"Marlynn is wonderful to work with. It's been a pleasure getting to know Marlynn and working with her on a number of client campaigns (Macy's, Whole Foods Market). She's well-known and respected in the community, and always delivers great content. It's been fun to collaborate, and Marlynn is so easy to work with, it makes the partnership a breeze." -Chelsey, CuratorPR
"I would like to thank you for mentioning my business in your articles, because a family from the US read it and came here for a cooking class and guided tour in Olympos village! Thank you so much!!" - Euaggelia-Marina, Karpathos Ecotourism (Greece)
FAQs
Q: Do you accept guest posts?
A: No, not currently, but thank you!
Q: Do you do product reviews?
A: In general, no. However, if you have a food, drink, and/or travel product that is of high quality and retail value of $300 or more, please contact me with a package proposal for a sponsored post and giveaway. Note: yes, I AM a mom, but I do not write about baby or toddler products.
Q: Do you do giveaways?
A: Not on the blog, but I do giveaways on Instagram, usually only in conjunction with sponsored posts (see starting rates above).
Q: Will you post my client's recipe with our press photos?
A: No. All photos on Urban Bliss Life are original photos taken by me; I do not post stock or press photos, except for the rare occasion that it is required within a paid sponsored post. All recipes posted on the food blog/drink blog are recipes developed by me - or they are recipes of drinks or food from a restaurant or bar I have visited in person and have permission to post their recipes alongside my original photos.