This Dairy-Free Mac and Cheese is the ultimate macaroni and cheese -- without the cheese! Check out my recipe video and print the recipe to make this for dinner tonight!
This post contains affiliate links. Please read my policy page for details.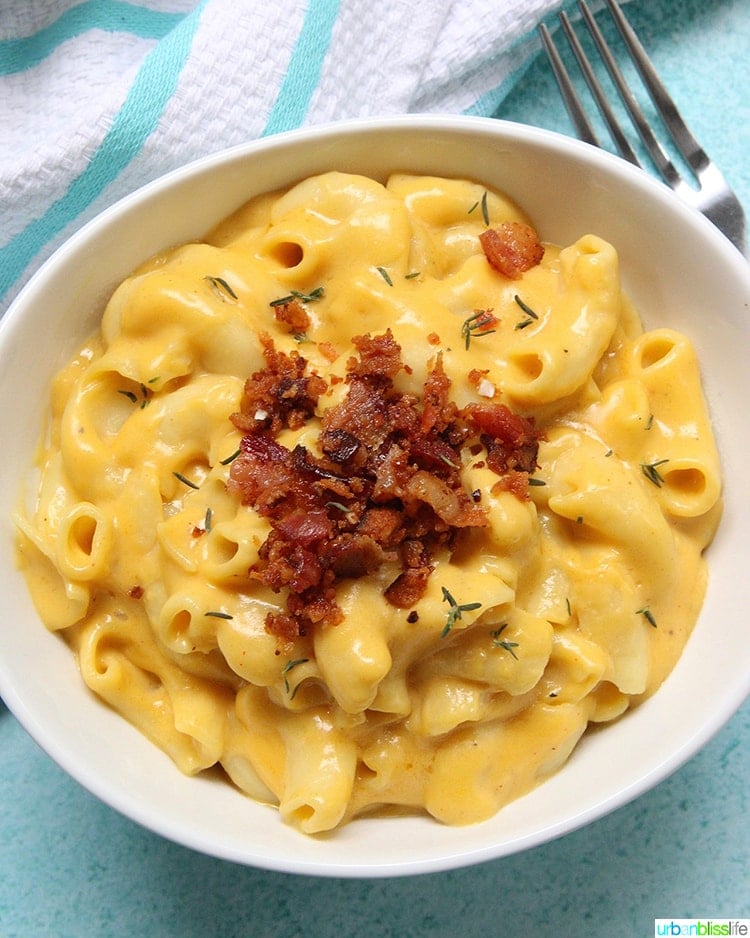 I've been working on making a dairy-free mac and cheese since becoming dairy-free several years ago. You can read about my food allergy and intolerance testing and get some of my first fave allergy-friendly and intolerance-friendly recipes.
With two kids, macaroni and cheese has been in my dinner recipe rotation regularly for years. It's also one of those family-friendly recipes that I prefer to make from scratch, because a) it's SO easy to make from scratch and b) takes just as much time to make from scratch as it does from a box.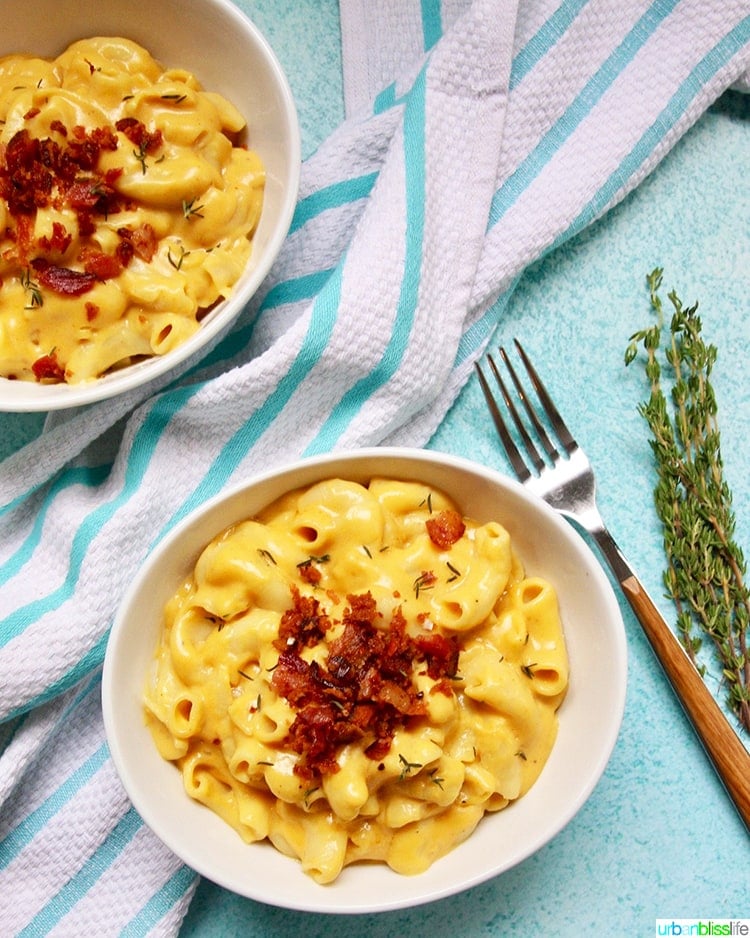 Although, rest assured, we still have a box of Annie's Mac and Cheese in our pantry. You never know when you'll need it, am I right, fellow parents?
Now that I'm dairy-free, I end up making two different pots of mac and cheese: one with full dairy for the kiddos and my husband, and one that's dairy-free for me.
How Do You Make Mac and Cheese Creamy Without Dairy?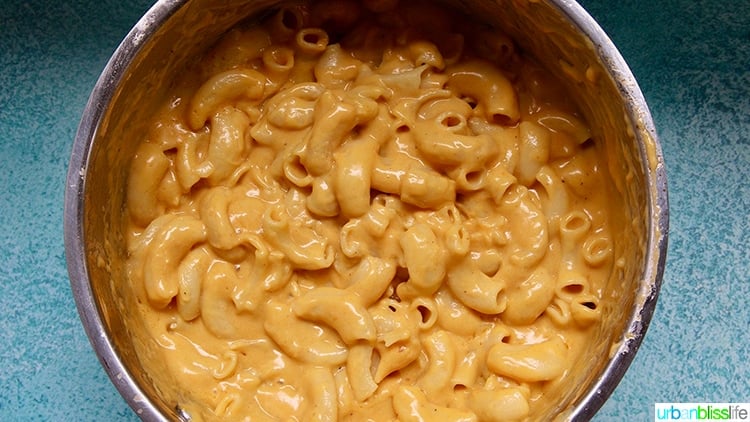 This ultimate dairy-free mac and cheese happened thanks to a lot of trial and error.
How can macaroni and cheese be so rich and creamy and, well, cheesy, without the - you know, the most important ingredient: the cheese?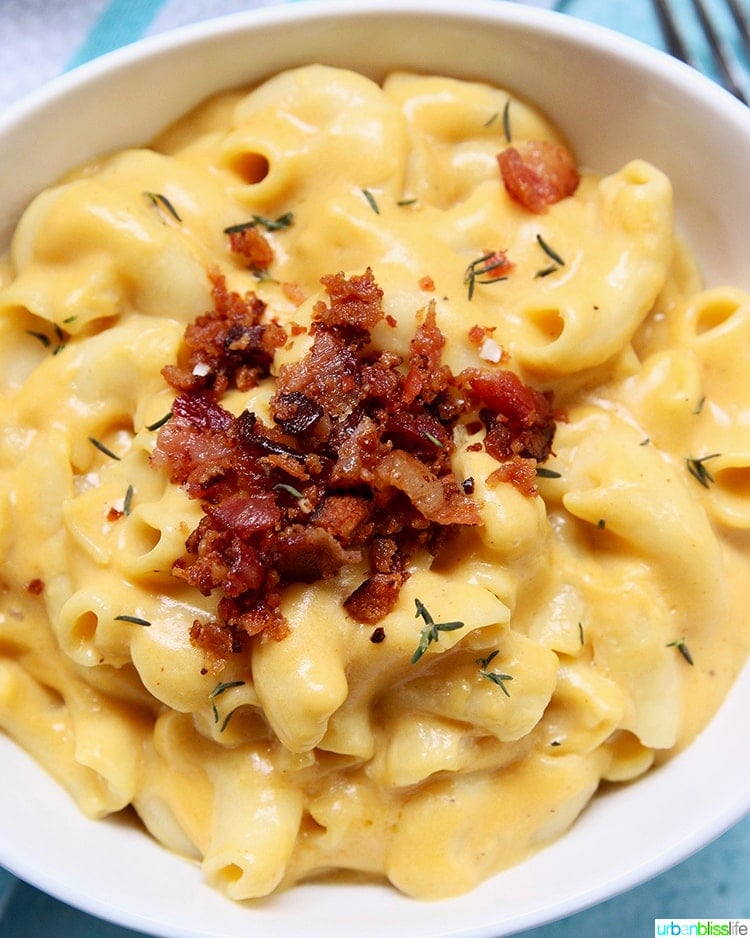 There are so many different ways you can make macaroni and cheese without dairy. The trick is finding one that suits your personal tastebuds.
I've tried using butternut squash, and while I liked the results, I can't always find fresh butternut squash year-round.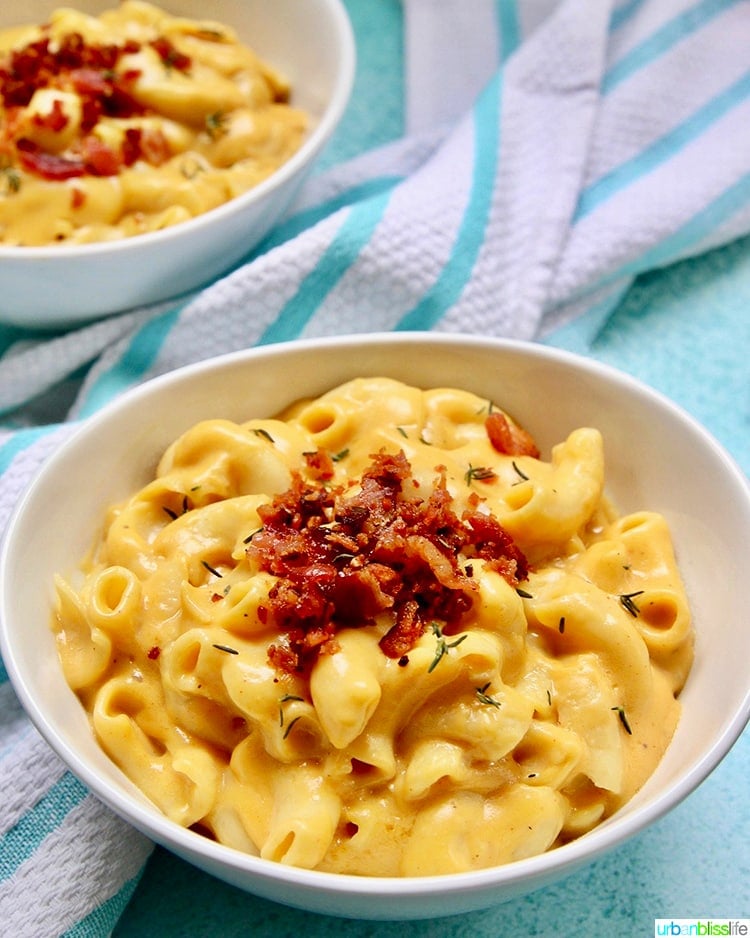 What has worked for me time and time again is a combo of these ingredients.
Be sure to read this in-depth article about the Best Dairy-Free Cooking and Baking Products. In it, I also explain some of the confusing terms surrounding dairy-free food.
What you need to make dairy-free mac and cheese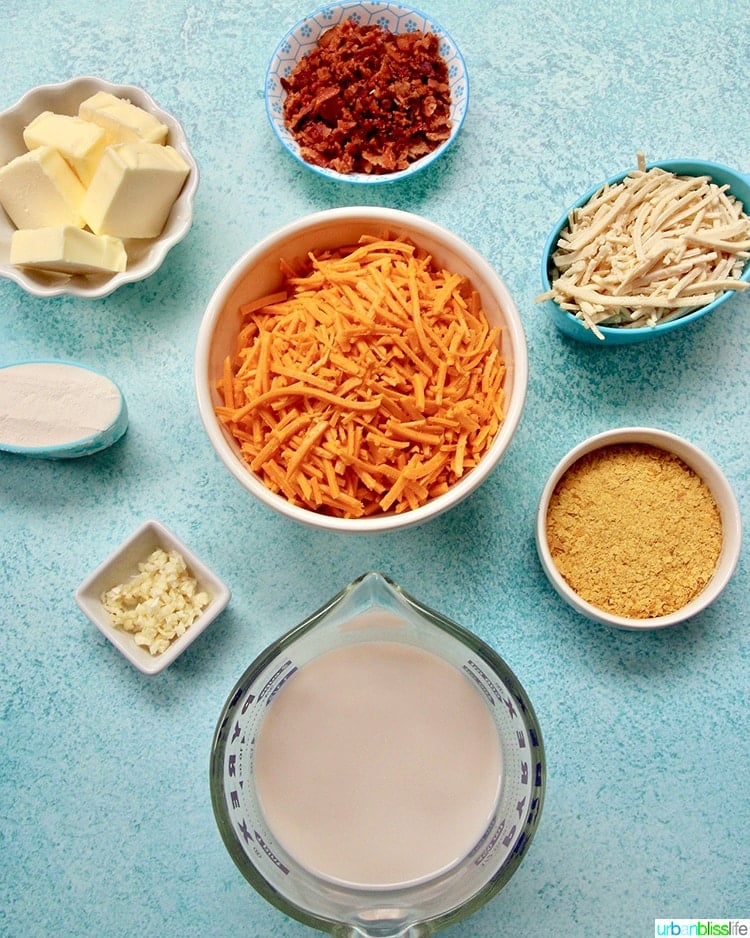 Optional (non-vegan) secret ingredient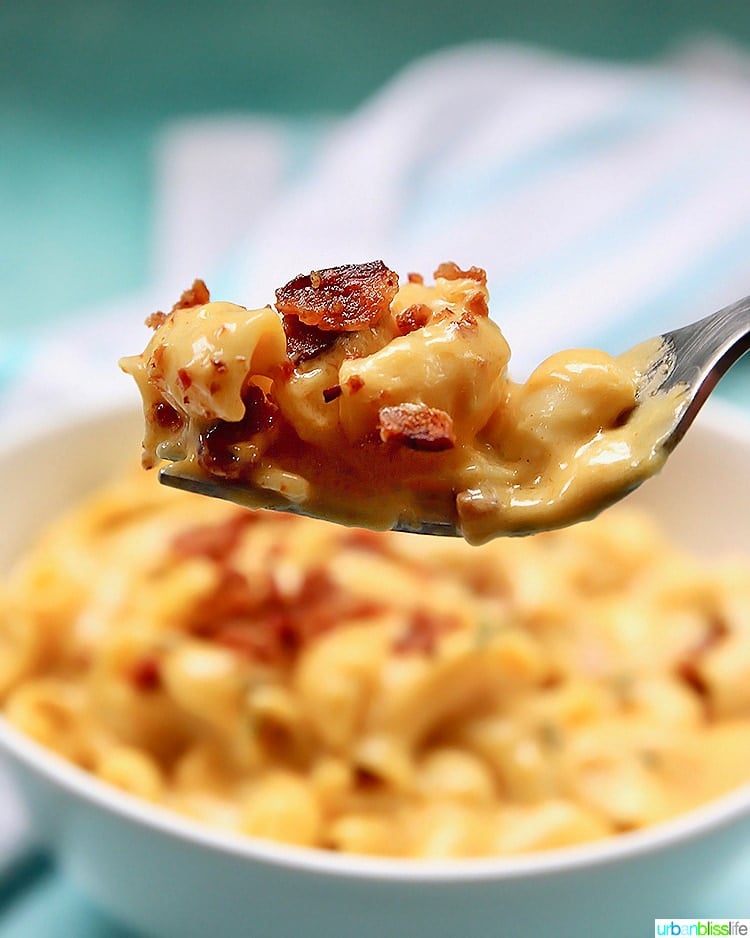 What REALLY sets this dairy-free mac and cheese recipe apart is my secret ingredient weapon: bacon.
Now, if you're here because you're looking for a great vegan mac and cheese, go ahead and skip the bacon entirely. It is delicious without it.
However, if you're dairy-free because of a dairy intolerance or milk allergy like me, and you still eat meat, try this. Trust me: it adds SO much flavor! A little bit of bacon grease and crumbled bacon on top goes a LONG way.
Watch the YouTube Video:
More Dairy-Free Recipes
Find more Dairy Free Recipes on Urban Bliss Life
The Ultimate Creamy Dairy-Free Mac and Cheese
This macaroni and cheese is creamy and dairy free.
PRINT
PIN
RATE
Ingredients
12

oz

macaroni pasta

6

slices

bacon plus 1 TBSP reserve bacon grease

uncooked macaroni

½

cup

vegan butter

1

tsp

garlic, minced

¼

cup

flour

1 ½

cup

almond milk

1

cup

dairy-free mozarella-style shreds

¼

cup

nutritional yeast flakes

½

tsp

salt

¼

tsp

ground black pepper

¼

tsp

paprika

½

tsp

chopped thyme leaves (optional)
Instructions
Preheat oven to 400 degrees. Cover a baking sheet with foil. Place bacon slices on foil and bake at 400°F on the second top rack of your oven for about 8-10 minutes, just until crispy to your liking.

Meanwhile, when the bacon is in the oven you can cook pasta according to package directions and begin making the sauce.

Add butter to a large saucepan or deep skillet over medium heat. Once butter is mostly melted, add the garlic and sauté just a minute or two until softened.

Sprinkle flour and whisk into the garlic butter mixture, then whisk in almond milk.

The bacon should be done about now, so remove from the oven and add about a tablespoon of the bacon grease to the butter garlic mixture. Stir to combine and set aside bacon to cool at room temperature.

NOTE: you can also add the bacon grease later on if it's not yet done cooking at this stage. In the video, I add it after the cheese shreds have melted and before I add spices.

Add your dairy-free cheddar-style shreds, whisk until some of it melts, then add dairy-free mozzarella shreds and whisk until smooth. Add in the nutritional yeast, salt, pepper, and paprika, and whisk all together until the mixture is creamy and smooth.

Drain pasta, then slowly add the pasta and combine until pasta is coated in the cheesy mixture.

Chop cooked bacon into small crumbly pieces. Top dairy-free mac and cheese. Sprinkle optional chopped thyme if you like. Serve immediately.
Notes
NOTE: you can omit the bacon and bacon grease to make this a vegan mac and cheese.
PIN IT: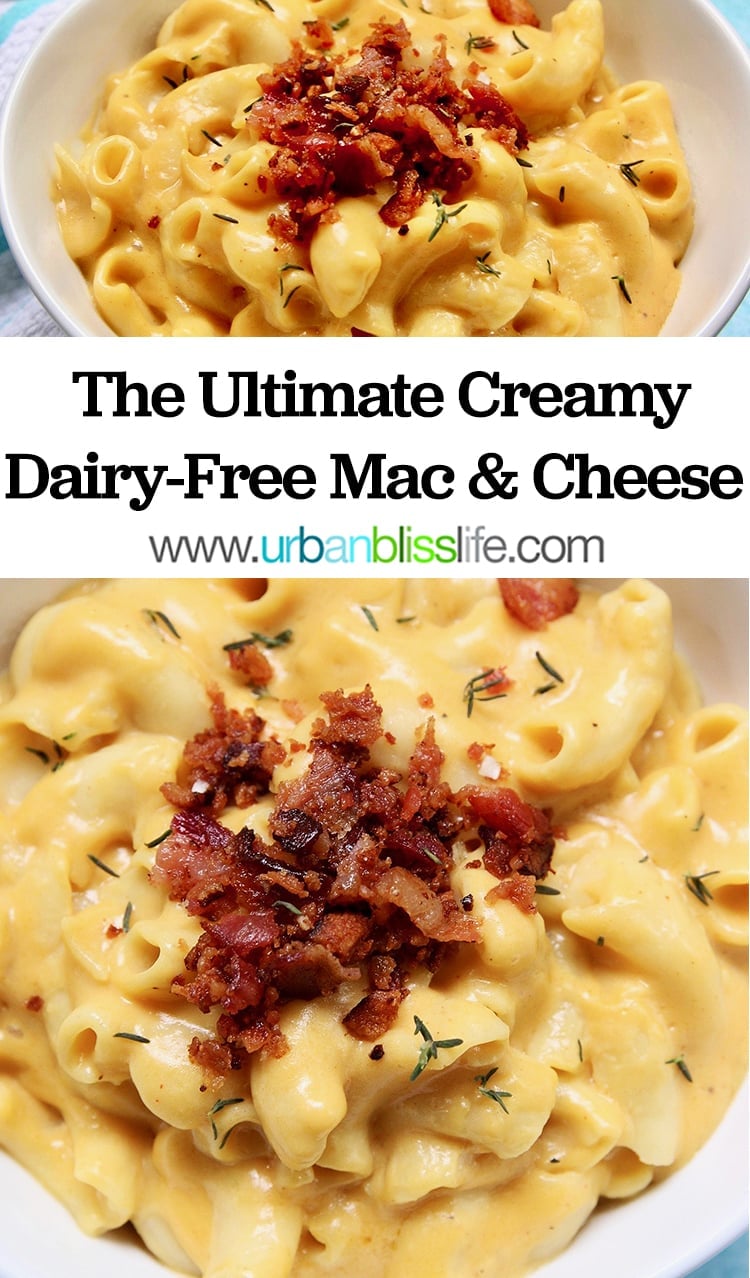 More Mac and Cheese Recipes