---
Looking for the best dairy-free products for cooking and baking? Here's a list of some of my favorite dairy-free products that I use in my own kitchen!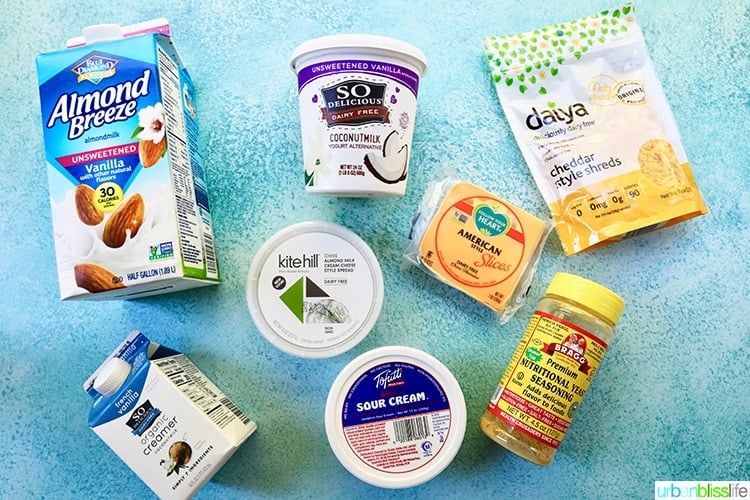 Jump to:
What does it mean to be dairy free?
When I first started a dairy-free diet, I had so many questions. Now that I've been cooking and baking dairy-free recipes for several years, I'm excited to share some of my favorite dairy-free products with you!
But first: let's define what does it mean to be dairy free? Many people who aren't familiar with dairy-free diets may believe that those of us who follow them are simply lactose intolerant. Not true!
Basically, eating dairy-free food means eating food without any dairy. Sounds simple, right? Where it often gets confusing is the difference in food labels.
You'll see labels such as Non-Dairy, Dairy Free, Vegan, and Lactose Free. These labels, while seemingly similar, do signify some big differences in the food.
What's the difference between lactose free and dairy free?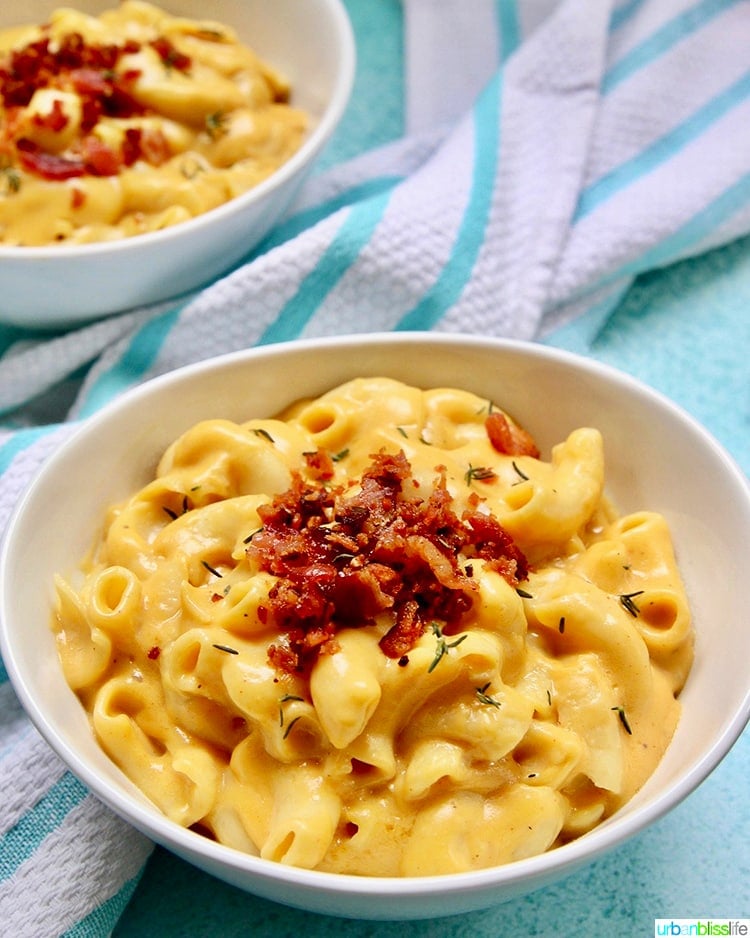 Lactose-free food products are products that have had the lactose (milk sugar) completely removed. These products are NOT necessarily dairy free, as they may still contain casein and whey. Some people, like me, react strongly to the milk proteins versus the milk fat. Therefore, lactose-free cheese is still off-limits for me.
Dairy-free products, on the other hand, have NO dairy in them at all. This means they do not contain lactose, casein, or whey, and are safe for those with milk allergies. Dairy-free products are also safe for those who are lactose intolerant and vegan.
What's the difference between non-dairy and dairy-free?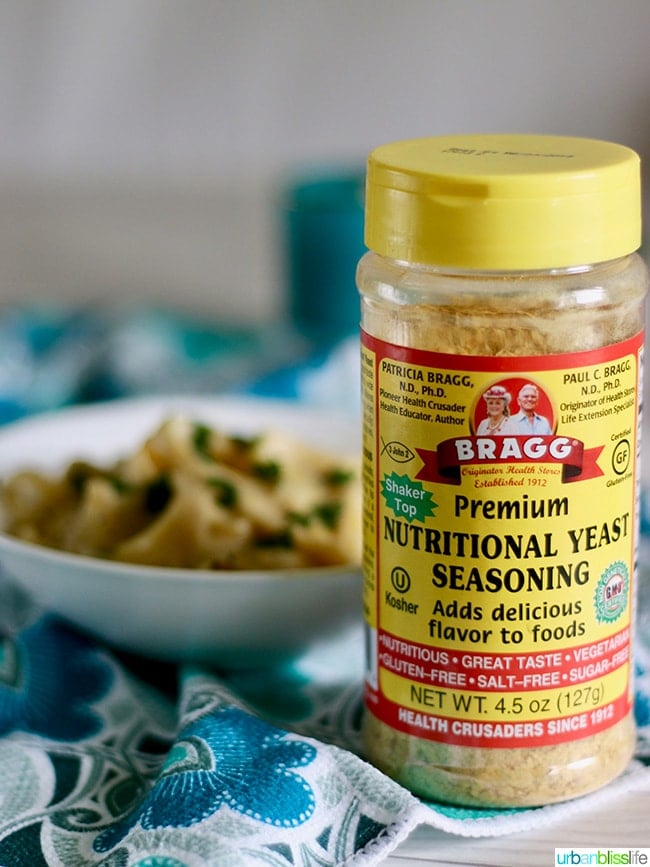 Where things can get really tricky in the grocery store, is staring at food with the Non-Dairy label. The FDA actually regulates Non-Dairy product labeling, but these products will often have milk proteins such as casein and whey.
That non-dairy creamer? Totally contains milk products in it.
Best Dairy Free Cooking Products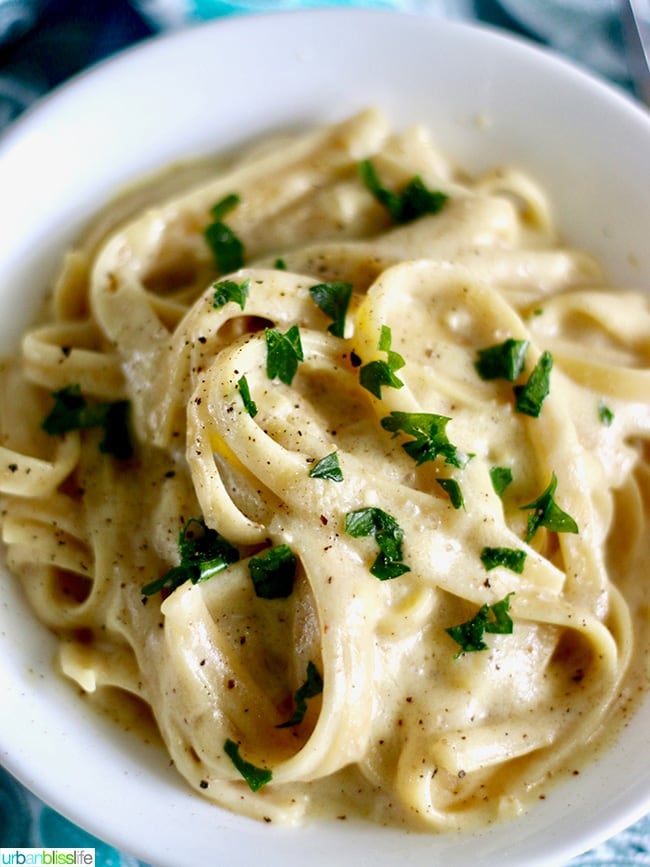 Are you on a dairy-free diet? Whether you opt for dairy-free food because you're vegan, or you have a dairy intolerance as I do, here are some of the best dairy free products for cooking and baking.
These are all dairy-free alternatives that I personally use in my every day cooking and baking. I'll update this list as I find new products I love!
Best dairy free butter alternative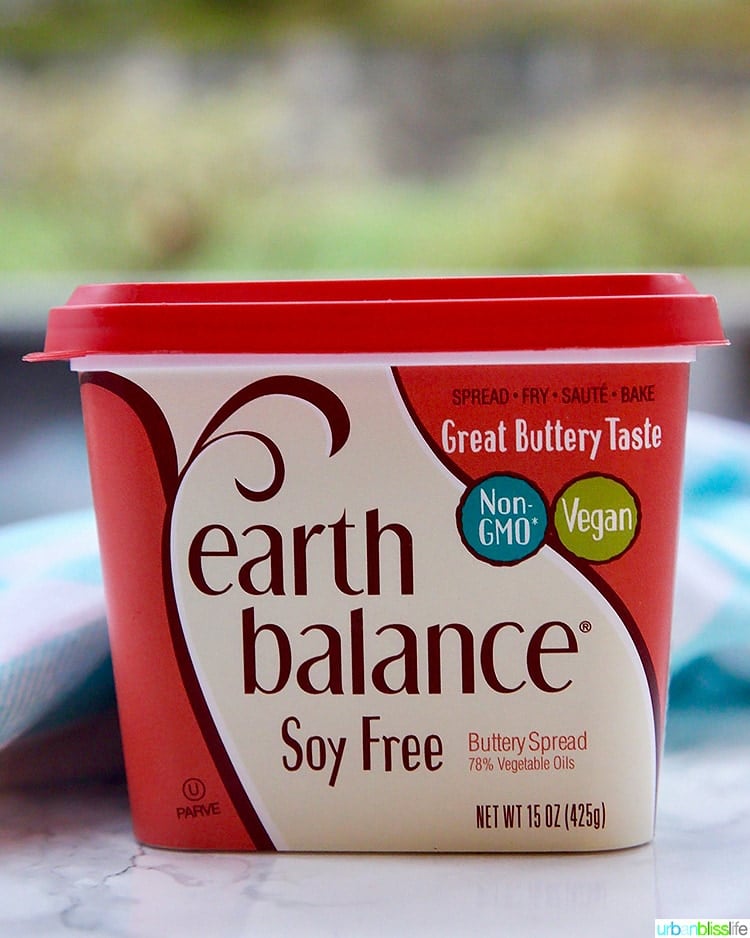 Butter is the one dairy item my naturopath doc told me I could actually still enjoy, since it's mostly milk fat versus milk protein. That said, I still cook and bake with dairy free butter. I really like the flavor of Earth Balance dairy free spread. You can buy Earth Balance in sticks, too, for baking.
The product pictured above is also soy free. Earth Balance makes a few different variations of this product, so be sure to read their labels before buying to choose the one that is best for you.
Best canned coconut milk
My favorite coconut milk also happens to be one that is readily available and found in most grocery stores throughout the United States. Thai Kitchen Organic Coconut Milk is perfect for creating dairy-free creamy pastas, soups, and curries.
I use this exact coconut milk in SO many recipes. Try it in my Air Fryer Bang Bang Shrimp, Vegan Fettuccine Alfredo, and Creamy Pasta with Bacon and Peas.
Nutritional yeast seasoning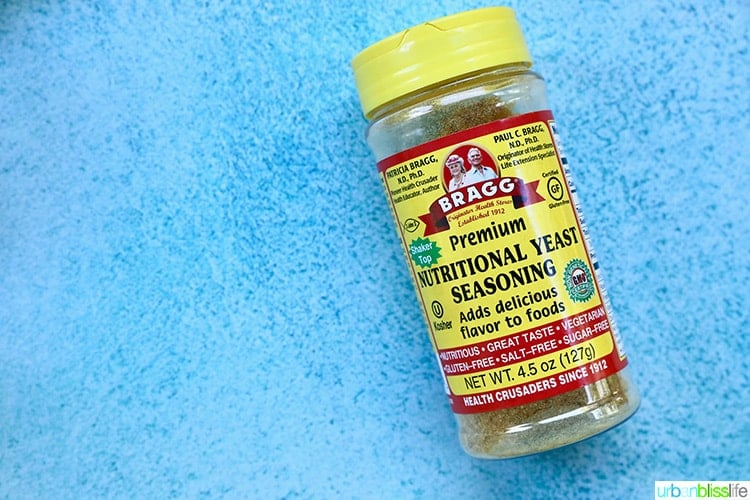 Nutritional Yeast Seasoning is most often used as a parmesan cheese alternative. It's a way to add that nutty cheese flavor without the dairy. It can also help add extra protein, vitamins, minerals and antioxidants to a dish.
If you've never had Nutritional Yeast before, I will warn you that the flavor is NOT exactly like parmesan cheese. It took me a couple of times to get used to it. But, now I use it in SO many recipes and I love it!
Where is nutritional yeast in the grocery store? I've learned that grocery stores can stock nutritional yeast in several different places. The most common tend to be:
You can see how to use nutritional yeast in these dairy-free recipes:
Best dairy free cheese
Nowadays, cheese lovers don't have to miss out on cheesy favorites like mac and cheese. There are so many more dairy free cheese products out in the market now.
From tangy feta cheese to sharp cheddar, no matter what your fave cheese flavors are, there's likely a dairy free cheese alternative for you!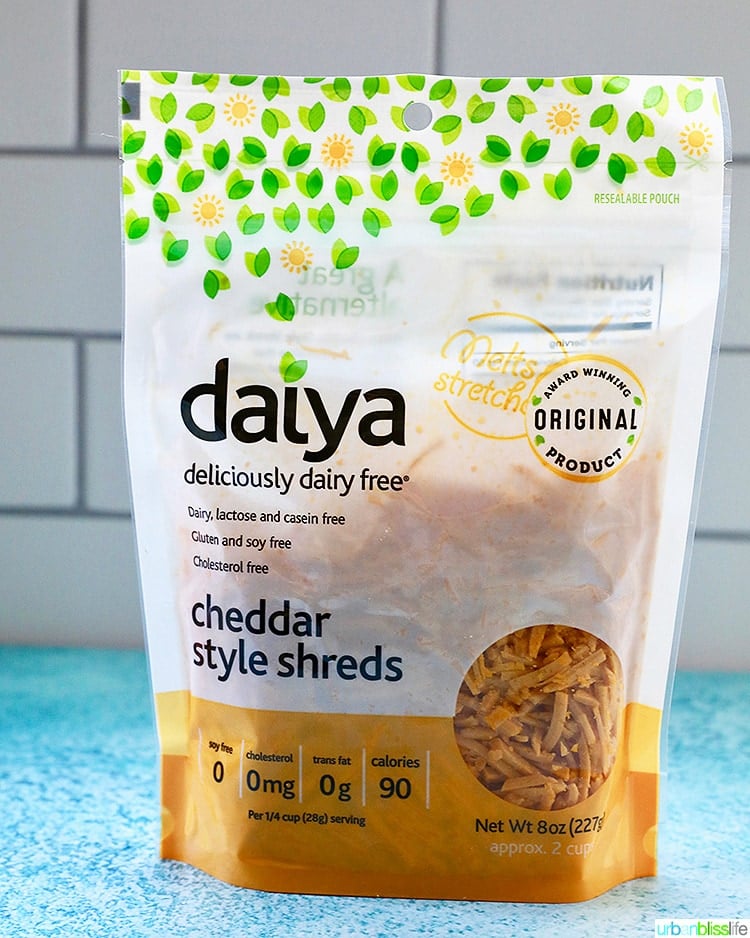 I love Daiya cheddar-style shreds for those times when I need melted shredded cheese. Think nachos, dairy free mac and cheese, cheesy appetizers.
If you tried Daiya a while ago and didn't like it, try it now. Rumor has it Daiya changed its recipe within the past couple of years. I used to think it tasted like cardboard. Now I love it!
Here are some recipes that I've used this awesome dairy free product in:
Favorite dairy-free cheddar cheese slices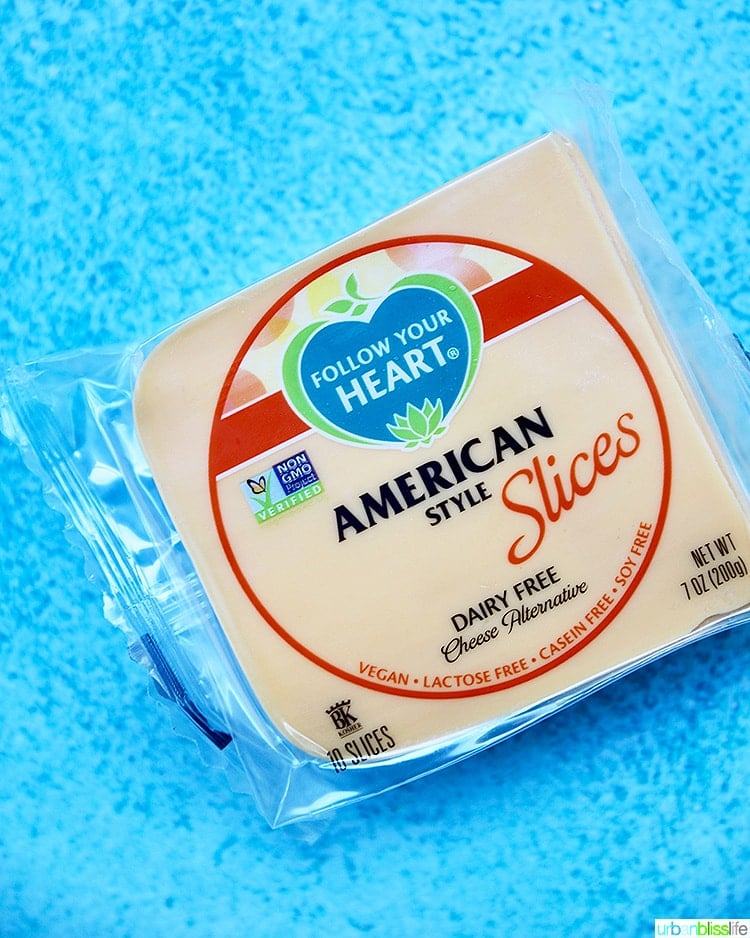 When I'm craving a melty grilled cheese sandwich, I use Follow Your Heart American Style Slices. This dairy free cheese alternative melts nicely and tastes delicious!
Favorite dairy free grated parmesan cheese
Before going dairy-free, I used to generously sprinkle freshly grated parmesan cheese over EVERYTHING. It took me a while to find a dairy free cheese alternative, but my favorite is the Follow Your Heart Grated Parmesan Cheese.
Where is dairy free parmesan cheese in the grocery store? You can often find this in the refrigerated vegan section of your grocery store. One of my local grocery stores stocks this product alongside the other dairy free cheese alternatives across from the regular dairy products. Another grocery store stocks this in a full section of refrigerated vegan products.
Delicious dairy free cream cheese
Kite Hill makes some of my favorite dairy free cheese style products. I almost always have a tub of their dairy free cream cheese in both plain and chive flavor in my refrigerator.
I also love Green Valley lactose free cream cheese, but it's sometimes hard to find at the grocery store.
Best dairy free milk alternative: almondmilk
For our every day dairy free milk alternative, I love almondmilk. Of all the brands I have tried, I find that Silk almondmilk and Almond Breeze almondmilk have the best flavor. If you have a Costco store nearby, you can often find 3-packs of Silk almondmilk for a decent price.
I use this in my Dairy Free Lemon Blueberry Muffins.
Best dairy free yogurt alternative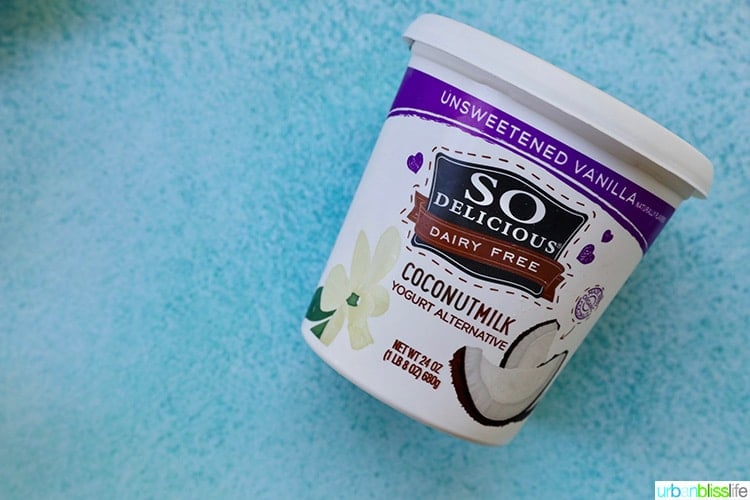 I make smoothies for my kids almost every morning, and they always include So Delicious Dairy Free Coconutmilk Yogurt Alternative. The Unsweetened Vanilla is my favorite, but I also enjoy the other So Delicious yogurt alternative flavors, such as blueberry, strawberry, and lime.
Best dairy free chocolate for baking
When you want to bake up a delicious batch of chocolate chip cookie bars, or the family's favorite chocolate chip banana bread, you want to use high quality chocolate. I'm so grateful that I found Enjoy Life Chocolate Chunks!
You can also find Enjoy Life Dairy Free Mini Chocolate Chips and Enjoy Life Dairy Free Dark Chocolate Chips for your dairy free baking recipes as well.
Best non-dairy whipped cream in a can
No lie: when I first saw a can of non-dairy Reddiwhip topping in my local Safeway, I gasped out loud. Now, I absolutely love making homemade whipped cream from scratch. It's super easy and probably a lot better for you than the canned stuff. However...
The non-dairy almondmilk Reddiwhip whipped cream and the non-dairy coconut milk Reddiwhip whipped cream are fabulous to have on hand for parties or when you want a quick sweet treat. Or, for those chocolate chip cookie bars are crying for something a little extra on top.
And as a reminder: just because it's non-dairy, doesn't mean people who are dairy-free can eat this product. However, they can enjoy the next whipped topping product listed below!
Best dairy free whipped topping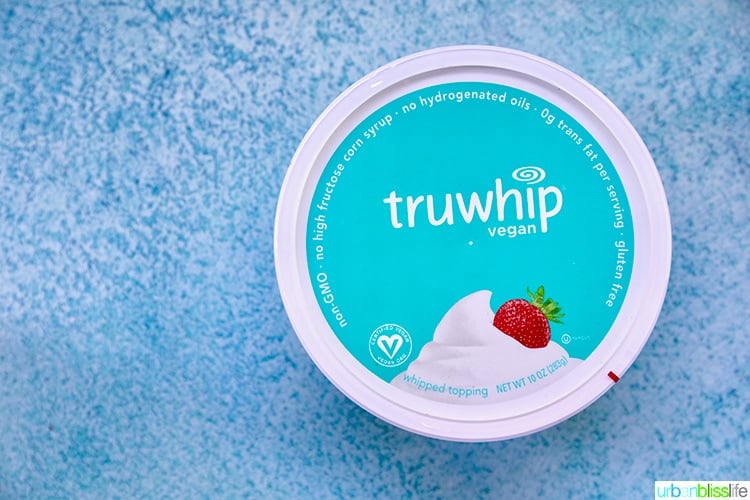 If you find a recipe that calls for CoolWhip topping, you can substitute it with Truwhip vegan frozen whipped topping. Truwhip is the non-dairy version of CoolWhip topping. It's vegan, non-GMO, has no high fructose corn syrup, and is gluten free.
Where is dairy free whipped topping in the grocery store? You'll find it in the frozen food section, most likely by the regular CoolWhip, frozen puff pastry dough, and frozen berries.
Favorite easy dairy free recipes
Whether you're new to dairy-free cooking and dairy-free baking, or you're looking for some new dairy-free recipes to add to your rotation, check out these 60 Dairy-Free Winter Recipes.
Best dairy-free main dishes: Risotto with Prawns, Ultimate Creamy Dairy-Free Mac and Cheese, Dairy-Free Lasagna, Dairy-Free One-Pot Cheeseburger Pasta (Hamburger Helper copycat recipe)
Best dairy-free side dishes and appetizers: Dairy-Free Creamy Queso Dip, Slow Cooker Honey Bourbon Meatballs, Vegan Stuffed Mushrooms.
Best dairy-free desserts: Dairy-Free Chocolate Chip Ice Cream, and these Dairy-Free Lemon Blueberry Muffins.
Did you make any of these recipes? Don't forget to leave a 5-Star 🌟🌟🌟🌟🌟 rating and comment below letting us know which one you made and how it turned out. Thank you!
Disclaimer: I am not a doctor or registered dietician. I am a food writer and home cook sharing my personal favorite dairy-free products. These are products I use in my every day cooking and baking and have found to work best with the recipes listed here.
As always, you should contact your doctor if you have questions about food products that are right for you.