This classic Butterscotch Cookies recipe is fast and easy. You can make these yummy chewy treats from scratch in under 30 minutes!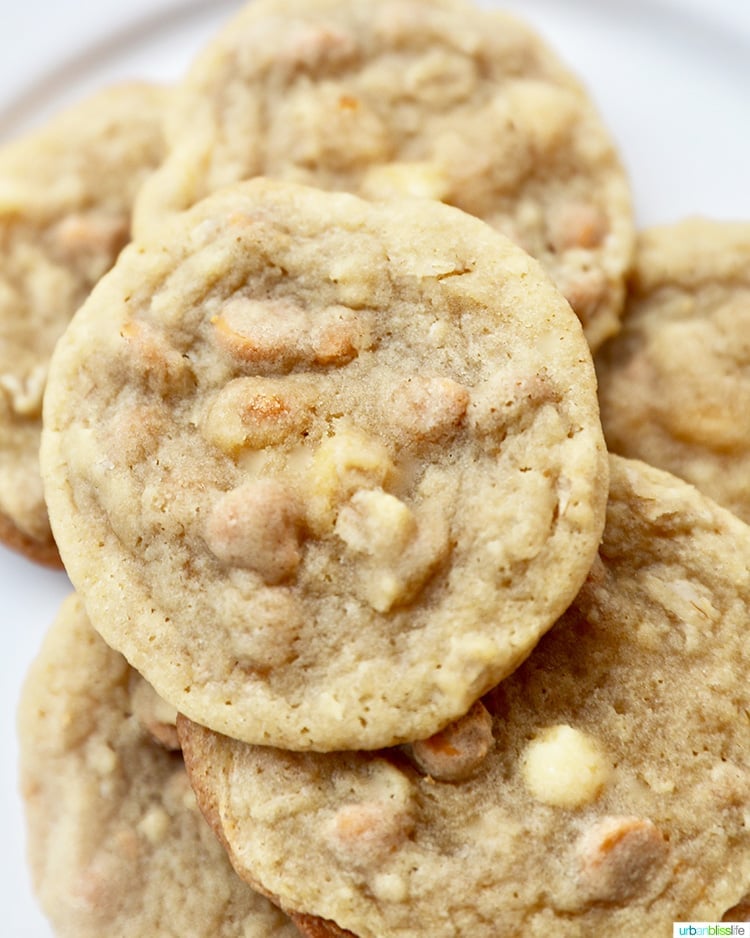 While I adore experimenting with fun cookie flavors, shapes, and decorations, there will always be a spot in my sweet tooth for classic cookie recipes.
Whether we're making Peanut Butter Blossoms, Gingerbread Cookies, or Shortbread cookies, there's a reason the classic cookie recipes stand the test of time.
This old-fashioned butterscotch cookies recipe reminds me of cookies I would make with my great grandmother and mom when I was a kid. I seem to remember butterscotch being a much more popular flavor of cookie back then. Nowadays, I don't see it as often. But it's still such a delicious cookie that brings back happy memories. And it's so easy and fast to make too. You can make these cookies in just under 30 minutes!
What you need to make these butterscotch cookies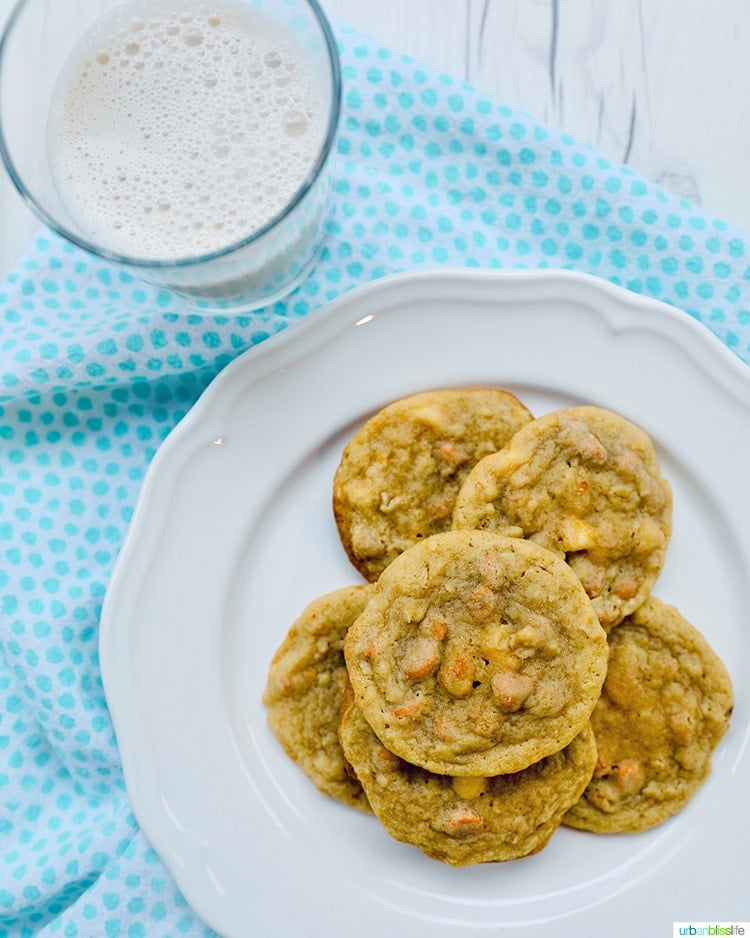 One of the many reasons I love this butterscotch cookies recipe, is that there are few ingredients. And, I almost always have these ingredients on hand at home! Makes it super easy to scratch that itch for a sweet snack in a jiff!
To make these yummy cookies, you need:
unsalted butter
granulated sugar
brown sugar
eggs
vanilla
all-purpose flour
salt
cinnamon
rolled oats
butterscotch chips
Is butterscotch the same as caramel?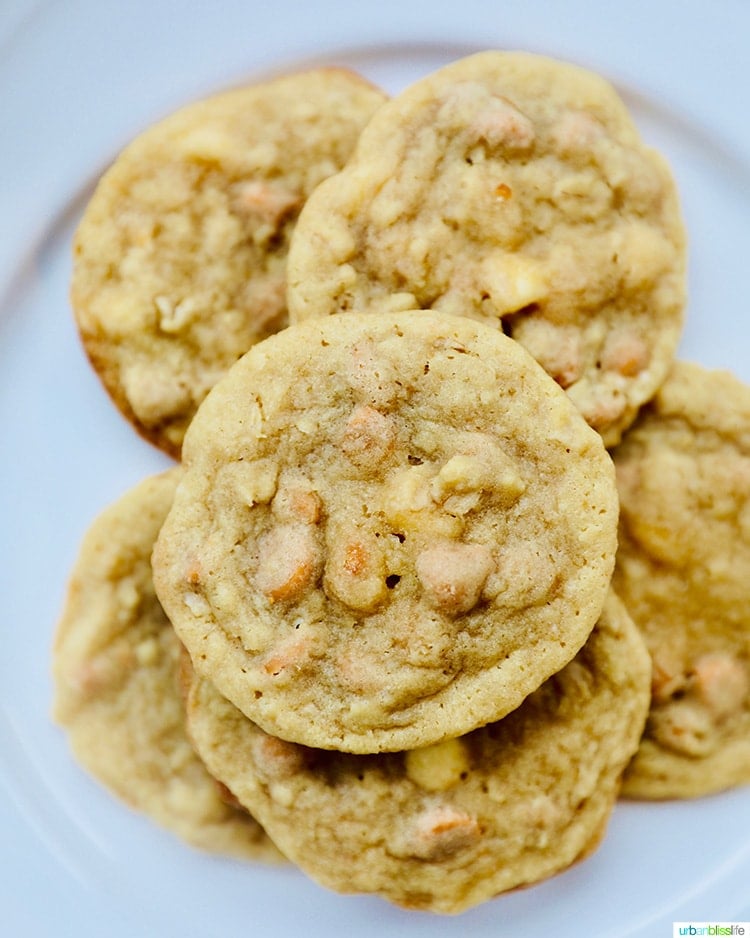 Nope. Butterscotch is made out of brown sugar and a whole lot of butter, much like toffee. Caramel is made out of granulated sugar and butter.
2020 Cookies for Kids Cancer Valentine's Event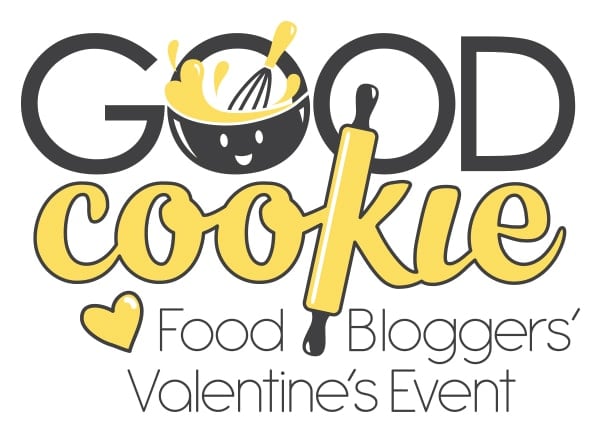 I'm so excited to be sharing this butterscotch cookie recipe as my part in this year's Good Cookie Bloggers Valentine's event, benefiting Cookies for Kids' Cancer. This is the fourth year that a group of bloggers has worked together to aid in the fight against pediatric cancer.
Cancer is the #1 cause of death of children by disease in the U.S. There are 40,000 U.S. children actively battling cancer right now. The National Cancer Institute's budget for childhood cancer is less than 4%. Less than FOUR PERCENT.
Most of you know that last year, I battled breast cancer. The year before, one of the girls I coached in soccer lost her battle with a pediatric cancer. So this fundraiser is very personal for me, and I hope you'll join me in donating to Cookies for Kids' Cancer.
Our goal is to raise at least $3000. Because these three companies – OXO, Mediavine amd Dixie Crystals – have each pledged to match our donations raised through this campaign up to $3000! That means when we raise $1, it turns into $4!
Please help us make a difference. You can donate here today.
My Past Good Cookie Recipes
Easy Butterscotch Cookies Recipe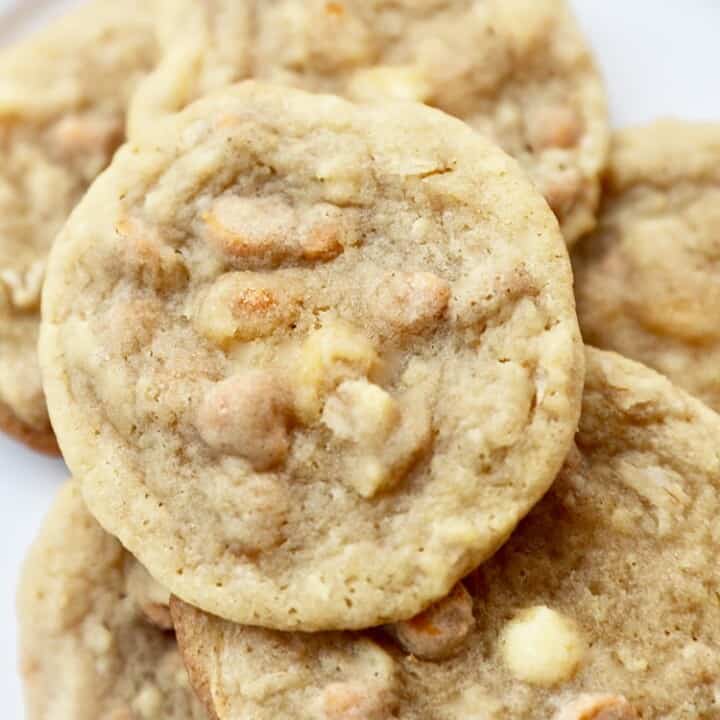 Butterscotch Cookies Recipe
These cookies are filled with sweet butterscotch chips and just enough oatmeal for a delicious, satisfying snack!
PRINT
PIN
RATE
Instructions
Preheat oven to 375°F. Line two baking sheets with parchment paper. Set aside.

Using a large stand mixer or a large bowl with hand mixer, cream the butter on its own for a minute. Add the granulated sugar and brown sugar and beat until combined. Add eggs and vanilla, beat for one minute.

In a separate large bowl, whisk together flour, baking soda, cinnamon, and salt.

Slowly add the dry mixture (flour mix) to the wet mixture (butter mixture) and beat until combined.

Using a wooden spoon or a spatula, stir in the rolled oats and butterscotch chips.

Spoon cookie batter by the teaspoonful onto the prepared baking sheets lined with parchment paper. Please each drop about 2 inches apart, as the dough will spread a bit.

Bake at 375°F for 8 to 10 minutes, just until the tops and edges start to turn a golden brown. Remove and cool on cooking racks for 5 minutes before devouring.
Notes
Feel free to add more rolled oats for a chunkier, oatmeal-like cookie. You can also leave them out completely.
Tried this recipe?
Please leave a star rating and comment! Then snap a pic of your dish and share it on social media. Tag @UrbanBlissLife and #UrbanBlissLife!
Nutrition information is a general estimate. Actual nutrition details may vary depending on the exact foods & brands you use to make this recipe. It does not take into account any substitutions, toppings, or optional ingredients.
PIN IT: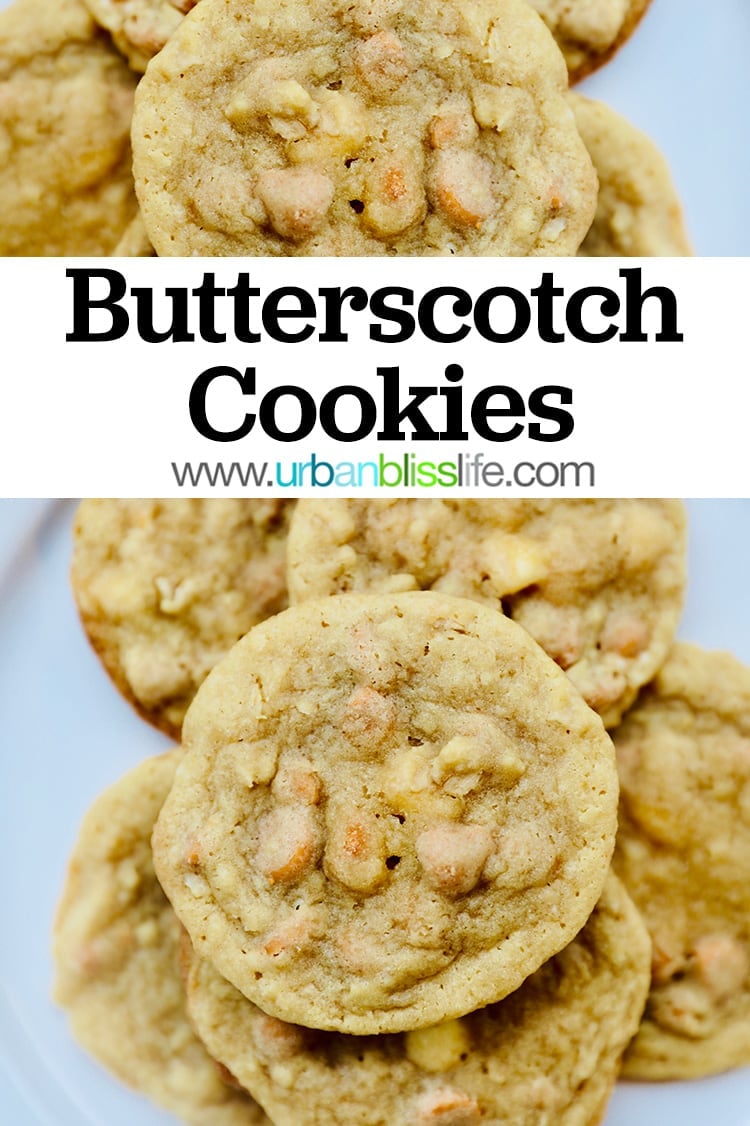 More 2020 OXO Good Cookie Recipes
Be sure to visit the other bloggers participating in the Valentine's Day event and check out their recipes!
Brownie Cups from Julie of The Little Kitchen
Valentine's Day Delight Recipe from Jennifer of The Rebel Chick
Strawberry Cake Rolls from Coleen of The Redhead Baker
Perfect M&M Cookies from Carlee of Cooking With Carlee
Paleo Almond Butter Cookies from Taryn of Hot Pan Kitchen
Black Tahini Truffles from Camilla of Culinary Adventures with Camilla
Pink Glitter Drink fo Valentine's Day from Jenn of Ever After in the Woods
Vegan Matcha Rose Shortbread from Carolann of Apron Warrior
Star Wars Kylo Ren Emoji Cookies from Jenn of justJENN recipes
Double Chocolate Chip Cookies from Faith of An Edible Mosaic
Andes Mint Cookies from Rebekah of Kitchen Gidget
Chocolate Pots from Kristin of On the Home Front
Red Velvet Cake Mix Cookie Bars from Melissa of Persnickety Plates
Dark Chocolate and Smokey Blue Cheese Gougères from Lisa of Taste Cook Sip
Nutella Cookies from Raquel of Organized Island
Strawberry Sandwich Cookies from Heather of Delicious Not Gorgeous
Mini Chocolate Lava Kiss Cakes from Sue of It's Okay to Eat the Cupcake
Strawberry Cheesecake Cookies with White Chocolate from Lisa of Blogghetti
Chewy Dark Chocolate Coconut Cookies from Jessica of A Kitchen Addiction
Butterscotch Cookies from Marlynn of Urban Bliss Life
Gluten Free Hot Cocoa Cookies from Elaine of Small Farm Big Life
Cherry and Chocolate Chip Cookie Cutter Cookies from Brenda of Meal Planning Magic
Cherry Cheesecake Bars from Laura of Untwisted Vintage
Grapefruit Gin Spritz from Sarah of Chef Sarah Elizabeth
Gluten Free Peanut Butter Cookies from Brianna of Flippin' Delicious
chocolate heart cookies from Meaghan of the decorated cookie
Red Velvet Cheesecake Brownies from Gwynn of Swirls of Flavor
Salted Caramel Bars from Marybeth of Baby Savers
Cotton Candy Buttercream Cupcakes from Nina of Crazy for Cookies and More
Valentine's Day Cookie Cake from Bree of Baked Bree
Red Velvet White Chocolate Chips Cookies from Maria of The Cookware Geek
Valentine's Blondie Bars from Becca of The Salted Cookie
Confetti Cookies from Amy of The Nifty Foodie
Heart of Gold Chocolate Sprinkle Blossoms from Erin of The Spiffy Cookie
Ancho Chili Brownies from Dee of Meatloaf and Melodrama
Heart Shaped Spritz Cookies from Holly of A Baker's House
Strawberry Macarons from April of April Erhard
Sweetheart Chocolate Pretzel Bites from Nicole of For the Love of Food
Gluten-free Peanut Butter M&M Cookies from Michelle of My Gluten-free Kitchen
Raspberry Cinnamon Rolls from Rose of Rose Bakes
Cherry Chocolate Chip Cookies from Courtney of Know Your Produce
Nutella Chocolate Cupcakes for Two from Sara of Confectionary Tales
Butter Almond Mushroom Cookies from Jamie of Southern Revivals