Spitzbuben are traditional Swiss sandwich cookies made with fruity jam centers. They make great for the holiday treats!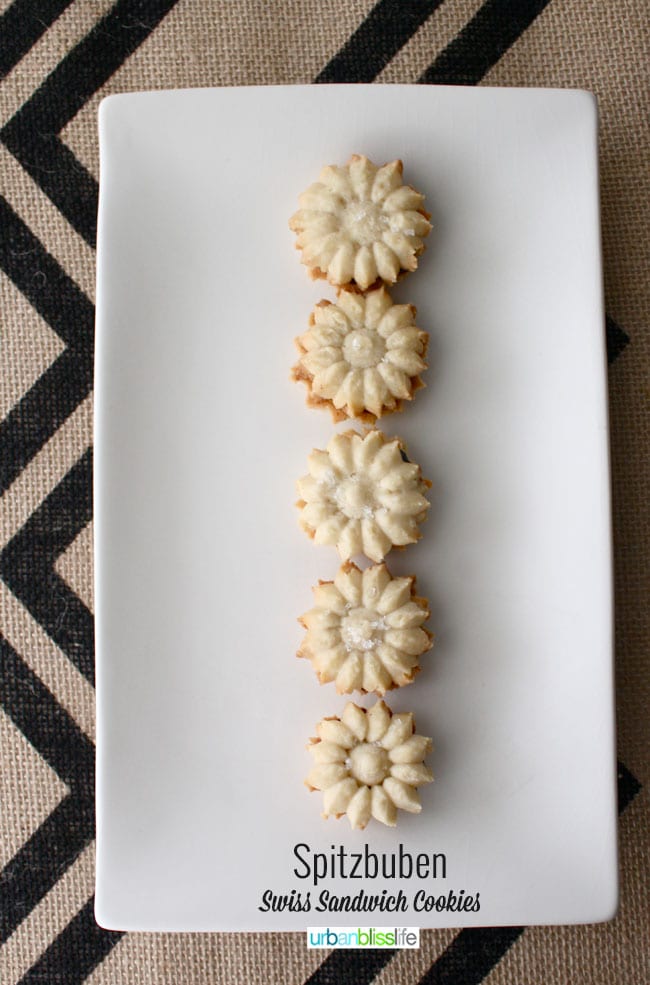 My husband's family is from Switzerland, so I was very excited the first time I stumbled upon a recipe for Spitzbuben. These are traditional Swiss cookies that have a slightly crispy buttery cookie. Then you can fill the center with your choice of favorite jam or jelly.
They're so delicious! The cookies remind me a little bit of those old fashioned butter cookies. You know, the ones that come in a dark blue tin? Except these are a little fuller, and I'm pretty sure they have a little less butter than those old school butter bombs. ;)
Essential Baking Tools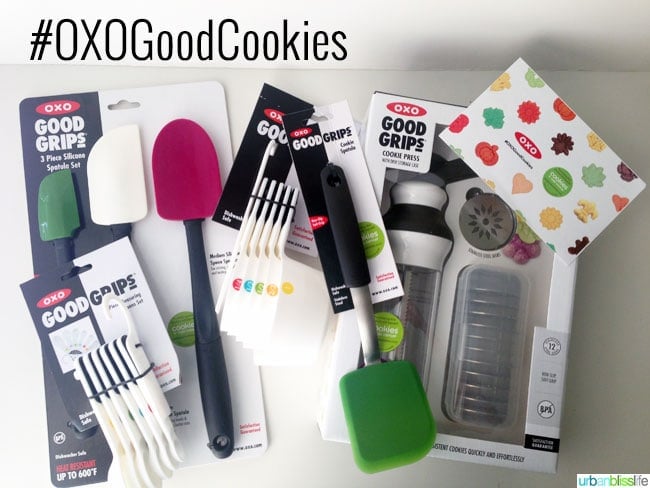 In addition to good mixing bowls, every home baker needs strong spatulas and a cookie press. Recently OXO sent me this incredible goodie box full of baking tools, including my very first cookie press!

I've worked with OXO before on creating a Mocha Chocolate Chip Cookie recipe in the past for the #OXOGoodCookies campaign, to benefit Cookies for Kids Cancer. So I was more than thrilled to work with them again to create this new cookie recipe to help raise funds for the Cookies for Kids Cancer foundation.
Spitzbuben Swiss Sandwich Cookies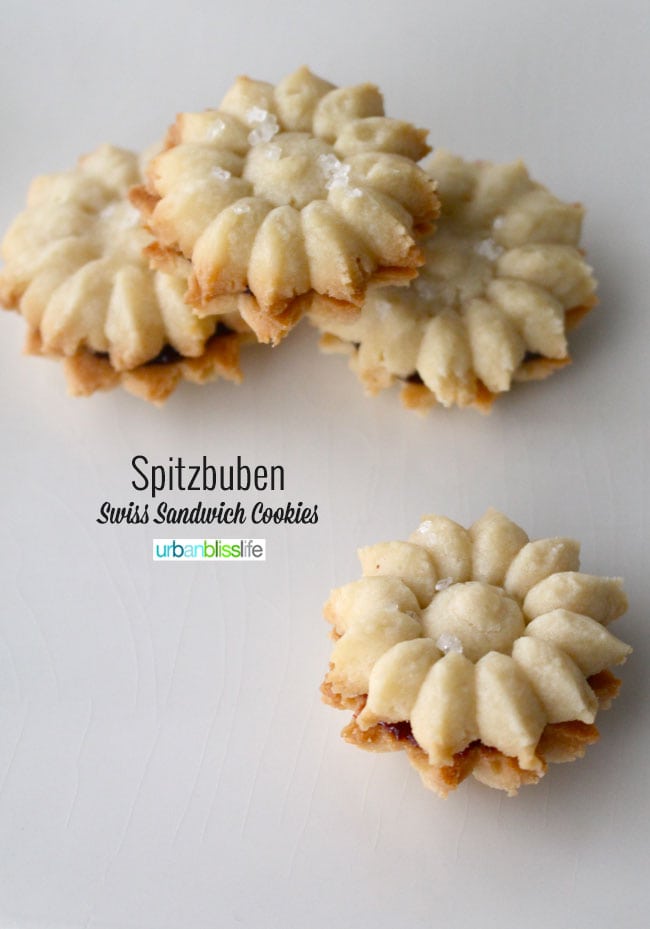 After seeing this recipe in Gourmet magazine several years ago, I've experimented with it a bit to make it more to my family's taste. I thought it would be fun to put a cookie press spin on it and see what would happen.
The result is delicious! But, not without some trial and error, which I am always happy to share with you all.
Tips for Using a Cookie Press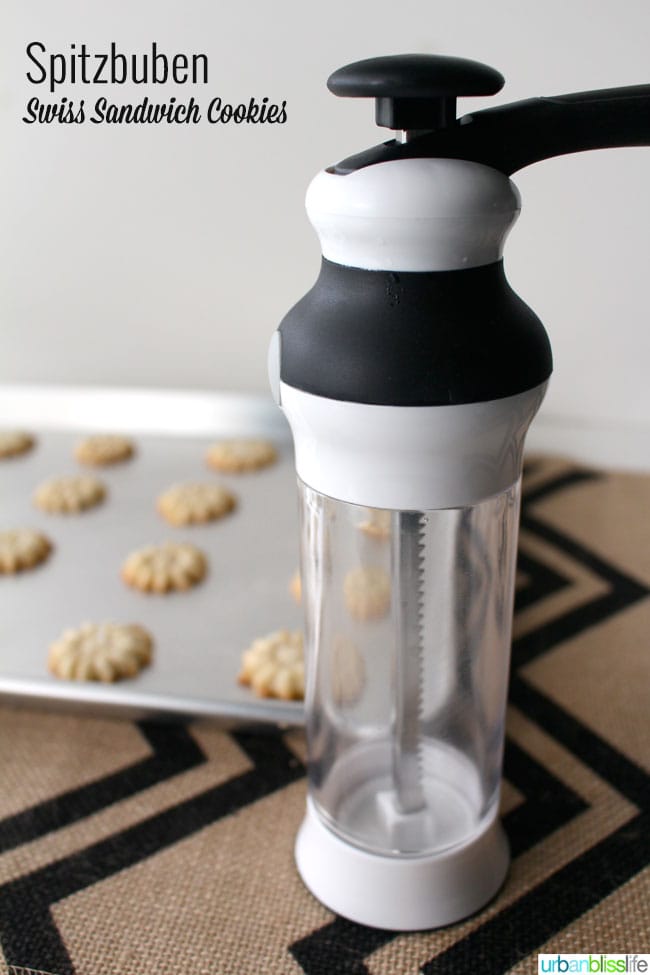 Make sure the dough you use in a cookie press is moist. Spitzbuben recipes usually require being chilled for about an hour before rolling out, which helps prevent the cookies from spreading while baking. However, I found that if you use the dough immediately in the cookie press, you won't run into the problem of dough spreading while baking. Just make sure it's not *too* gooey and moist, but not hard and chilled either. Cookie presses are picky when it comes to dough consistency.
Don't worry if the first one or two come out wonky -- that's to be expected when using a cookie press. Simply set the misshapen dough aside and use in the next batch of dough that you use in the cookie press.
Use a COLD, UNGREASED baking sheet, like the one pictured below. This is key! I experimented with using my usual Silpat. But the dough just doesn't stick and come off the cookie press when you're using a Silpat or a greased baking sheet.
I used the sunflower cookie press shape for these Swiss Sandwich Cookies. My light attempt to keep summer going :)
What do you use for the Spitzbuben cookie filling?
You can use any type of jam or preserve you wish. I used blackberry, and loved the mix of sweetness and tartness of the blackberries.
These cookies are also great to enjoy as single cookies if you don't want to sandwich jam in between two cookies.
Swiss Sandwich Cookies would be great for bake sales and to give as gifts, too! They're so cute, and look like they are more effort than they really are!
More Cookie Recipes
Spitzbuben Swiss Sandwich Cookie Recipe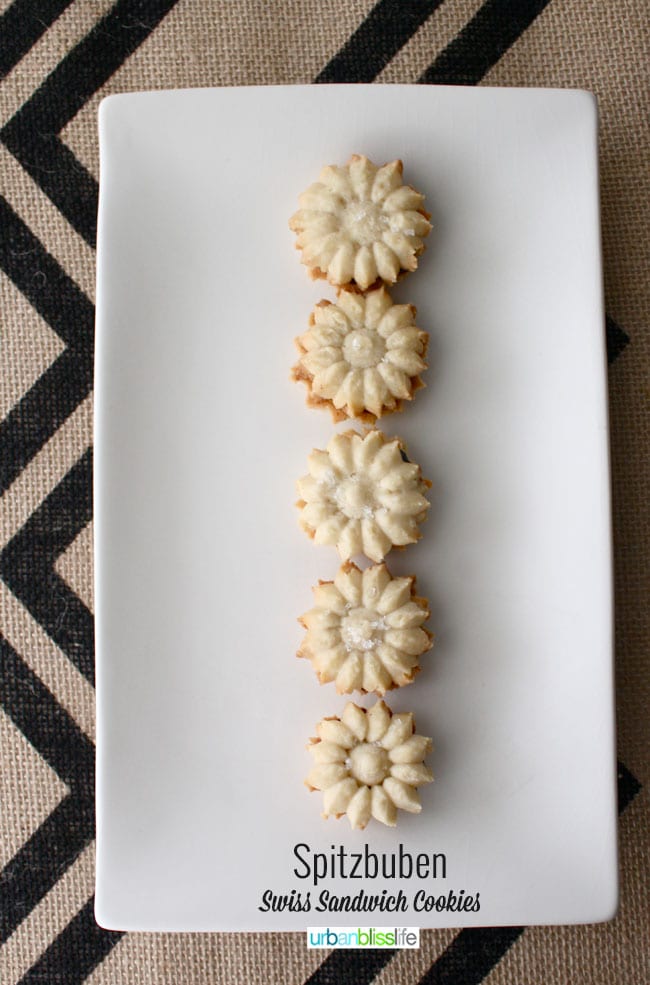 Spitzbuben Swiss Sandwich Cookies
These Spitzbuben cookies are traditional Swiss Sandwich Cookies with buttery cookies held together by fruity jam centers.
PRINT
PIN
RATE
Instructions
Preheat oven to 350 degrees.

In a large bowl, sift together flour, powdered sugar, and salt. Set aside

In a stand mixer, beat the butter on low until creamy, stopping to scrape the sides occasionally to incorporate all of the butter for an even creaminess.

Slowly add in the flour mixture and mix until well blended.

Add dough to the cookie press in the shape of your choosing, and press out cookies onto a cold, ungreased baking sheet.

In a small bowl, mix together the meringue powder and warm water.

Brush cookies with the meringue powder + water mixture, then quickly top with sugar sprinkles.

Bake at 350 degrees for 7-9 minutes, until the edges are slightly golden.

Transfer to a rack to cool for 10 minutes.

Spread jam or jelly onto the unsugared sides of cookies and top with another cookie.
Notes
These cookies will keep at room temperature in an airtight container for 2-3 days. You can also refrigerate them for up to one week, or freeze them for up to two months.
Tried this recipe?
Please leave a star rating and comment! Then snap a pic of your dish and share it on social media. Tag @UrbanBlissLife and #UrbanBlissLife!
Nutrition information is a general estimate. Actual nutrition details may vary depending on the exact foods & brands you use to make this recipe. It does not take into account any substitutions, toppings, or optional ingredients.

Special thanks to OXO not only for sending me baking supplies to use for this recipe, but also for donating $100 to the Cookies for Kids Cancer in honor of this blog post!