Fall is finally here in the Pacific Northwest. Berry season is, for the most part, over.
But, I'm an Oregon girl. I hold onto Oregon berry season for as long as I can. Usually that means picking several pounds of blueberries, strawberries, raspberries, and blackberries and flash freezing them to last throughout the fall and winter.
Sometimes, that means publishing photos of an event featuring Oregon berries at their finest just as the weather starts to turn, so we can savor the sweetness of Oregon's summer bounty for just a little bit longer.
Jump to:
Gala Berry Dinner
The Gala Berry Dinner was the premiere event of the Lifewise Oregon Berry Festival. Held this past summer on a sweltering, sunny day on the rooftop of the EcoTrust Building in Portland, Oregon's Pearl District, a delicious ending to a fabulous weekend celebration of Oregon berries.
The berry celebration began at the bar, with berry-focused beverages:
Eastside Marionberry Whiskey Cocktails
Wild Roots Raspberry Vodka Cocktails
Wine by Artisanal Winery
Blackberry Baltic Porter by Breakside Brewing
The Oregon Red Raspberry Mule featured Hot Lips Soda and Wild Roots Raspberry Vodka was a sweet way to start the evening.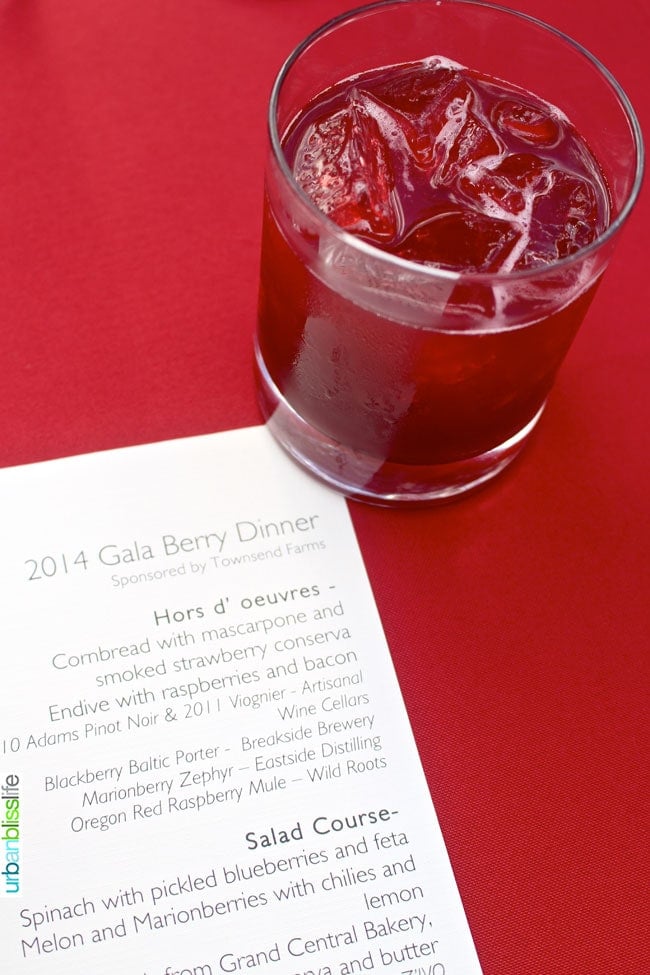 The dinner was catered by talented Chef Jenn Louis of Lincoln restaurant and Sunshine Tavern.
The Food
Cornbread with mascarpone and smoked strawberry conserva.
Bruschetta with roasted salmon with fennel and blueberries
Chicken with summer lettuces, strawberries and almonds
Pork with blackberries and aged balsamic vinegar
Along with dinner, we enjoyed one of my favorite Oregon Pinot Noirs: the Adelsheim Elizabeth Reserve.
The food was inventive, the pairings were thoughtful, the service was attentive and friendly, the atmosphere was jovial, and the night, overall, was a warm and welcoming celebration of Oregon's best summer berries.
Read the first two parts of my Celebrating Oregon Berries series: Oregon Berry Festival and Field Trip to Unger Farms.
Read more about Oregon Berries:
Oregon Berry Festival 2014