One of the best things about living in Oregon is how close in proximity we are to everything: the beaches are an hour away, the mountains are an hour away, the desert is 3 hours away, and farmland is basically right next door.
The berry bounty of Oregon's rich farmland was showcased in the 2014 Oregon Berry Festival. While on a media tour of this year's Oregon Berry Festival, our group took a field trip out to Cornelius, Oregon, to visit Unger Farms.
Unger Farms, as the sign above indicates, was founded in 1984 and is celebrating its 30th anniversary this year.
Like many Oregon farms, Unger Farms is a family-owned business, run by Matt and Kathy Unger. Now, their four children and some spouses are all active in the farm's production. Daughter Laura (pictured below) was kind enough to take us on a tour of the property and share the history and some future vision for the farm.
Set on 144 acres about 45 minutes west of Portland, Oregon, Unger Farms is a picturesque property with a small lake, rolling fields, picnic area, and children's playground.
It is a serene setting, and the views are stunning.
Jump to:
Unger Farms grows a variety of fruits and vegetables, which you can find at 18+ farmers markets on any given week as well as at a variety of grocery stores. Their crops can include Albion strawberries, Polka raspberries, Red Flame seedless grapes, rhubarb, potatoes, zucchini, tomatoes, jalapeno peppers, broccoli, and more.
Albion Strawberries
If you think you can't get fresh Oregon strawberries anymore this year, think again. The Albion strawberries grown at Unger Farm continue to grow past the traditional short (but glorious!) Oregon strawberry season. Albions can continue growing into September and sometimes even early October, making it easier for everyone to enjoy Oregon strawberries for an extended period of time. They are just as juicy and sweet as other Oregon varieties.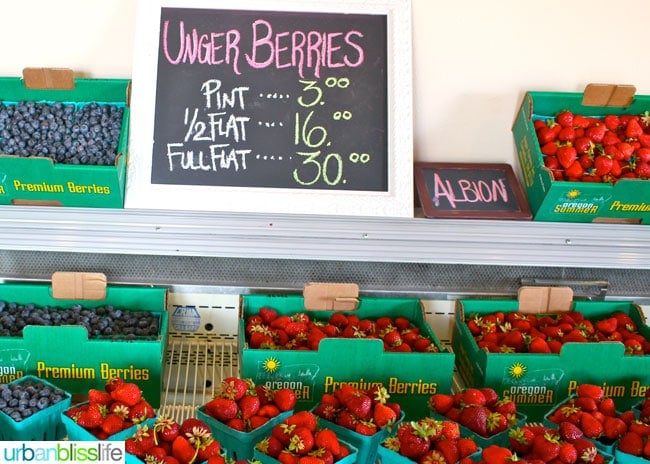 Unger Farms Store
Unger Farms also makes its own jams and sells them - along with several other locally made wines, food products, and merchandise - in its farm store located on premises.
This "Farmer in Training" onesie is just too adorable not to share!
You can also get fresh strawberry lemonade and other beverages, as well as tasty little pastries. The store has a separate section with absolutely adorable kitchen and dining room decor. Definitely worth a visit!
Visit Unger Farms
If you've read this blog at all over the past 10 years, you know what a huge fan I am of local family farms. I love discovering new ones - and there are SO many in Oregon! - and I'm grateful to the Oregon Berry Festival folks for sharing Unger Farms with our media group. They also have a lot of great events out at the farm, so be sure to follow them on Facebook for the latest.
34880 SW Johnson School Road
Cornelius Or 97113
971-285-7507
http://ungerfarms.com/
Hours:
Closed Monday
Tuesday - Saturday 9:00 am - 6:00 pm
Sunday 11:00 am - 4:00 pm