This Blueberry Galette recipe makes an easy summer dessert that comes together in no time at all, and makes the most of summer's bountiful blueberries!
You guys! I am SO excited. Summer berry season is here, and I am in foodie heaven!!
Oregon Hood Strawberries are my absolute FAVORITE summer berries, but our Oregon Marionberries, Cascade Raspberries, and Blue Crop Blueberries are all right up there in my heart of hearts.
Farm fresh blueberries are the best!
If you follow this blog, you know that every year, the kids and I go berry picking several times throughout the summer.
Living so close to the farms makes this so easy, as does living between/close to no less than four farmers markets! I just love having a freezer stocked with frozen-from-fresh berries to last us for months to come!
While we love making everything from muffins and scones to salads and salsas, one of my super easy Go To summer desserts is the foolproof galette.
Truly: you'd find it hard to mess this dessert up, my friends.
What is a galette?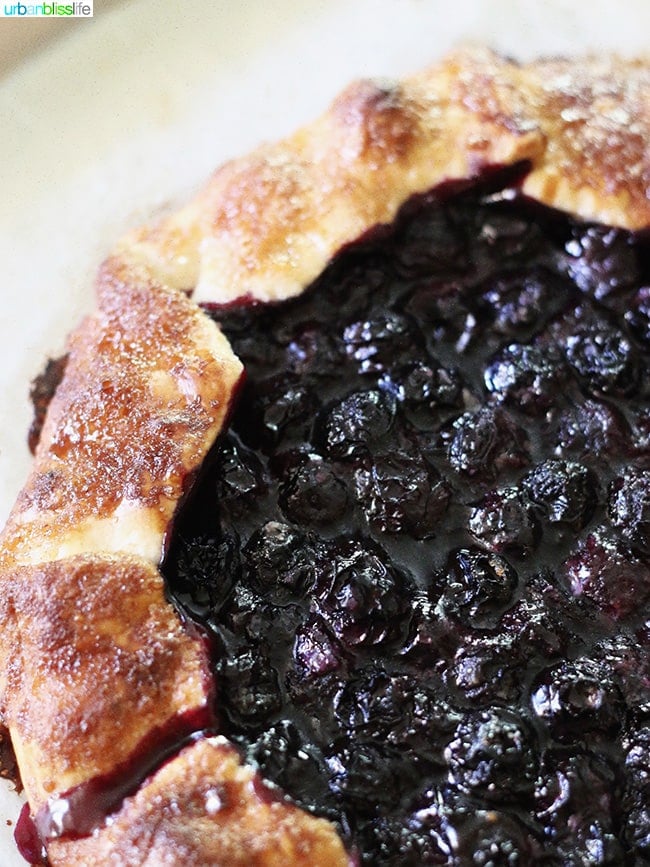 A galette is a very simple, rustic, free-form round pastry. It's usually a single layer, filled with fruit or veggies. The edges are often folded inward slightly.
Some people love pies. I LOVE GALETTES.
They are so easy to make and take so little time to assemble.
Galettes offer a more equal crust-to-fruit ratio than pies, making each bite absolutely delicious.
You can substitute almost any bake-able fruit and it will taste amazing.
These desserts are so forgiving. The freeform rustic style allows you to not stress about how this dessert looks.
I make a lot of galettes, particularly in the summer. I recently made blueberry galettes for a summer soiree with good friends!
What you need to make this easy blueberry galette recipe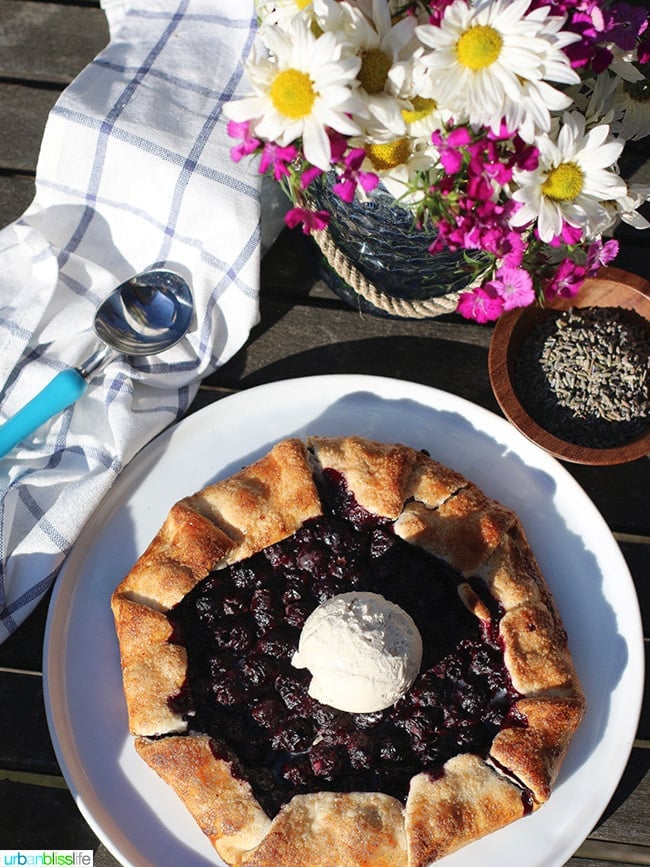 You just need a few things to make this super easy blueberry galette:
fresh or frozen fruit
a package of pastry dough
and an oven (or grill)
Pastry dough: store-bought or from scratch?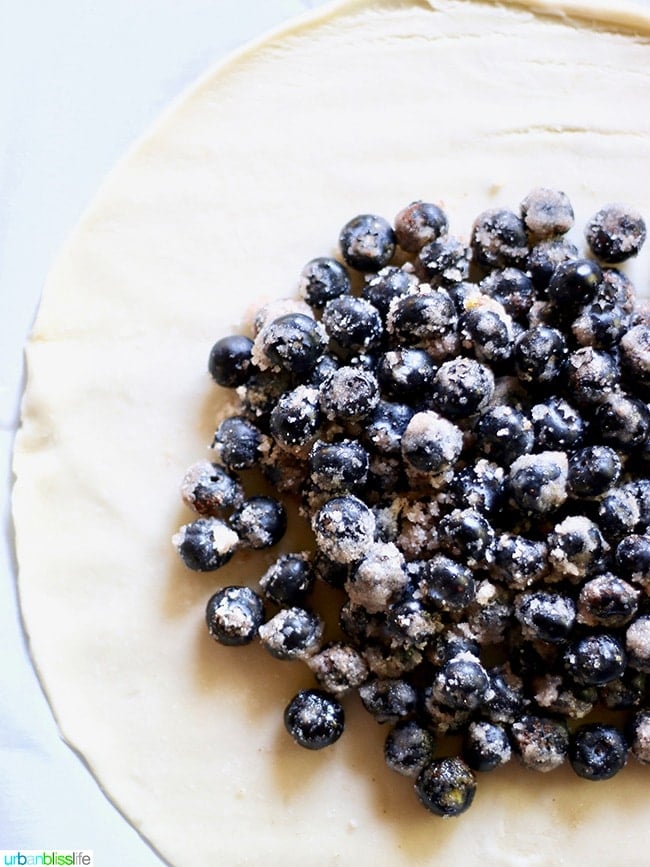 Galettes are super simple, and if you are short on time, store-bought pastry dough is perfect.
If you'd like to make your pastry dough from scratch, I personally love this NY Times pastry crust recipe. I've used for pies, galettes, quiches, and more.
That said, when it's summertime and the livin's supposed to be easy, I say it's perfectly a-okay to go for the pre-made refrigerated pie dough from the store!
How to make blueberry galettes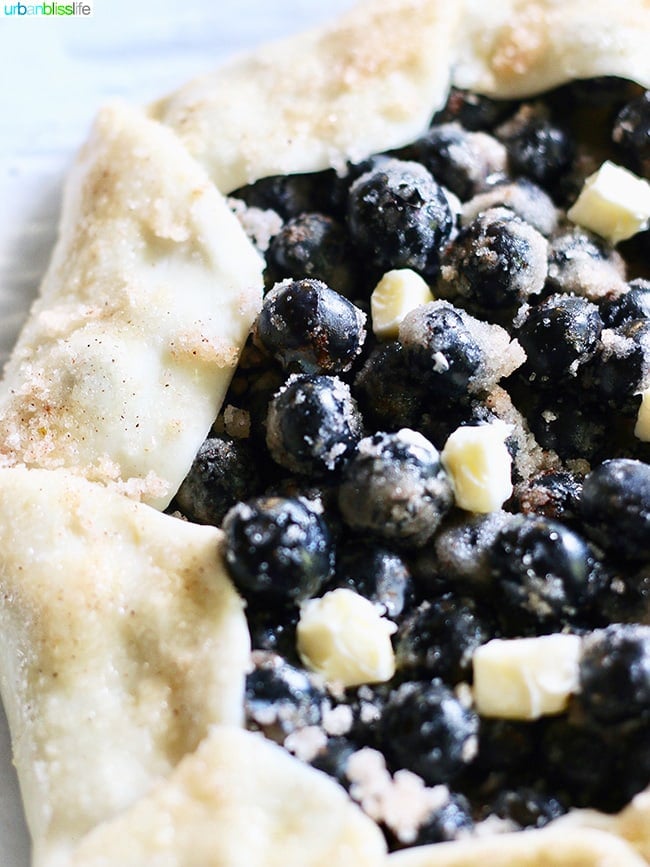 This summer dessert recipe makes TWO galettes and serves approximately 4-6 people. If you would like to make just one galette to serve 2-4 people, simply halve the recipe and just use one of the circles of premade dough.
Look at those fresh blueberries all nestled in their dough blanket. With butter cubes gently kissing their summer skin, glistening with a sprinkling of cinnamon sugar, ready to bake up to yummy goodness.
I always like how pre-baked blueberry galettes look... and LOVE how the finished baked galettes taste!
Dessert Baking Tips
One comment I hear a lot is about berries overflowing and bursting through/over the galette crust.
Personally, I don't mind this if it happens a bit over an edge or so, like the pic above. But if you're a color-within-the-lines kind of gal/guy and don't want your berries to do this while baking, I suggest two things.
Dry off your berries well with a paper towel after washing them before placing them onto the crust. This will help remove excess water that can cause more liquid overflow.
Don't overfill. You should place enough berries on your dough center to cover the dough, but don't pile a huge mound of berries too high that they'll collapse and bubble over the galette edges when baking.
What wine pairs with blueberry galette?
I paired this blueberry galette with a velvety, rich cabernet sauvignon. You could also enjoy this with a robust Merlot.
Don't let anyone tell you that you can't enjoy a big red wine with your summer meal. The dark fruit flavors in a cabernet sauvignon help bring out the richness of the blueberries. So good together!
More Easy Summer Recipes
Easy Summer Dessert: Blueberry Galette
Blueberry Galettes make the most of summer berries and are easy to make
PRINT
PIN
RATE
Ingredients
2

9" refrigerated pie doughs (1 package usually contains 2)

1

lb

fresh blueberries (about 3 cups)

2

tbsp

cornstarch

2

tsp

lemon zest

2

tsp

fresh lemon juice

1 ¼

tsp

ground cinnamon, divided

½

cup

granulated sugar, plus 1 tablespoon sugar

1

tbsp

cold unsalted butter, cut into small cubes and divided
Instructions
Preheat oven to 425 degrees. Prepare two rimmed baking sheets with parchment paper. In a small bowl, combine ¼ teaspoon cinnamon with 1 tablespoon sugar; set aside.

Thaw refrigerated pie dough according to package instructions. This recipe uses both dough circles typically in one package. Set each one on top of a baking sheet. Set aside.

In a large bowl, stir together blueberries, cornstarch, lemon zest and juice, and remaining 1 tsp cinnamon and ½ cup sugar until blueberries are well coated.

Spoon half of the blueberry mixture onto the center of one dough; repeat with the other half onto the other dough.

Gently fold dough over part of the blueberry mixture, and then continue around the circle to create pleats. Place half of the butter cubes on top of one blueberry center, and then repeat with the remaining half on the other one.

Use a pastry brush to lightly glaze the tops of each dough with the egg wash. Sprinkle the prepared cinnamon sugar mixture evenly over both of the galettes.

Bake at 425 degrees for about 20-25 minutes, just until the tops of the dough become lightly golden. Cool on a baking rack for a few minutes before serving.
Notes
recipe adapted from one I found years ago on Epicurious
PIN IT: