Ever wonder what it's like to be a judge in a wine competition? I share a Day in the Life of a Wine Judge - the good, the challenging, and I share how much wine we really drink!
Drinking wine all day sounds like a dream to many. But in a day in the life of a wine judge, it's work!
I had the pleasure of judging the NW Wine Summit last month. Since then, I've fielded a lot of questions and comments about what it's like to be a wine judge.
While I've judged food competitions before, this was my first wine competition – and I hope it won't be the last. I thoroughly enjoyed the entire experience. And, I learned so much from my fellow judges in those three short (but very, very long) days. I can't wait to do it again!
This article is to answer some of the more common questions I've received about wine competitions. I've put together this overview to give you all a better idea of what judging wine competitions entail. And, perhaps, to help you see if you would like to be a wine judge someday, too!
Jump to:
What are wine competitions?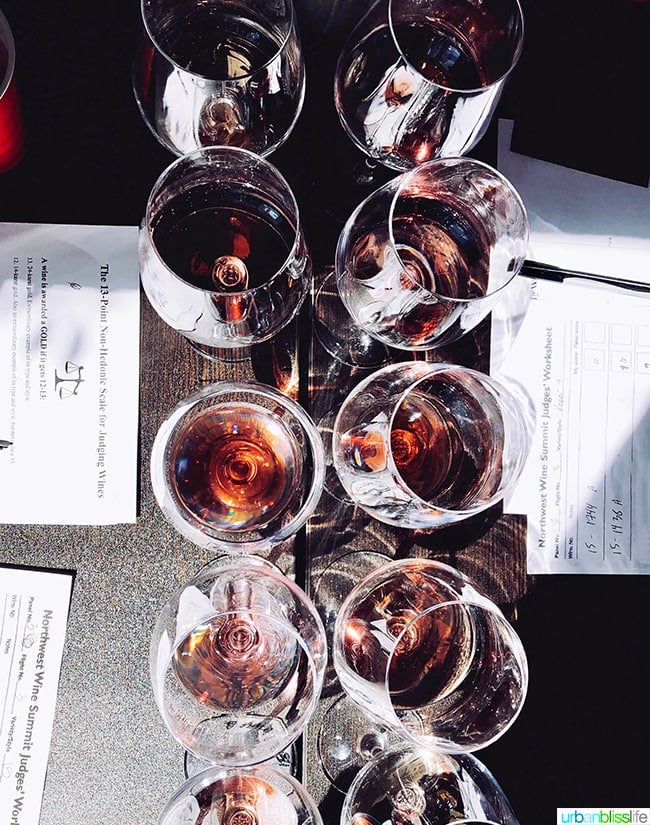 Okay, this may seem like a basic question, but I don't think people realize how many different wine competitions exist. There are all sorts of wine competitions out there.
There are a few that are international, national, regional, and some by state. The NW Wine Summit was open to winemakers from Oregon, Washington, Idaho, Montana, and Western Canada. There are even a few competitions focused solely around a particular wine varietal.
Wineries select which wines to submit to which competitions. One would like to assume that they only submit their best to the most appropriate competitions for their wines. But every winery has a different agenda, objective, and budget.
Some wineries allocate thousands of dollars each year to wine competition submissions. Others may only submit their best wine to one or two competitions – or stay away from competitions entirely. What's at stake: potential high wine scores and medals that consumers tend to flock to when making their wine purchases.
Who judges them?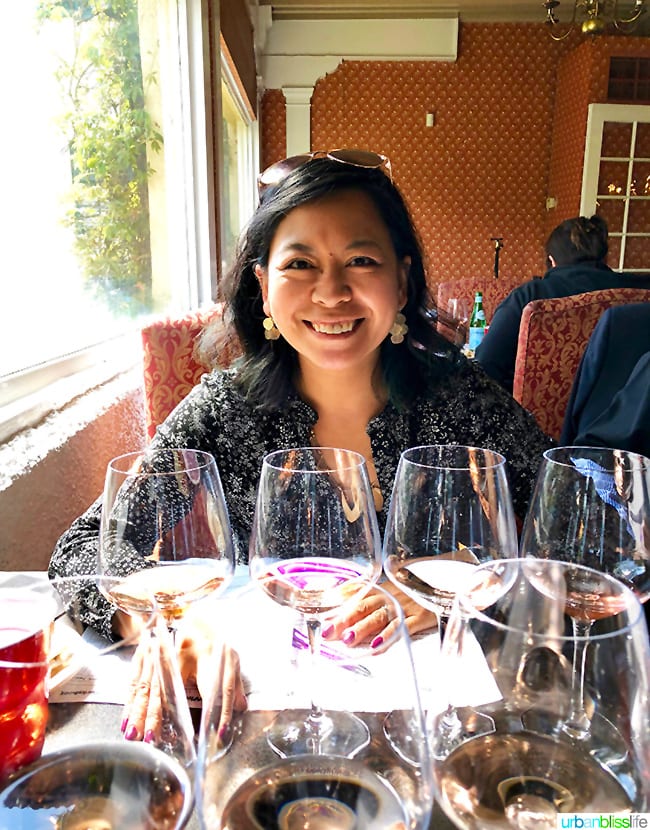 Usually, judging panels consist of a mix of professionals working in the wine industry. This includes winemakers, wine writers, restaurant wine directors, sommeliers, wine shop owners, wine educators. Essentially, judges are people who have a daily exposure to wine and the wine industry. And, of course, who have a passion for wine. Some judges have official wine credentials, but many do not. I will say that this experience has furthered my commitment to study for my WSET Level 2 certification soon!
Judges should have at least basic technical wine knowledge. But having a variety of wine professionals on each panel brings a complete look at the potential of each wine. It allows for diverse opinions in how it tastes technically, if it's a shining example of the varietal or not, whether consumers would love that wine or not, and so on.
Long days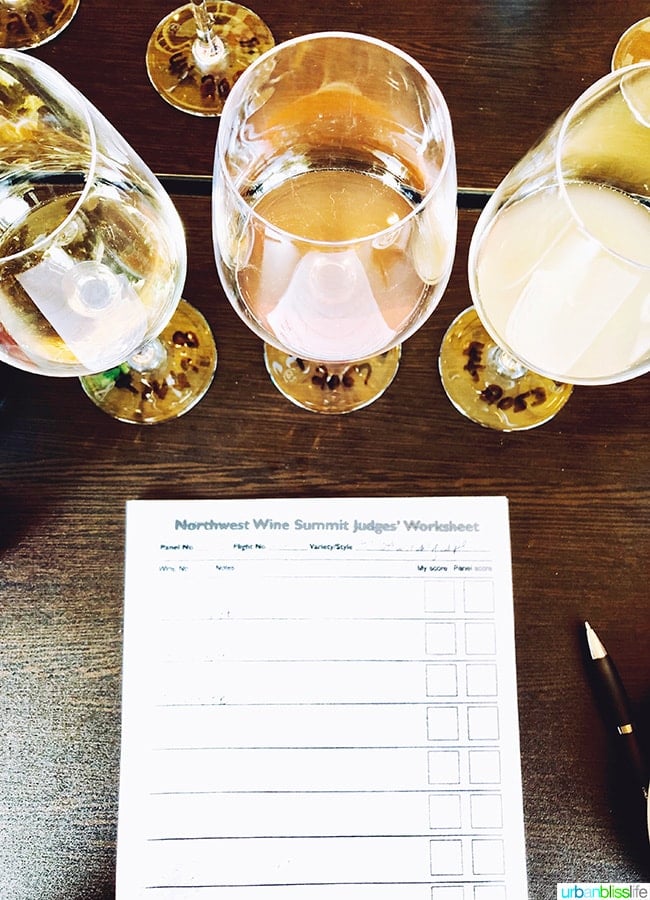 Every wine competition varies, but most start around 9am and run practically nonstop until about 5pm. We're talking lightning rounds, one after another, all day long.
Some are three full days, as was the NW Wine Summit; depending on number of entries, some competitions last two or four days. We break for lunch. If we finish judging a flight a little earlier and the next flight isn't waiting for us, we'll have time to run to the restroom.
How judging panels work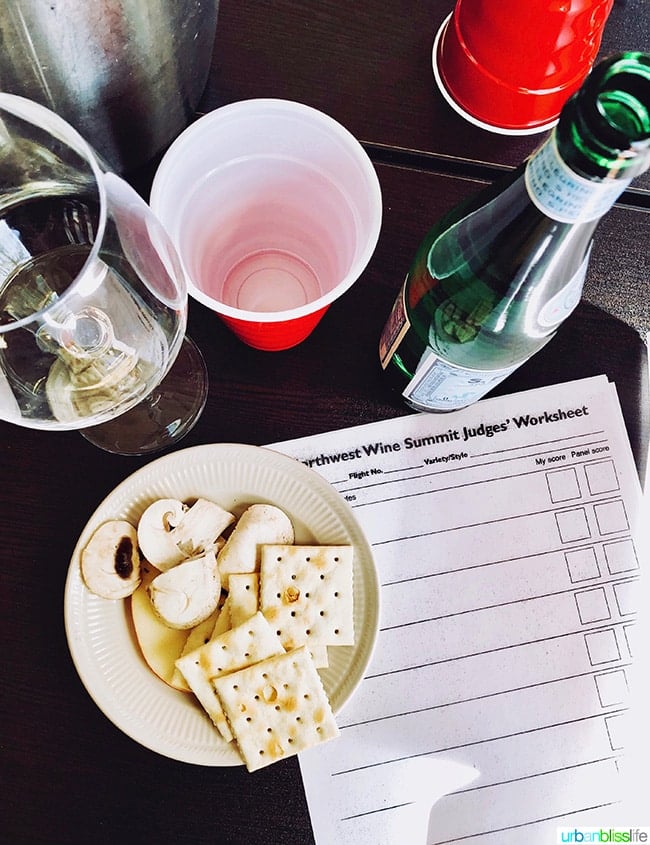 Upon arrival, each judge is directed to a table with 3-4 other judges. One person is appointed or volunteers to be the panel head, who coordinates and submits the final panel decisions for each flight. At the NW Wine Summit's Oregon competition (there was also a BC Canada one), there were 20 judges total.
We grab a bottle of water and a plate full of palate cleansers: plain crackers, white mushrooms (excellent for tasting those red wines), apple slices. Each judge also has an individual spit cup, judging sheets per flight, varietal list with coordinating numbers for judging, and a wine score guideline. There is also a large dump bucket in the middle of the table where the spit cups are emptied; the wine bucket is emptied in between flights, or just before it gets too full.
The backroom staff bring out flights of wine, which consist of 3-6 wines each. Wines are placed in order of judging, from left to right, and then we write down the numbers in order on our judging sheet for that flight. Then, we taste.
Tasting consists of sniffing, sipping, spitting. No drinking! You don't even have time to drink. Then evaluating, as quickly yet thoroughly as possible, the color, clarity, aroma, taste, finish. We write down our scores individually, then discuss our rankings for each as a panel and come to a panel decision.
Usually, there is consensus. Most people are able to go up in their scores or go down to meet the panel consensus. Sometimes, there is one judge who feels very strongly the opposite of the rest of the panel. That judge can opt to have the wine in question appealed and tasted by another panel. It didn't happen too often, but those instances were usually the basis for some really interesting conversations about the wines.
I believe in the end, at the NW Wine Summit, we tasted through 51 flights of 3-6 wines each plus one mega Best in Show round.
The backroom staff keeps things running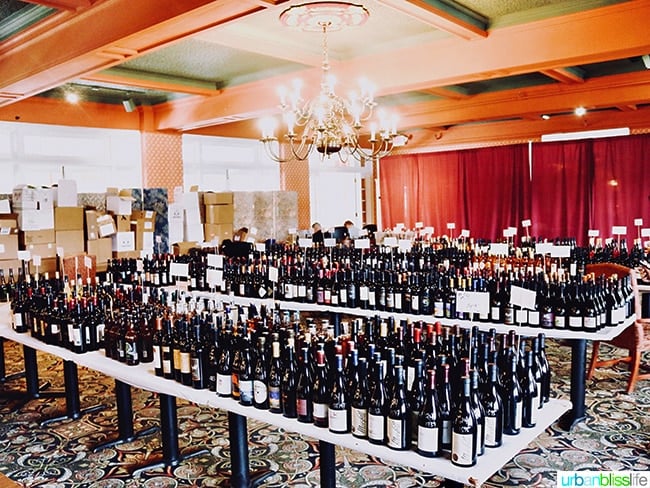 The backroom is ground zero, where volunteers keep the day running smoothly. Wines are organized by varietal/category, numbered, and the backroom staff are responsible for pouring flights, keeping them in order, bringing them out, and returning used glasses to be washed. They take all of the completed judging sheets and usually one or two people are responsible for entering all of the data.
Controlled chaos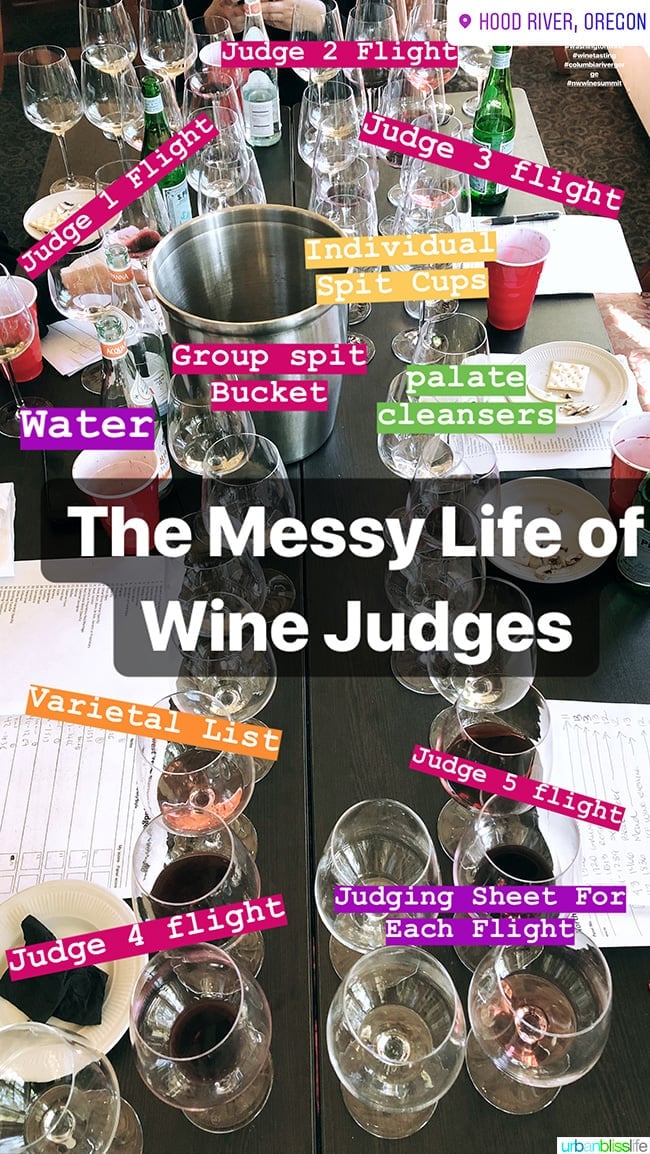 This is a shot I took of one of my panels at the NW Wine Summit. Almost every inch of space on each table is used during judging. Between the wine glasses, spit buckets, spit cups, palate cleanser plates, papers, pens - it's controlled chaos at its best.
Not much drinking, actually
Perhaps the biggest misconception from friends and family is that I had to drink (ha! *had to*) all of the hundreds of wines that were judged. On the contrary, while judging wine competitions, judges sip and spit every single wine tasted.
That said, there is of course some of that wine that is consumed - you just can't help that. But, if you do your job well, you end the day as clear-headed as you started it.
Many wines are submitted too young
It's really hard to judge a young wine, but there is definitely a push for wineries to get high points and medals awarded as soon as possible in order to sell their wine. Think about it: when you're in a wine shop, your eye automatically gravitates toward the special markers that tout medal winners and scores of 89 or higher. Wineries often have their medals displayed around bottle necks proudly, front and center, and as a consumer it tells you: this is a good wine buy.
That said, some of the wines we tasted were clearly too young. We had to judge them on how they tasted right then and there - not what they might taste like in 5 or 10 years. Many, I suspect, would be amazing given even one more year.
The wine industry is the best
I already knew this having worked as a wine writer for so many years, but I got to see this even deeper while participating as a judge in a wine competition. If you read this blog, you know the profound respect and admiration I have for winemakers and winery owners. This work that they do is nothing short of incredible. It takes hard, hard work, commitment, talent, and a good mix of science, love, and instinct to make a good wine. Judging hundreds of wines in a few days, none of that was lost on me. Each taste, however brief or odd or questionable, was taken seriously, knowing the amount of passion and work that went into creating it.
Wine competitions are never about drinking. They are about taking time to celebrate the craft of winemaking, and honor those who make magic happen in a bottle.
What do you think about wine competitions? Do scores and medals affect which wines you buy as a consumer?