If you're looking for a flavorful, healthy recipe, this 30-Minute Instant Pot Moroccan Chicken is a popular reader favorite!
If your family is like mine, you are constantly looking for one-pot meals that are healthy. Meals that don't take a lot of time in the kitchen, but are full of amazing flavor.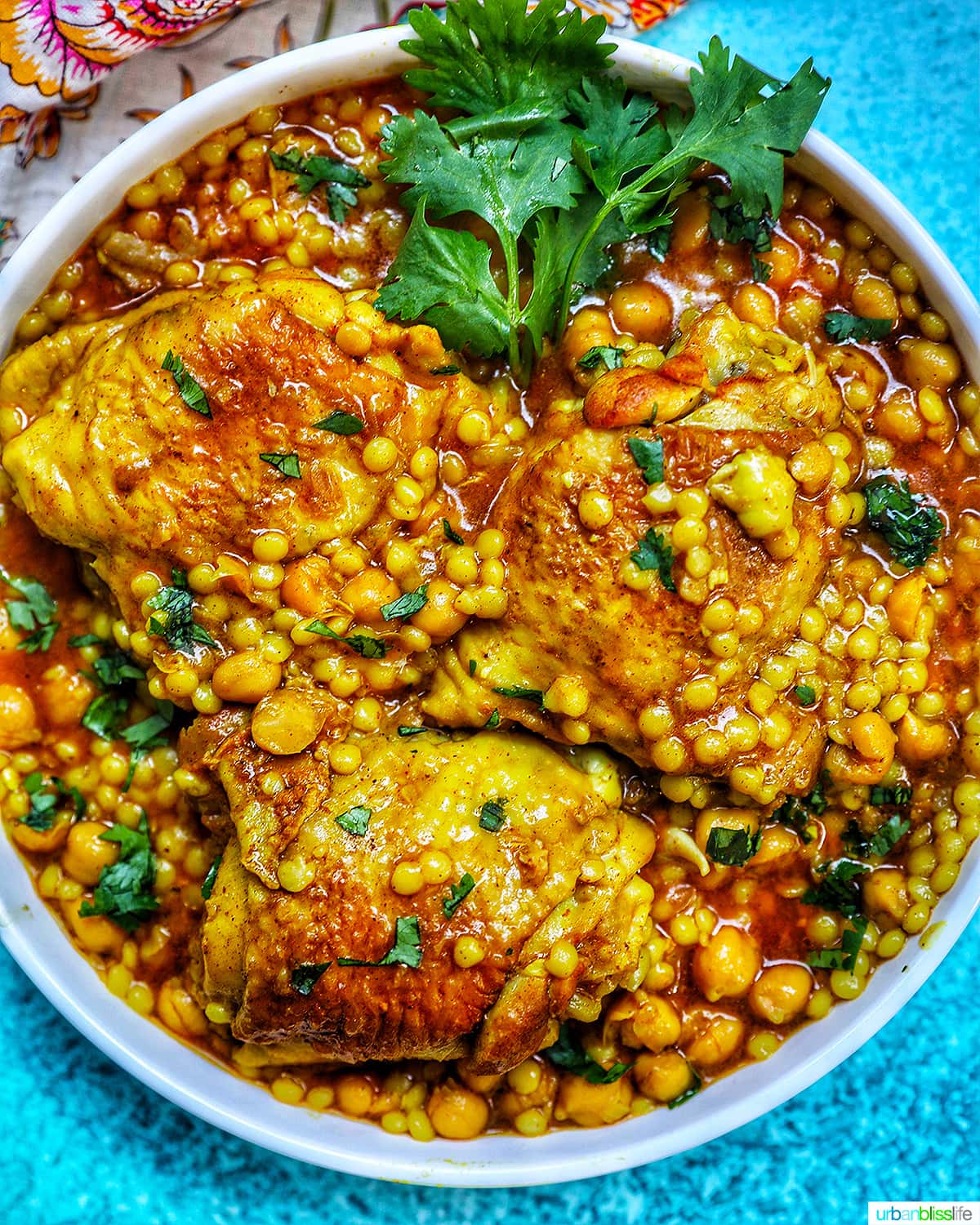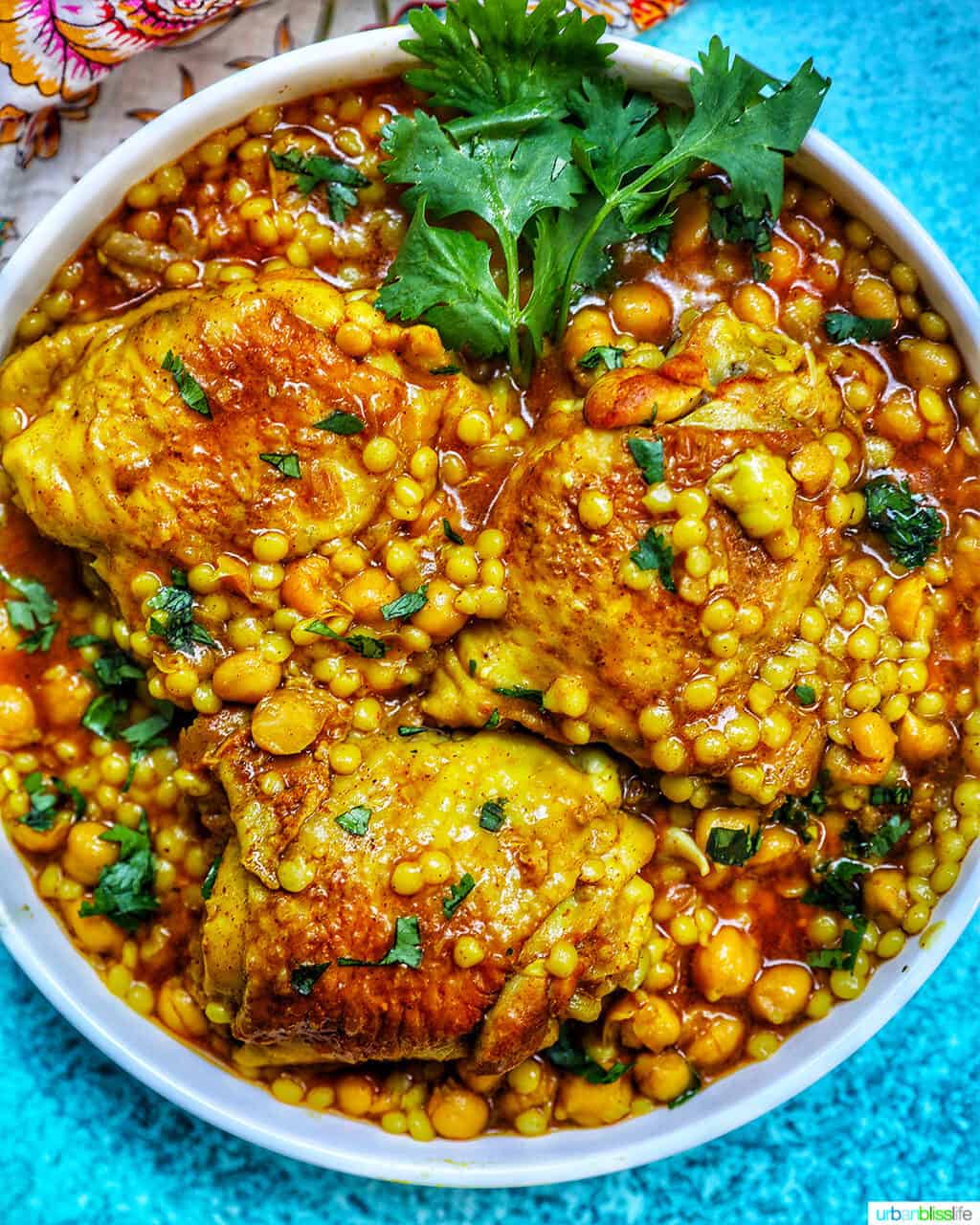 Enter my current fave recipe creation: the one-pot, 30-minute Instant Pot Moroccan Chicken meal. You guys, I am OBSESSED with this pressure cooker Moroccan chicken dish. It's packed with robust spices and flavors, and I hope you will love it, too!
One pot, 30-Minute Meals = Dinner Bliss!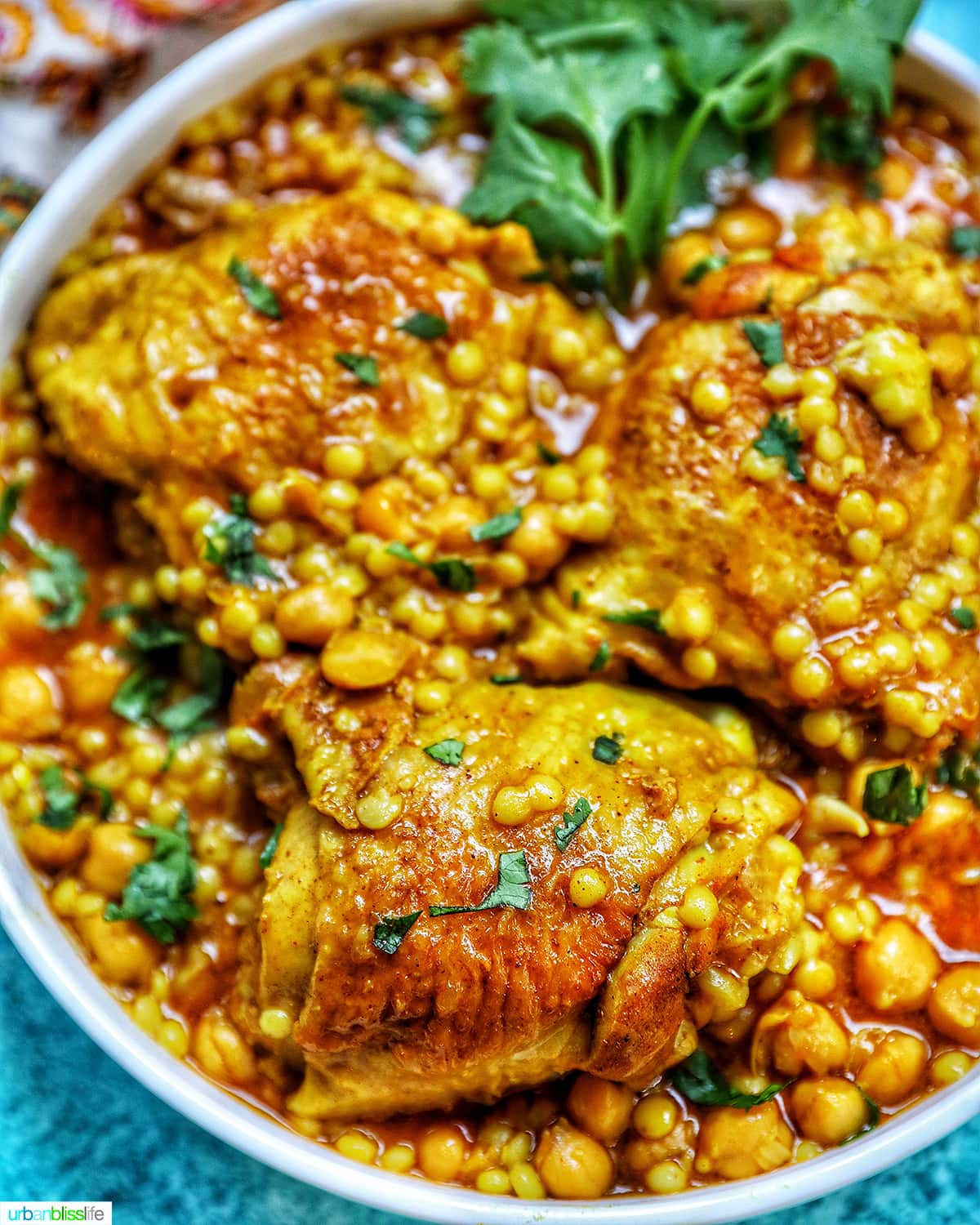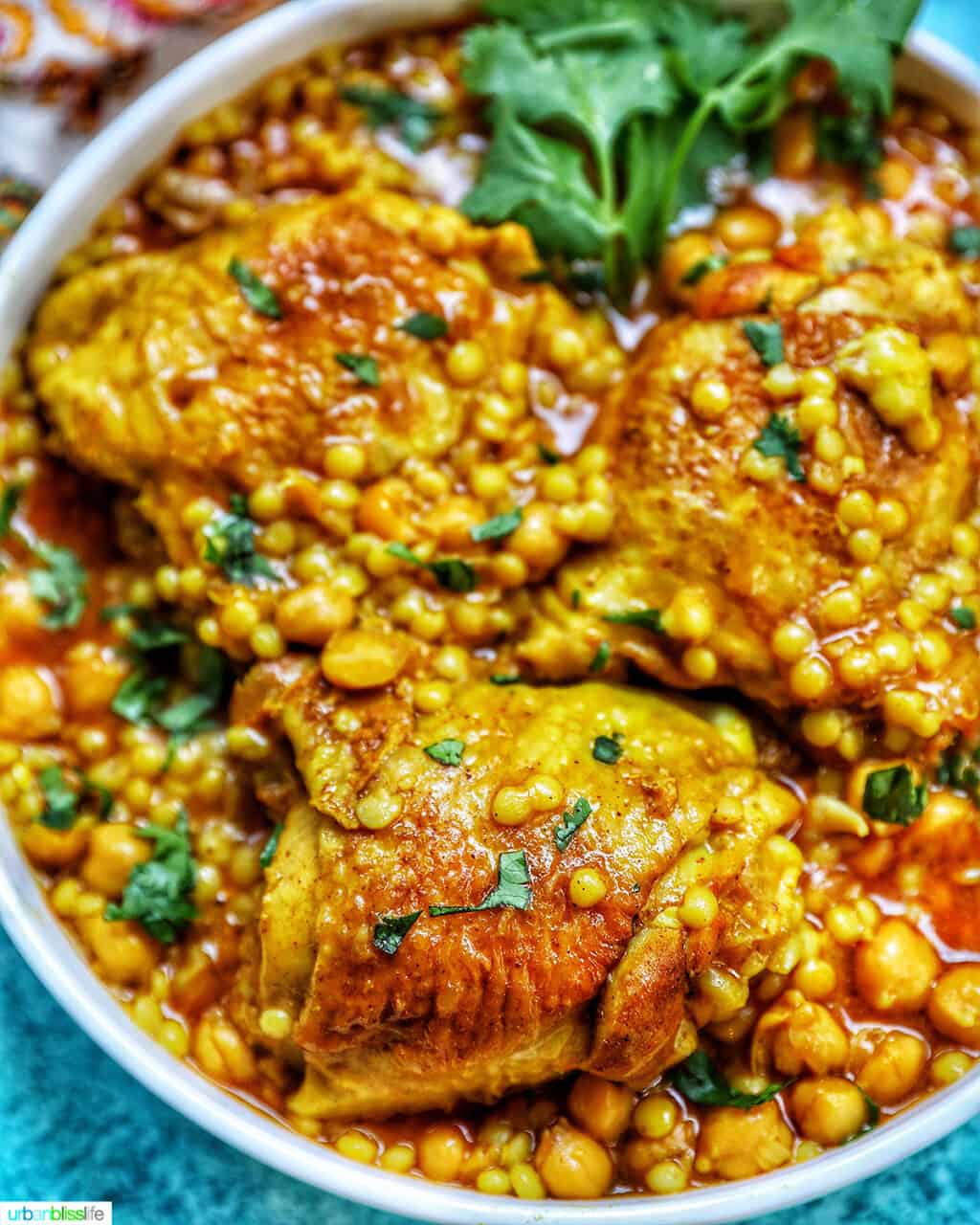 If you follow me on Instagram or subscribe to my weekly Food, Wine, and Travel Bliss newsletter, you know that I love both my 8-quart Instant Pot and 8-Quart Ninja Foodi Deluxe. I use my multi-cookers every single day.
Electric pressure cookers like the Instant Pot and the Ninja Foodi are just perfect for creating nutritious dishes like this that are packed with big flavors!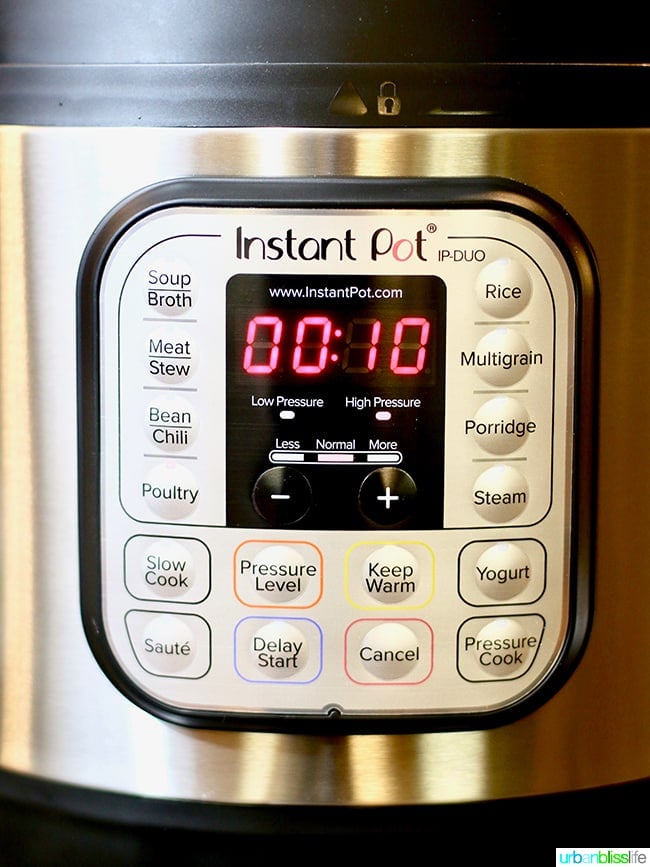 I LOVE one-pot wonder meals, and the multicooker - AKA the Ninja Foodi and the Instant Pot - makes it all so fast and simple to feed the family healthy meals.
Healthy Instant Pot Moroccan Chicken
The most delicious recipes start with high quality, fresh ingredients.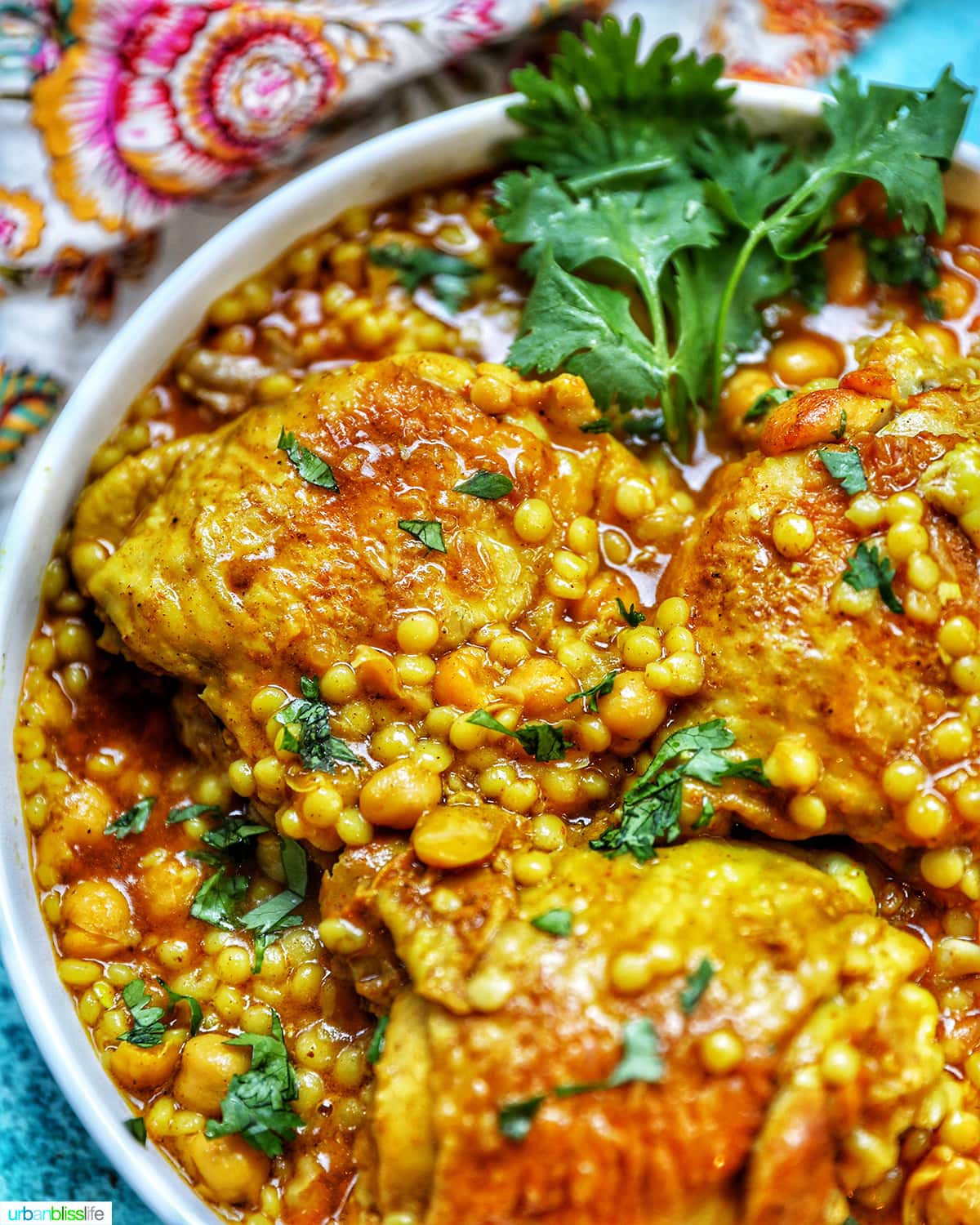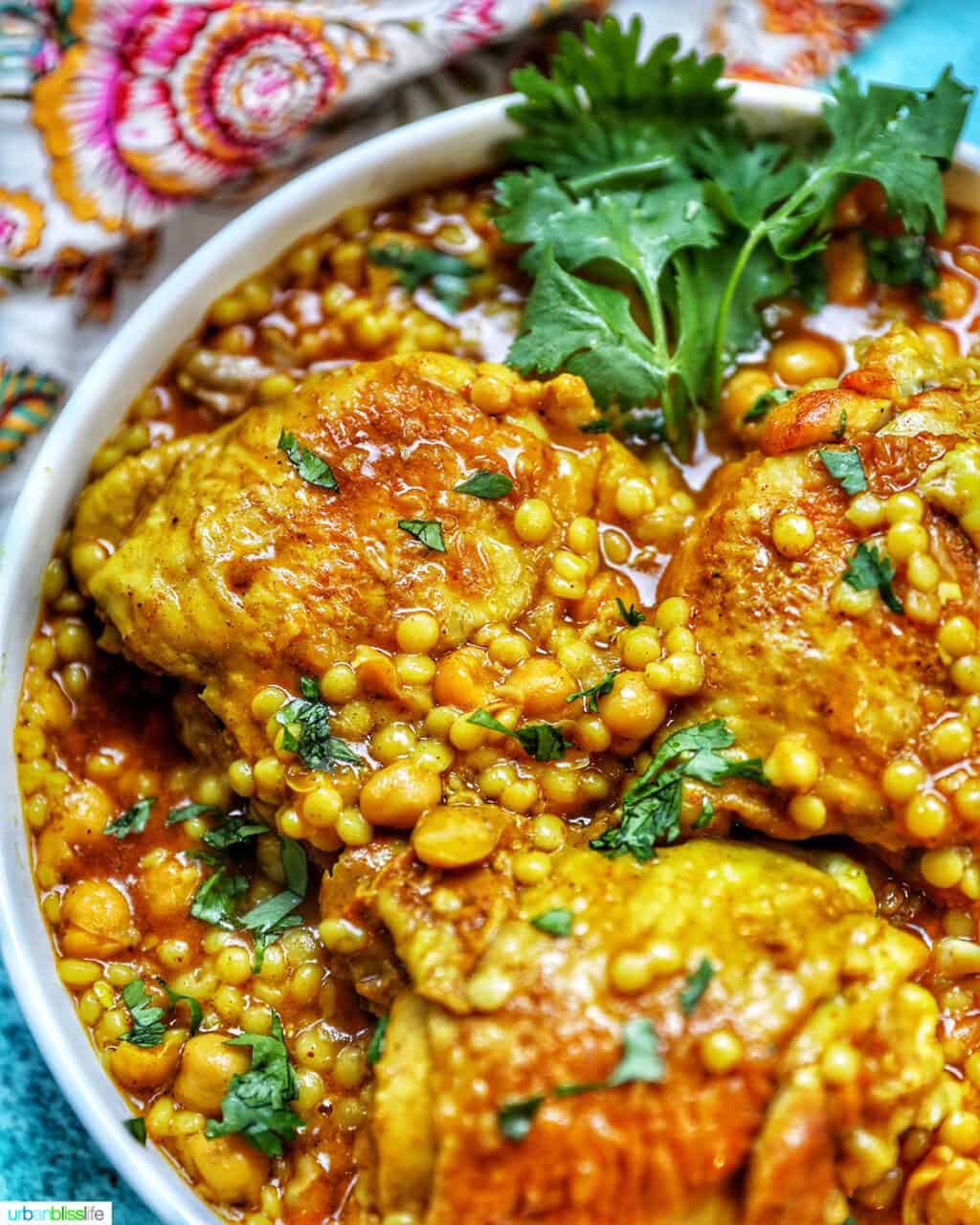 For this recipe, I find it's best to to use boneless, skinless chicken thighs or bone-in, skin-on chicken thighs. They tend to be juicier, meatier, and absorb more of the delicious Moroccan spice flavors than chicken breasts.
Traditional Moroccan Spices
This calls for a blend of traditional Moroccan spices:
paprika

turmeric

cumin

kosher

salt and pepper.
The measurements in the recipe make enough to cover a pound and a half of chicken, so feel free to adjust the amount of spices if you use less or more chicken.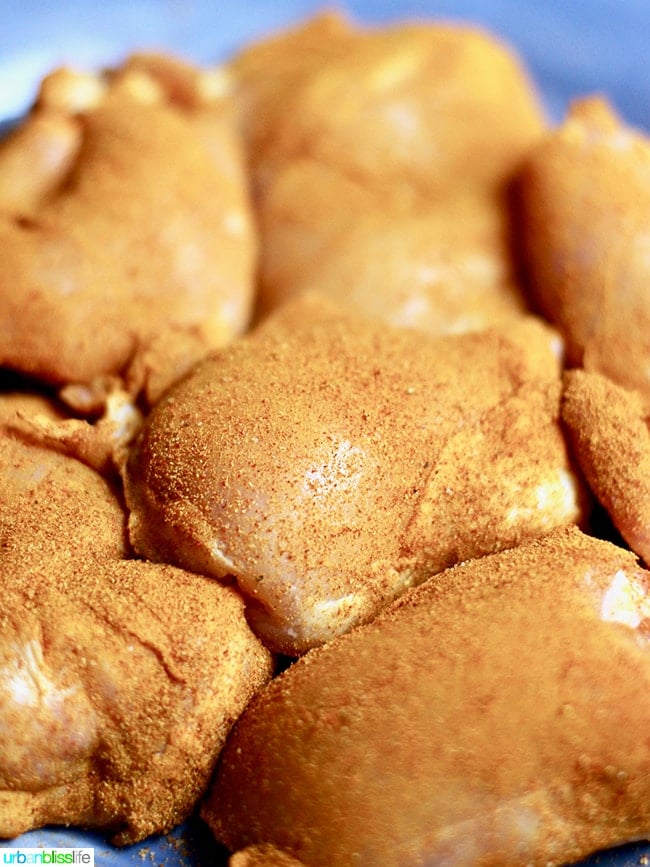 How to make Moroccan Chicken in an Instant Pot or Ninja Foodi pressure cooker
Making Moroccan chicken in the Instant Pot electric pressure cooker or Ninja Foodi multi-cooker couldn't be easier.
Season the chicken and then give it a quick sauté on both sides in the pot.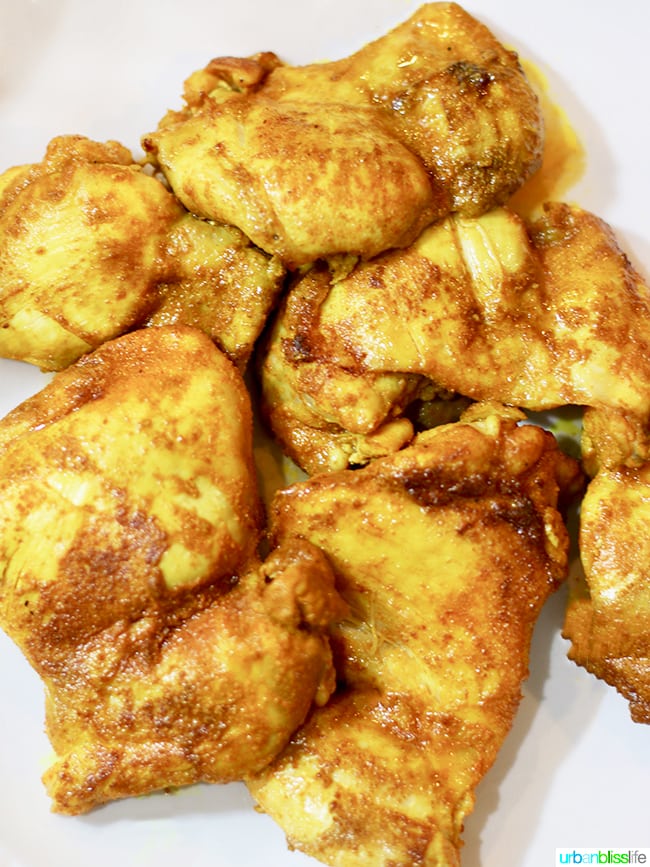 Then the chicken is set aside while you sauté the garlic, ginger, and onions.
After that, add the quinoa (or couscous), dried cherries (or apricots), and chickpeas into the Instant Pot. Pour in the chicken broth.
Side note: I like the flavor of dried cherries in this recipe, but you could also use dates, raisins, or even dried apricot.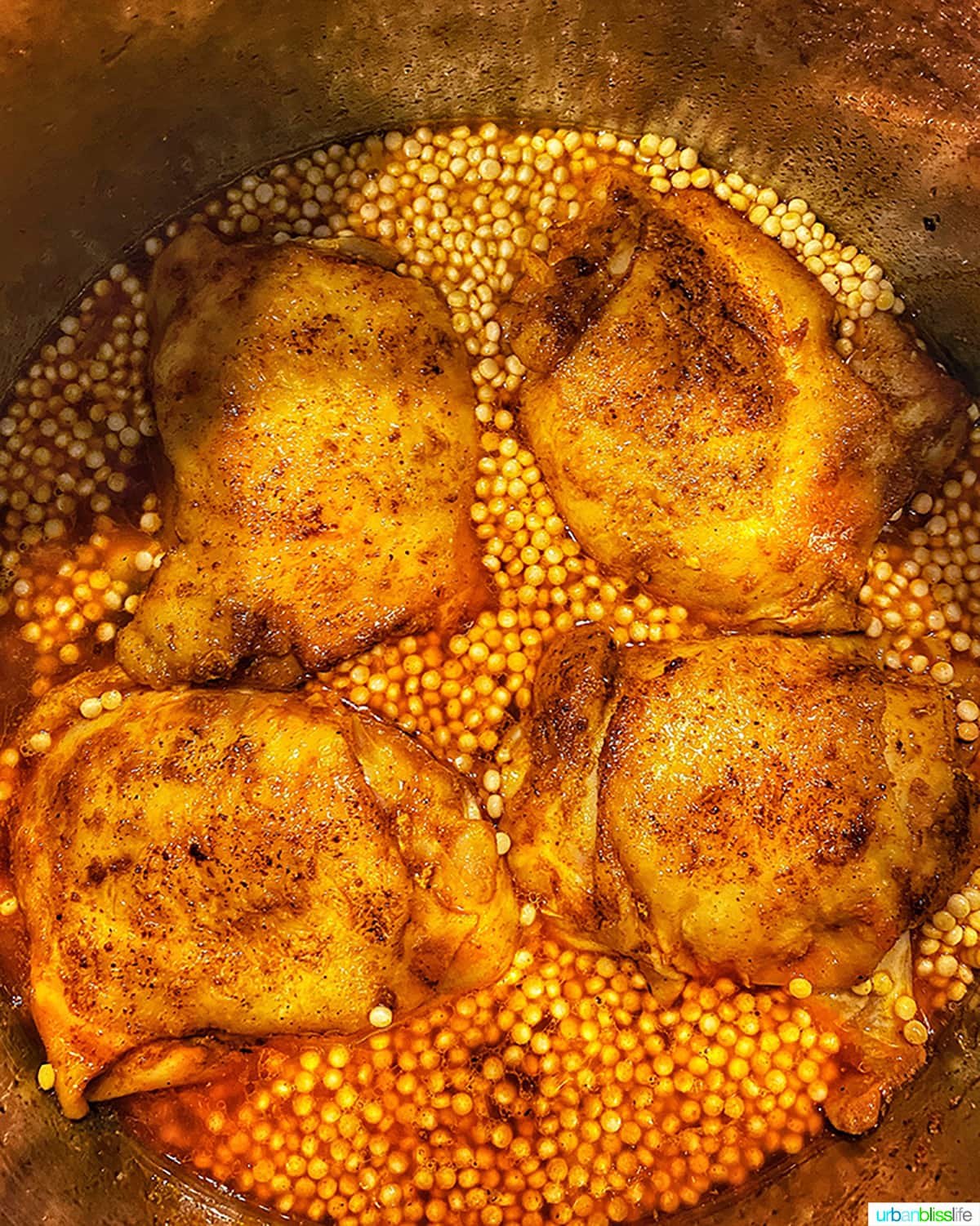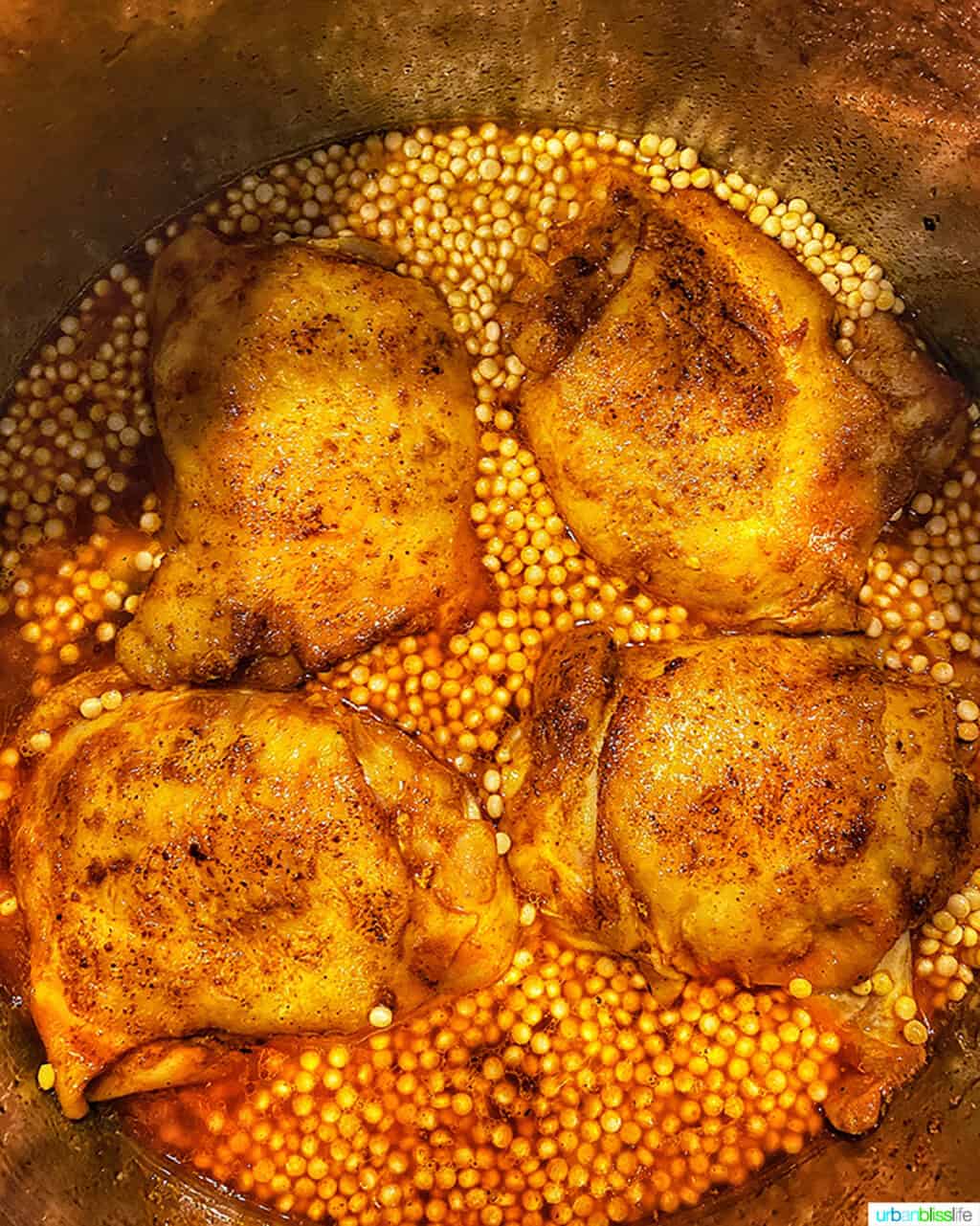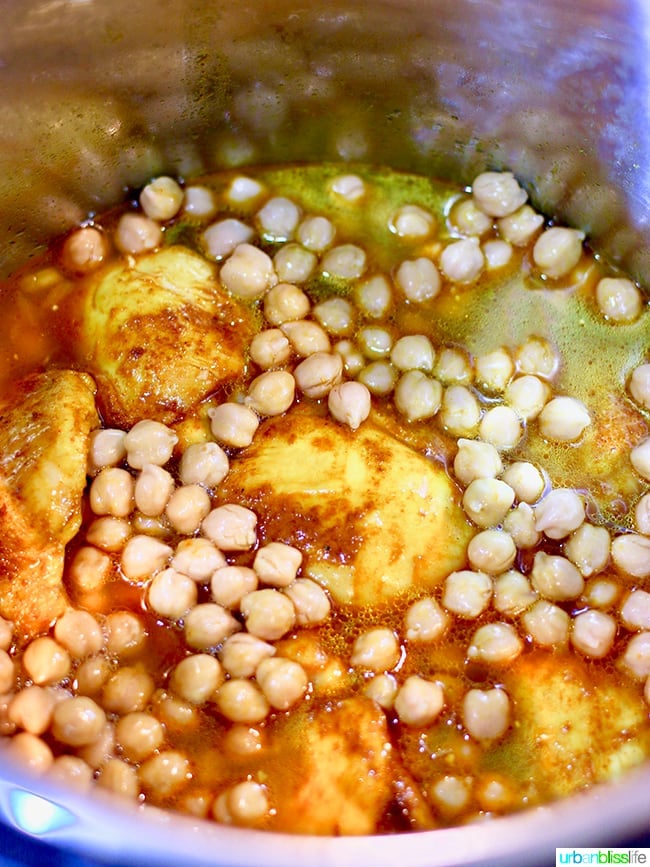 Close the lid, make sure the vent is on SEALING, then set the dials to POULTRY and set the time to 10 minutes. It takes a few minutes for the Instant Pot to reach pressure. Once it does, it will start counting down. Once it stops counting down from 10, very carefully turn the knob to VENTING and Quick Release.
Safety tip: I use tongs whenever I turn the pressure release valve knob; you could use a wooden spoon or super thick oven mitts.
After a few minutes, the Instant Pot pin will go down all the way indicating all pressure has been released. That's when you know it's safe to open the lid. At this point, your beautiful Moroccan chicken dish should be done!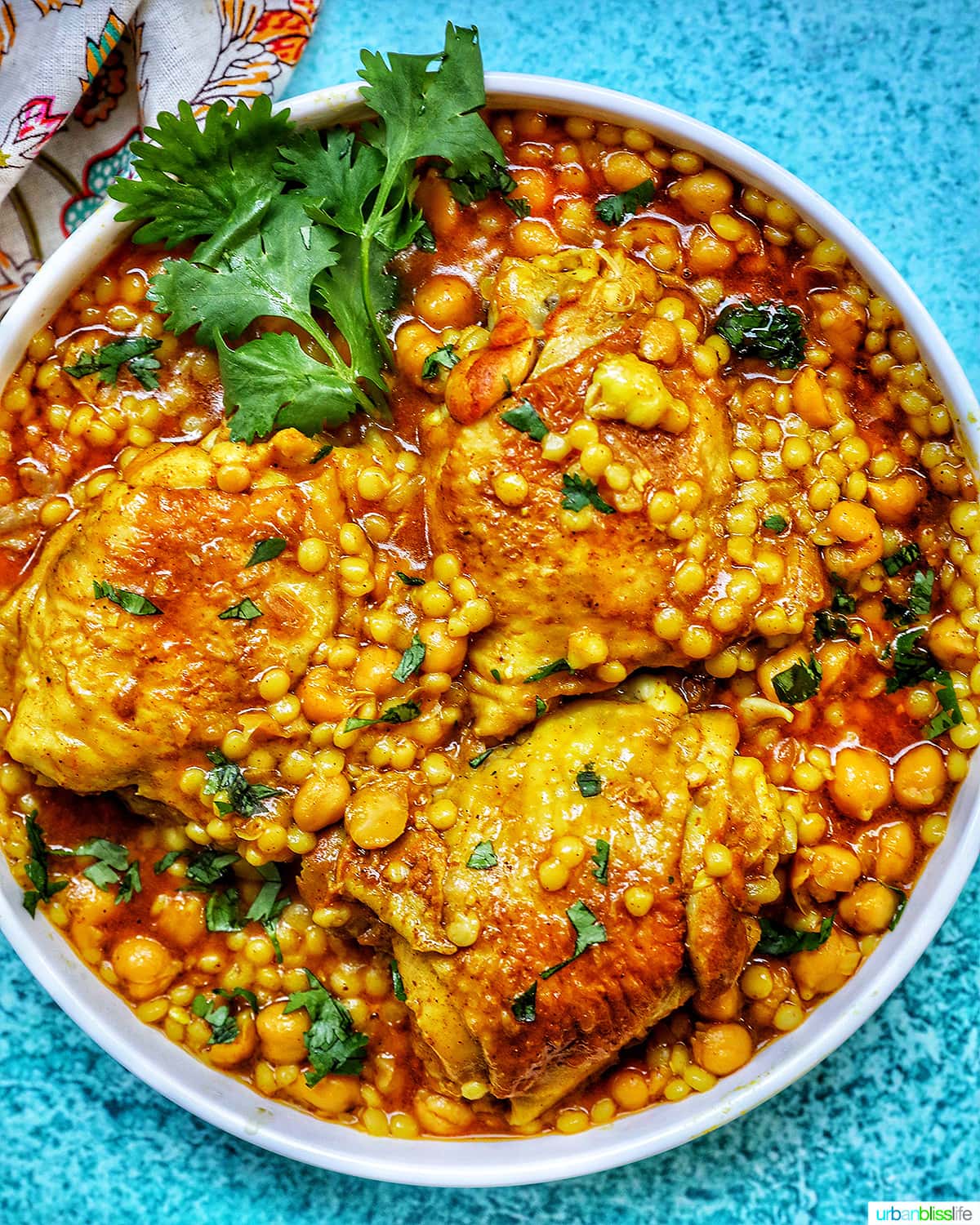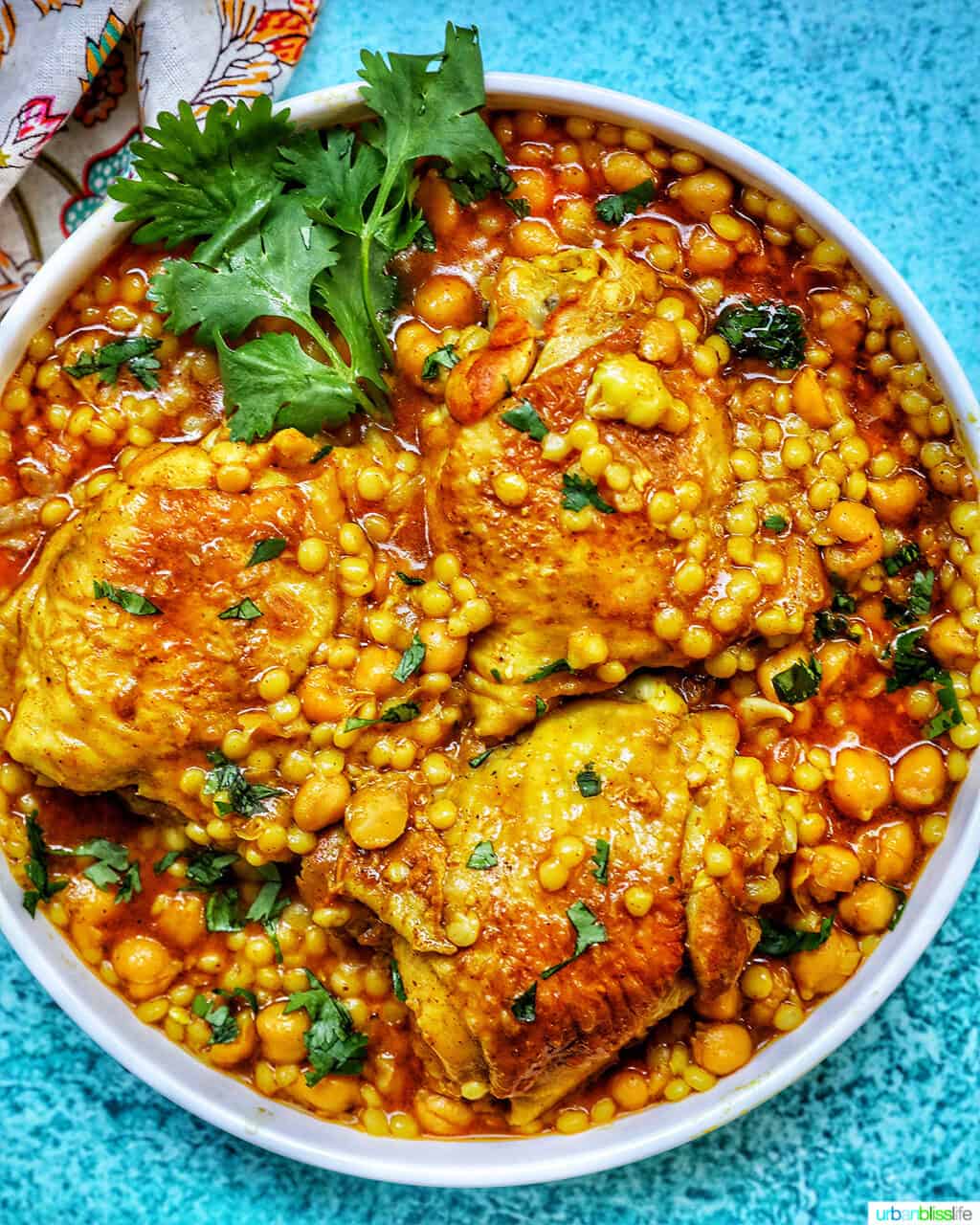 You can use a meat thermometer to double check the doneness of the chicken. If it's at 165°F degrees, then your chicken is ready to go!
What wine pairs with Moroccan chicken?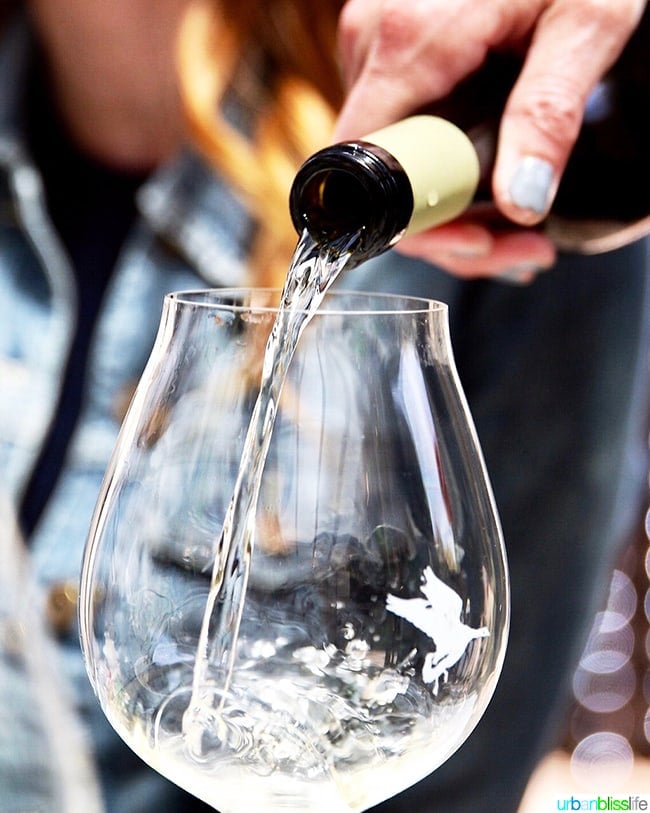 The bold robust spices of this healthy recipe call for being paired with a bright, dry white wine. A dry Riesling would be lovely with this dish, as would a dry Roussane from Southern France.
Healthy Instant Pot Moroccan Chicken Recipe
I LOVE this Instant Pot Moroccan Chicken recipe so much.
The chicken is so flavorful and moist, and the quinoa turns out just as yummy and fluffy. And best of all, it takes just around 30 minutes from start to finish, all in ONE pot. Less to clean up, and more to enjoy!
Healthy 30-Minute Instant Pot Moroccan Chicken
Healthy 30-minute Instant Pot Moroccan Chicken is a fast, easy, and dressed up dinner for busy weeknights!
PRINT
PIN
RATE
Ingredients
1

teaspoon

paprika

1

teaspoon

turmeric

1

teaspoon

ground cumin

½

teaspoon

kosher salt

¼

teaspoon

black pepper

1 ½

lbs

boneless, skinless chicken thighs

3

tablespoons

olive oil, divided

2

garlic cloves, minced

1

small yellow onion, finely diced

1

teaspoon

ginger, minced

1

cup

uncooked quinoa or couscous

1

can

(14.5 ounce) chickpeas, rinsed and drained

½

cup

dried cherries or dried apricots

1 ½

cups

chicken broth

optional: finely chopped cilantro leaves or parsley leaves
Instructions
In a small bowl, mix together paprika, turmeric, cumin, salt, and pepper.

Coat chicken with spice rub as evenly as possible on all sides. Set aside on a plate.

Add 2 tablespoons olive oil to the bottom of the Instant Pot pan.

Press SAUTE mode on the Instant Pot.

Add chicken to Instant Pot and sauté until slightly brown. Then flip over each piece of chicken and continue cooking until that side is slightly browned. Remove from Instant Pot and set aside on a plate.

Add remaining 1 tablespoon olive oil to the bottom of the pot.

Stir in garlic, onions, and ginger. Sauté for 2 minutes, stirring slowly.

Mix in the quinoa (or couscous), dried cherries (or dried apricots), chickpeas, chicken broth, and the browned chicken.

Close the Instant Pot lid and be sure the pressure release valve is in SEALING.

Press POULTRY (or Manual) and set time to 10 minutes.

Instant Pot will bring contents to pressure and the display will say ON during this time. Once the contents have reached pressure (this can take up to 10 minutes), the Instant Pot will beep and start counting down 10 minutes. At the end (when those 10 minutes are up), use tongs to very carefully turn the knob to VENTING in order to Quick Release.

Once the float valve pin is down, and steam stops being released through the valve (this can take a few minutes; your time may vary), press CANCEL and carefully open the lid.

Chicken is done when a thermometer inserted into the meat registers 165° F.

Plate, garnish with optional cilantro or parsley leaves, and serve immediately.
Notes
You may substitute golden raisins or dried apricots in place of dried cherries.
I make this in my Ninja Foodi 8-quart XL Deluxe 9-in-1 or in my 8-quart Instant Pot Duo, but you could also make this in a 6-quart pressure cooker. (Do not attempt to make this in a 3-quart pressure cooker). If using a 6-quart pressure cooker, just be sure to sauté the chicken in one layer; if they will overlap, then sauté in two batches.
PIN IT: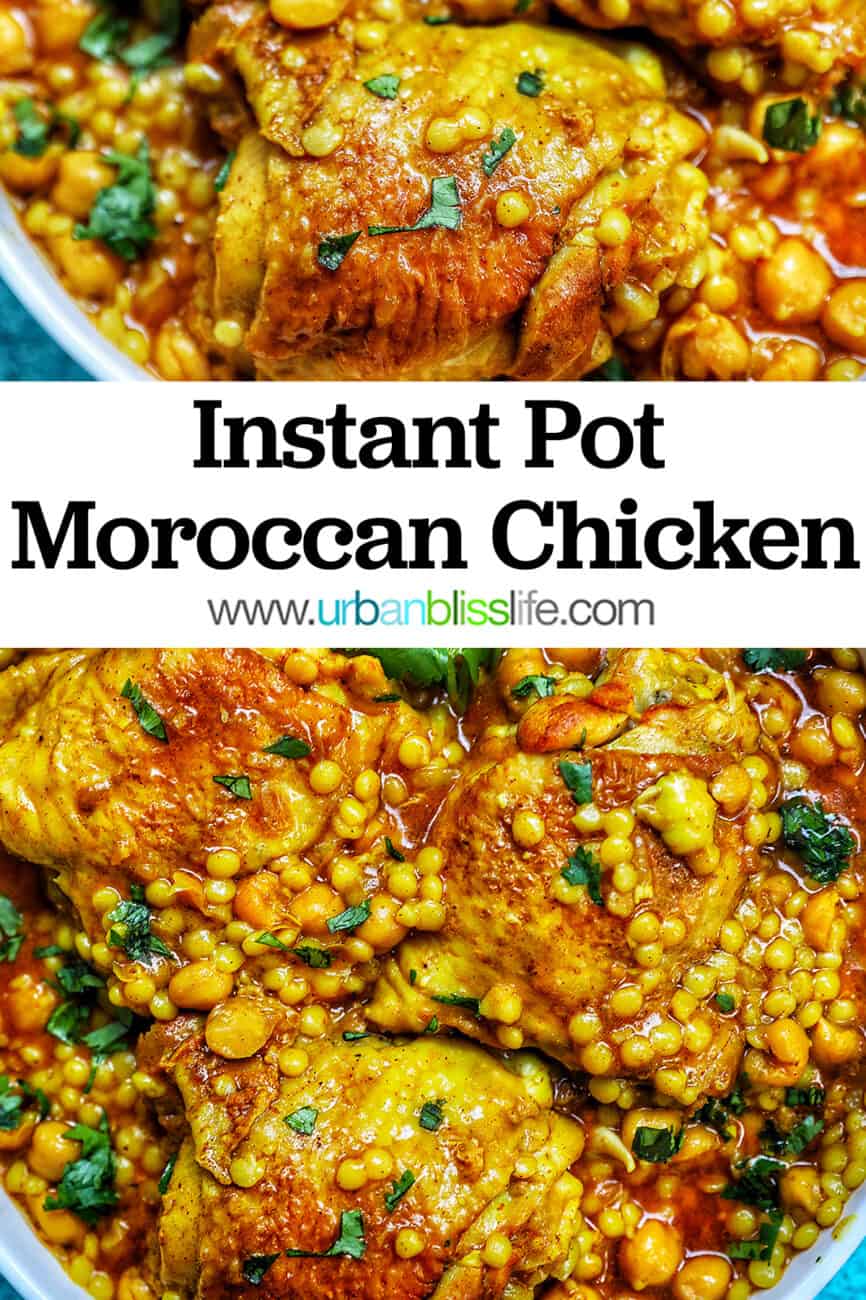 Do you love healthy one-pot meals? What type of recipes do you like to search for at the beginning of a new year?
This post was originally published on January 11, 2018. It was updated and republished on December 20, 2020 with new photos and more helpful information to help you make this delicious Moroccan chicken recipe.