This is a sponsored post written by me on behalf of Safeway. All opinions are 100% mine.
---
Enjoy a classic Christmas dinner without all the stress and fuss! These ideas for easy holiday meals will help you create a simple, yet elegant and special celebration dinner for your family.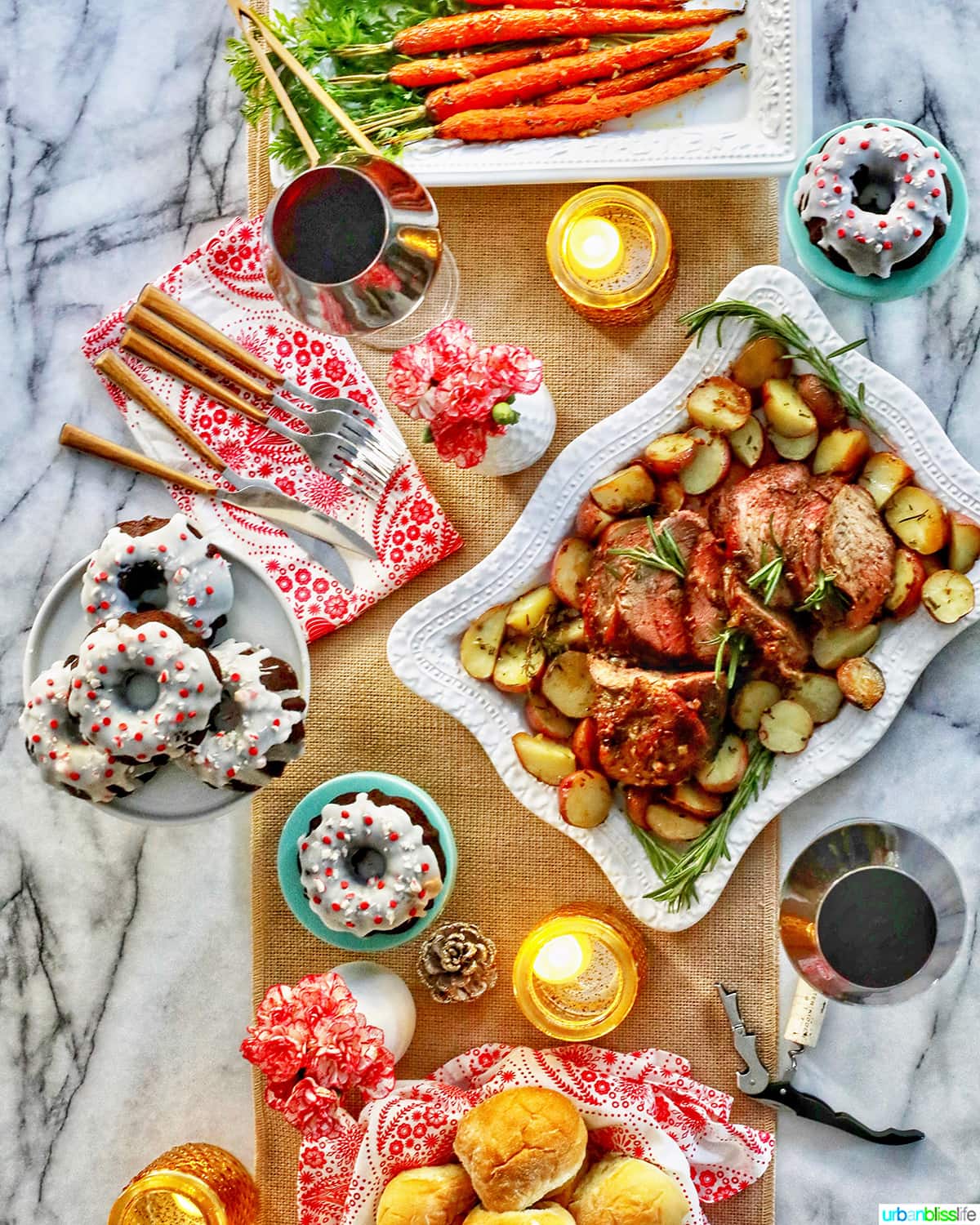 Each year, I learn to simplify our holiday meal planning more and more. And this year, since it will just be our family of four enjoying a cozy Christmas dinner at home, I'm relishing in planning a simple, sweet holiday meal.
If you're also preparing for a small holiday gathering this year, here are some tips to help you create a delicious holiday meal for less time, less money, and less stress. The key is to keep things easy yet elegant, simple yet celebratory. To spend less time worrying about your holiday dinner and more time enjoying the time with the ones you love!
Main Course One Pot Wonder
For a simple main course, I love one-pot meals or sheet pan meals. Think Sheet Pan Salmon with Vegetables or Classic Lemon Herb Roast Chicken with Veggies.
This year, try this stunning and absolutely mouthwatering One-Pan Garlic Rosemary Beef Roast with Potatoes.
A beef roast can be an impressive and sophisticated main course that tastes amazing. It can also be easy to make, and relatively inexpensive. Recently, I found a 3-pound round tip roast (also known as a sirloin tip roast) at my local Safeway for just $13.67. Consider that is less than a beef entree at almost any restaurant. It's an incredible price for a fantastic cut of flavorful beef that feeds four to six people!
You can roast the beef along with mini red potatoes, all in one pan. The last time I made this, I used potatoes from a 1.5 pound bag that I bought at Safeway for just $3.49.
Sizzling Side Dishes
Since extra vegetables are always a good idea when you're having a hearty meat dish like sirloin tip roast, also consider making a side of carrots. Make this Rosemary Garlic Glazed Carrots recipe and cook the carrots in the bottom rack of your oven during the same time the beef roast is cooking.
These are another inexpensive yet impressive and elegant dish to add to your holiday menu. My Safeway store had GORGEOUS organic bunches of carrots for just $2.99 a bunch.
Save Time: Buy the Bread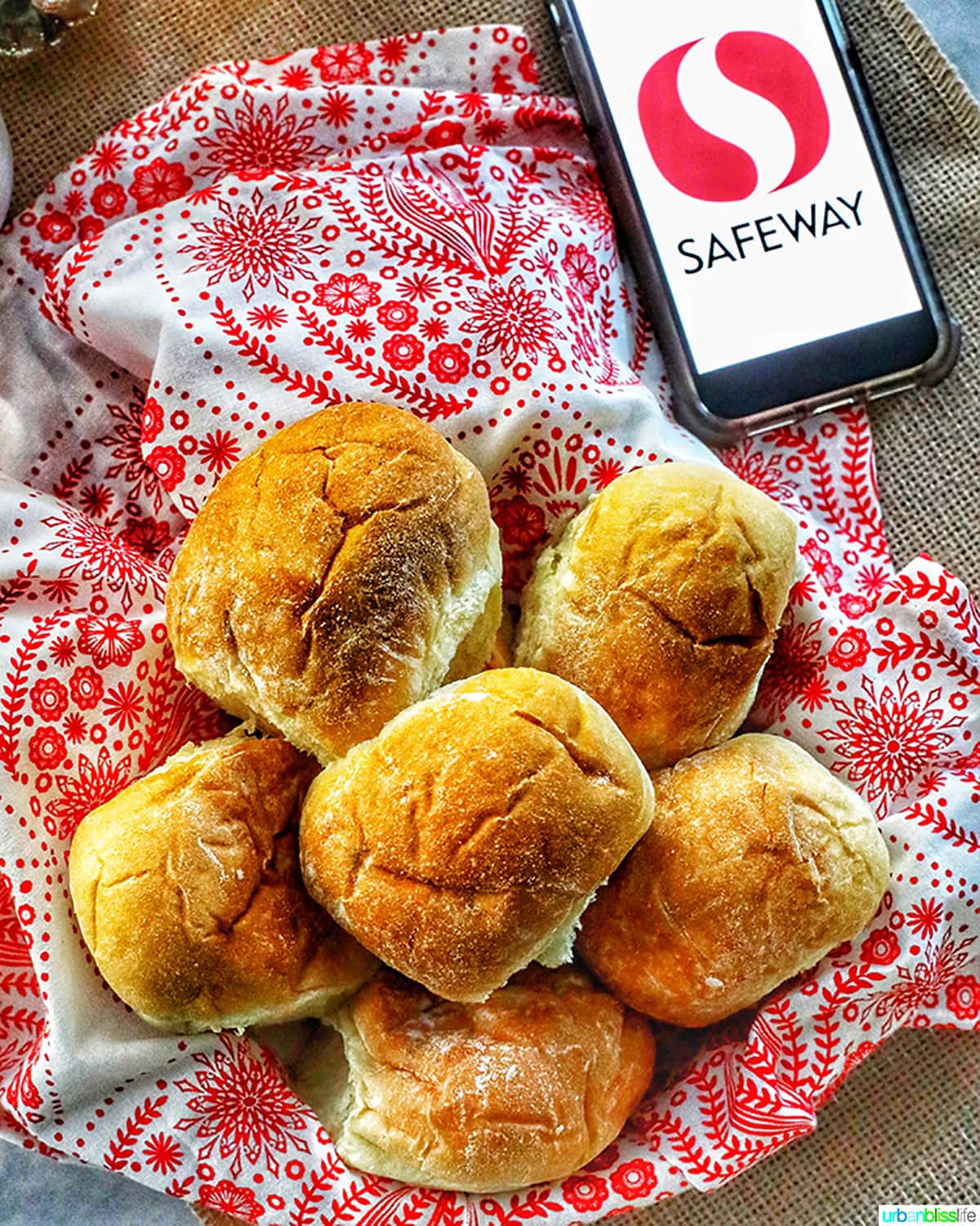 While I really enjoy making Christmas tree pull-apart bread and rolls from scratch, sometimes I don't have time. So if you're looking to save time, pick up a baguette, challah bread, or a large pack of dinner rolls like the one pictured here. My Safeway bakery department sells a pack of 16 for $2.99.
Don't Forget Dessert
Wrap up your easy holiday meals with a show stopping dessert that doesn't break the bank – nor make you break into a sweat while making it. These Mini Gingerbread Bundt Cakes are easy to make with ingredients you can find in the baking aisle of your local Safeway.
I shopped at Safeway in my local area, but you can also find quality holiday meal essentials at the Albertsons Companies family of stores, including Albertsons, ACME Markets, Jewel-Osco, Vons, Randalls, Shaw's Supermarkets, Star Market and Tom Thumb.
Smart Shopping Tip: a lot of holiday-related baking items like sprinkles and cupcake holders tend to go on sale during this time. So it's a great time to stock up on decorations you can also use during other holidays: red and white sprinkles for Christmas and Valentine's Day. Blue and white sprinkles for Hanukkah and for Spring baking.
Time It Right: Your Successful Holiday Meal Schedule
When holiday meal planning, here's a basic schedule to help keep you on track:
Three or four days ahead of time: purchase the ingredients for your classic Christmas dinner. Shop online and relax knowing you're all set for the big day. Beat the crowds, find the best deals and get your holiday meal shopping done early. Rmember that Safeway also offers Grocery Delivery and DriveUp & Go™ for convenient ways to shop! It's made my life SO much easier, folks.
On the day of:
3:00 pm Preheat oven to 350°F. Prepare the mini bundt cake batter and pour into mini bundt cake molds.
3:30 pm While the cakes are baking in the oven, prep the main meal.
Bring the sirloin tip roast out of the fridge to come to room temperature on the kitchen counter.
Peel and slice the carrots.
Quarter the potatoes.
Slice the onions.
Mince the garlic.
Chop the rosemary.
4:00 pm By now the bundt cakes should be done baking and set out to cool.
Increase oven temperature to 425°F.
4:15 pm Place cast iron skillet with roast and potatoes in the middle rack of the oven.
Place baking sheet with prepared carrots in the rack below the roast.
5:00 pm Check on carrots and remove if softened and fully roasted. Cover with a towel to keep warm.
5:15 pm Check on roast. If an internal thermometer reads 145°F then the roast is done.
Remove, cover with foil, and let rest for at least 15 minutes to 45 minutes.
Most likely the roast is not yet done, so keep checking the temperature every 10 minutes until
an internal thermometer reads 145°F.
5:30 pm When the roast is done cooking, allow it to rest, covered. While the roast is resting, set out your plates and silverware. Set out the bakery rolls, the carrots, and the dessert.
Turn on some holiday music and light the candles.
6:00 pm Present and slice the roast. Pour the wine. Eat, laugh, be merry. Cheers to the holidays with loved ones!
Order Ahead
Okay, let's say you want a gorgeous, classic Christmas dinner like the one I made here – but for even less work, money, and time. In that case, I say go ahead and let Safeway do the hard work for you!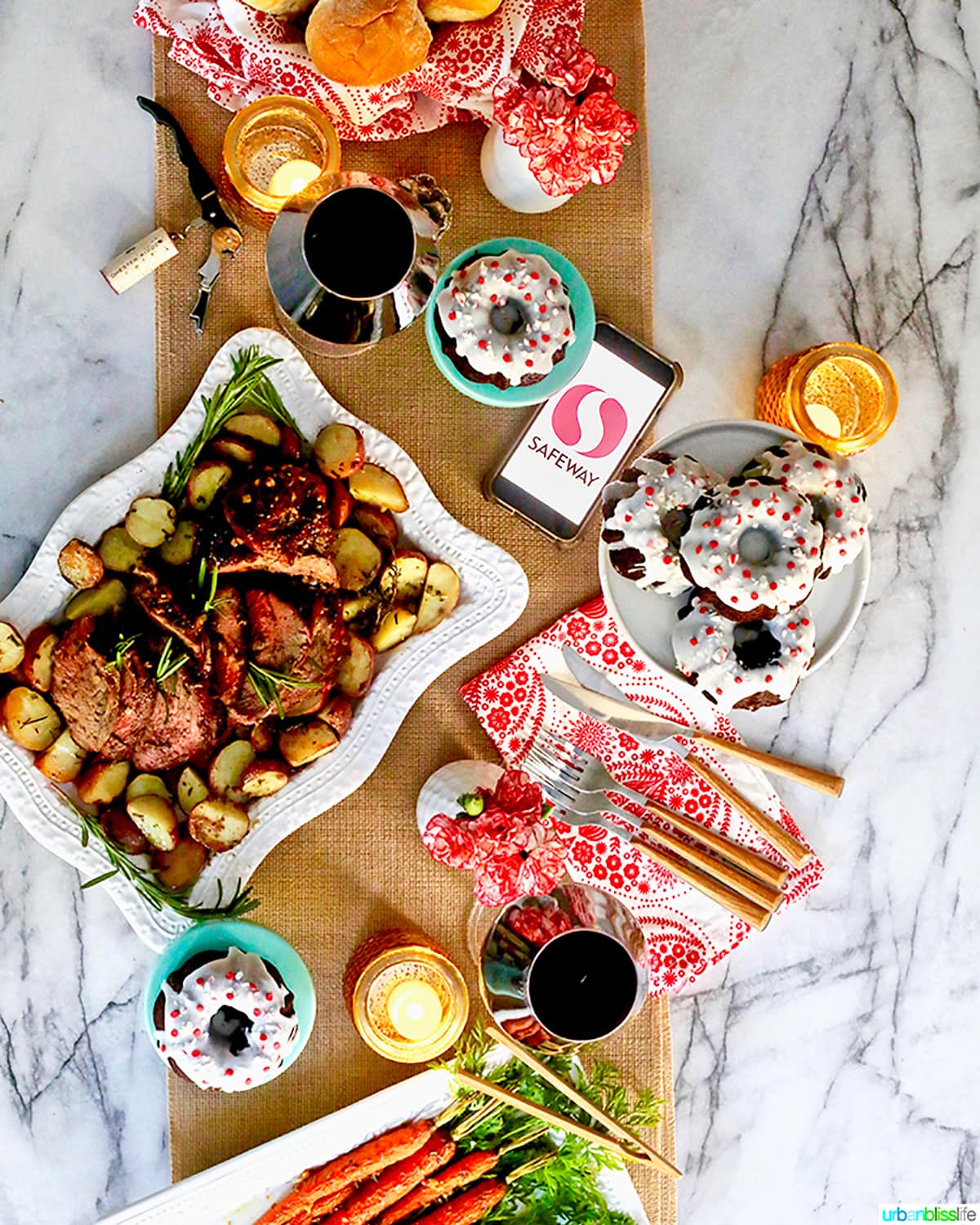 You can order your entire holiday meal online. Simply order ahead, pick up at the store, and re-heat when ready to serve. Safeway even has freshly crafted appetizer trays that you can order ahead online to make the holiday season as delicious and easy as possible.
With this easy holiday meal plan, you can have a stress-free, simple yet sophisticated, classic Christmas dinner. Happy holidays!
More Holiday Recipes and Ideas
More party planning tips: 5 Tips for a Stress-Free Holiday Party
PIN IT: