Why buy hummus when you can whip up this classic hummus recipe in just 15 minutes? This delicious dip is so simple and easy, and makes healthy snacking and party planning a breeze!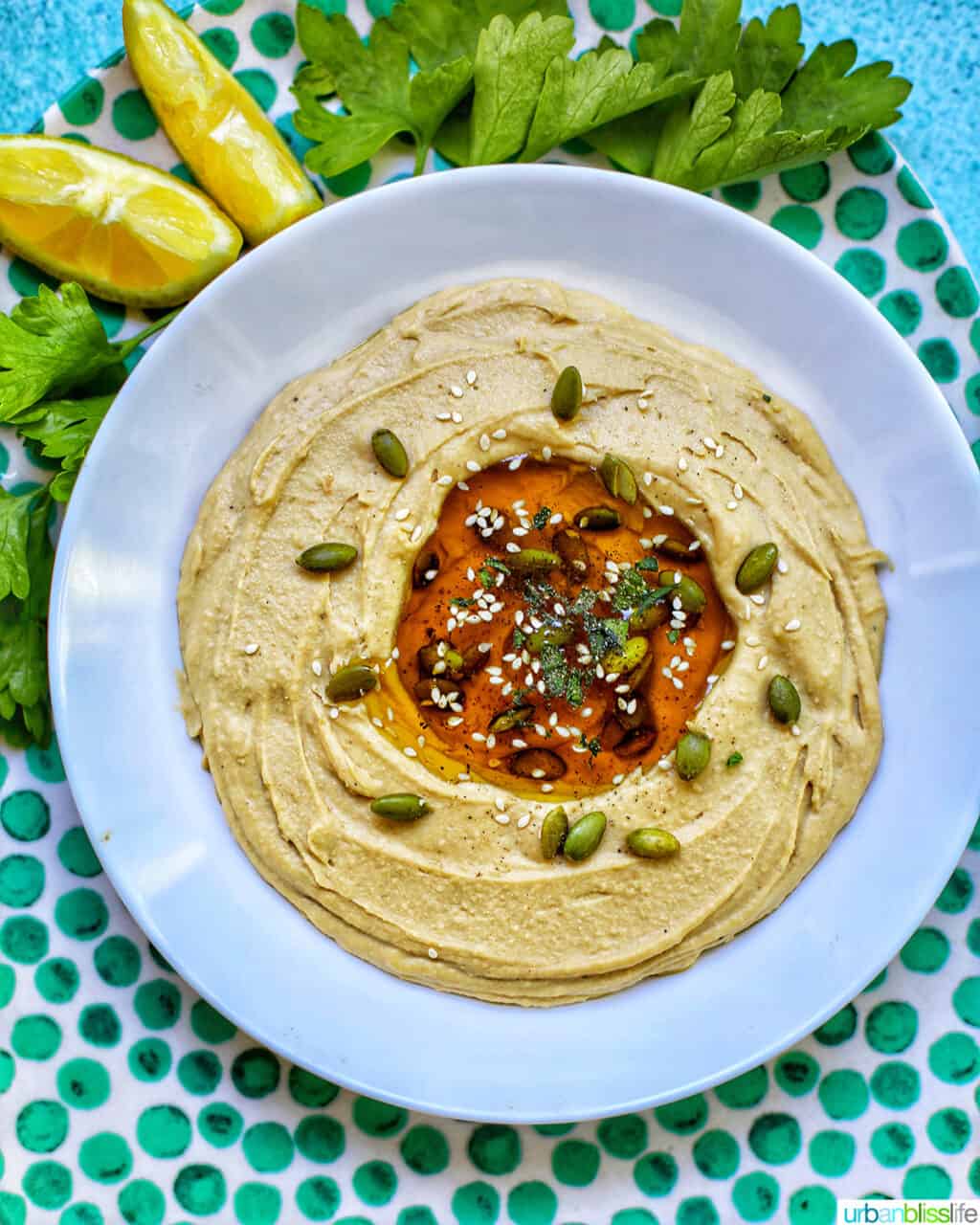 Canned chickpeas are truly a versatile, healthy pantry staple. I keep cans of chickpeas in stock for two main reasons:
To make Instant Pot Moroccan Chicken (definitely try this easy and flavorful chicken recipe if you haven't yet!).
To make hummus.
A classic dip
Hummus is a classic Middle Eastern dip that dates back to 13th century Egypt. Throughout the centuries, the combination of chickpeas, lemon, sesame, and garlic has been eaten all over the Middle East.
Now a common staple throughout the world, hummus is made with many variations and flavors. But there's still nothing quite like the classic hummus flavor combination. This recipe
Ingredients to make hummus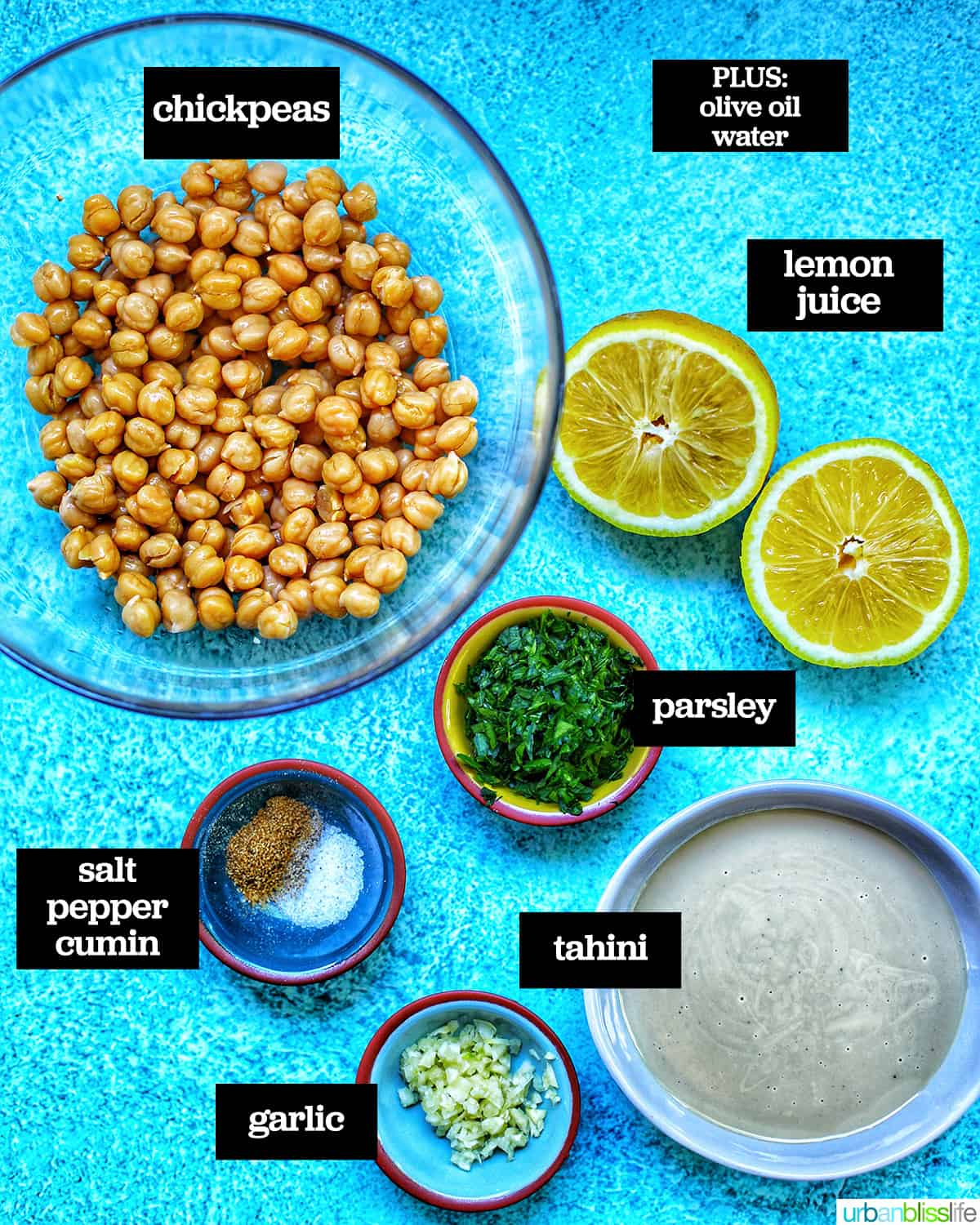 To make this recipe, gather the following ingredients.
Chickpeas - I use organic canned chickpeas that come in 15.5-ounce cans. Be sure to fully drain the chickpeas.
Tahini - Use a high quality tahini for the best flavor.
Garlic - This recipe calls for one large clove, but you can certainly add more garlic if you prefer.
Salt, Pepper, Cumin - Be sure to season to taste. I use kosher salt. If you are using regular table salt, start at about ¾ teaspoon of table salt instead of the 1 teaspoon of kosher salt.
Lemon juice - The recipe calls for ¼ cup lemon juice, and I usually get around this amount from squeezing half of a fresh medium lemon. You can definitely add more or less lemon juice, depending on your taste preference
Olive oil - Use your favorite extra-virgin olive oil. The flavor of the olive oil you choose has no place to hide in hummus so be sure to use an olive oil that you think tastes amazing.
Parsley - this is one of the many optional toppings you can add to add flavor to the hummus.
Key tips to making smooth hummus
Some people prefer thick hummus, and others prefer silky smooth hummus. I prefer the latter. If you would like your hummus to turn out silky smooth, there are two key tips to follow.
The first, is to de-shell the chickpeas. Yup. Every single chickpea. It takes me about 7 to 10 minutes to de-shell a whole can of chickpeas. Can you skip this step? Absolutely. It's not a requirement to making hummus. However... getting rid of the outer casings results in super smooth hummus. It's totally worth the teeny bit of extra work and a few extra minutes.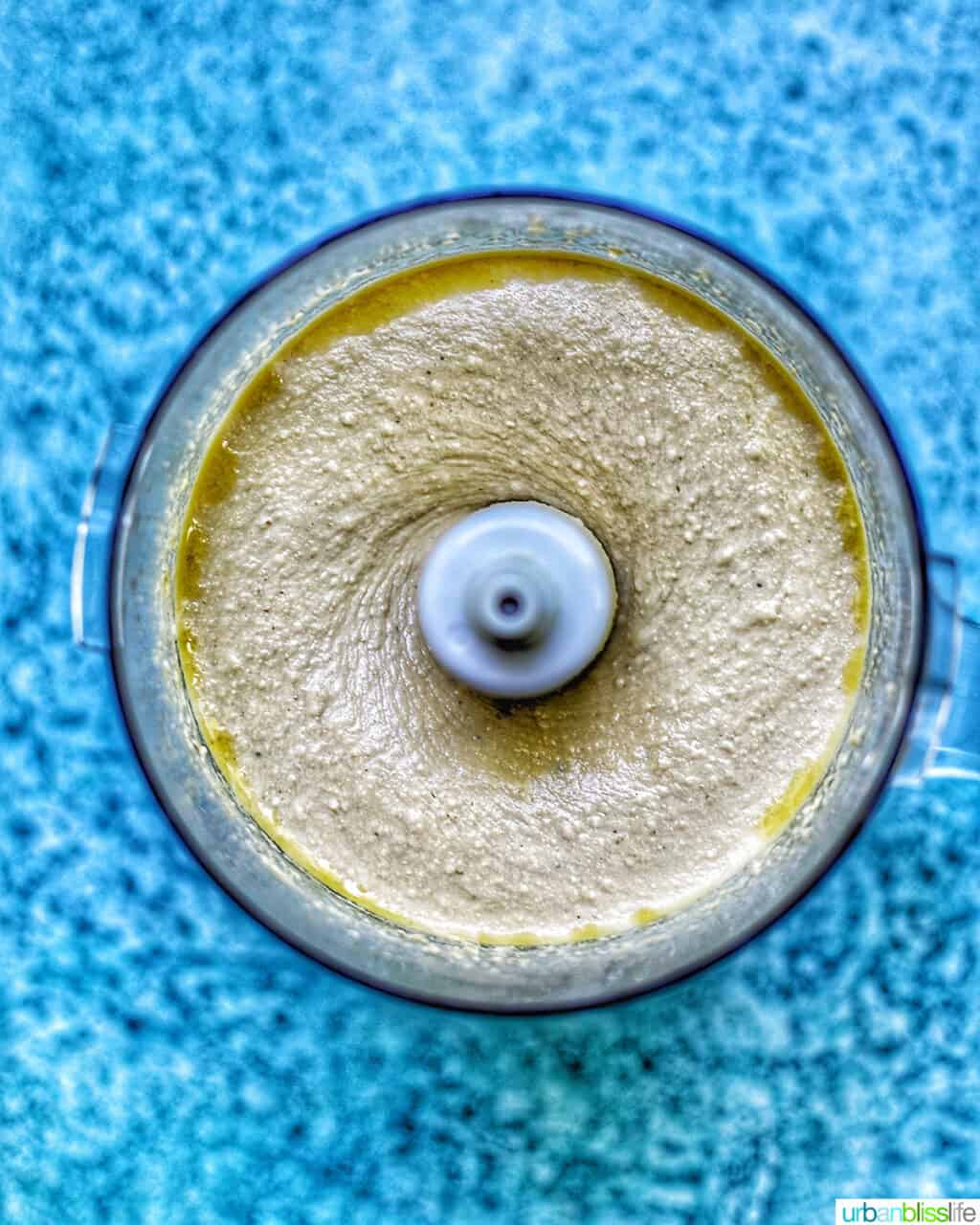 The second tip to silky smooth hummus: pour the olive oil in slowly while the food processor is going. This helps the olive oil incorporate fully and evenly with the other ingredients, resulting in smooth hummus.
What to serve with hummus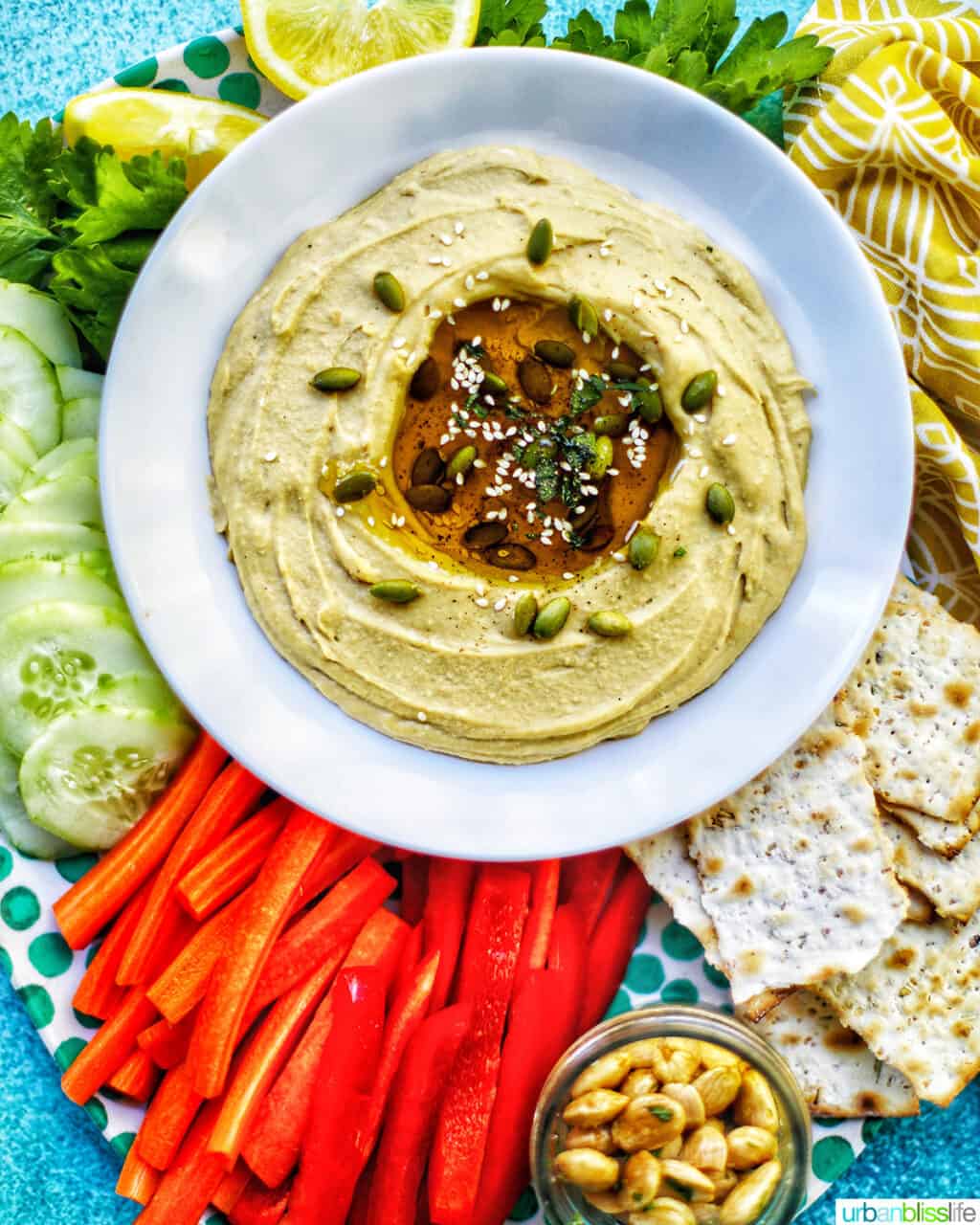 Classic hummus is traditionally served as a dip with pita bread. But you can use this incredibly versatile dip and spread in so many other delicious ways!
Serve it as a dip with veggies, pita bread, pita chips, and crackers.
Spread it onto sandwiches, toast, and bagels.
Use hummus as a way to add vegan creaminess to sauces.
Hummus FAQs
Is hummus healthy to eat?
Eaten in moderation, hummus can be a healthy, satisfying dish. It's full of vitamins and minerals that have been linked with having anti-inflammatory properties, improving digestion, lowering risk of heart disease, and improving blood sugar control (source: Healthline).
How long will hummus keep?
Store hummus in an airtight container in the refrigerator for up to four days.
Can I freeze hummus?
As I tell my children: just because you can doesn't mean you should. Yes, you can freeze hummus in freezer-safe containers for up to three months. However, the flavor won't quite be the same after thawing frozen hummus as fresh hummus. The longer hummus sits in your freezer, the more the flavor will dissipate and the more bland the hummus will be.
How do you know when hummus goes bad?
The smell test! If hummus starts to smell sour or tastes sour, it's time to throw it out.
Classic Hummus Recipe
This recipe for classic traditional hummus is easy to whip up in less than 15 minutes!
PRINT
PIN
RATE
Ingredients
1

can

(15.5 ounces) chickpeas

¼

cup

lemon juice

1

garlic clove

½

cup

tahini

1

teaspoon

kosher salt

½

teaspoon

fresh ground black pepper

¼

teaspoon

ground cumin

3

tablespoons

extra-virgin olive oil, plus more for drizzling
Optional Toppings
sesame seeds, pepitas, chopped parsley, sliced almonds, crushed red pepper flakes
Instructions
Drain the chickpeas into a colander and rinse them under cold water for about one minute. Gently pat dry, then de-shell each chickpea and discard the shells. Place de-shelled chickpeas into a food processor.

Add the lemon juice, garlic clove, tahini, salt, pepper, cumin, plus 2 tablespoons water to the chickpeas in the food processor. Blend for 1 to 2 minutes. Then, with the food processor still running, slowly pour in the extra-virgin olive oil.

Stop the food processor and taste the hummus. If necessary, add more lemon juice, water, or extra-virgin olive oil, one teaspoon at a time, and mix again until combined.

Spoon into a serving bowl. If desired, top with extra drizzle of olive oil, pepitas, sesame seeds, crushed red pepper flakes, and/or chopped parsley.
Notes
Storage tip: You can store homemade hummus in an airtight container in the refrigerator for up to four days. While you can freeze hummus, I do not recommend it; it does not freeze well and thawed frozen hummus can taste bland.
Tried this recipe?
Please leave a star rating and comment! Then snap a pic of your dish and share it on social media. Tag @UrbanBlissLife and #UrbanBlissLife!
Nutrition
Calories:
138
kcal
|
Carbohydrates:
4
g
|
Protein:
3
g
|
Fat:
13
g
|
Saturated Fat:
2
g
|
Polyunsaturated Fat:
4
g
|
Monounsaturated Fat:
7
g
|
Sodium:
296
mg
|
Potassium:
81
mg
|
Fiber:
1
g
|
Sugar:
1
g
|
Vitamin A:
12
IU
|
Vitamin C:
4
mg
|
Calcium:
24
mg
|
Iron:
1
mg
Nutrition information is a general estimate. Actual nutrition details may vary depending on the exact foods & brands you use to make this recipe. It does not take into account any substitutions, toppings, or optional ingredients.
Pin it