Filipino Macaroni Salad is a classic traditional side dish that is often prepared for almost any Filipino gathering. It's especially a staple at Christmas time! This sweet pasta salad with crunchy vegetables is easy to make and a great make-ahead dish.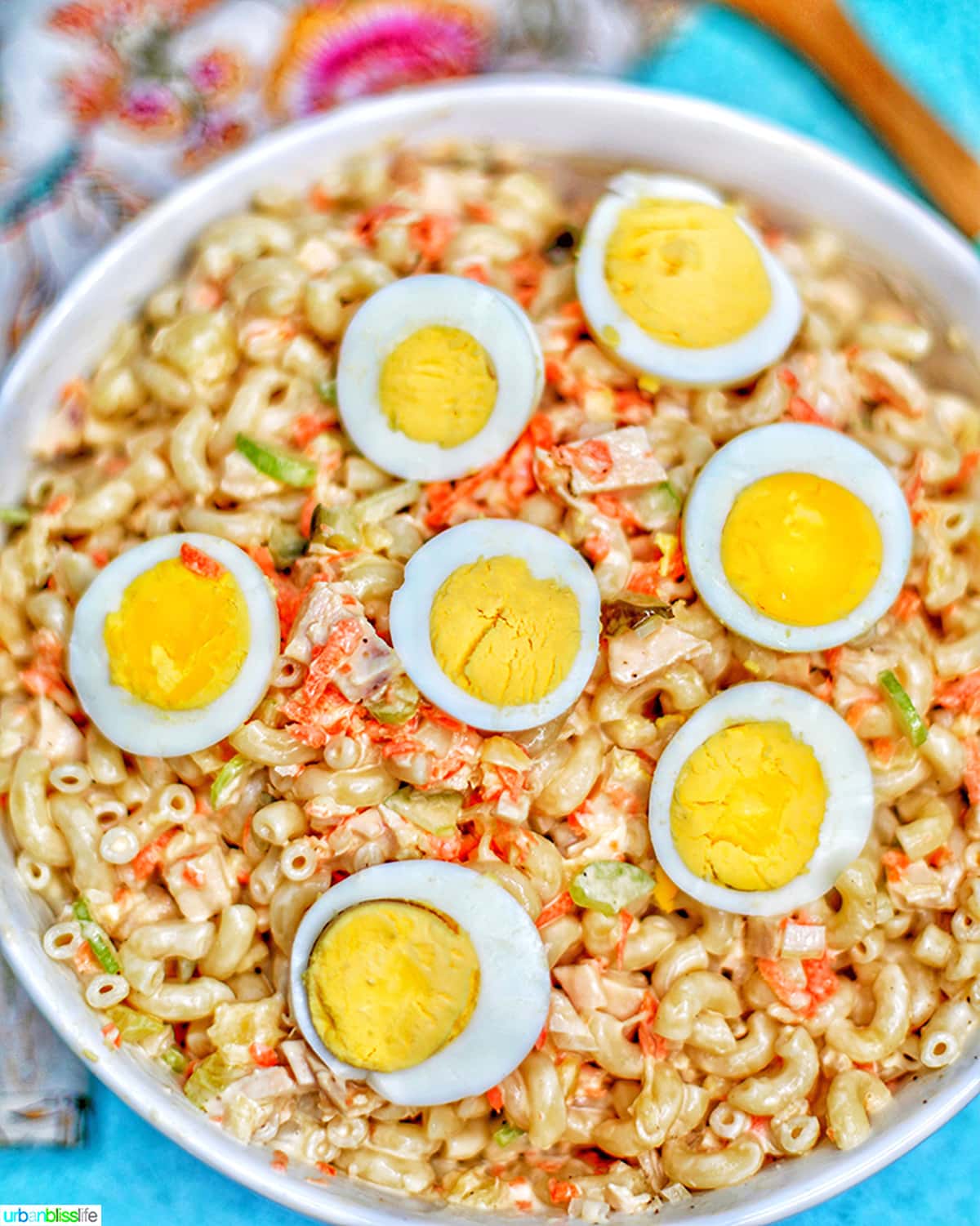 When people think of Filipino food, they often automatically think of Adobo, Garlic Fried Rice, or Lumpia. But there's another dish that is served just as often, and is just as treasured as those more well-known Filipino dishes.
Growing up, Filipino Macaroni Salad was a staple at pretty much all the family gatherings. Barbecues, birthdays, and especially at Christmas Eve and Christmas meals, you could always count on someone to bring the macaroni salad.
Jump to:
🇵🇭 What makes Filipino macaroni salad different?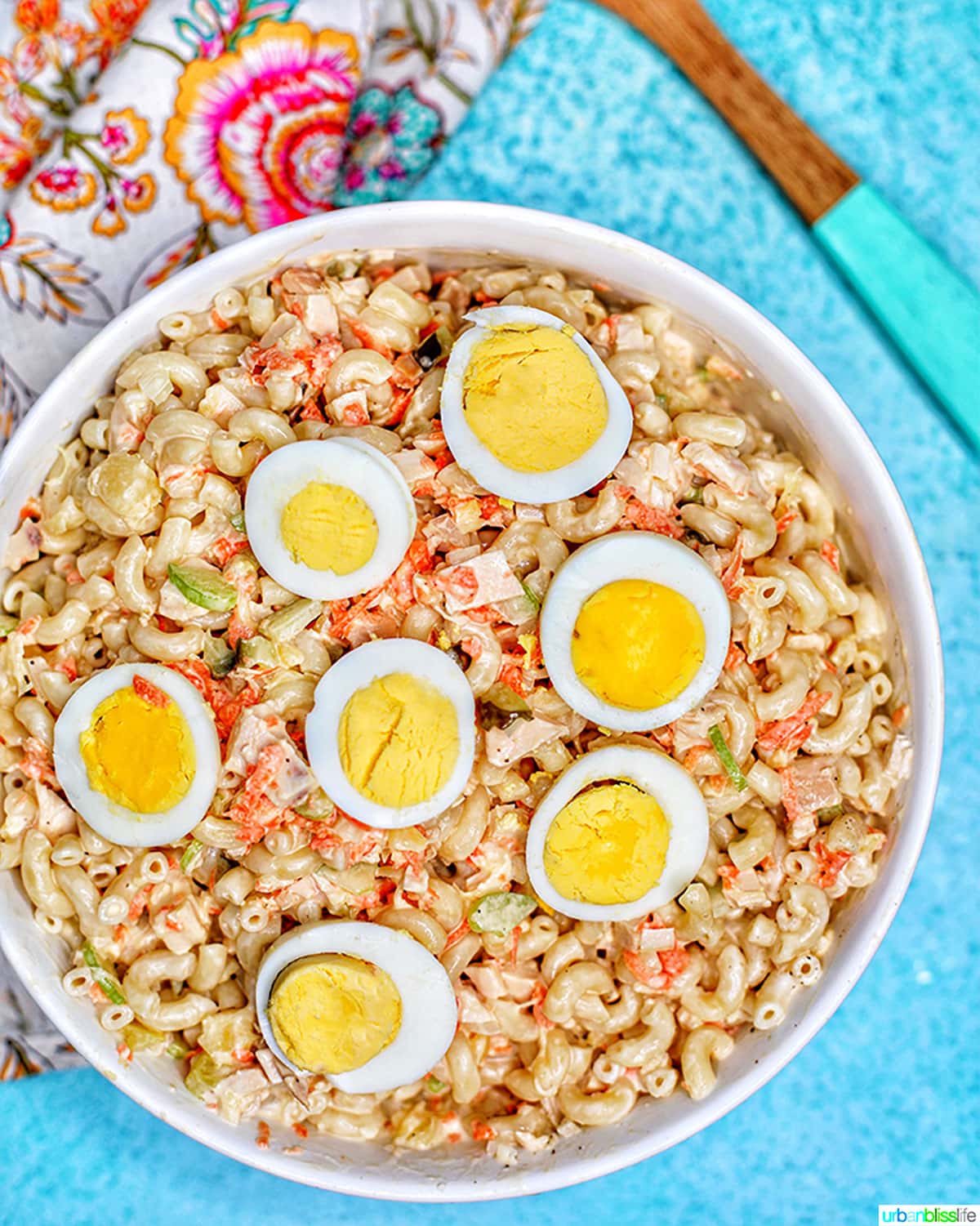 At quick glance, you might think that this Filipino-style macaroni salad is just like any other macaroni salad you'd find at a deli in the United States. But like most Filipino food, our macaroni salad is a mix of the many different cultures that make up Filipino culture, thanks to the various occupations over the centuries.
During the American occupation in the early 20th century, the classic macaroni deli salad was introduced to the Philippines. The Filipino style is similar to the Hawaiian-style macaroni salad in that it's on the sweeter side and full of island ingredients and tropical flavors. It also includes pickles which create a sort of sweet relish.
❤️ Why you'll love this recipe
This easy recipe uses simple ingredients that you can find at your local grocery store.
Filipino macaroni salad is great for large gatherings, special occasions, or during the Christmas season.
It's versatile - it works both as a side dish and a main dish.
You can easily make a large batch ahead of time and have plenty of delicious leftovers the next day.
With the addition of tropical pineapple, it contains just the right amount of sweetness.
🍍 Filipino macaroni salad ingredients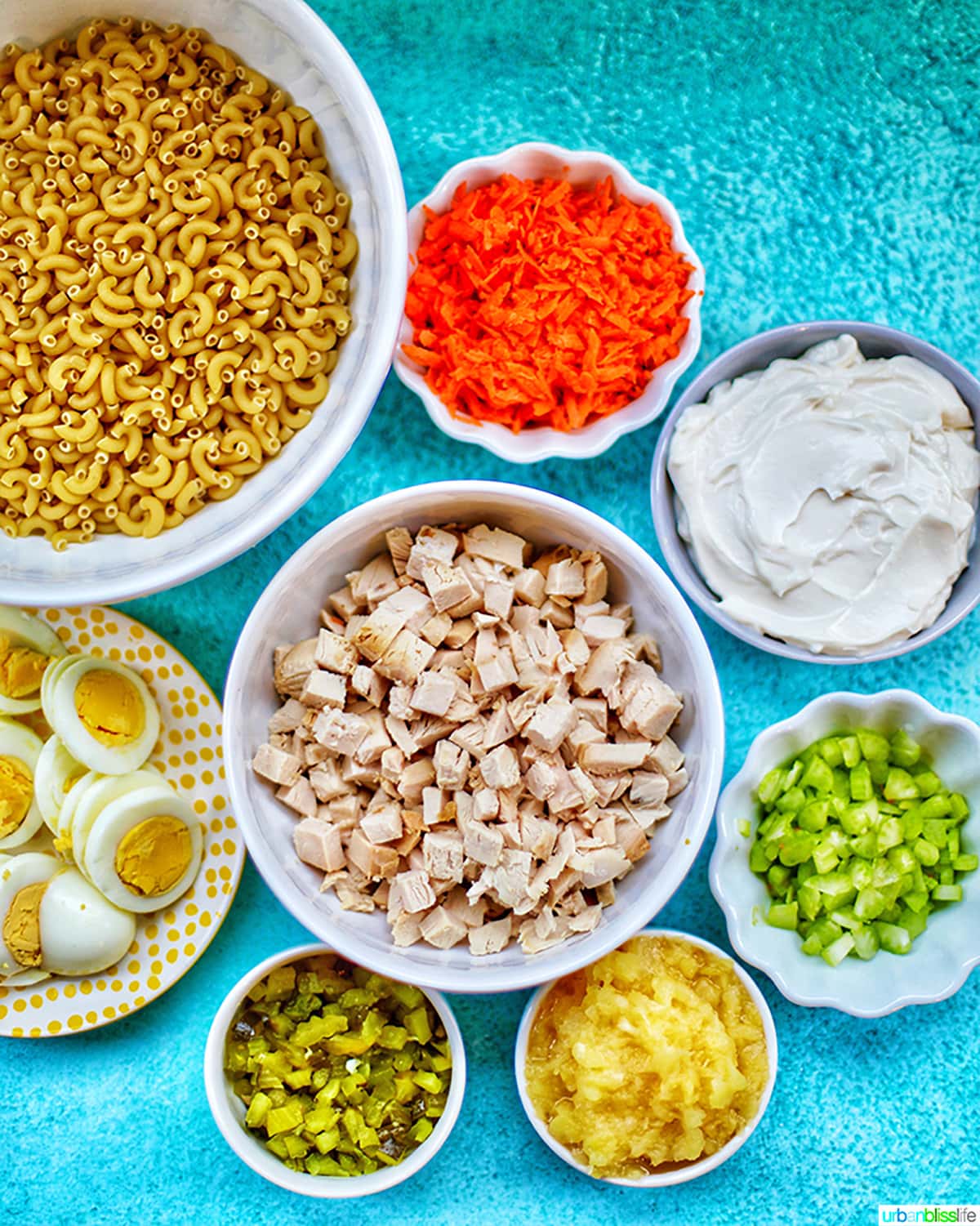 Basic Ingredients:
Pasta - elbow macaroni pasta is the traditional pasta used in Filipino macaroni salad. If you don't have elbow pasta, you could also use ditalini pasta.
Mayonnaise - the delicious glue that holds this salad together! I always use my fave dairy-free mayonnaise to keep this dairy-free, but you can certainly use whatever your favorite mayo is. Or, for you overachievers, you can also use homemade mayo.
Chicken - to save time, I use shredded or diced rotisserie chicken. You could also poach a chicken breast and then shred it.
Eggs - I use cage free brown eggs that I've hard-boiled in the Ninja Foodi, then chopped and sliced (here's how I get perfect easy-peel, hard-boiled eggs that every time!). I've included instructions in the recipe card below for hard-boiling eggs on the stovetop.
Pineapples - similar to how pineapples are used in Hawaiian macaroni salad, this adds a sweet tropical flavor to Filipino macaroni salad. I use a small can of crushed pineapples, but you could use freshly diced or freshly crushed pineapple chunks.
Carrots - shredded carrots add delicious sweetness and a bit of soft crunch to this dish.
Celery - I prefer to finely slice celery for this salad, but you can also roughly chop celery if you want more crunch with each bite.
Pickles - dill pickles add that classic tangy flavors that balance the sweetness of the pineapples and carrots.
Kosher salt and ground black pepper - these two basics are all the seasoning you need for this salad!
✅ Step-by-step instructions
Exact measurements of ingredients and instructions are in the printable recipe card toward the bottom of this post. Here are some helpful tips to guide you as you make this recipe.
This Filipino favorite is so easy to make. The bulk of the work is in the prep. Then once your ingredients are all prepped, it's just a matter of mixing them all together!
Here's the order I make this side dish, for maximum kitchen efficiency.
Make the pasta and the hard-boiled eggs.
Prep the ingredients - Chop, slice, dice the chicken, pineapple, red onion, carrots, celery, pickles, and eggs.
In a large mixing bowl, combine all of the ingredients evenly with the mayonnaise.
🧀 Additional mix-in ideas
Traditional Filipino style macaroni salad contains raisins. Feel free to add raisins if you wish. Nobody in my house likes raisins, so we leave them out. As I kid, I always picked out the raisins, much to my mother's embarrassment.
You can also add:
shredded cheddar cheese for extra richness
diced ham
mustard to add tanginess
white vinegar for extra acidity
diced yellow onions
bell peppers for some extra crunch
Although my mother swears you should never add BOTH chicken AND ham - "it's one or the other!" she says - some families will put both in for an extra meaty macaroni salad.
⏲ Kitchen equipment
You don't need any fancy appliances or cooking tools to make this delicious macaroni salad! You just need:
A large bowl
Wooden spoon
Cutting board
Knife
🥡 How to store leftovers
This salad is best eaten within a couple of days, but you can keep it in an airtight container in the refrigerator for up to five days. When you're ready to eat the leftovers, try adding some mayonnaise to the macaroni salad to "wake up" the ingredients and flavors before serving.
🍽 What to serve with macaroni salad
This dish goes well any of these Filipino recipes:
🥂 What wine pairs with this Filipino dish?
If you're serving this and enjoying it as an appetizer, pair it with either a Chardonnay or a Sauvignon Blanc. Fuller-body Chardonnays will stand up to the richness of this dish. While the high acidity in many Sauv Blancs will complement the macaroni salad's island fruit flavors.
Did you make this recipe? Don't forget to leave a 5-Star 🌟🌟🌟🌟🌟 rating in the recipe card, and if you really loved it, please leave a comment further down on the page. Thank you!
Filipino Macaroni Salad
A staple at Filipino gatherings, especially for holidays, this macaroni salad is sweet and satisfying.
PRINT
PIN
RATE
Ingredients
1

pound

elbow macaroni

2

cups

shredded rotisserie chicken

1½

cups

mayonnaise

1

can

(8 ounces) crushed pineapples, with juices

1

cup

shredded carrots

2

stalks

celery, finely sliced

½

cup

finely diced red onion

½

cup

dill pickles, chopped

¼

cup

finely chopped parsley, for garnish
Instructions
In a large stockpot, cook the elbow macaroni according to package instructions.

If you haven't hard-boiled the eggs yet, do so now. I pressure cook them in Ninja Foodi or Instant Pot, but if you don't have a pressure cooker, use this method: In a separate pot, place the eggs and cover with water. The water should be about an inch above the top of the eggs. Bring to a full boil, then turn off the heat, cover, and let the eggs sit in the hot water, covered, still on the same (now off) burner, for 10 - 12 minutes. Drain and peel.

Meanwhile, prep the ingredients: shred the rotisserie chicken meat, shred the carrots, slice the celery, dice the red onion, chop the pickles, and chop and slice the hard-boiled eggs.

When the pasta is cooked, drain the water with a strainer and then allow cool water to pour over the cooked pasta for a minute, to cool it down a bit.

In an extra large bowl, add the cooled pasta. Stir in the mayonnaise to coat the pasta evenly. Then stir in the chicken, pineapples, carrots, celery, red onion, dill pickles, and the chopped eggs.

While you can eat the macaroni salad immediately, it's best to allow the salad to cool in the refrigerator for at least 30 minutes. This will help all of the flavors happily mingle together and create an even flavor throughout the pasta salad.

Serve this macaroni salad cold, garnished with chopped parsley and slices of the remaining hard-boiled egg.
Notes
Additional mix-ins: traditional Filipino macaroni salad contains raisins. Feel free to add raisins if you wish. Nobody in my house likes raisins, so we leave them out. You can also add: shredded cheddar cheese, diced ham, mustard, white vinegar, or diced yellow onions. How to store Filipino macaroni salad: this salad is best eaten within a couple of days, but you can keep it in an airtight container in the refrigerator for up to five days. When you're ready to eat the leftovers, try adding some mayonnaise to the macaroni salad to "wake up" the ingredients and flavors before serving. NOTE ABOUT NUTRITION VALUES: The nutrition for this recipe is calculated by our nutritional calculator based on general dairy-free ingredients. The exact nutritional value will be different based on the specific brands and ingredients you use.
Tried this recipe?
Please leave a star rating and comment! Then snap a pic of your dish and share it on social media. Tag @UrbanBlissLife and #UrbanBlissLife!
Nutrition
Calories:
460
kcal
|
Carbohydrates:
38
g
|
Protein:
18
g
|
Fat:
26
g
|
Saturated Fat:
5
g
|
Polyunsaturated Fat:
13
g
|
Monounsaturated Fat:
5
g
|
Trans Fat:
1
g
|
Cholesterol:
96
mg
|
Sodium:
395
mg
|
Potassium:
239
mg
|
Fiber:
2
g
|
Sugar:
9
g
|
Vitamin A:
2035
IU
|
Vitamin C:
8
mg
|
Calcium:
37
mg
|
Iron:
1
mg
Nutrition information is a general estimate. Actual nutrition details may vary depending on the exact foods & brands you use to make this recipe. It does not take into account any substitutions, toppings, or optional ingredients.