If you're looking for a crowd-pleasing appetizer recipe, these Herb & Almond Vegan Stuffed Mushrooms do the trick! Packed with flavor, these bite-sized filled veggie treats are perfect for any Game Day party, birthday party, holiday party, dinner or brunch with friends.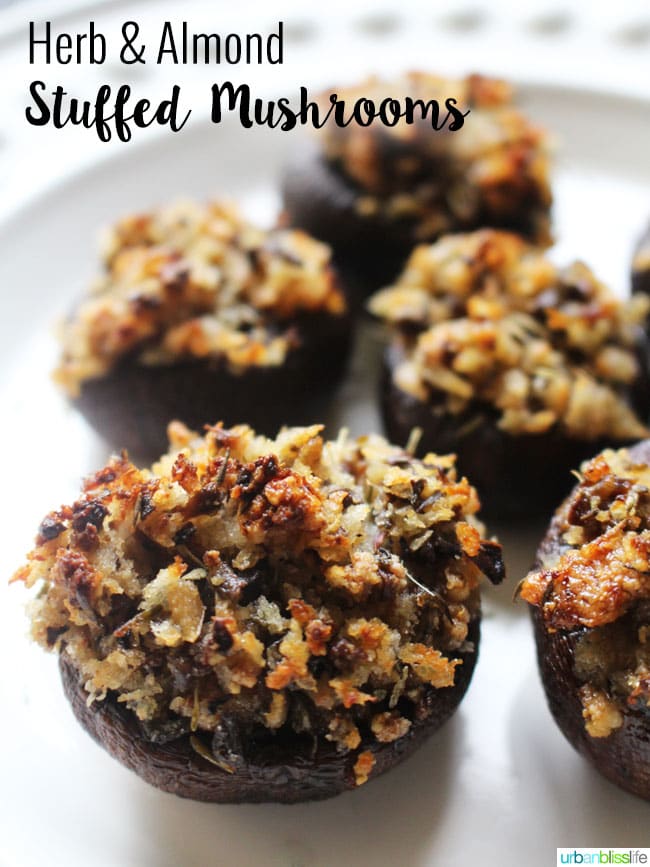 HAPPY 2016, everyone! I am SO EXCITED about this new year! Gotta love turning a new page on the calendar and looking ahead at a 365 day blank slate, ready to be filled with your BLISS!
Also love that the new year starts on a FOOD BLISS Friday. Here's a new recipe to celebrate!
Herb & Almond Vegan Stuffed Mushrooms
Sometimes, when you're getting ready to entertain a crowd, you want to try a new recipe. Maybe there's a trendy ingredient that everyone's excited about and you can't wait to put your own spin on it. Maybe you're tired of the same old same old and your taste buds are yearning for something radically wild and brand new.
Other times, you want the familiar: the classic stand-by dishes that you know and love, and maybe you want to put your own little spin on them. This is usually my M.O. I love trying new things, but for the most part, I'm a classic foods gal. I love comfort food that's on the healthier side, although I will allow myself to totally indulge in classic rich comfort food now and then (I'm looking at you, Scalloped Potatoes au Gratin!). Everything in moderation, right?
When it comes to parties, especially during the holidays, I love serving at least one classic appetizer or dessert – but with my own little twist. In this case, it's vegan stuffed mushrooms.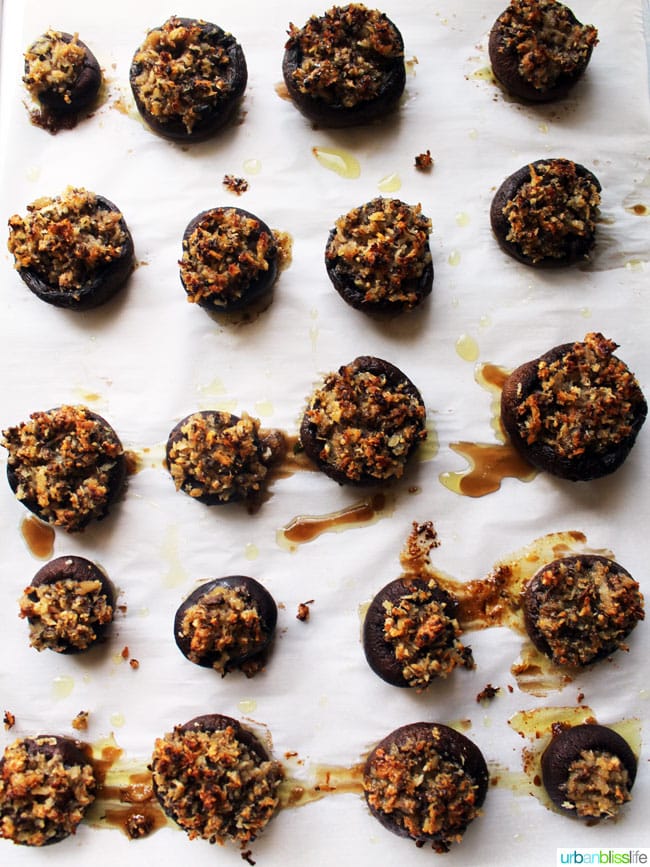 I love stuffed mushrooms and will likely never tire of them. One of the things I love the most is how versatile they are. You can stuff them with a mix of stems and veggies, cheese, ground sausage or pork, or even quinoa or farro.
My latest version, which I served at Christmas (this is an awesome recipe for holiday entertaining!) : Herb and Almond Vegan Stuffed Mushrooms.
If you follow this blog, you know that I love almonds in general because they're packed with protein and great to snack on during crazy work/blog/mom days and nights. Blue Diamond Almonds Lightly Salted Almonds are awesome for snacking, and for incorporating into so many different dishes!
These delightful bites start out the way most stuffed mushroom recipes begin: gently clean the mushrooms then snap off the stems from the caps (this is my favorite part. I don't know...there's just something very OCD satisfying about getting clean breaks. Is it just me?).
Chop up the stems, mince some garlic and onions, finely chop the herbs.
Then, you could either chop up the almonds OR grind them up in a coffee grinder. I prefer the latter, but it really just depends: do you want to feel the texture of the almonds or not?
Drizzle olive oil over a pan set to medium high heat. Add garlic and onions, and saute for about a minute. Add vegetable stock, then herbs, and stir all ingredients together for another minute or two. Remove from heat and mix in the panko and the almonds.
Then if you're like me, you might want to take a spoonful. Just to make sure it's not poisonous. And then maybe a second just to make sure again. Always taste as you go - it's one of the best parts about being the cook! ;)
Sprinkle with salt & pepper here and then mix again. And maybe take another little taste. Seriously: the filling alone is addictive and this recipe actually makes more than enough to fill all of the mushroom caps, so you can easily sneak a tablespoon or two of filling and it won't take anything away from the final stuffed mushrooms. (And because it is SO GOOD).
MAKE AHEAD TIPS: You can now cover the filling and refrigerate for up to 24 hours. You can also place the mushroom caps in a separate airtight container and refrigerate for up to 24 hours. When you're ready to bake, continue with the next steps.
Fill each mushroom cap and place onto a prepared baking sheet covered with parchment paper. Drizzle some olive oil over each one. Bake for about 15 minutes.
If you would like, you can sprinkle a light dusting of parmesan cheese on top, but I'm dairy-free so I went without this step.
Serve warm or at room temperature.
Vegan Stuffed Mushrooms with Herbs & Almonds
These Herb & Almond Stuffed Mushrooms are full of flavor and texture. They are excellent to serve at any party!
PRINT
PIN
RATE
Ingredients
20

mushrooms

3

tablespoons

olive oil

divided

3

cloves

of garlic

finely minced

1

tablespoon

onion

finely chopped

1

teaspoon

fresh thyme

chopped (or dried thyme)

1

teaspoon

fresh sage

finely chopped (or dried sage)

¼

cup

vegetable stock

¾

cup

panko

¼

cup

finely chopped Blue Diamond Lightly Salted Almonds
Instructions
Preheat oven to 400 degrees.

Prepare a baking sheet with parchment paper.

Remove stems carefully from mushrooms and set aside.

Clean out mushroom caps, toss gently in a bowl with 1 tablespoon olive oil, and set aside.

Heat a skillet or saute pan with 2 tablespoons of olive oil over medium heat.

Chop mushroom stems, then saute stems, garlic, and onions in the pan for about one minute. When you stir, make sure you gently toss the ingredients to coat them with the olive oil.

Add vegetable stock to the pan, then sprinkle thyme and sage over the mixture and saute for another minute.

Remove from heat and toss in the panko and chopped almonds.

Fill each mushroom cap with a tablespoon or more of the filling. Place onto the prepared baking sheet with parchment paper, just about an inch or two apart.

Lightly drizzle more olive oil over the tops of the filled mushrooms.

Bake at 400 degrees for 15-17 minutes.
What's one classic appetizer recipe that you always love going back to for holiday parties?
This post is sponsored by Blue Diamond Almonds. All opinions, recipes, and photos are, as always, my own. I love these almonds and always have some in the house (and my desk, my purse, the car...)!