This Easy Dairy-Free Spinach Dip is a crowd-pleasing, easy make-ahead recipe perfect for parties!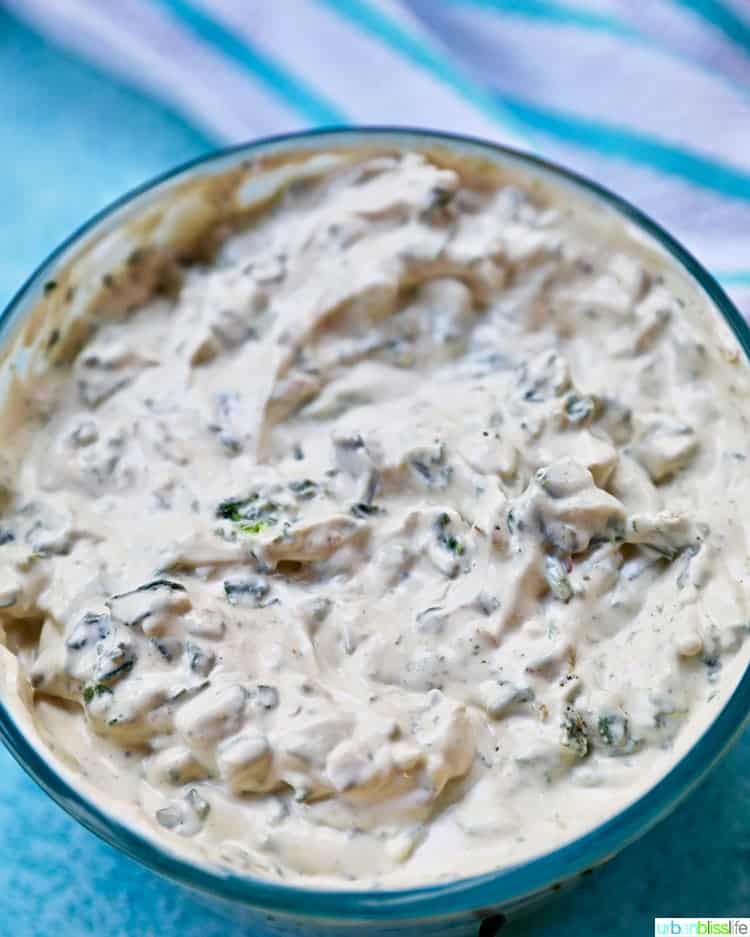 When you need yummy party food ideas, there are certain recipes that are always crowd-pleasing classics.
With back-to-school events, sports & other school activities, and big holidays (I know! This year is zooming by!), fall party season is right around the corner. So I thought it would be fun to share some of my fave party food recipes here over the next few weeks.
Be sure to subscribe to my newsletter so you don't miss a single recipe!
Easy spinach dip
Spinach dip is a true party food classic. You know when you bring spinach dip to a party, it will always be eaten.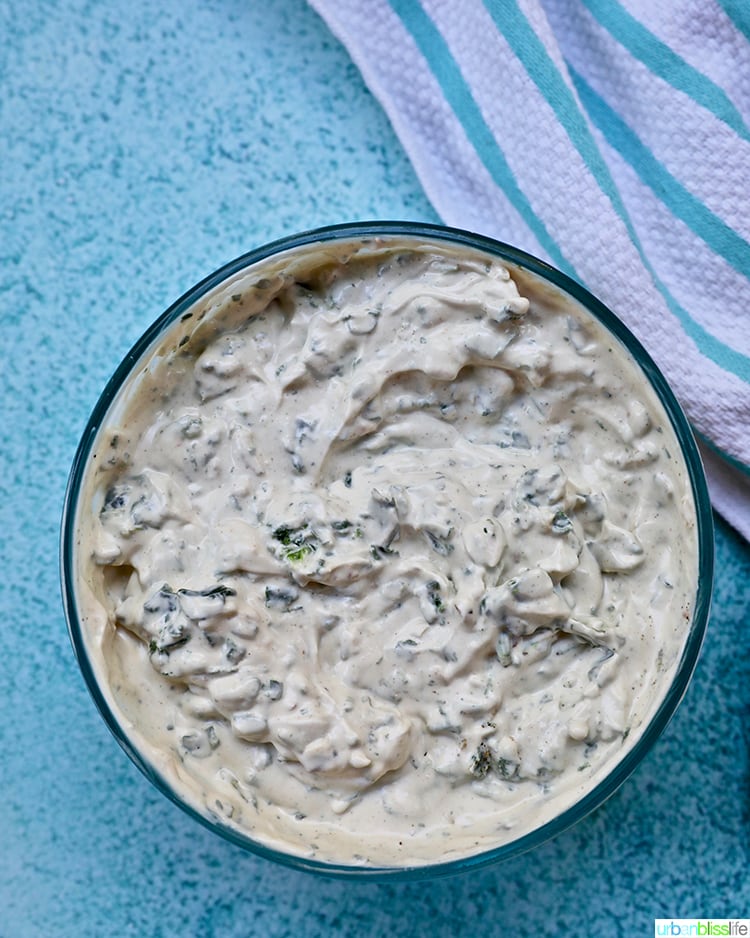 The first time I made spinach dip was right after college. I couldn't believe how EASY it was! And, I love that this is a make-ahead party appetizer.
I've made spinach dip SO many times now, and in so many different ways over the years. But this recipe is ALWAYS the crowd fave.
What is spinach dip made of?
This recipe is dairy-free, but if you don't have to worry about dairy, you could easily substitute full dairy items.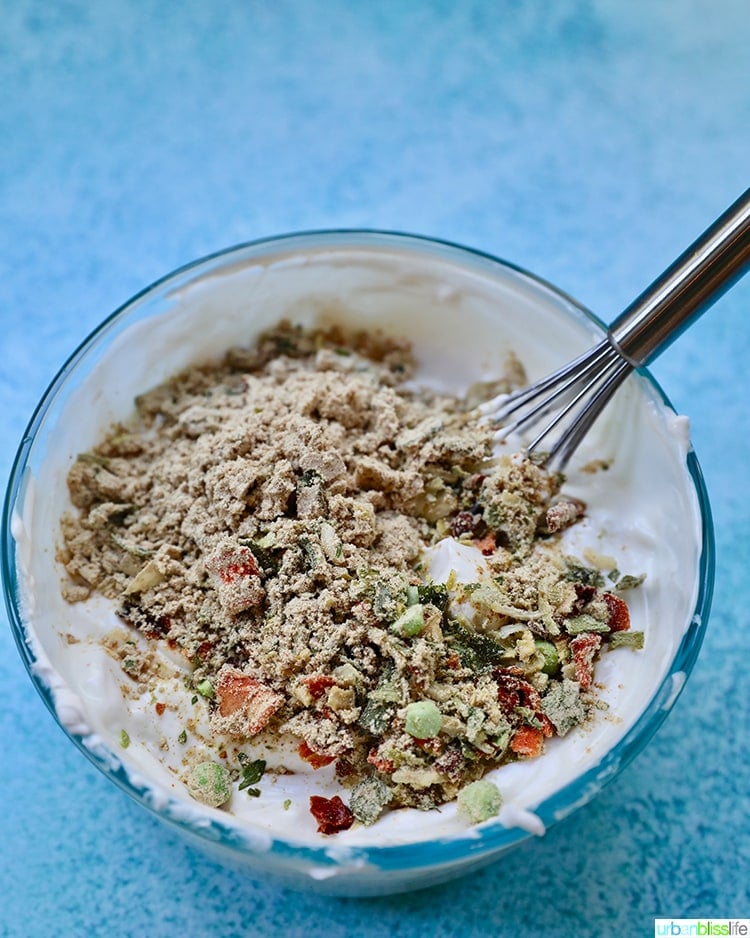 My fave dairy-free spinach dip recipe includes:
That's it! The use of Knorr vegetable dip mix is a switch from the leek soup packet I used to always use. I haven't been able to find the leek soup mix anywhere locally, although you can still buy it online.
However, since switching, I've discovered that I love the added textures and depth of flavor that the vegetable dip mix adds to this easy spinach dip!
What goes well with spinach dip?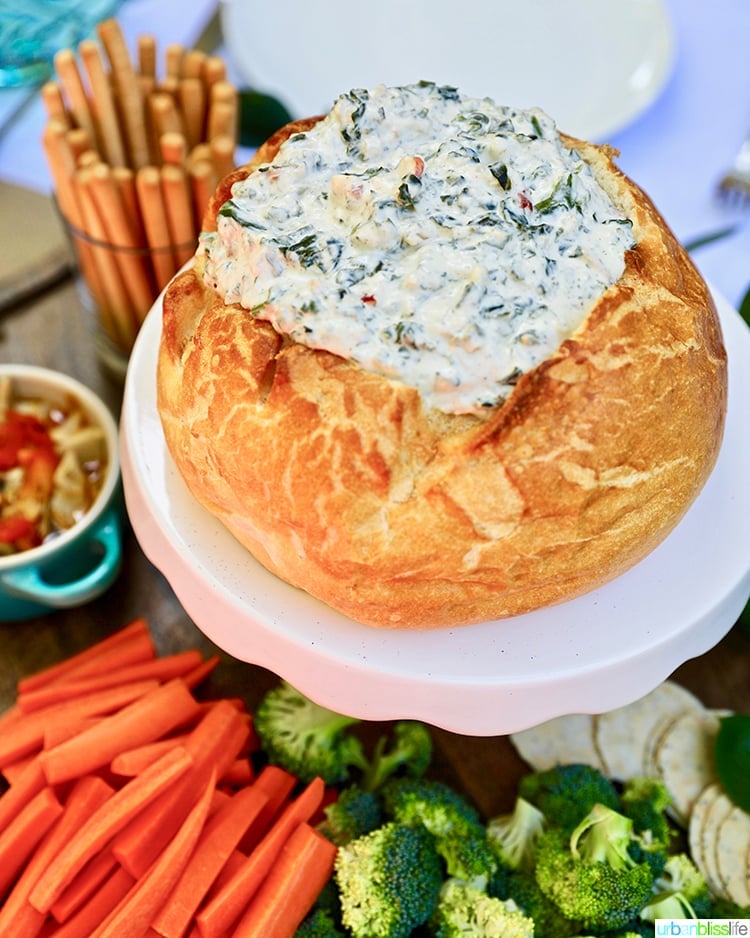 Cut vegetables, such as carrots, broccoli, red peppers, green peppers, celery, sliced radishes
Crackers (including rice crackers if you are gluten-free)
Sliced baguette or other crusty bread
Pretzels
Breadsticks
Potato chips
How long does spinach dip last in the refrigerator?
MAKE-AHEAD TIP: You can make this spinach dip up to two days before a party. However, I prefer to make it the night before a party for more freshness.
LEFTOVERS: Keep any leftover spinach dip in an airtight container in the refrigerator for up to four days.
Dairy-Free Spinach Dip Recipe
Dairy-Free Spinach Dip
This easy spinach dip recipe is a dairy-free crowd favorite! It can be made a day or two ahead of time.
PRINT
PIN
RATE
Instructions
Using a serrated knife, cut a top portion of the bread loaf out to create a bowl to hold the spinach dip. Cut the bread top into chunks for serving. Set aside.

Add all ingredients to a large bowl and mix well, until all of the powdered vegetable dip is fully blended. Spoon dip into hollowed out bread bowl.

Keep refrigerated until ready to serve. Can be made ahead up to overnight.

Serve cut up bread along with the dip.
Notes
This recipe is adapted from Knorr.
PIN IT: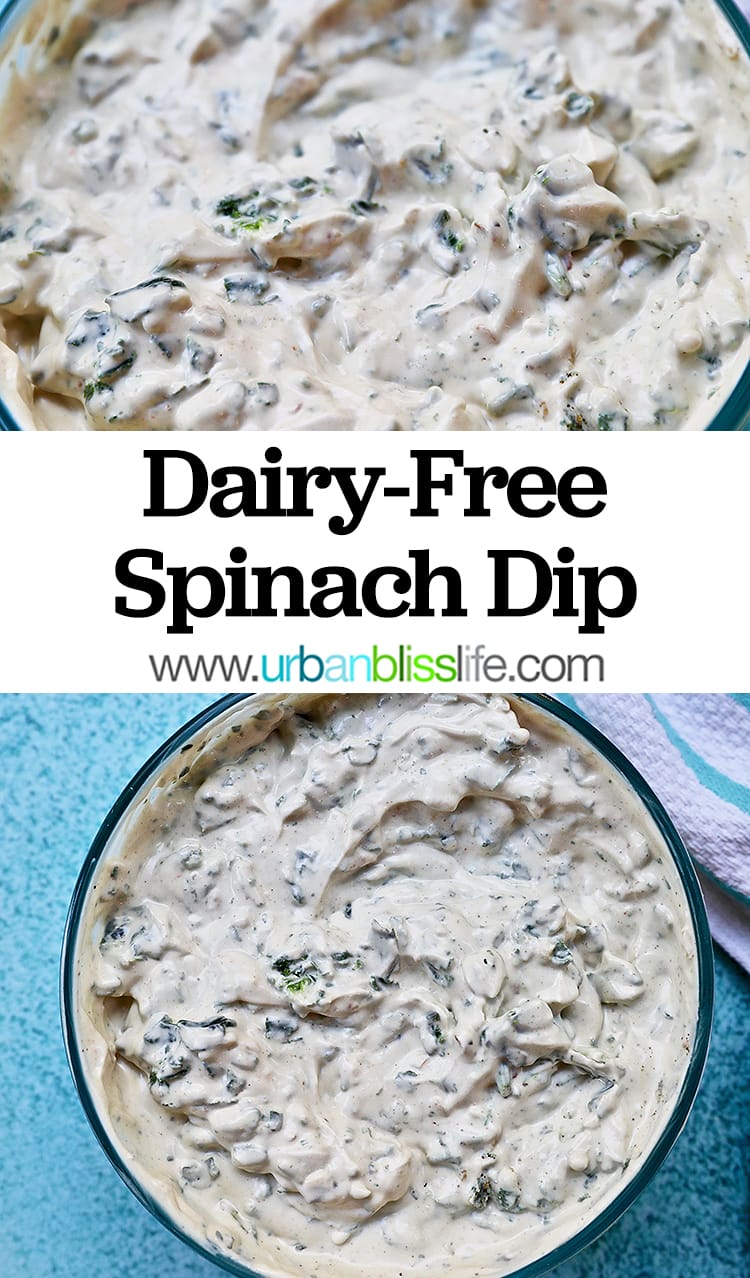 More Party Food Recipes