Traveling to Atlanta soon? Check out our foodie travel guide with Cool Restaurants in Atlanta.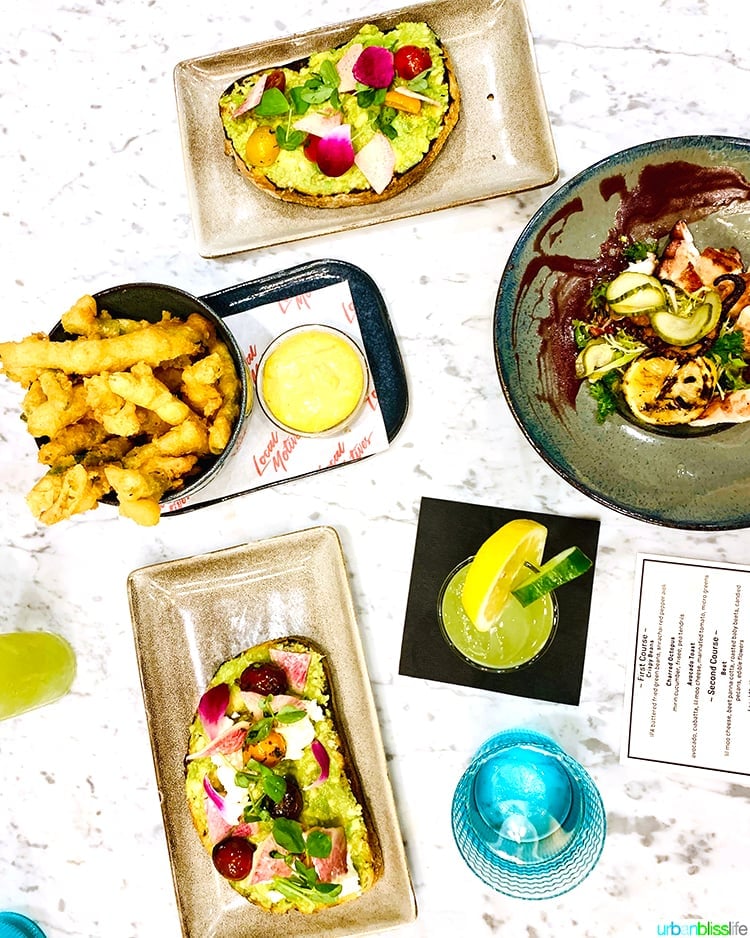 Atlanta, Georgia is a city oozing with urban Southern charm. Its neighborhoods and restaurants are as diverse as its ever-increasing population.
From cozy diners to bustling BBQ joints to elegant fine dining establishments, this capitol city is a growing foodie destination.
Jump to:
🍗 What food is Atlanta best known for?
Before we get to where to eat in Atlanta, let's talk a bit about what to eat.
Its location in the Southeast portion of the United States means the city is bursting with amazing classic southern food. Think fried chicken, Brunswick stew, chicken and waffles, pimento cheese, frito pie, and boiled peanuts.
But more than just barbecue and soul food, you'll also find fresh seafood and creative vegan dishes. Atlanta has a wide variety of global cuisines featured, including Filipino, Chinese, Ethiopian, Indian, Columbian food. From Sunday brunch to date night spots, special occasion restaurants with private rooms for large groups to happy hour, there are so many options to grab a delicious meal.
Here's a look at some of the best restaurants I've visited during my travels to Atlanta.
🥞 Pancake Social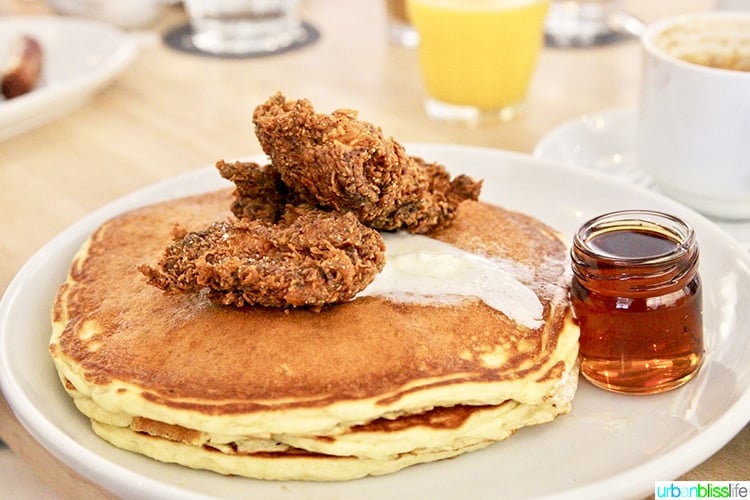 I have to try fried chicken in almost every US city I visit, and there was no way I was going to visit Atlanta without at least one fried chicken experience! Pancake Social was a great spot to enjoy brunch traditional dishes with southern influences (Note: I ordered the buttermilk pancakes with a side of fried chicken).
This cool restaurant is located on the ground floor inside Atlanta's Ponce City Market. Pancake Social is a bright, bustling Instagrammer's paradise. Grammable vignettes are everywhere here, but that's just icing on the yummy brunch-food cake.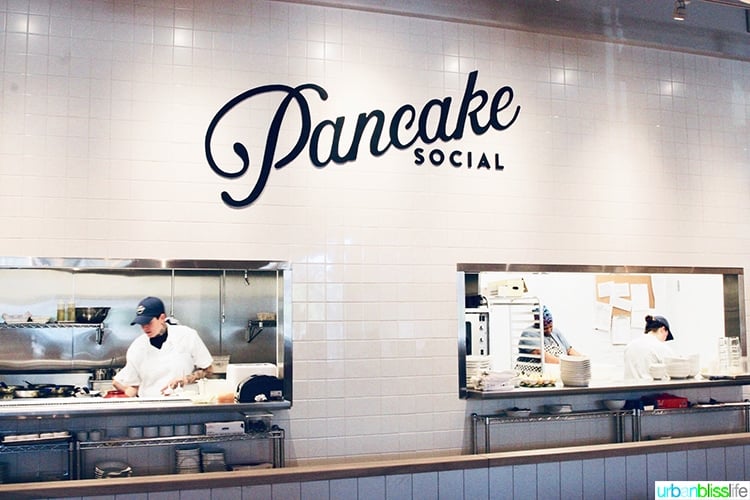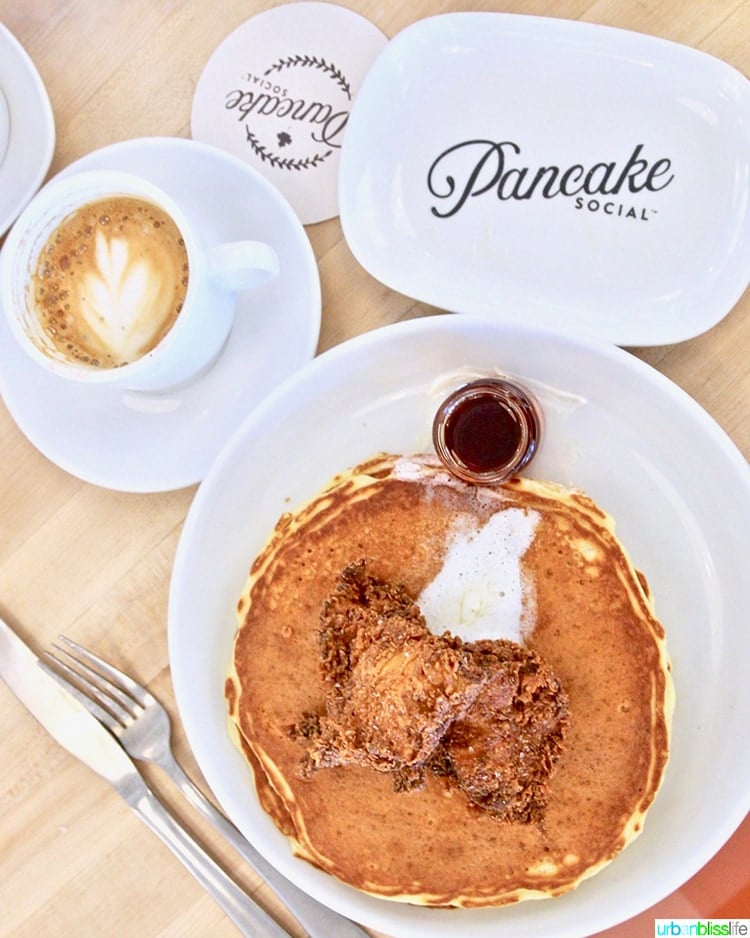 James Beard award-winning Chef Anne Quatrano is at the helm here. The buttermilk pancakes truly are fluffy and flavorful. The fried chicken has a tasty light spice combo. You can also enjoy dutch baby pancakes, beignets, and Belgian waffles.
Looking for healthier fare? Pancake Social offers a variety of fresh juices and smoothies, as well as large healthy lunch bowls.
The food here is reasonably priced, with most main items between $9 and $15. With great food, great service, and a gorgeous space, this is easily my pick for best breakfast in Atlanta.
Pancake Social
675 Ponce De Leon Ave NE Suite 185
Atlanta, GA 30308
678.609.8696
OPEN DAILY Sunday to Thursday from 7 a.m to 6 p.m.
Friday & Saturday from 7 a.m. to 9 p.m.
https://www.pancakesocial.com/
🥖 Bread & Butterfly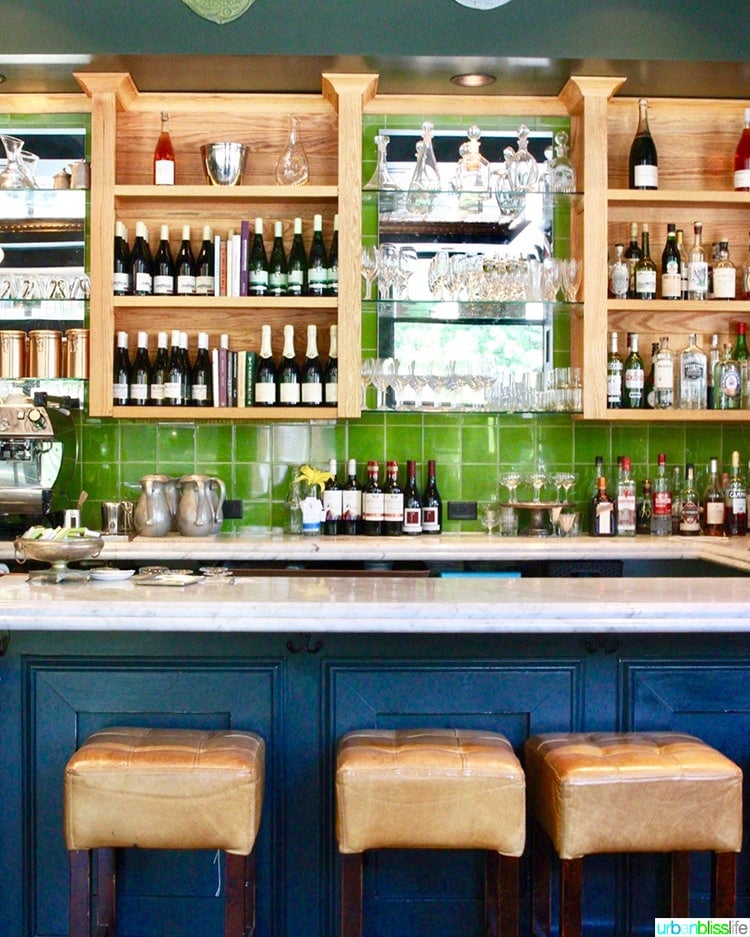 I absolutely adore cute bistros like Bread and Butterfly. The intimate setting of the main dining room and the cute bar area is cozy and the perfect place for date night or a night with good friends.
Then there is a sweet porch/patio with French bistro seating perfect for a warm day.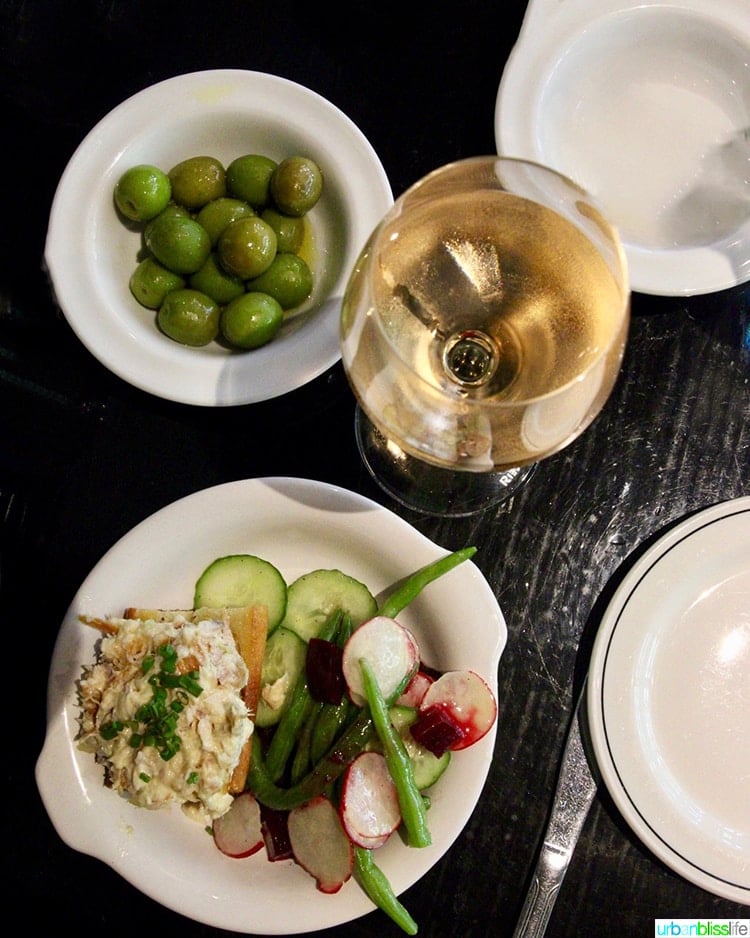 And like at corner bistros in Paris, I found myself ordering a few small plates to make a meal. And, of course, a glass of French rosé from their extensive wine list.
The Smoked Trout Crouton ($10.50) was served with radishes, beans, cucumbers, and beets. I loved this and would order it again and again.
Menu items here include classic French bistro offerings, with popular dishes such as pomme frites (french fries), quiche, and salami and/or prosciutto on buttered bread. You'll also find a classic American burger here, as well as truffled penne au gratin and whole roasted chicken.
I really had a wonderful experience dining here on a recent visit.
Bread and Butterfly
290 Elizabeth Street, Suite F
Atlanta, Georgia 30307
http://www.bread-and-butterfly.com/
HOURS: Monday – Thursday 7:30am to 10pm
Friday 7:30am to 10:30pm
Saturday 8:30am to 10:30pm
Sunday 8:30am to 2:30pm
BRUNCH: Saturday & Sunday 10:30am to 2:30pm
Pastries only 8:30-10:30am

🥩 Fox Bros. BBQ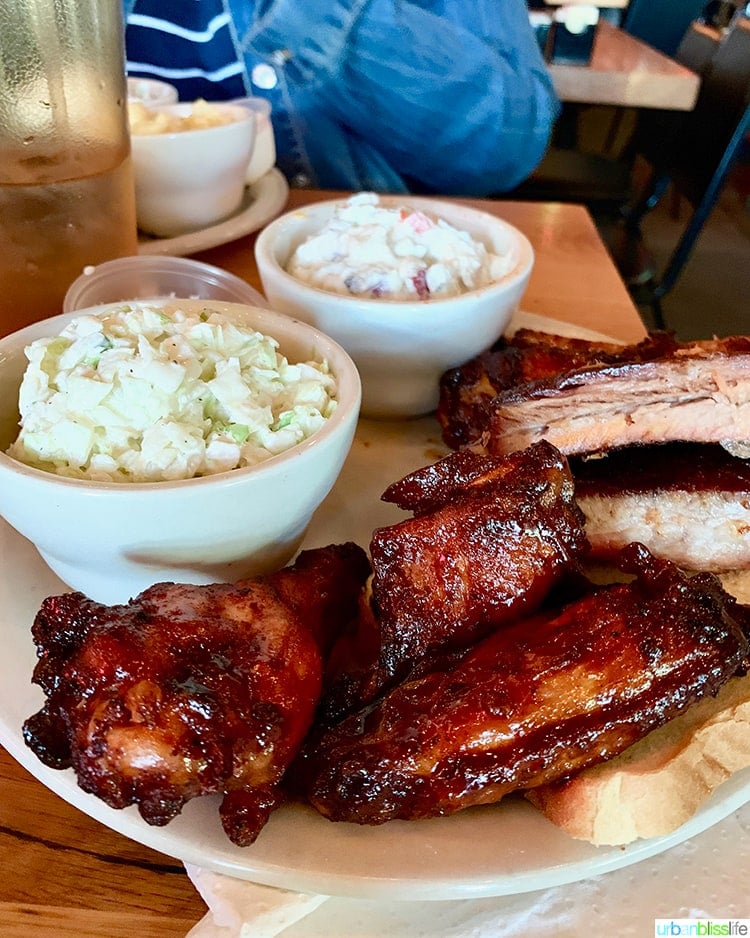 If you travel to Atlanta and don't eat any BBQ, have you REALLY been to Atlanta?
And for a great place to try Atlanta barbecue, check out the popular Fox Bros. This barbecue joint is always busy and bustling, with a noise level that's perfect for families and groups.
We had an amazing experience with good food. The St Louis style ribs are tender, basted in the famous Fox Bros. BBQ sauce that has just the right amount of sweet and heat to it.
I indulged in a classic Frito Pie as one of my sides, which was served in a Frito chip bag. Our group shared the Dr. Pepper Chocolate Cake, which was rich and layered with tasty frosting.
1238 Dekalb Avenue NE
Atlanta, Georgia
http://www.foxbrosbbq.com/fox-bros-home.html
HOURS:
MON-THUR 11A-10P FRI-SAT 11A-11P SUN 11A-10P
🍦 Ponce City Market
If you're making a list of where to eat in Atlanta, you have to include two of the city's best food halls.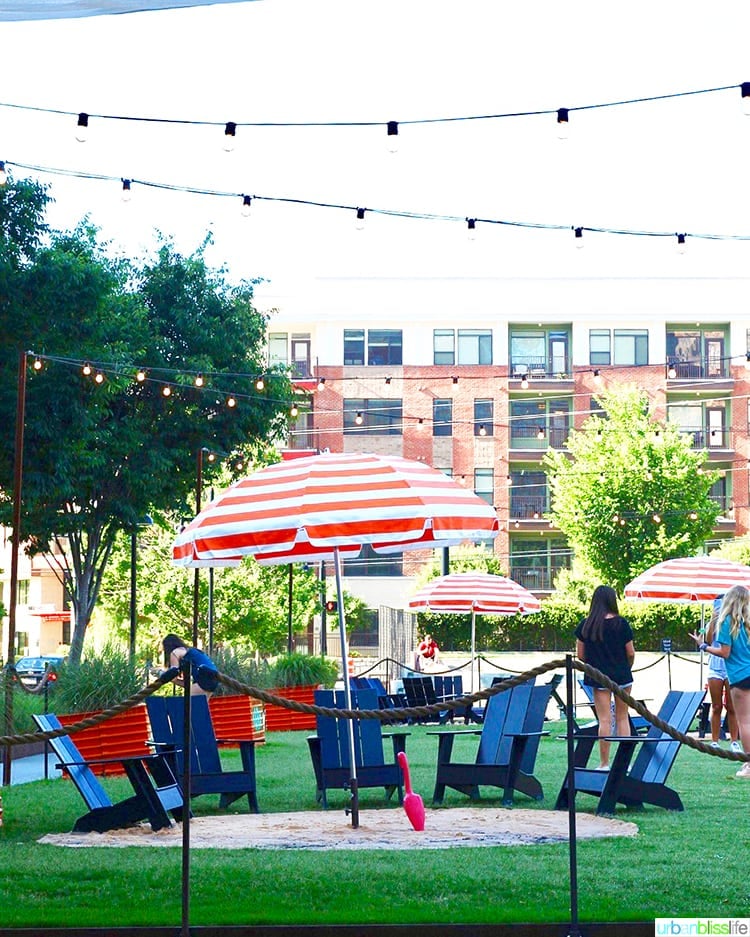 Ponce City Market is a large mixed-use space along the Atlanta BeltLine, in the city's Old Fourth Ward neighborhood.
This live/work/play space is a must-visit destination when traveling to Atlanta. Here, you'll find a mix of national and local retail shops, outdoor recreation/lounge space, full restaurants, and an excellent food hall that boasts outposts of some of the hippest Atlanta restaurants.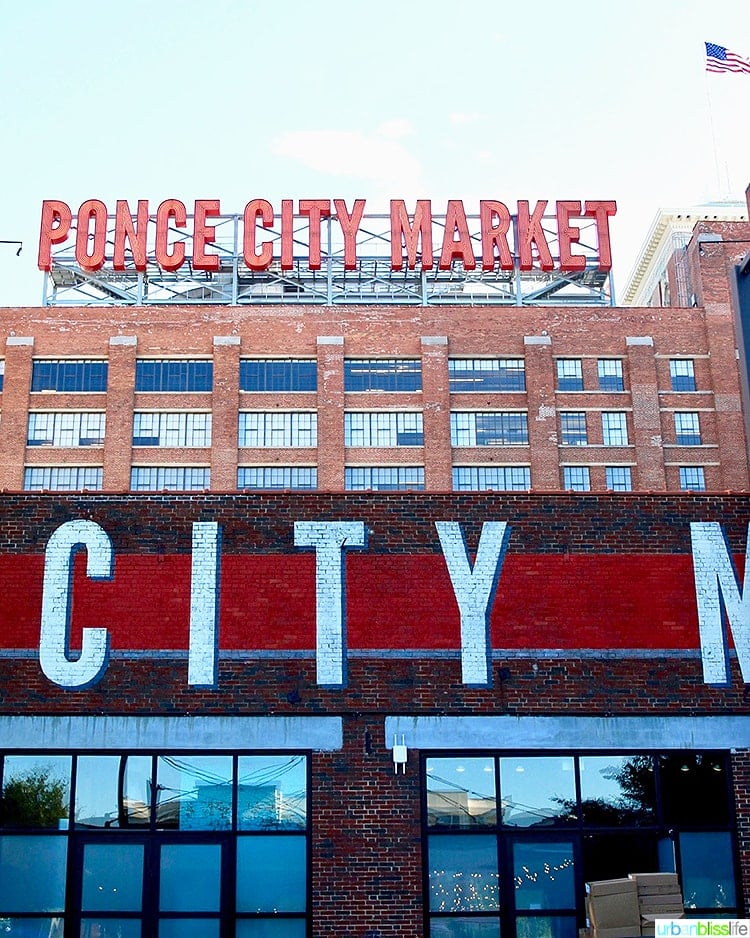 Some top spots you'll want to check out at Ponce City Market:
Dancing Goats Coffee Bar
Five Daughter's Bakery
Bellina Alimintari
Hop's Chicken
King of Pops Bar & Good Grub
Ponce City Market
675 Ponce de Leon Avenue NE
Atlanta, Georgia
https://poncecitymarket.com/
🐓 Krog Street Market
Another must-visit food hall in Atlanta is Krog Street Market. This happening spot is also located along the BeltLine, just a little over a mile away from Ponce City Market.
I had a hard time deciding what to eat for lunch at Krog Street Market. The choices all looked and sounded delicious. In the end, I went with a fried chicken plate (yep: more fried chicken. Can't get enough!) at Richard's Southern Fried Hot Chicken
Other spots to check out at Krog Street Market:

Fred's Meat and Bread
Gu's Dumplings
Yalla
Krog Street Market
99 Krog Street
Atlanta, Georgia
http://krogstreetmarket.com/
🥗 Local Motives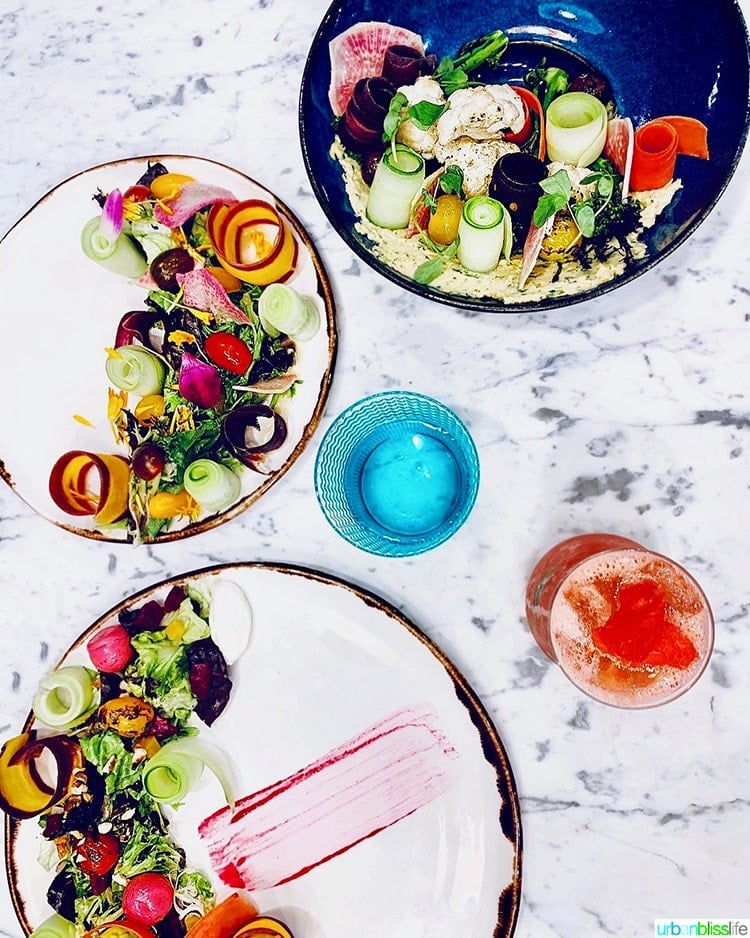 Hotel dining is definitely having a moment.
It used to be that hotel restaurants were starting points for chefs, and certainly not known for innovative cuisine. But that's all changing, and as a frequent traveler, I am all for it!
Local Motives in the W Hotel in downtown Atlanta is an excellent example of a unique dining experience that is elevating expectations of hotel restaurants.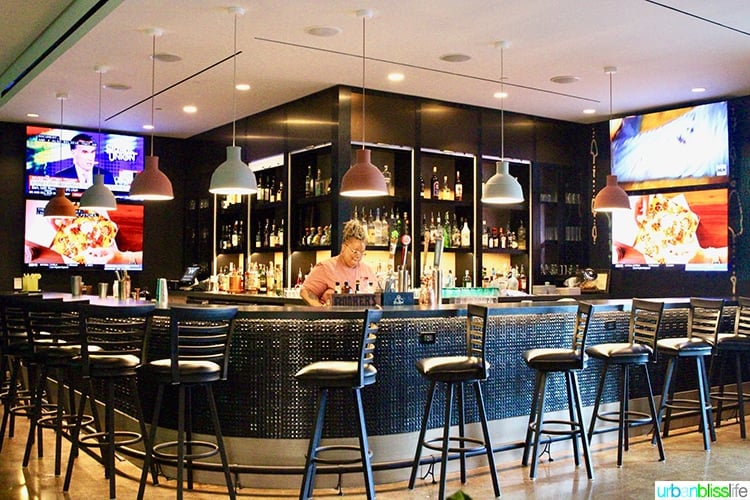 Some fave bites include:
Avocado Toast - Chef Suter brings his A game to this Millennial foodie fave, which is topped with greens, watermelon radishes, and marinated tomato.
Beet Salad - this is no ordinary beet salad. With a silky smooth beet panna cotta, roasted baby beets, candied pecans and edible flowers, this salad is a stunner. And it's as delicious as it looks!
Fisherman's Stew - a hearty, flavorful dish with saffron tomato and Carolina gold ristotto.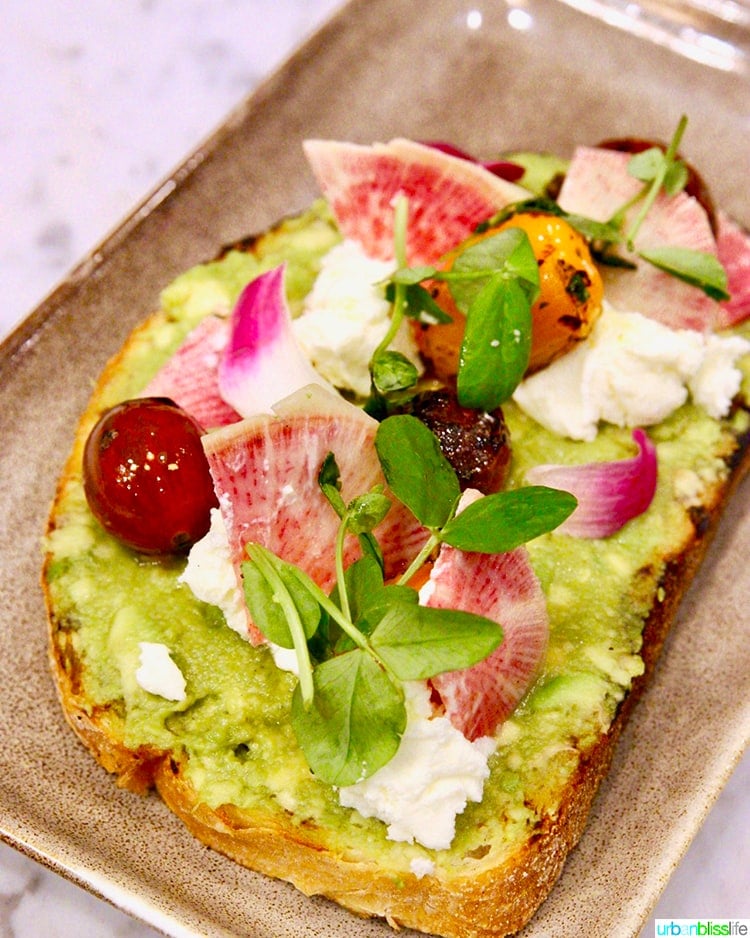 In addition to a stand-out culinary program, the bar program at Local Motives is above and beyond, thanks in part to the expertise of head mixologist Tenice. Definitely order a craft cocktail or two!
Local Motives (in W Hotel)
45 Ivan Allen Jr Blvd
Atlanta, Georgia 30308
Visit the W Atlanta hotel website
What should I see in Atlanta?
If you're looking for more things to do in Atlanta, I have some travel tips in my Top 10 Things To Do in Atlanta travel guide! Be sure to subscribe to my newsletter so you don't miss a single post!
Tours are also a great way to see the sights on a limited schedule. Check out these popular Atlanta tours and activities:
Where to stay in Atlanta
Traveling to Atlanta? Use the search form below to find and book the best hotel:
More Foodie Travel Guides
If you visit, please be sure to let them know that you read about it on Urban Bliss Life! And if you snap some pics, tag us @UrbanBlissLife and #UrbanBlissLife on Instagram, TikTok, Twitter, and Facebook.
Pin it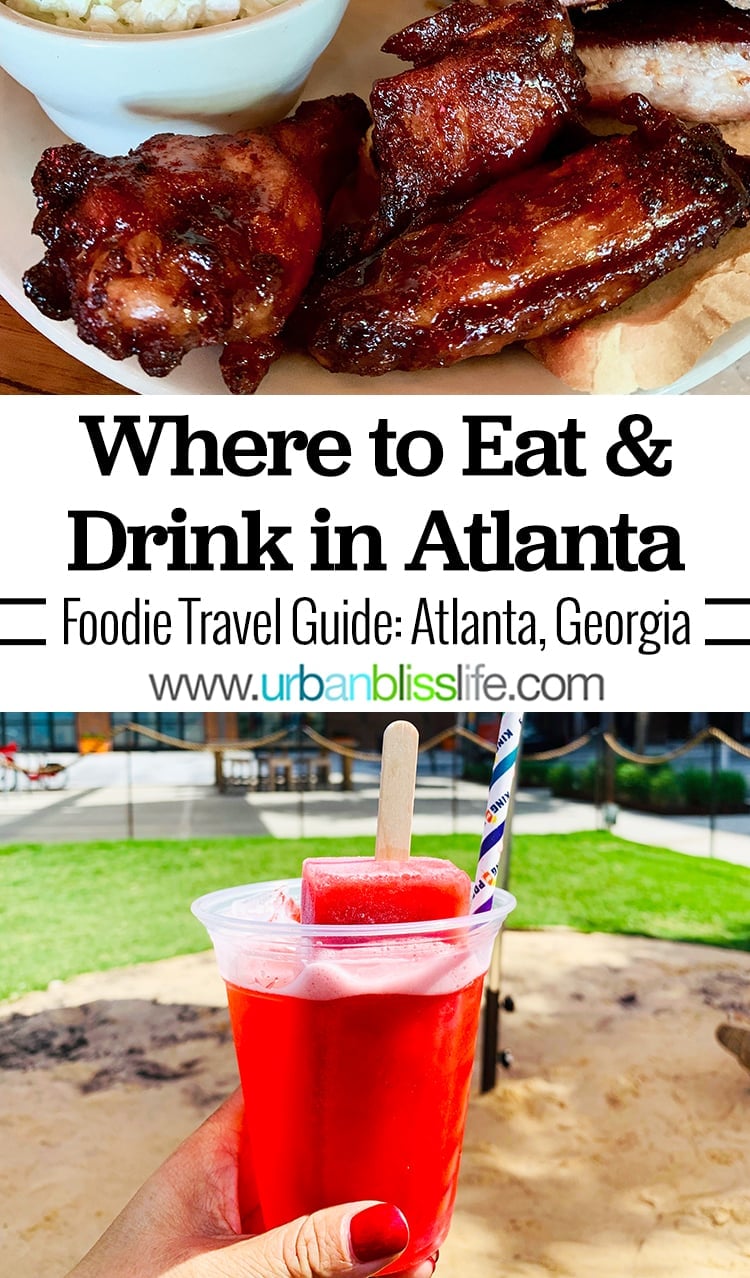 Most of these restaurants were covered as part of the IFWTWA Atlanta Foodie Press Trip. The Bread and Butterfly visit was on my own dime. All opinions and photos are, as always, my own.