The hungry traveler's dining guide the best Albuquerque restaurants on Where to Eat in Albuquerque, New Mexico. From casual dining to authentic regional cuisine to fine dining restaurants, here are some of the top restaurants to visit during your travels to the ABQ.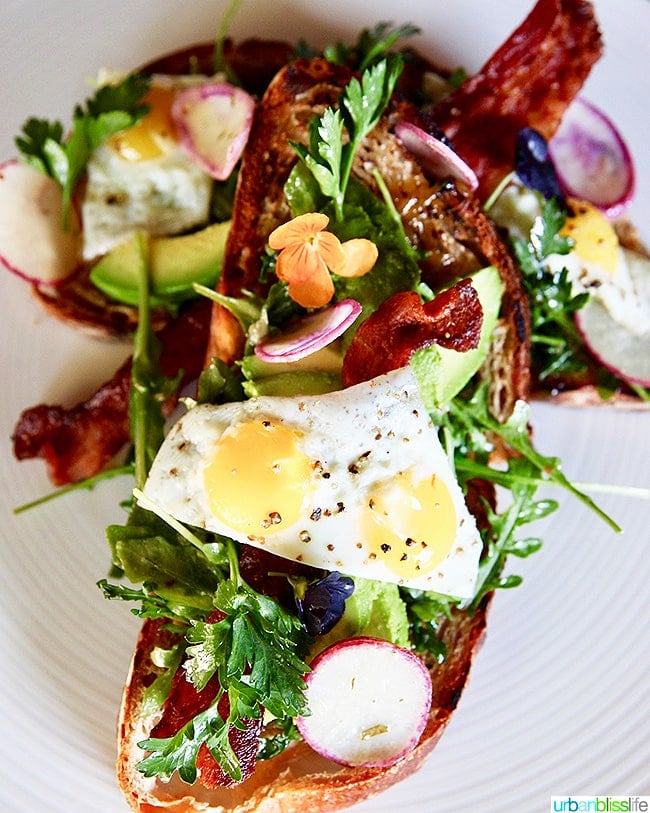 Southwestern cuisine reigns supreme in Albuquerque, New Mexico. As the city grows, some chefs enjoy putting their own unique spin on a delicious blend of Native American and Spanish flavors, while others hold steadfast to traditional cooking methods and generations-old recipes.
Here, you'll find no shortage of posole stew, frito pie, breakfast burritos, and piñon coffee, mixed in with trendy avocado toasts and interesting doughnut flavors.
The one thing you will be able to find at almost every restaurant: those world famous New Mexico Chiles.
Jump to:
❤️

Red, Green, or Christmas?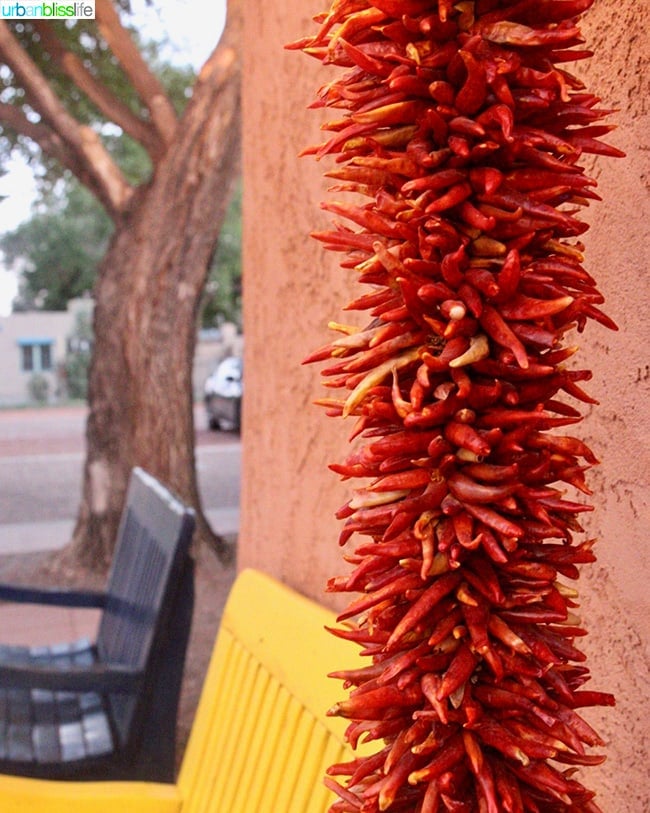 Albuquerque, New Mexico is known for its chiles, and when dining out, you'll most likely be asked which you prefer with your meal: red or green. Either can be mild, and either can be spicy -- there are so many different determining factors to which way the spice meter swings on any given day, so be sure to ask your server. To get both, tell your waiter or waitress that you'd like "Christmas."
🍽 Where to eat in Albuquerque, New Mexico
During my recent travels to Albuquerque, I was searching for the best places to eat near me. I had the pleasure of dining at several different hot spots. Here are some of my favorite Albuqurque restaurants that we visited. From fast casual restaurants to farm-to-table experiences, here's a look at where to eat in Albuquerque, New Mexico.
🍩 Bristol Doughnut Co.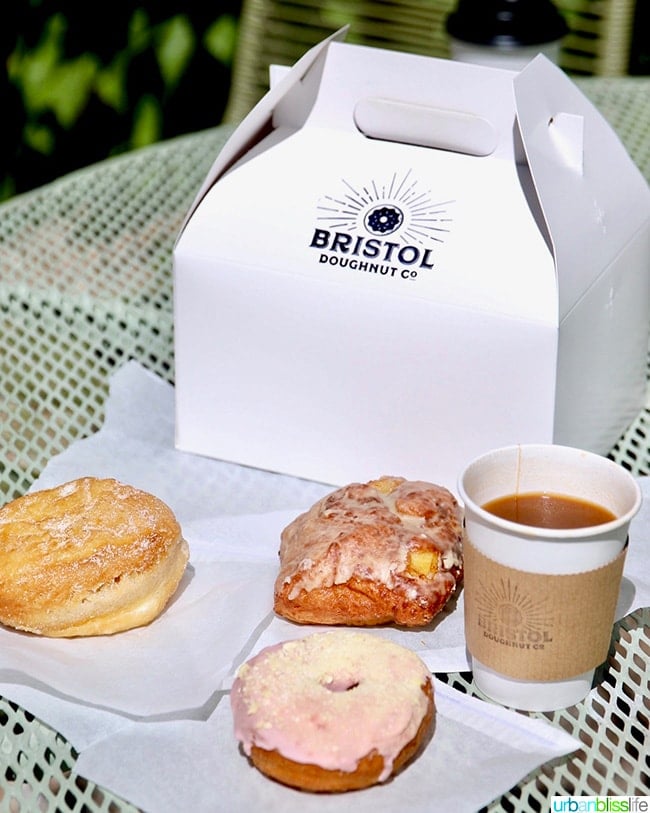 After shopping for unique artisan goods at the super cool and hipster Spur Line Supply Co., continue your on trend trip with a stop at Bristol Doughnut Co. for fresh coffee and their house-made doughnuts. There's a new fun flavor every week, in addition to their classics. The strawberry piña colada was a hit at the time of my visit.
Located inside Spur Line Supply Co.
800 20th Street Northwest
Albuquerque, NM, 87104
https://bristoldoughnut.co/
🌯 Cafe de Benvanidez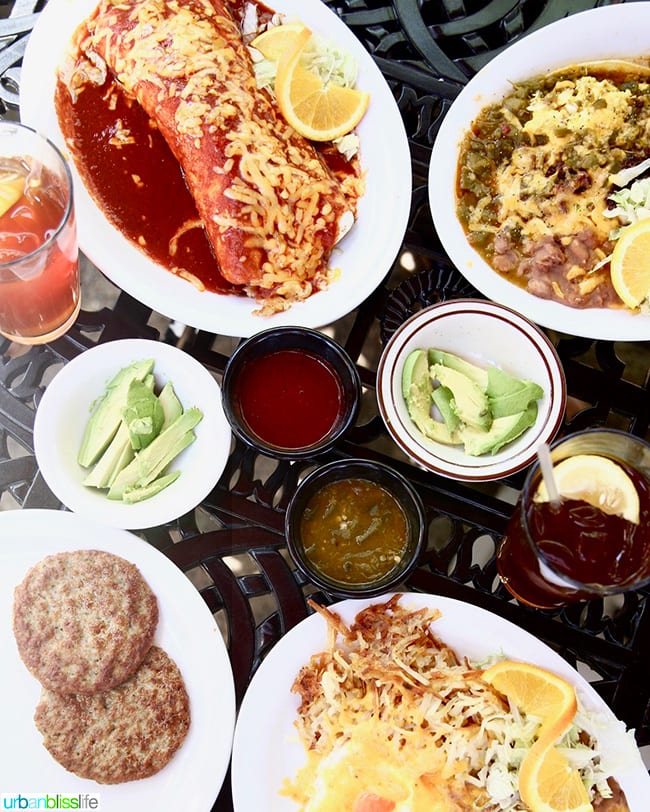 Casa de Benavidez is a longtime family-owned and operated restaurant serving Mexican and New Mexican food. If it's a nice day, be sure to ask for a table outside, where you can sit amid a beautiful garden setting under shady trees. Portions are large here, so don't be afraid to share an entree or two. Their breakfast burritos are absolutely amazing, as are the huevos rancheros. Add a side of fresh sliced avocado, and you've got enough fuel to power through a long day.
8032 4th Street NW
Albuquerque, New Mexico 87114
http://casadebenavidez.com/
🥑 Campo restaurant in Los Poblanos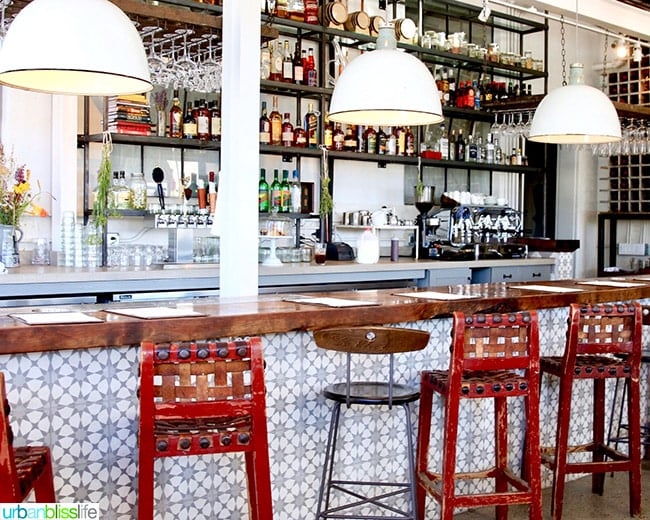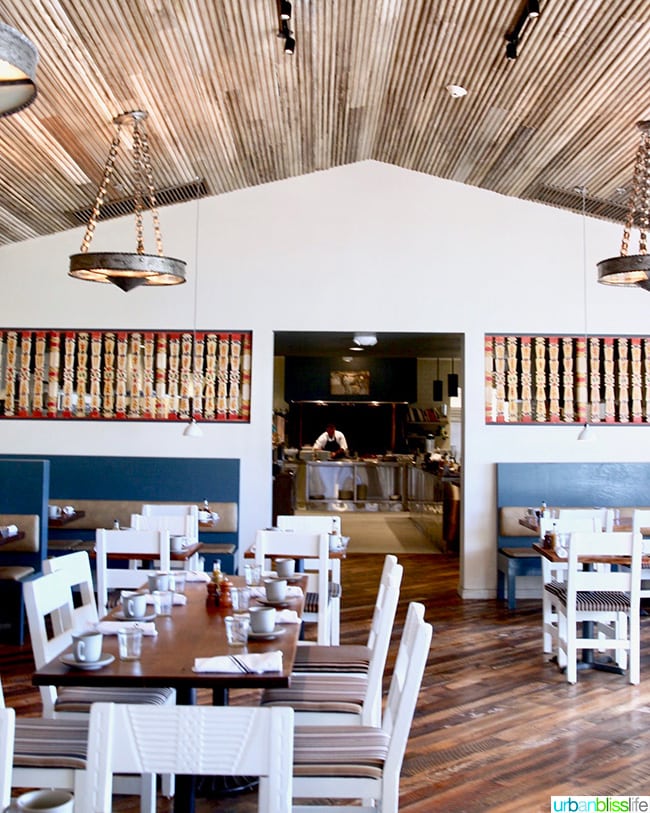 Campo restaurant is located in Los Poblanos Historic Inn and Organic Farm. There is a large bar area, one main spacious dining room, a more private dining room perfect for groups, and ample outdoor space that allows you to enjoy the lavender farm and possibly sneak a glimpse of the resident llamas or peacocks.
The peaceful farm setting sets the stage for the meal to come: expect modern interpretations of classic cuisine, featuring the farm's freshest produce and other local ingredients.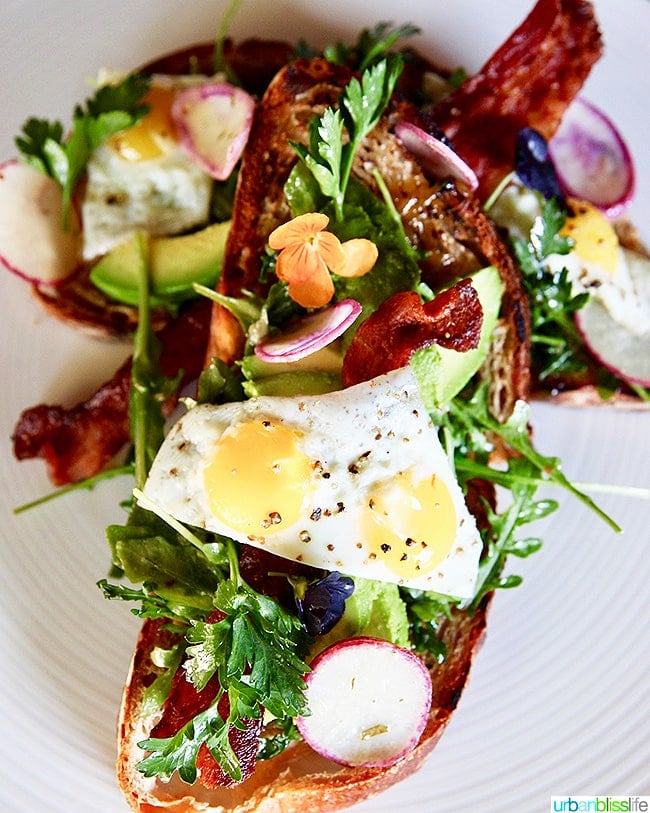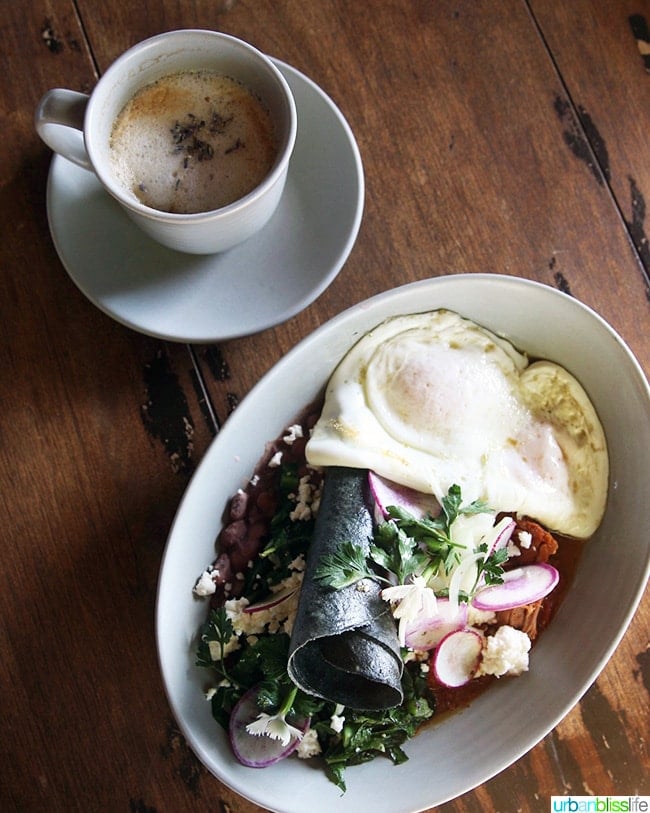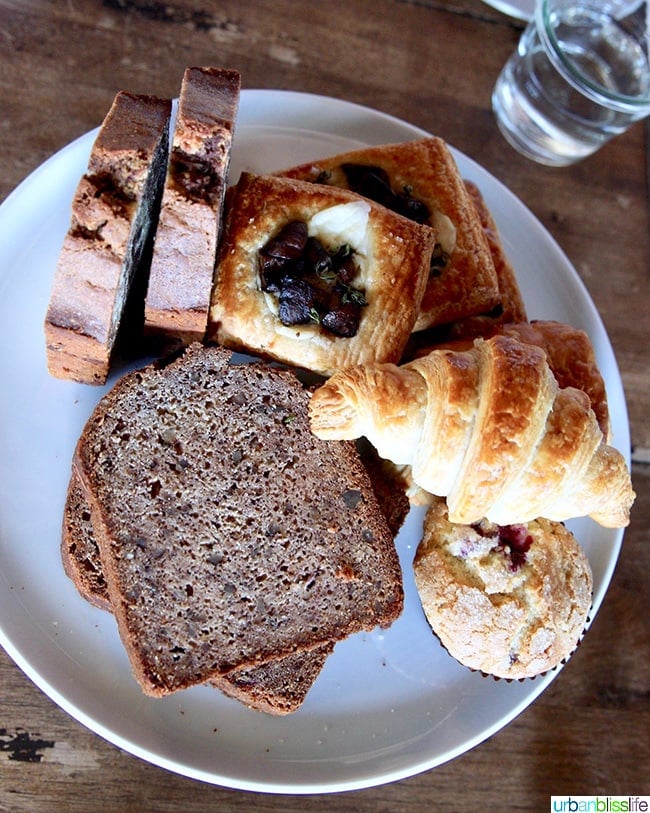 From the most beautiful and artistic avocado toast I have ever seen to a modern and hearty rendition of huevos rancheros to the mouthwatering housemade pastries, the meals I enjoyed at Los Poblanos' Campo restaurant were among some of my favorite of the trip.
Los Poblanos Historic Inn & Organic Farm
4803 Rio Grande Blvd N.W.
Los Ranchos de Albuquerque, NM 87107
https://lospoblanos.com/
🌮 El Pinto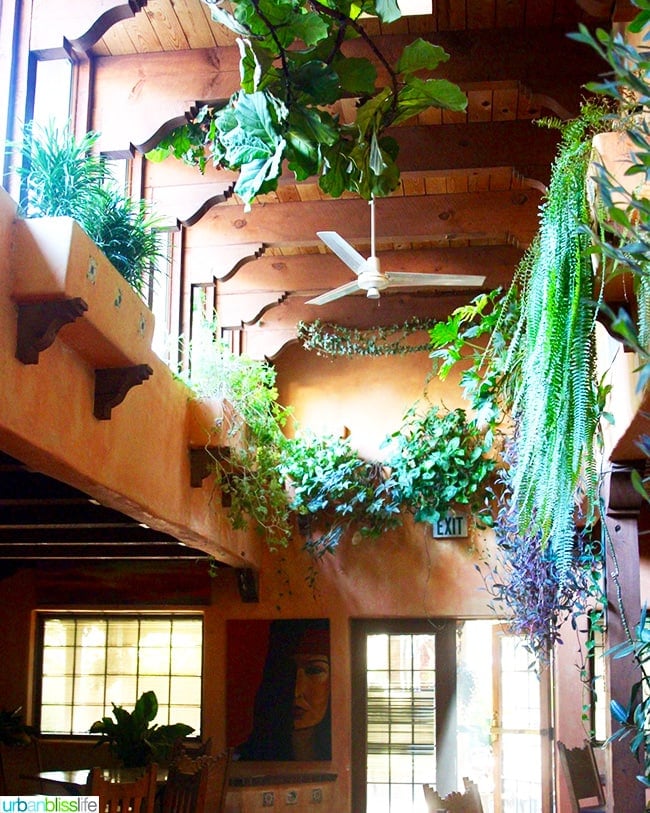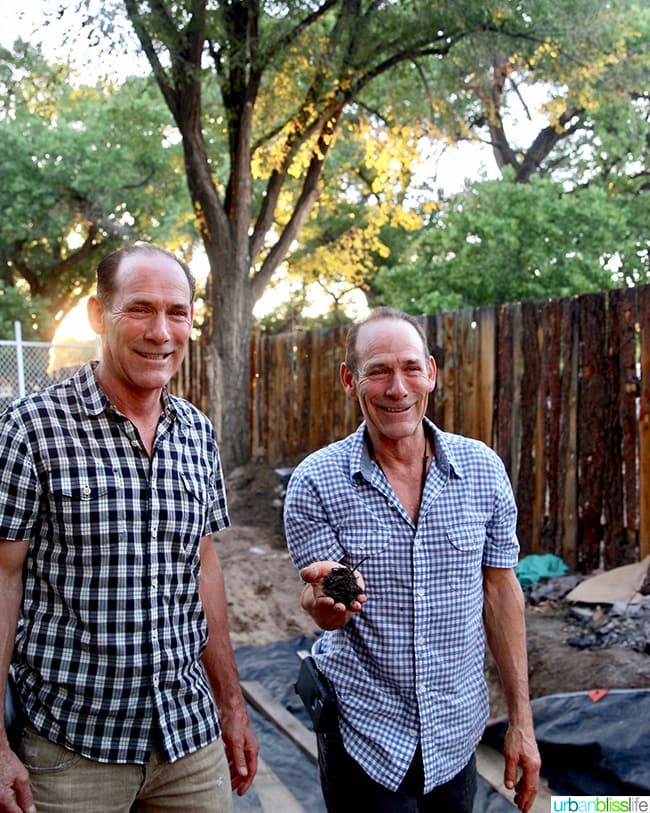 There's so much happening at El Pinto, that's it's really not quite enough to just call it a popular restaurant.
Jim and John Thomas – AKA The Salsa Twins, pictured above –took over the restaurant from their parents, who opened El Pinto in 1962. Since its humble beginnings, the twins expanded the restaurant into a full blown salsa production facility, with a "hen hotel," greenhouse, gardens, composting stations and worm farm.
This ginormous restaurant alone seats 1,200 people, and can be a fun maze to navigate when you're operating on little sleep and one too many of their sweet, refreshing margaritas.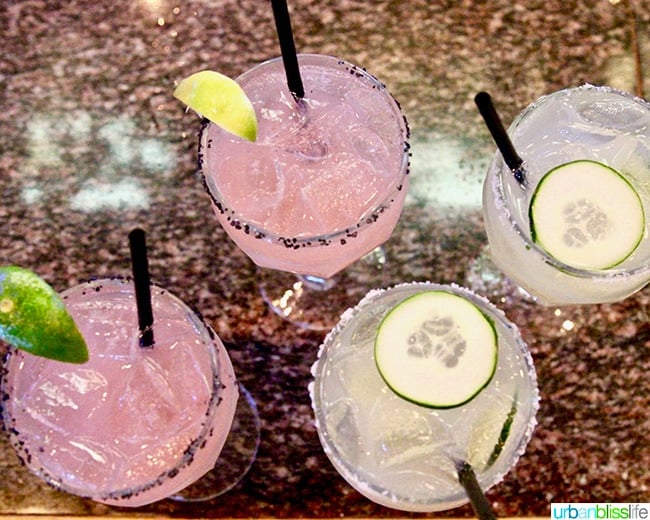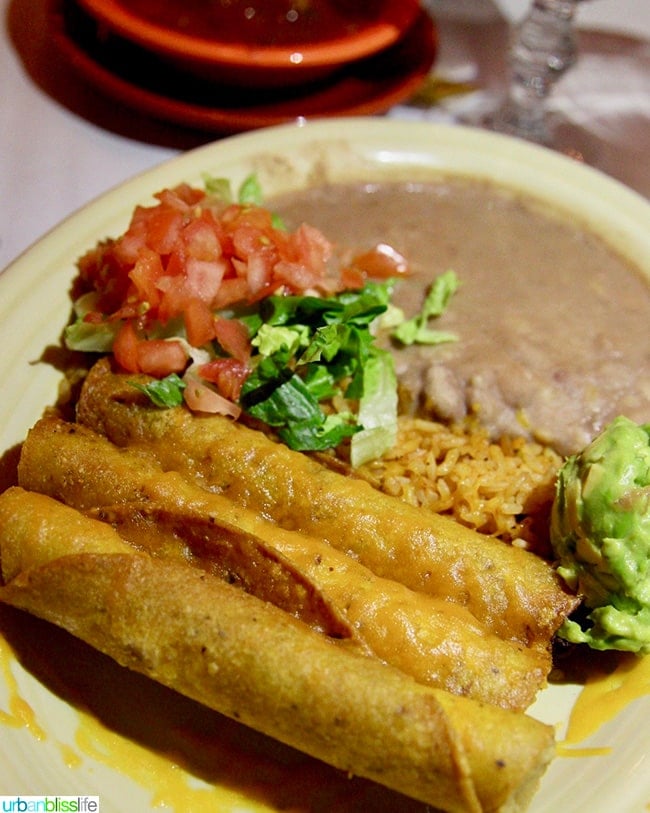 The menu is as vast and varied as the space is, and everything is based off recipes from the owners' grandmother, Josephina Chavez-Griggs. El Pinto is a must-visit spot when traveling to Albuquerque. It's especially great for large groups and for special occasions.
El Pinto
10500 4th St NW
Albuquerque, NM 87114
https://www.elpinto.com/
🥗 Farm and Table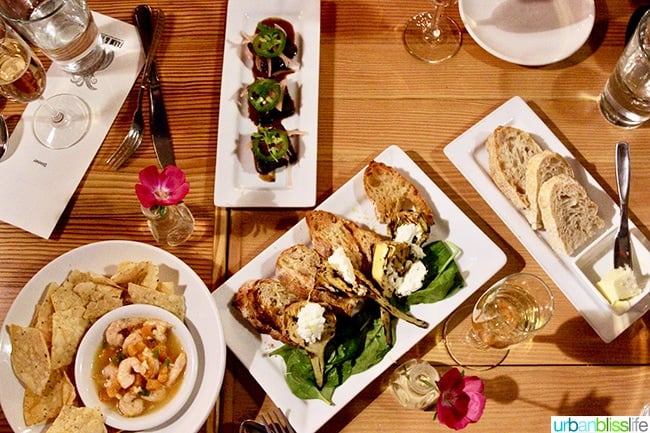 Farm and Table lives well up to its name. This beautiful restaurant sits adjacent to Alameda Farm, where much of the produce grown makes its way to the table. The owners are committed to sustainable practices, and the care that goes into the ingredients shines on the plate through thoughtful, focused dishes.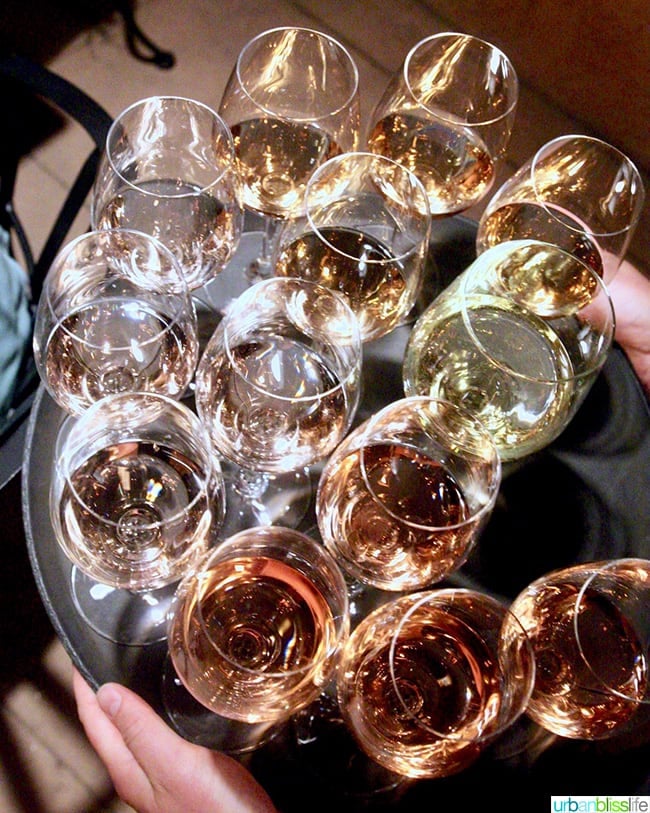 The wine list is impressive at Farm and Table, and our group enjoyed a flight of rosé wines to go with our meal.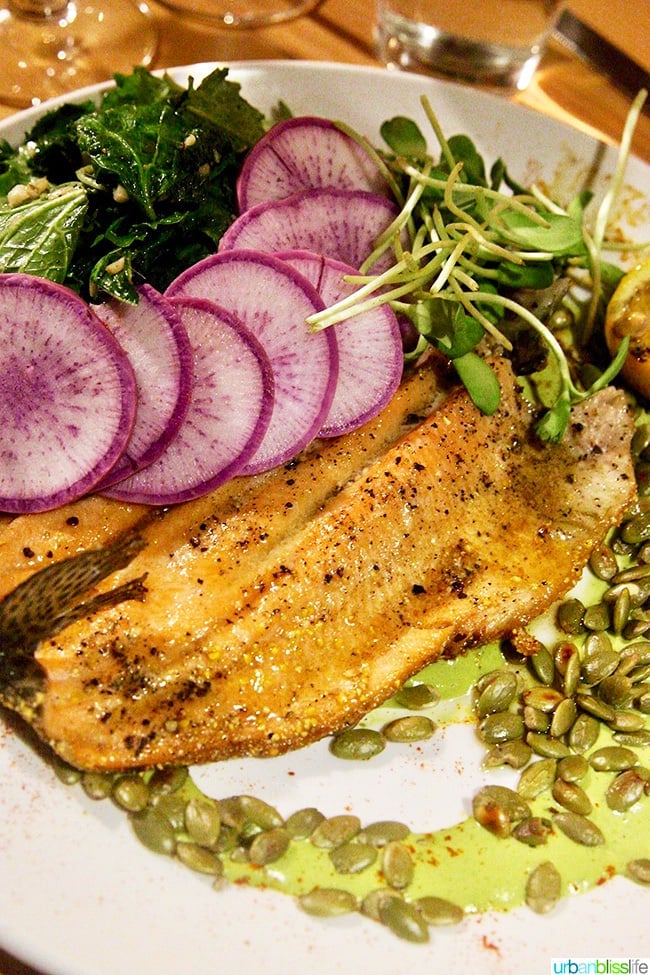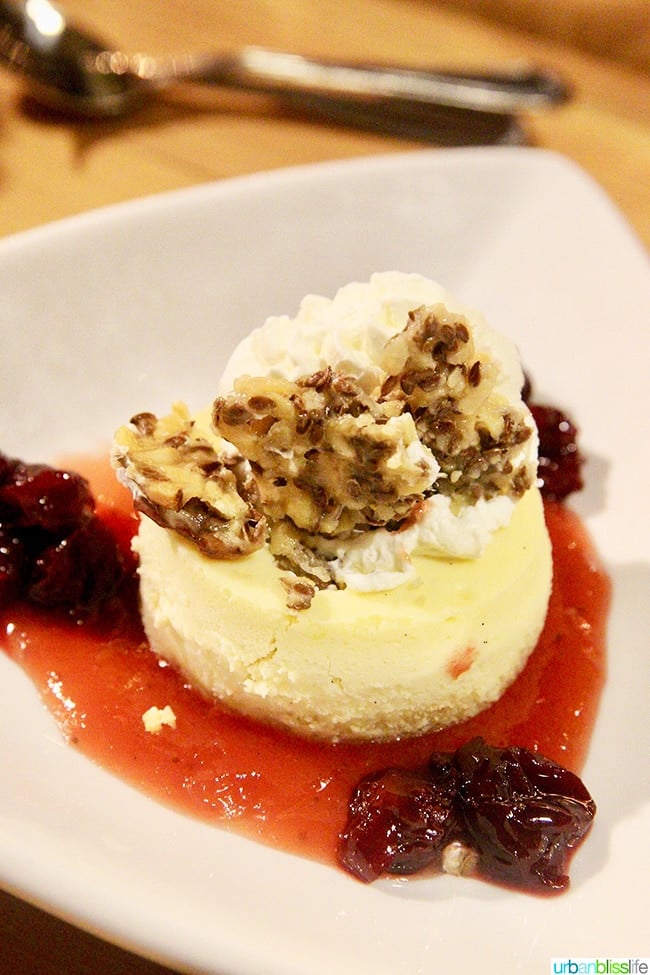 The seasonal menu features full entrees and shareable plates, as well as delicious housemade desserts.
Farm and Table
8917 4th Street NW
Albuquerque, NM 87114
phone (505) 503.7124
https://farmandtablenm.com/
🧆 MAS - Tapas Y Vino & Ibiza Bar
Located inside Hotel Andaluz in downtown Albuquerque, MAS Tapas Y Vino and the upstairs Ibiza Bar are both great spots to enjoy updated Spanish cuisine.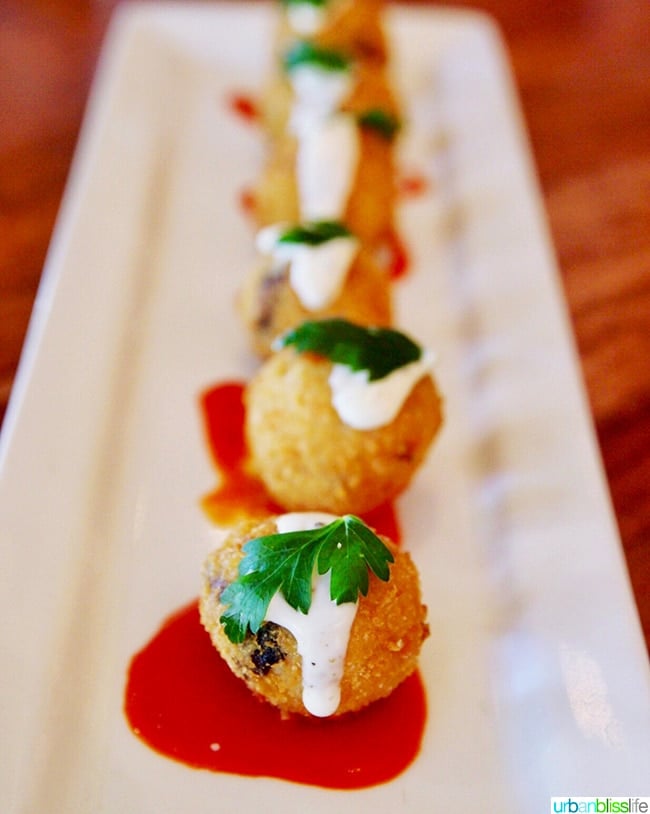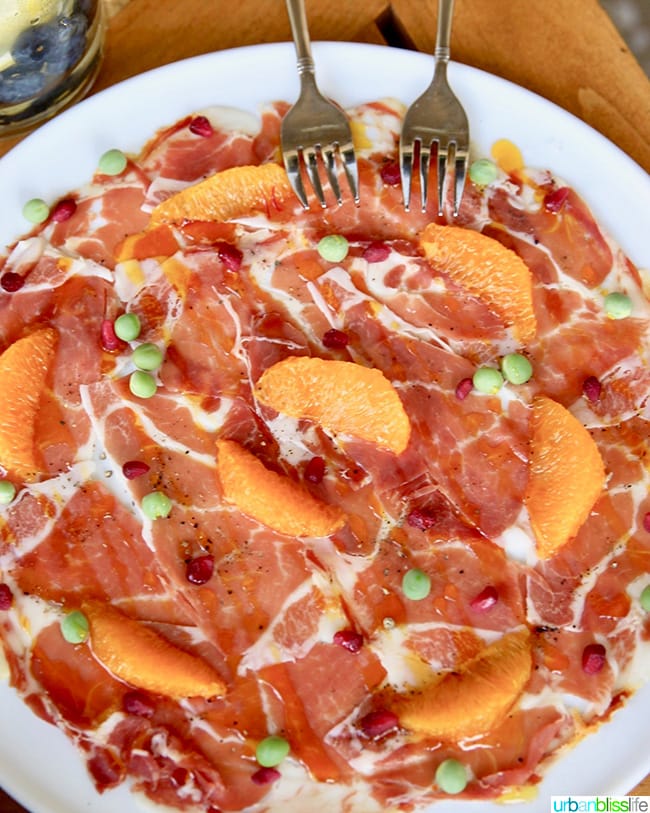 Executive Chef Marc Quiñones and his team serve up some of the best tapas in town, to be enjoyed with friends over some of the restaurant and bar's tasty cocktails.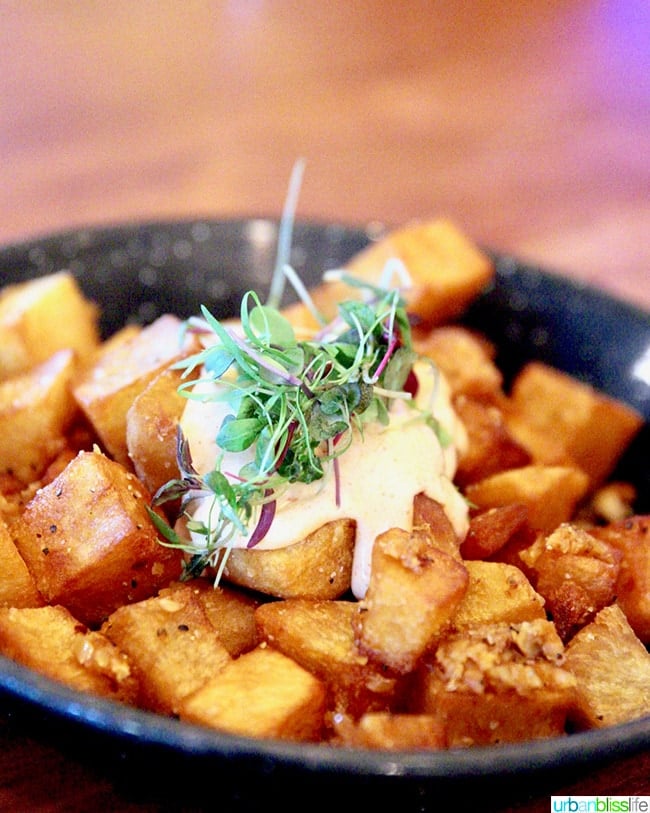 These patatas bravas are truly some of the best I have ever had. Super crispy on the outside with amazing flavor. So good!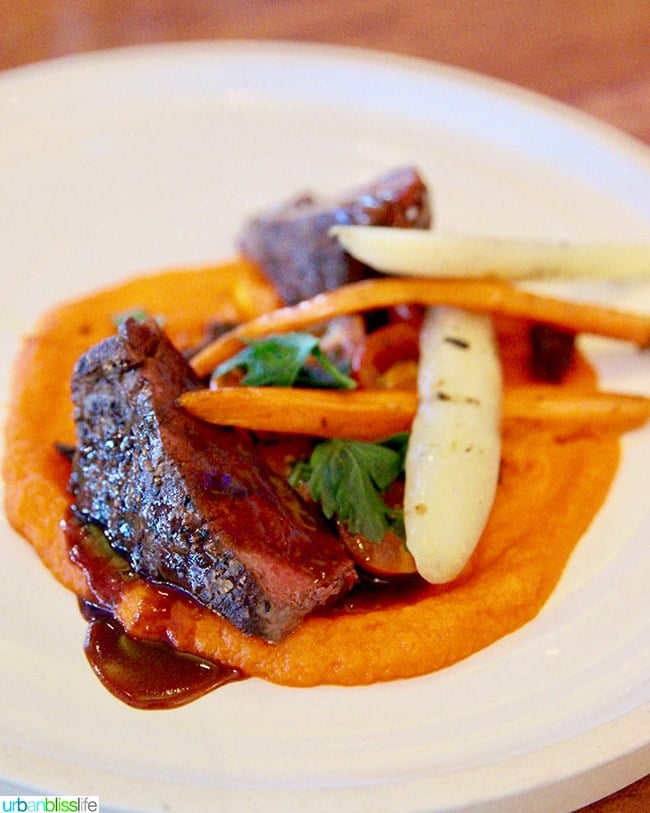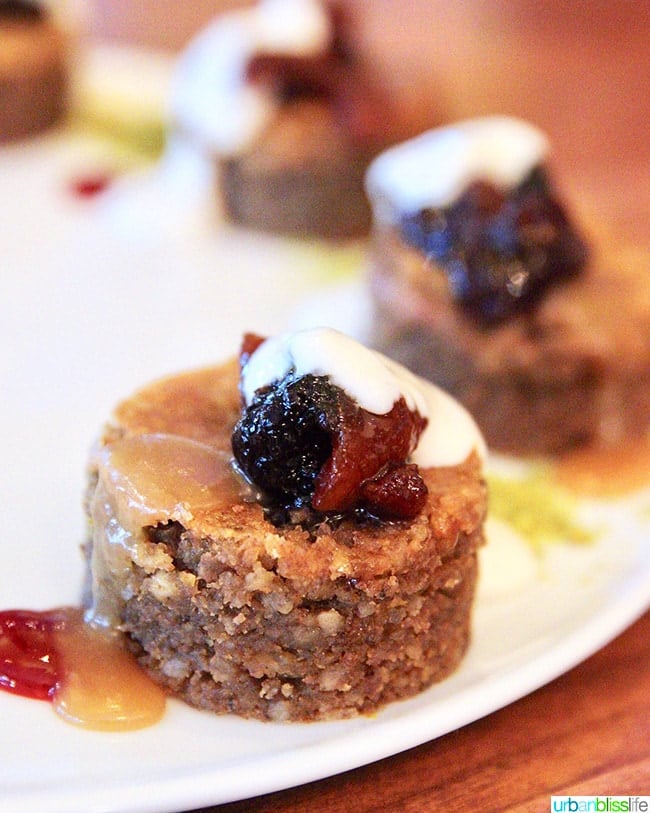 The main courses are just as inventive as the appetizers, but definitely leave room for dessert here, too.
MAS Tapas Y Vino
125 2nd St NW
Albuquerque, NM 87102
https://hotelandaluz.com/mas-tapas-y-vino/
🥙 Indian Pueblo Kitchen (formerly Pueblo Harvest)
If it's an authentic southwestern culinary experience you are looking for, definitely make time to dine at Pueblo Harvest. UPDATE: As of August 2023, this restaurant is now called Indian Pueblo Kitchen.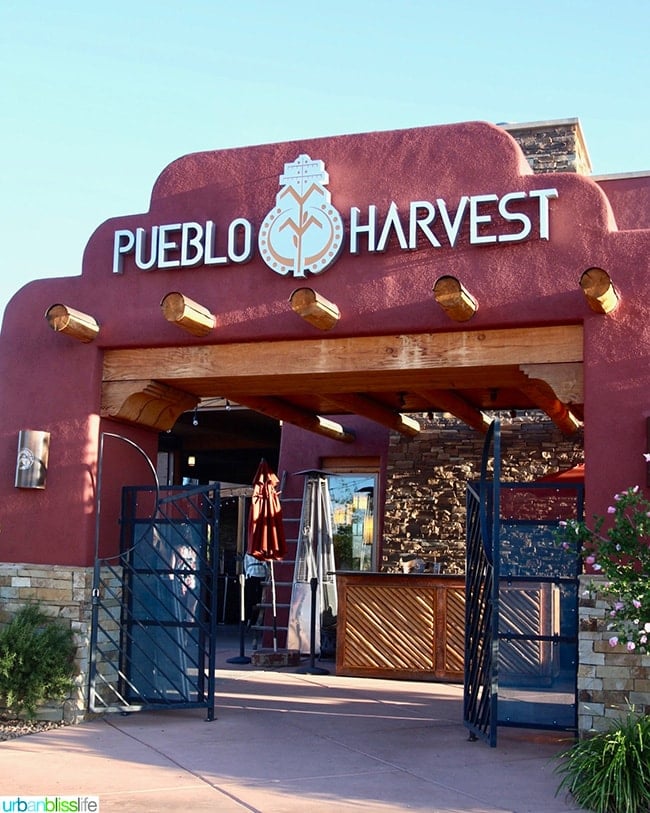 Located inside the Indian Pueblo Cultural Center, Indian Pueblo Kitchen is owned by the 19 Pueblos of New Mexico.
The menu includes recipes that use ingredients from the Pueblos of New Mexico as much as possible, and offers dishes representative of both pre-European contact and post-contact.
Some of my favorites: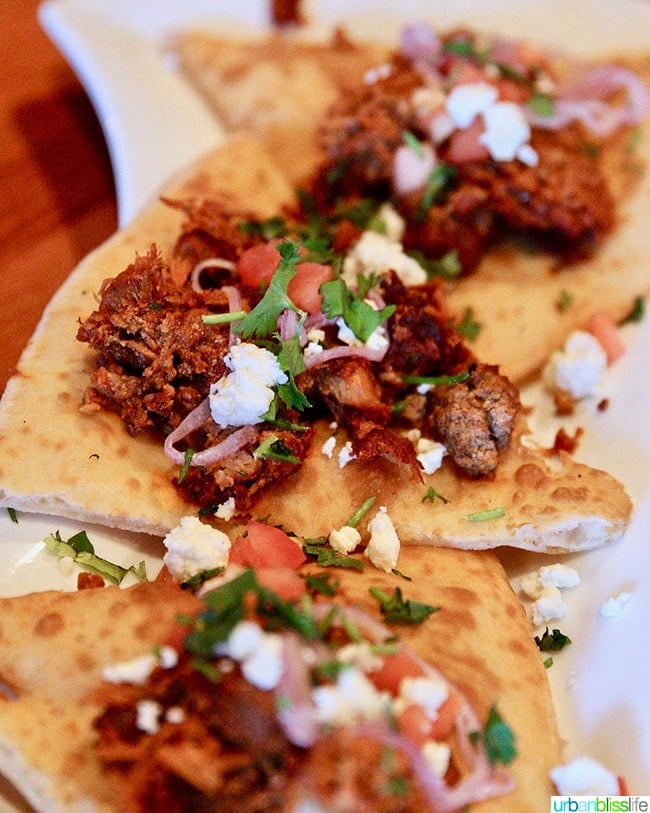 The Indian Taco Bites are an incredible starter dish, including my favorite fry bread. So good!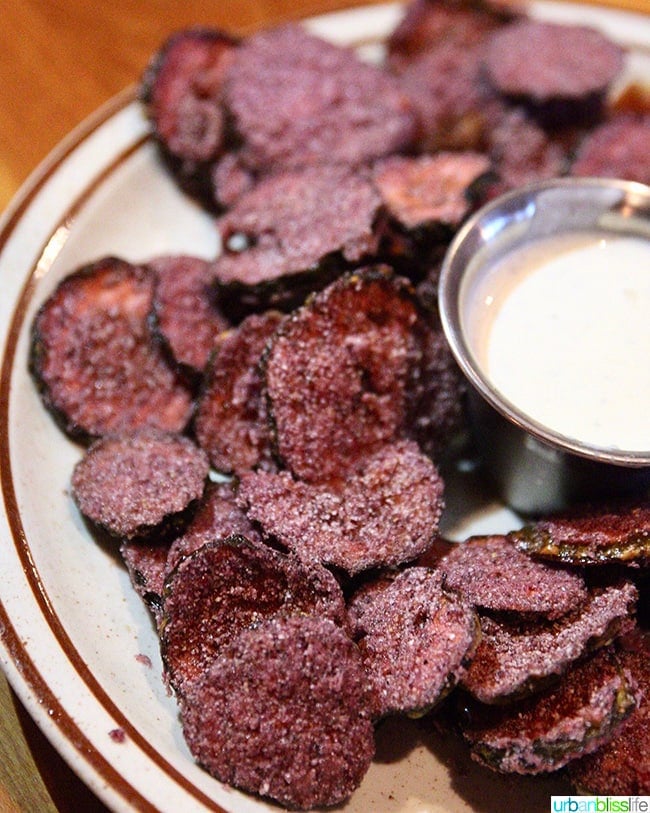 Have you ever had Kool-Aid pickles? Apparently they are a tradition in this part of the country, but nobody we asked knew the origin of the tradition. We tried both regular kool-aid pickles and the fried pickles pictured above. I actually really liked the fried kool-aid pickles - and I don't even normally like pickles!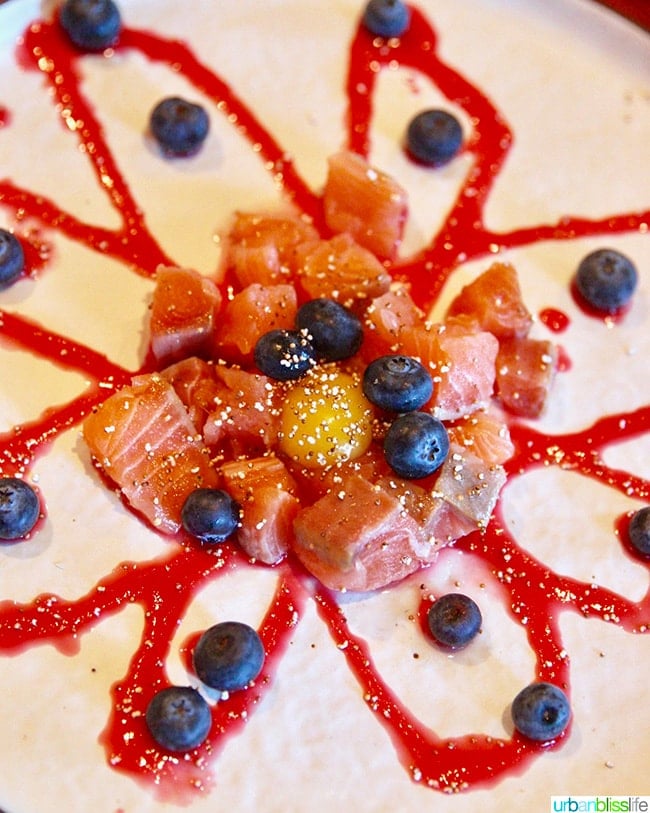 The salmon tartare was both delicious and a stunning plate.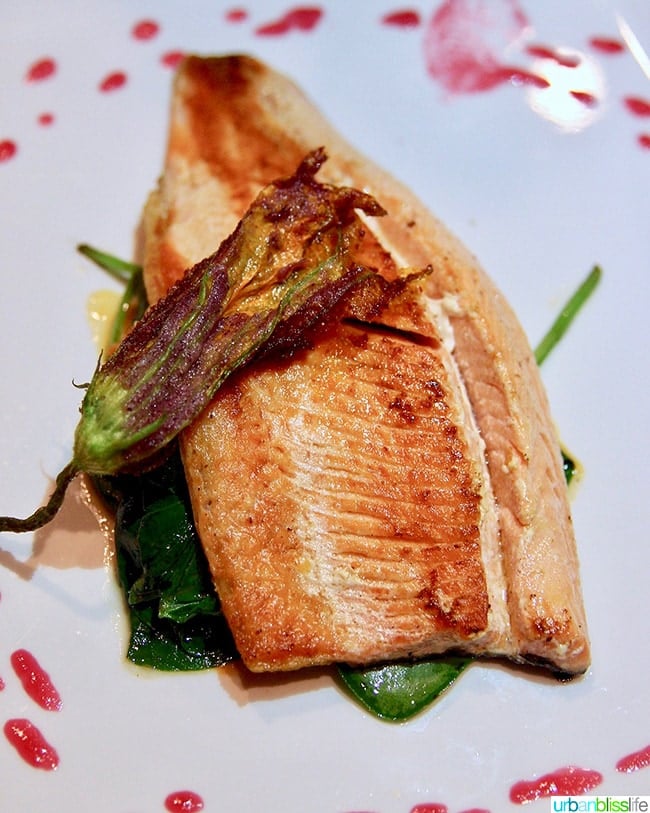 The Tribal Trout was also an amazing dish, and I highly recommend it. Served with a fried squash blossom, this is a simple yet flavorful trout.
Pueblo Harvest (Inside the IPCC)
2401 12th ST NW
Albuquerque, NM 87104
https://indianpueblokitchen.org/
---
I hope you found this food travel guide helpful! When I travel, I am always looking for the best places to eat near me, so I create these guides to help others who love food and travel, too!
🚗 To make a trip more convenient, book a private arrival transfer from Albuquerque Airport to a hotel or any address
Order a transfer herе
Have you dined at any of these restaurants? Which ones look most appetizing to you? What other restaurants do you love in Albuquerque?
If you visit, please be sure to let them know that you read about it on Urban Bliss Life! And if you snap some pics, tag us @UrbanBlissLife and #UrbanBlissLife on Instagram, TikTok, Twitter, and Facebook.
More USA food & travel articles
Thanks to Visit Albuquerque for introducing me to these restaurants during a media visit. As always, all opinions and photos are my own.