Albuquerque is a charming, vibrant city with rich history and plenty of outdoor recreation. If you're visiting the ABQ, definitely check out this comprehensive travel guide to the Top 12 Things to Do in Albuquerque, New Mexico!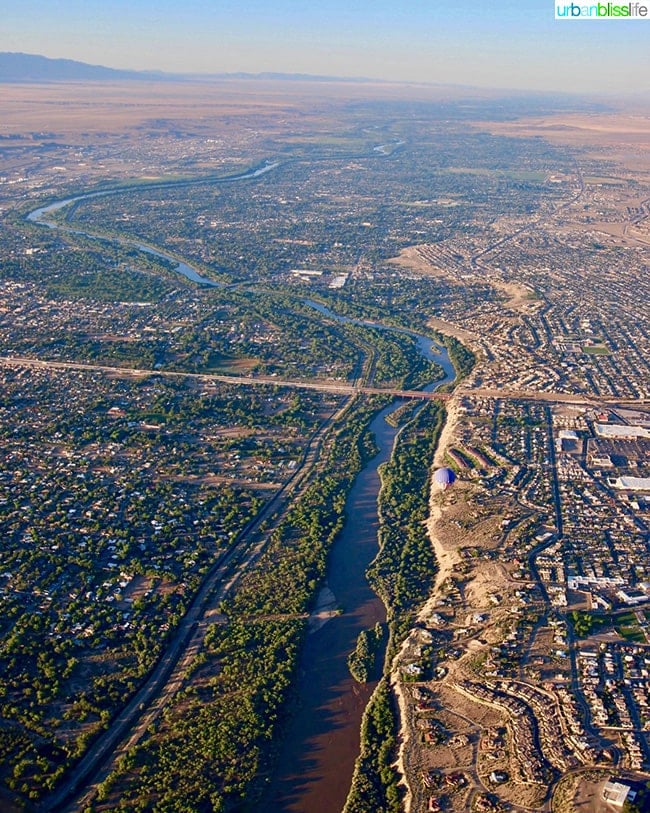 A land of ever-changing vistas, Albuquerque, New Mexico surprised me with its high altitude peaks, the quickness with which the view changes from sandy desert to red rock cliffs to adobe home suburbs. There was more greenery than I expected, and much more to do in this charming southwestern city than I had imagined.
Albuquerque, New Mexico
Founded in 1706, Albuquerque, New Mexico is one of the oldest cities in the United States.
Traveling through here, you're easily immersed in the unique and diverse cultures, histories, and traditions of this southwestern gem. Today, almost one million people live in Albuquerque -- making up nearly half the population of the entire state of New Mexico.
Over the course of the next few months, I'll be sharing more in-depth stories, tips, and photos from my travels to Albuquerque.
To give you an overall view of this beautiful city, I'm starting with this at-a-glance Albuquerque travel guide of Top 12 Things to Do in Albuquerque, New Mexico.
Jump to:
1. Take a Hot Air Balloon Ride
When visiting the Hot Air Balloon Capitol of the World, you MUST take a hot air balloon ride. I am pretty sure it's a requirement before you leave the state. Trust me: it is a wonderful experience of a lifetime and there is no better place to do it than Albuquerque, the city that hosts the world's largest hot air balloon festival every September and where residents are used to seeing hit air balloons up in the sky almost 365 days a year.
I'll write about this more in depth and share some photos that I took during my experience riding up above the Albuquerque skies with Rainbow Ryders soon.
🔥 Take a ride of your life
Get the best possible views of Albuquerque from hot air balloon on a sunrise
Book here
2. Visit Old Town Albuquerque
Historic Old Town is a great place to spend a morning or afternoon and experience the heart of the city's original center. Most of the buildings here retain the original Pueblo-Spanish style architecture, and it's a beautiful area to walk around, shop, and eat. Be sure to stop in to the oldest church in Albuquerque, San Felipe de Neri Church, located right across from Old Town's center park.
| Tip
🏠 Walk around Albuquerque's Old Town with an experienced guide. On a tour you will be introduced to the legends and colorful characters of this historically rich neighborhood while taking you to all the important landmarks!
3. Explore Albuquerque by bike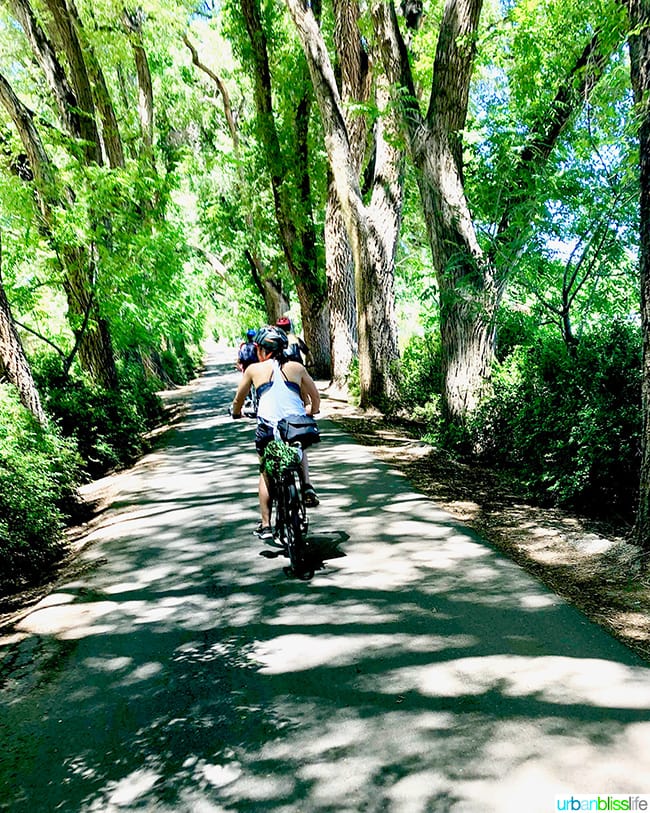 If you follow my travels, you know that I love bike tours. I think they're an amazing way to see any city (read my 48 Hours in Amsterdam). Albuquerque is extremely bike-friendly, with miles and miles of bike trails throughout the city. And, most of the city is pretty flat compared to other cities, but be sure to inquire about the incline levels of each particular tour if you are concerned about steep hills.
During my trip to Albuquerque, I had the pleasure of doing a bike tour with Routes Bicycle Tours. We rode from Historic Old Town along the Rio Grande. It was a gorgeous tour, and I learned so much about the history, people, and snagged some good travel tips from our excellent tour guide, co-owner Josh. They have several different tours, including a Breaking Bad Tour (did you know the show was set and filmed here?), a Haunted Bike Tour, Winery Bike Tour, and more.
4. Hike Tent Rocks National Monument
The Kasha-Katuwe Tent Rocks National Monument is a truly unique setting, unlike any other I have ever visited. If it is open when you visit Albuquerque, you must plan a few hours (earlier in the day is better, before it gets too hot) to hike around this area.
NOTE: Visit the official Kasha-Katuwe Tent Rocks National Monument website for updates.
5. Visit a Pueblo
Today there are 19 active remaining Pueblos in the state of New Mexico. Most Pueblo villages are not open for the public, except for on Feast Days. However, about 50 miles outside of Albuquerque, you can visit the Walatowa Visitors Center to learn more about the Pueblo of Jemez. The Jemez pueblo encompasses over 89,000 acres of land and is home to over 3,400 tribal members.
It's important to read about visitor etiquette before visiting a Pueblo for one of their Feast Days or when visiting the Visitors Center. There are various tour companies that also work with the Pueblo of Jemez, and during our visit, we were treated to a fry-bread making demonstration and pottery making workshop.
I'll share more in a separate post, as the way the tribal members stay true to their centuries-long way of living is truly worth sharing more in-depth. I treasure our time with the Jemez tribe, and look forward to sharing more soon.
🗺️ Ready to explore Jemez Pueblo?
You can visit the Pueblo of Jemez and explore nearby waterfalls, hot springs, and ruins with an experienced guide. Hotel pickup and drop-off, lunch and shopping time
Book the trip here
6. Soak in hot springs
After a long day of hiking, biking, or general touring around Albuquerque, treat yourself to a couple of hours soaking in the Jemez Hot Springs. This oasis offers four main pools with more than 17 different minerals, plenty of shade, and poolside service.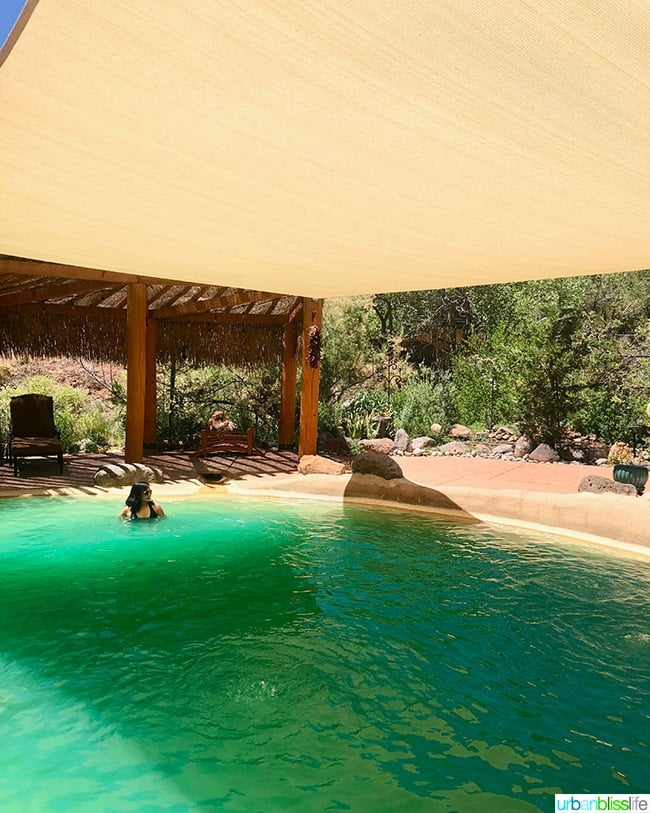 I love how there are several semi-private areas and cabanas in the shade to rest in between soaks. The view of the Virgin Mesa as you gaze up from the hot springs is beautiful and adds to the peaceful, relaxing experience here.
7. Take to the water
In addition to hiking, biking, and ballooning your way around Albuquerque, water sports enthusiasts will enjoy a wide array of activities available. You can kayak, raft, and canoe down the Rio Grande, and swim in one of the local lakes.
During my trip to Albuquerque, I had the opportunity to do some Stand-Up Paddleboarding (SUP) with SOL Sports on Cochiti Lake. It's a beautiful, relaxing way to enjoy the scenery of New Mexico. Sol Sports also offers windsurfing lessons and rentals at Cochiti Lake.
8. Shop at Spurline Supply Co.
Walking into Spurline Supply Co. is like walking down a street in Portland – I felt right at home. And you will, too, if you love discovering hip home goods, fashion, and more.
This carefully curated, Kinfolk-esque shopping experience features several shop departments within one large open-space building. You're sure to find your best Albuquerque souvenirs here (I am still regretting not buying some beautiful locally made earrings I saw here).
9. Ride the Sandia Peak Tram
Another amazing way to see Albuquerque from high viewpoints is to take the Sandia Peak Aerial Tramway. This is the longest tramway in North America, and it takes you up to more than 10,000 feet above sea level.
Here, the vistas are absolutely stunning. You can look out over 11,000 square miles of the city and beyond.
There's also a restaurant at the base of the tram, and a gift shop for all of your tram souvenir needs. I'll share more pics and details about the tram in another post.
| Tip
❄️ Take a ride along the Aerial Tramway and snowshoe through pristine evergreen forests and snowy mountains. Book the experiencehere
10. See the Petroglyphs
One of the stops on our bike tour was at the Petroglyph National Monument. Located right in the midst of the city, this is one of the largest petroglyph sites in North America.
The park has a few different trails you can hike, and more than 20,000 images carved into volcanic rocks by Native Americans and Spanish settlers 400 to 700 years ago.
11. Visit a Museum
Museum-lovers, culture and history buffs, and visual learners alike will all rejoice at the incredible variety of interesting museums you can find in Albuquerque. After taking a hot air balloon ride, take the kids to the International Balloon Museum to learn about some of the most famous hot air balloon travels and more.
Learn more about the history, culture, and art of the 19 Pueblos of Albuquerque at the Indian Pueblo Cultural Center, plus enjoy a fantastic authentic meal at the Pueblo Harvest Cafe.
12. Order some Christmas (red and green chile)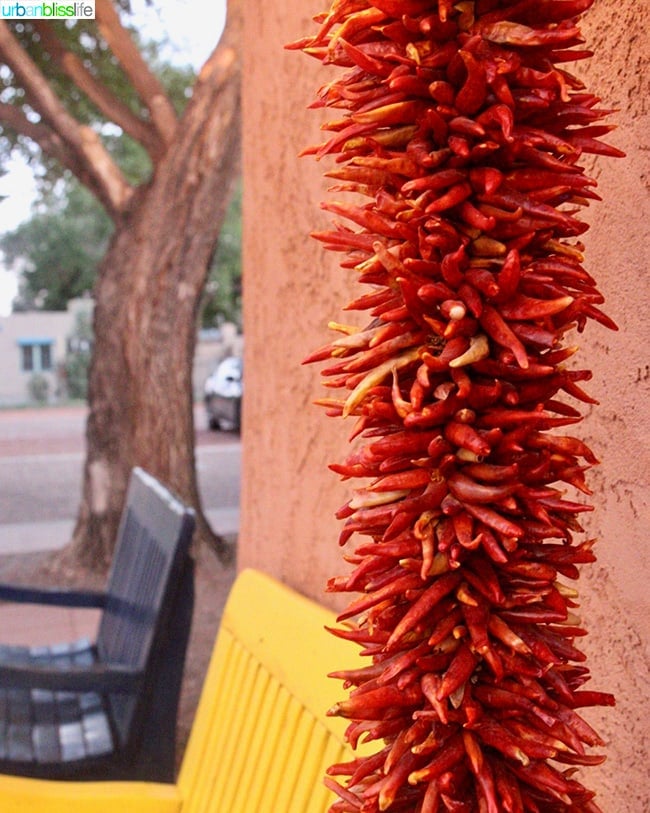 New Mexico is the land of chiles, and in Albuquerque, you'll be asked whether you want red chiles or green chiles with your food. If you're a local, you'll ask for Christmas - which means you want both red and green!
What I learned at the various restaurants we dined at, is that there's really no way to tell which is hotter – red or green – until you try it. It just depends on the chiles and the way they are prepared. I enjoy spicy red chiles and mild red chiles; spicy green chiles and mild green chiles. I think going for Christmas gets you the most flavor, but you should experiment with it and see for yourself when you dine here!
Book your hotel in Albuquerque
Thanks to Visit Albuquerque for hosting our #ElementsofABQ press trip. As always, all opinions and photos are my own.