Bikes, canals, beautiful architecture, beer, and tulips... you can experience all of the classic tourist spots – and MORE! – in just 2 days in Amsterdam! Here's my 48-hour itinerary.
Have you ever run away for a weekend getaway? Where did you go?
Usually, for quick trips when we get the urge to skip town (which is often - darn wanderlust!), my family and I will head an hour west to the Oregon coast. Sometimes we'll drive 3 hours north to Seattle, 3 hours east to Bend, or out to Washington wine country. All easy, drivable getaways.
I had never even considered the idea of running away to Europe for the weekend, especially from the West Coast. That's crazy talk, right? When we travel to Europe (see our family travels to Italy and Switzerland), it usually takes us anywhere from 20-28 hours of travel time between the flights and the 1-2 layover stops in between.
But Portland airport has a few nonstop flights from PDX to Europe, and one of them is the Delta direct flight to Amsterdam.
I've always wanted to go to Amsterdam. The canals, the bikes, the windmills, the beer... but can it be done in just one long weekend?
I'm happy to say the answer is YES. It can be done, because I did it – and you can too! I went by myself, but I think this is the perfect long weekend getaway for a group of your closest girlfriends.
Jump to:
In today's post, I'm sharing a quick look at my full itinerary for 2 Days in Amsterdam. In subsequent posts over the next month, I'll be sharing a more in-depth look at a few highlights of the trip.
Because, you know: I have a few thousand photos that I've edited down to a few dozen to share with you. And Amsterdam is just too amazing to condense into one post!
Ready to travel with me on my #NextStopAMS whirlwind tour of Amsterdam? Let's go!
🇳🇱 2 days in Amsterdam
Thursday 1:30pm - Delta Flight from PDX to AMS
After seeing both kids off to school, I left my home, which is approximately 20 miles away from PDX Airport, around 10:30am. I'll share more about what I packed for this trip during my Amsterdam Travel Tips post coming up within the next month, but for now, you just need to know that I only travel with carry-on bags when possible; I don't check luggage unless I am going to be gone for a couple of weeks or more, traveling to multiple cities/countries with different climates and itineraries. So I was already checked in for my flight when I arrived and sailed through PDX TSA Pre-Check quickly and easily.
Side travel note worth mentioning: I really do find PDX to be one of the best airports in the world. I find the PDX TSA authorities to be, hands down, the friendliest and most entertaining around – especially for early morning flights. I love them! Plus: there's free WiFi throughout the airport, and some of the best local restaurants also have outposts at the airport.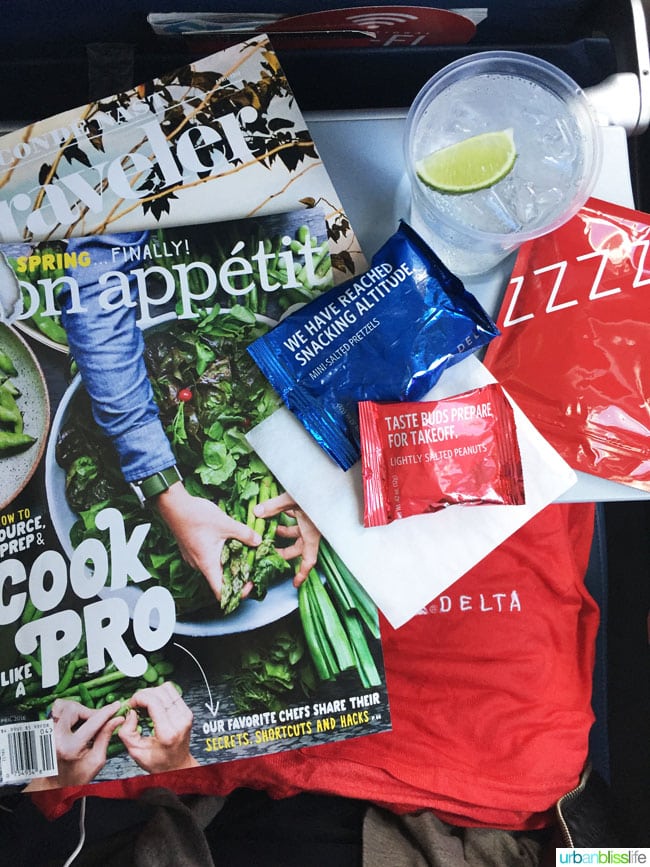 My flight was a red eye, and while the flight attendants were fantastic, and handed out eye masks and ear plugs to help us sleep, I still only got about 25 minutes of sleep on the overnight flight.
That's okay. I was flying to Amsterdam, and that thought alone powered me through the first day on such little sleep! The 9-hour direct flight from PDX to Amsterdam went by so quickly, and everything went smoothly, including a fast and friendly welcome through customs at the Amsterdam airport.
---
✈️ Arrive in Amsterdam, The Netherlands
I arrived at the Amsterdam airport and easily found my way to the arrivals meeting area, where I was met by Vincent, who works for Buro Six, an agency that works closely with Travel Portland. He was so kind enough to pick me up at the airport, and then take me to breakfast.
---
💐 First Impressions of Amsterdam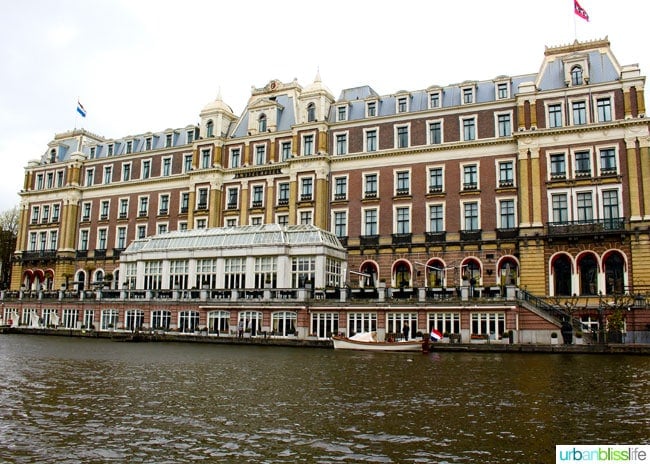 Driving through the streets of Amsterdam, I immediately noticed the difference in architecture. It's hard to miss, actually, in almost any destination, but Amsterdam in particular has such stunning architecture that it truly captivated me during my entire stay. Vincent was so kind as to answer all of my questions regarding Amsterdam: the climate, the economy, politics, food, drink, crime, differences between the older and newer parts of town... you may not have Vincent pick you up from the airport, but I highly suggest chatting up your cab driver or shuttle driver if you travel to Amsterdam. All of the ones I met throughout my 2 days in Amsterdam also had plenty to share during our short rides about town!
---
🍳 Morgan and Mees
We arrived at Morgan and Mees, a new hotel and restaurant that opened in the fall of 2015.
Morgan and Mees is a stunning modern space with beautifully prepared dishes and drinks. It was a welcome place to relax after the direct flight and learn more about Amsterdam from a local.
After breakfast, the owner of Morgan and Mees took us on a tour of the hotel. I really loved this place, and if you're traveling to Amsterdam anytime soon, I think you will too.
I will have a full review with plenty of photos in an upcoming separate post about Morgan and Mees.
---
🚲 Bike tour around Amsterdam
After breakfast, Vincent was kind enough to take me to my next stop: Mike's Bike Tours.
I was grateful for the opportunity to refuel at Morgan & Mees, because I needed that energy for this bike tour! Our tour guide, Maria Teresa, was phenomenal, and I can't wait to share more photos and a full recap of this 3-hour bike tour throughout Amsterdam in an upcoming, separate post.
In short, this bike tour allows you to see SO much of the city, while also feeling a bit more like a local. Bikes outnumber people in Amsterdam, and it's 100% crystal clear who owns the road: bicyclists do. They are focused, they are aggressive, and they do not wear helmets. Living in Portland, Oregon, where bike culture is seen as being hardcore, I have to say: we have NOTHING on Amsterdam, my PDX friends. They own bike culture and we could learn a lot from them. But that's for a separate post :)
We rode through Vondelpark, the Red Light District, past the zoo, past the Anne Frank house and all of the major museums, and I learned SO much about Amsterdam during this tour. During our tour, the skies opened up and POURED on us. I'm talking, sideways rain that even this Portlander was not accustomed to. But, it was still so much fun, and even though I was soaked at the end, I would do it all over again. I really can't wait to show you more and explain in more detail in an upcoming post!
---
🏨 Check into hotel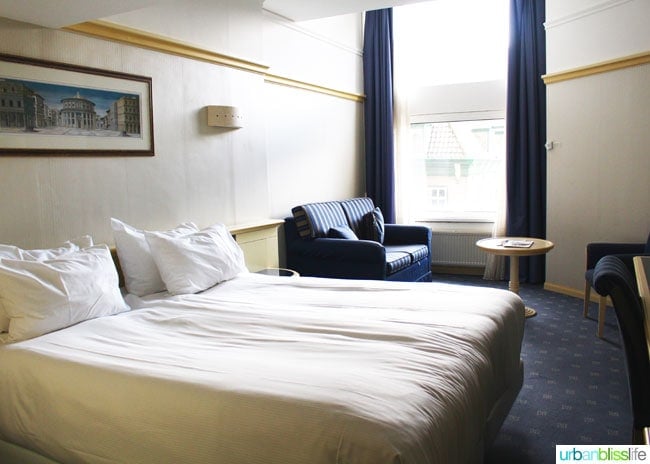 After a long, soggy, but absolutely exhilarating bike tour throughout the city, I made my way to my hotel - my home away from home for the weekend: NH Carlton Amsterdam. It's right next to the Floating Flower market, across from the edge of the Red Light District - which, if you've never been, is most likely NOT what you would imagine it being... it's totally safe, organized, quiet, and discreet...except for the occasional too-rowdy group of drunken men, who are quickly dealt with by the watchful police.
More on the hotel later... I had just enough time to check into my hotel room, unpack a little, check in with some clients, do some social media work, and also take a quick - but oh so needed - 15-minute cat nap, before heading off to my next adventure... a chocolate company!
---
🍫 Tony Chocolonely HQ
The next stop on my 2 days in Amsterdam was Tony Chocolonely. It's a chocolate company based in Amsterdam that recently opened up its US headquarters in Portland, Oregon. Their mission is to make really good chocolate that is also 100% slave free. I had no idea about the massive slave issue behind the world's chocolate industry, and it was really amazing to learn about the company's history, mission, and growth strategy.
Plus: their chocolates are delicious. You can find them in Whole Foods Market and New Seasons Market stores right now.
---
🥂 Mercat
After I bid adieu to the kind folks at Tony Chocolonely, I took a cab and arrived about 30 minutes early to my next destination, so I wandered across the street to Mercat, a beautiful Spanish restaurant and wine bar. I wish I had more time here, because all of the food coming out of the kitchen smelled and looked fantastic, and the beverage selections did as well.
I settled in for a quick glass of bubbly at the bar.
---
🌹 Like a Local: Dinner with a Local Artist
Petra is a mixed media artist whose current inspiration draws from nature. She's one of many locals who graciously open up their homes and share not only their talents and work, but also their knowledge of and experience living in Amsterdam with tourists such as myself - as well as locals who are looking for a unique night out, such as the couple of also dined with me this evening. You can find her, and other local experiences, through the Like a Local app.
For dinner, she served a lovely fresh tomato soup, crostini with fresh local cheeses and herbs, and seafood stuffed chicken and vegetables for the main course. Everything was delicious. Perhaps my greatest gift from this dinner was the ability to dine with other locals who were so warm and friendly, and happy to share insight into what it's like to live in Amsterdam (one was originally from Italy, and another originally from France).
After a lovely evening chatting with more locals, it was time to call it a night, and I headed back to my hotel around 9:30pm, where I was able to get a full 5 hours of sleep before waking and tackling Day 2 of my #NextStopAMS trip!
🧇 Explore the city, find Dutch food!
I started at the Albert Cuyp market, which is reportedly where my food tour group was supposed to meet anyway, so I figured it was a great food destination. There, I picked up some stroopwafels, watched pastries being made fresh to order, and eyed all of the gorgeous local cheeses, meats, and seafood.
Then I simply meandered about the city, stopping in a few different local spots that offered classic Dutch dishes, such as bitterballen.
---
🚤 Amsterdam Canal Cruise
After indulging in delicious classic Dutch food for a few hours throughout the city, I headed out to enjoy one of the Amsterdam Canal Cruises. The meeting point dock was directly across from the Heineken Brewery, which was impossible to miss.
Just as I highly recommend the bike tour because it gives you a unique perspective on the city, I also recommend taking one of the many canal cruises available. I'm going to have a full photo tour with details outlining the particular cruise I took with Amsterdam Canal Cruises, but here's a look at what my particular cruise boat (and a sample of the view) looked like:
Just wait until you see some of the photos from my canal cruise, my friends. You will want to hop on that direct flight from Portland to Amsterdam ASAP! I couldn't stop gawking and snapping away; everywhere I looked during the entire canal cruise there was something gorgeous, interesting, fun, quirky, and/or absolutely breathtaking to photograph.
---
🌷 Explore Amsterdam
After the canal cruise, I had time to walk around and explore the city more.
This is one of my favorite things to do in a new city, and I am so grateful to have this time to do so in Amsterdam. Walking around is one of the best ways to stumble upon fabulous, unexpected travel treasures!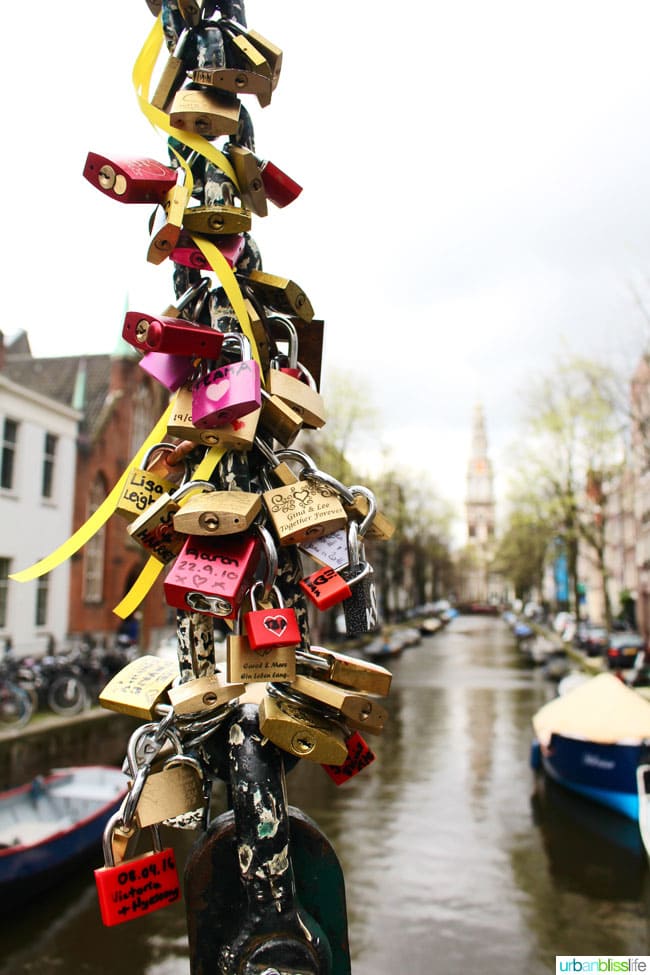 During this time, I discovered the love locks bridge, not too far from my hotel, as well as the tulip market.
---
🍷 Ter Marsch & Co.
I also took the opportunity to try out what was reportedly awarded the Best Burger in The Netherlands at Ter Marsch & Co. I'll share more photos and my review of this restaurant in my upcoming Where to Eat & Drink in Amsterdam post.
Afterward, I went up to my hotel room to change and freshen up a bit before dinner.
---
🍽 Dinner at D'Vijff Vlieghan
The restaurant name, D'Vijff Vlieghan, which I completely butchered upon attempting to pronounce it, translates into The Five Flies in English.
Don't let the name fool you: this is one of Amsterdam's longest standing gourmet restaurants, located in five adjoining canal houses. The food was exquisite, and such an indulgent treat at the near end of a long and nonstop journey. I can't wait to share more photos and my experience here in Where to Eat & Drink in Amsterdam post.
I walked home from the restaurant, which was just shy of one mile from my hotel, and collapsed in an exhausted heap of happy traveler bliss. It was the end of two glorious, packed days in a new city, and I was overcome with gratitude for all of the wonderful people I had met and the amazing experiences I enjoyed.
---
Sunday 8:30 am Flight from Amsterdam to Portland, Oregon
The next morning, Sunday morning, I enjoyed the hotel breakfast buffet and double checked that I had packed up everything before calling a cab and heading back to the airport. I could hardly believe the weekend was already finished. I had done SO much in just two full days in the absolutely beautiful city of Amsterdam.
But there was one more stop I had to make...
There are three of the famous, large "I AMsterdam" signs throughout the city: one in the main downtown square, one at the airport, and reportedly another one in a different part of the city. But I HAD to take a photo in front of the main sign in the center of town. It had been overrun with tourists when we stopped across the commons from it during my 3-hour bike tour, but at 8:30 am on a Sunday morning, it was just me and three other tourists... and a patient cab driver who was gracious enough to make a pit stop on the way to the airport.
NextStopAMS
I can't even begin to tell you how very much I enjoyed my time in Amsterdam. So many have commented to me when I tell them about my weekend, "Oh, I'm sorry it's for such a short time" and "That's too bad that you didn't have more time there."
But I just smile and try to tell them that it's really A-OKAY: I was able to pack in so much more than many people even think to do in a full week in one location! And, I fully believe that this is an awesome way to travel. If this 42-year-old mother of two could do it, YOU can too!
One major bonus of the direct flight and weekend getaway to Amsterdam: NO JETLAG. None. I didn't feel an ounce of sluggishness or difference traveling back to the States. I think it's partially because I didn't have to spend 20+ hours making my way across the country with layovers wasting time, and that I hit the ground running as soon as I landed and made full use of every minute in this vibrant, bustling, gorgeous new city.
How about you? What would you have done in just 48 hours in Amsterdam?
More Amsterdam travel ideas
If you visit, please be sure to let them know that you read about it on Urban Bliss Life! And if you snap some pics, tag us @UrbanBlissLife and #UrbanBlissLife on Instagram, TikTok, Twitter, and Facebook.