Amsterdam, The Netherlands, is a bustling, walkable/bikeable European city brimming with fabulous open-air markets, restaurants, bars, and cafes. Check out my guide on Where to Eat and Drink in Amsterdam.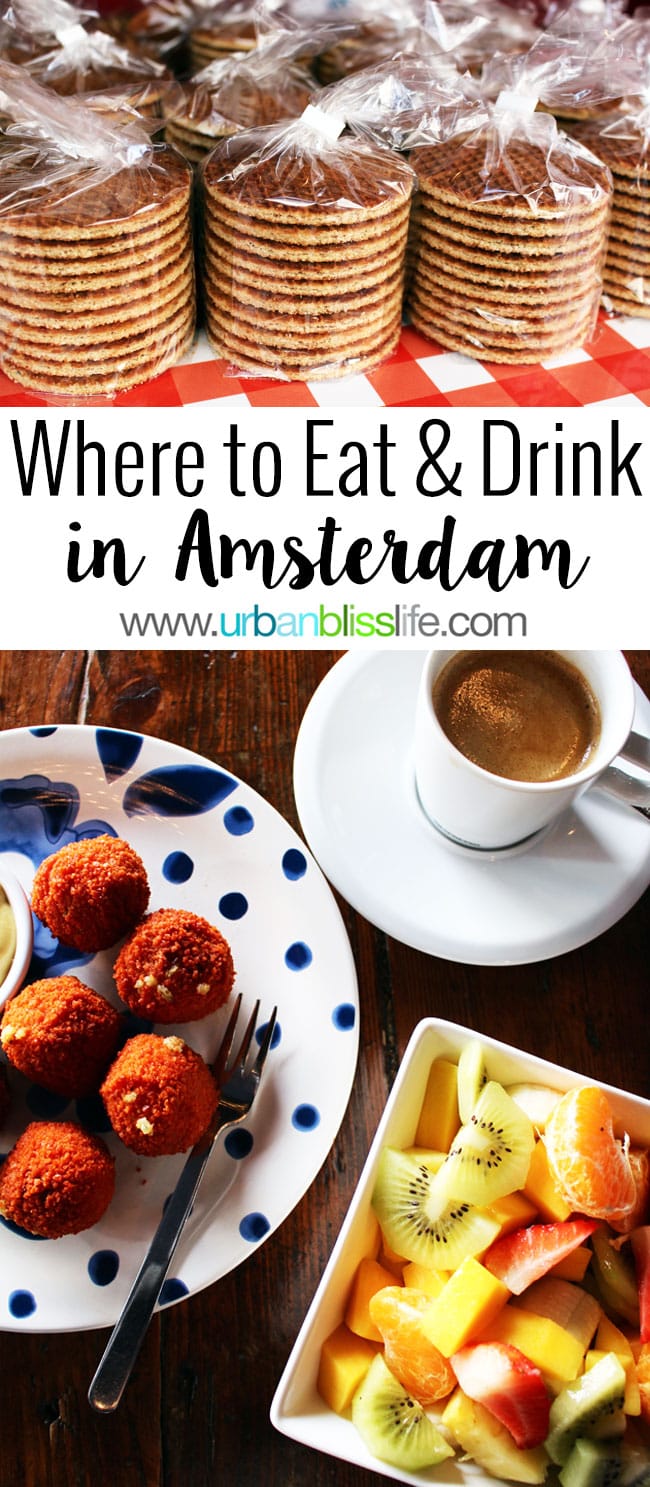 During my 48 Hours in Amsterdam, I was able to visit quite a few fantastic restaurants, markets, wine bars, and cafes. Although time was limited, I wanted to be sure that I ate a few classic Dutch foods, and visited some hot spots and new spots, to give you all a glimpse of the wide variety of food & beverage options you can find during your next trip to this beautiful city.
Here's a quick look at some of my favorites! We'll start with classic Dutch food, and then go into the restaurants and bars.
Classic Dutch Food: Stroopwafels
Stroopwafels are a sweet dessert/snack made of round wafers that have a thin layer of a caramel filling. The wafers have a waffle-mark design, and are crunchy but soften thanks to the filling. You can find these usually sold in packs at markets and local shops, and they are sometimes served in cafes. I picked up a pack at the Albert Cuyp Market (see below) and thought they were mighty tasty, although they are rather sweet; one stroopwafel alone can satisfy the sweet tooth for days!
---
Classic Dutch Food: Bitterballen
Bitterballen are similar to arancini, but instead of fried stuffed rice balls, these are fried bites filled with a doughy roux that usually have some sort of chopped meat mixed in, such as ham. It's served as a snack or side dish, and comes with a side of mustard dipping sauce.
I ordered a plate of bitterballen at Rogh, a sweet cafe that's about a 10-minute walk down the street from the touristy Heineken experience and the main Amsterdam Canal Cruises. This restaurant was such a find: it's small, but I found service to be friendly and I loved the focus on fresh, organic food here. Grab a table by the windows and watch the whirl of Amsterdam activity (the tram, bikes, cars, pedestrians) buzzing by while you leisurely enjoy some coffee, fruit, and bitterballen.
Rogh Cafe
Vijzelgracht 35
1017 HN Amsterdam, The Netherlands

HOURS: 9:00am - 6:00pm
---
Where to Eat & Drink in Amsterdam
---
Largest Outdoor European Market: Albert Cuyp Market
The Albert Cuyp Market first opened in 1905 and is located on Albert Cuypstraat (Albert Cuyp Street) in the Latin quarter of Amsterdam, known as the Museumplein neighborhood. With 260 vendor booths, it is the largest open market in Europe. Here, you'll find everything from clothing to bikes, to toys to luggage and souveniers, to of course, plenty of local food.
My picks at the Albert Cuyp market:the fresh seafood stalls with the morning's best catch (herring is apparently a popular fish in Amsterdam); the fresh cheese stalls with so many different types and colors of cheese imaginable; the waffles; and all of the amazing sweet and savory pastries!
Albert Cuyp Market
Located on Albert Cuypstraat, between Ferdinand Bolstraat and Van Woustraat
Hours: Monday - Saturday 9:00 am - 5:00 pm, Closed Sundays
---
Classic Dutch Beer Experience:

Brouwerij't IJ - the windmill brewery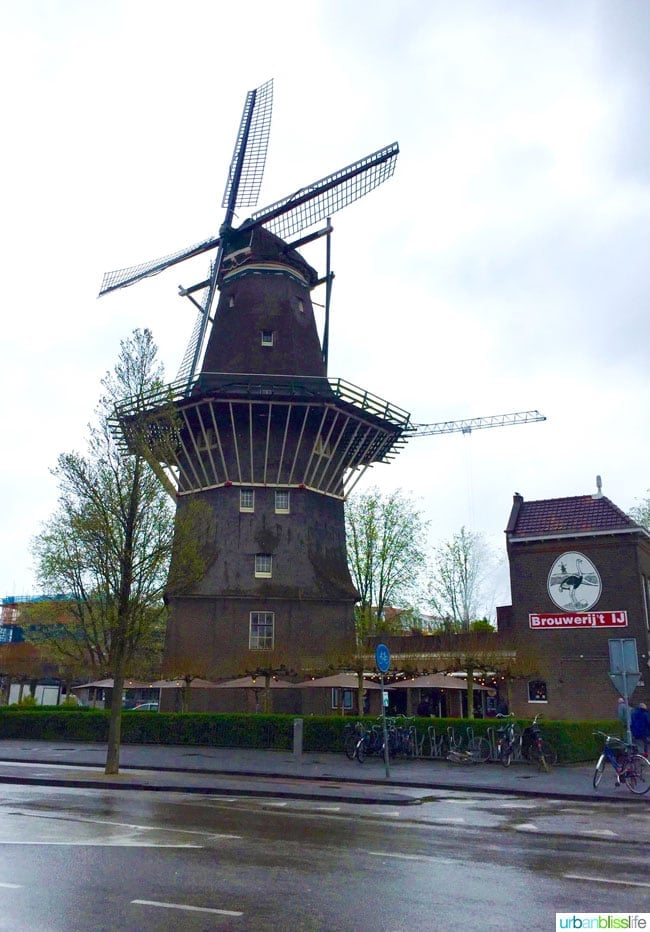 During my 3-hour bike tour, we made a pit stop at Brouwerij't IJ – a brewery within Amsterdam's largest windmill. So very Amsterdam, right?
This brewery offers approximately 33 of its own microbrews on tap at any given time, and they do have seasonal beers as well. All beers are unfiltered and unpasteurized. You order at the bar and then find a seat at one of the many tables indoors or on their outdoor patio. In addition to the many beers they have on tap, you can order a variety of traditional pub snacks. It's a really great spot to chill with your friends in the middle of the afternoon to take a break from all of the walking or biking.
Brouwerij't IJ
Funenkade 7 1018
AL Amsterdam, The Netherlands
+31 20 622 8325
Hours: daily 2:00 pm - 8:00 pm
---
Fancy dinner: D'VIJFF VLIEGHEN

If you are looking for an elegant dinner in a more formal, beautiful setting, where you can dine under four original etchings by Rembrandt and surround yourself with walls lined with 17th century gold leather wallpaper, I highly recommend D'Vijff Vlieghen - which, translated, means The Five Flies.
I know: the name is interesting for a restaurant, but you'll find no flies here - only beautifully plated, expertly executed dishes. The restaurant space is a combination of five centuries old canal houses, and each room is decorated in a different style.
Service is impeccable here. I quite enjoyed dining here by myself, so I could fully soak up the ambience and take in all of the details that make this restaurant truly special. From the linens to the accoutrements that come with the bread, to the Five Flies branded water bottle at each table, this is the kind of fine dining experience I dream about in each city I visit.
The wine list here is also exceptional, and I love how the dinner menu is simple and doesn't overwhelm you.
I ordered the stuffed fowl with a potato pancake and seasonal vegetables. Actually, when I would ask locals to describe a "classic Dutch dish," they would say they don't really have one - unless you count meat with mashed potatoes and vegetables. Nothing wrong with that, my friends. This was a beautifully cooked fowl with a delightful au jus.
After a delicious chocolate mousse cake dessert (so good!), they offered a classic Dutch after-dinner digestive spirit, similar to Jagermeister - it's a blend of herbal and orange liquer. A refreshing way to end an absolutely incredible dining experience!
TIP: You will definitely need to make reservations far in advance for this restaurant. It is very popular among locals and tourists alike.
D'Vijff Vlieghen
Spuistraat 294-302
Amsterdam, Netherlands
http://vijffvlieghen.nl/
---
Classic Cuisine in a modern setting: Morgan & Mees
Morgan & Mees is new to the Amsterdam scene, having opened last summer. While it is also a hotel (and I will share photos and info about the hotel in a future post), the restaurant downstairs is large and serves a delicious breakfast, lunch, and dinner menu. There's a beautiful bar across the way from the main dining room (pictured above), as well as a side smaller room which would be great to rent out for private events, and an expansive outside patio with a beautiful view of a canal street, which I imagine I would spend a lot of time in during summer months.
You'll find classic dishes here, done well. This is a great spot if you are looking for some solid, reliable, and easily accessible meals to all palates: they make beautiful and delicious classic cheese & charcuterie plates, sandwiches, and pasta dishes.
Morgan and Mees
HOURS: 8:00am - 10:00pm
Tweede Hugo de Grootstraat 2-6
1052 LC Amsterdam
The Netherlands
+31 (0)20 2334930
Reservations: reservation@morganandmees.com
http://morganandmees.com/
---
Best burger & fries: Ter Marsch & Co.
Behold: The Netherland's Best Burger.
At least, that's what I was told, so of course I had to check it out.
Ter Marsch & Co. started in Rotterdam, and recently opened their Amsterdam location right across from the popular tulip market. "De Burgeresse" AKA The Lady Citizen burger (pictured above and below) was named the 2015 Best Burger in The Netherlands. It's a large, two-hands-required, burger made with Scottish Angus Beef and Japanese Wagyu, lakjus winter truffle, young lettuce, pickles, plum tomato, red onion, cottage cheese, panchetta and Ter Marsch sauce.
All of their burgers are made medium rare, and cooked to perfection. I don't eat a lot of burgers, so when I do, I want it to be worthwhile, and this one definitely is. The beef and wagyu is so tender, and the winter truffle with their special house sauce adds some sophisticated tang.
It paired well with the Primitivo wine that was recommended by my waitress.
Ter Marsh & Co.
Vijzelstraat 4
Amsterdam
KITCHEN HOURS: Sun-Thur 10:00 am - 1:00 am, Fri & Sat 10:00am - 3.00am
Bar open late
http://www.termarschco.nl/amsterdam
---
Spanish dinner + wine: Mercat
Located in the Eastern Docklands of Amsterdam, Mercat is a lively restaurant and bar set in a large, modern, industrial space with plenty of indoor and outdoor seating. The cuisine here, full of hearty paellas and plenty of delectable tapas, is inspired by Spanish markets in Barcelona.
Their wine list is more expansive than many other restaurants in Amsterdam, with a wide variety of whites, reds, and some lovely Cavas. If I lived here, I think I would go here quite often with my friends. It's such a fun, vibrant spot with great food and wine!
Mercat
Oostelijke Handelskade 4
1019 BM Amsterdam, Netherlands
+31 20 344 6424
---
Ultimate Tourist Spot:
The Heineken Experience
The most touristy of all tourist spots for beer lovers is the massive, bohemoth mothership known as the Heineken Experience.
You can tour their first brewery in Amsterdam and the tour finishes with a tasting. If you've never been on a brewery tour before, this could be a great experience for you.
TIP: go SUPER early to get in line first. By the time they open, there's always a very, very, VERY long line. Be prepared to wait anywhere from 20 minutes to over an hour during peak summer days. I recommend having a couple of people wait in line, while the others go off and explore the nearby canals, Albert Cuyp Market, or nearby cafes and restaurants, and then you can switch off, so that your day is not entirely wasted waiting in line. Cheers!
Heineken Experience
Stadhouderskade 78
1072 AE Amsterdam, Netherlands
http://www.heineken.com/Heineken-Experience
TICKET INFO: https://tickets.heinekenexperience.com/
---
More authentic local options:
Like a Local Guide Experiences
If you want a more authentic Amsterdam tourist experience, check out the current options for food & beverage experiences through Like a Local Guide. This company matches locals in countries all over the world who offer authentic experiences in their hometowns to visiting tourists.
I signed up for the Dinner at an Artist's Home Studio in Amsterdam, which was hosted by local artist Petra Hart. She has a lovely studio along a canal, and serves a 3-course meal with Prosecco while sharing her "heart World" art. What I love most about this experience is that you get to dine with strangers who may be tourists from other parts of the world, or, like my experience, with locals who have lived in Amsterdam for several years but came from other countries (one was originally from France and the other from Italy). It was such a fabulous opportunity to learn more about Dutch culture and what it's like to live in Amsterdam, all over a delicious meal. And, being a lover of art and all things creative, I really enjoyed learning more about Petra's art process and viewing her work.
To find this and many more different options for food & beverage experiences in Amsterdam, visit Like a Local Guide.
---
These are the places I enjoyed during my 48 Hours in Amsterdam, and I can't wait to go back and discover more great places to eat and drink in this beautiful city!
Have you ever been to Amsterdam, and if so, what are your restaurant recommendations? If not, which of these places listed here looks & sounds the most appealing to you?
Many thanks to the Port of Portland for sponsoring my #NextStopAMS press trip to Amsterdam. As always, all opinions and photos are my own, and I am so grateful to my travel partners for making it possible to continue bringing you fresh, original, first-person experience content and travel information to help you find your next travel bliss!