Authentic Italian cuisine, craft cocktails, and a thoughtful wine list shine at Renata Portland, one of the city's restaurant darlings!
Renata Portland
When the state's longest running newspaper dubs you the 2015 Restaurant of the Year within weeks – six weeks! – of opening, expectations run high. Very high.
Unless you have a customer like me, whose expectations immediately come down – way down –anytime any of the mainstream media critics place an eatery on such a grandiose pedestal so soon after the paint dries. I've had my food-loving heart broken one too many times and my stomach will groan with stories of woe from disappointed visits to "the best restaurant in Portland" claims.
But instead of breaking my heart, Renata restaurant in the Central Industrial area of Southeast Portland, Oregon, won my heart. Big time.
Now, I'm not saying everything I've ever had here is 100% jaw-dropping and amazing or even that you'll find the most exciting dishes on the menu.
I like Renata because the menu stays true to its Italian origin while still allowing room for hints of play and modern adaptations by Chef Matthew Sigler. The food IS delicious, without trying too hard.
I like Renata because the cocktails are GREAT everyday cocktails: no combinations that are so wild and crazy you're wondering if you're paying for creativity instead of taste; the cocktails at Renata worth every dollar, and are a bargain during apertivo hour, when they are only $8 each!
I like Renata because it's so Portland-meets-Italy-meets-my-house-and-yours all at the same time: it's upscale Italian food, representing all regions in Italy, in a casual, gorgeous dining space where you would feel just as comfortable in shorts and a t-shirt laughing loudly with your two kids as you would hanging out with friends or dressed up for an intimate date night.
In addition to the well executed, delicious dishes and thoughtful cocktails, the restaurant is spacious and comfortable, with high open ceilings and ample walk (and breathing) space between the rows of tables.
There's a large bar area where you can enjoy a drink or two with friends, and a fabulous outdoor covered patio that allows you to full enjoy the best season Portland has to offer: we call it the sunshine season, and it lasts from now through about mid-October. During the sunshine season, temperatures hover in the mid-70s, it's never humid, and the nights don't get too cold either...and the days are long and glorious.
This is when most of you who do not live here will decide to move here. Trust me.
So what better way to celebrate the Sunshine season than with an Apertivo happy hour out at the patio or the bar of Renata?
Apertivo Menu
From 4:00 - 6:00 pm Monday - Friday, you can enjoy a special happy hour "Apertivo" menu in Renata's inside bar and covered outdoor patio area.
The cocktails, which are all a flat $8 during Apertivo time, are beautiful – and mighty tasty.
Arrossire: cappelletti, punt e mes, benedictine, soda.
Church: gin, aperol, lemon, cocci americano.
Chef Sigler prepares a delectable array of small plates for apertivo hours. They're definitely meant to share, but you don't have to share if you don't want to. I'm all for creating a full meal for yourself with two or three (or four?) of these dishes!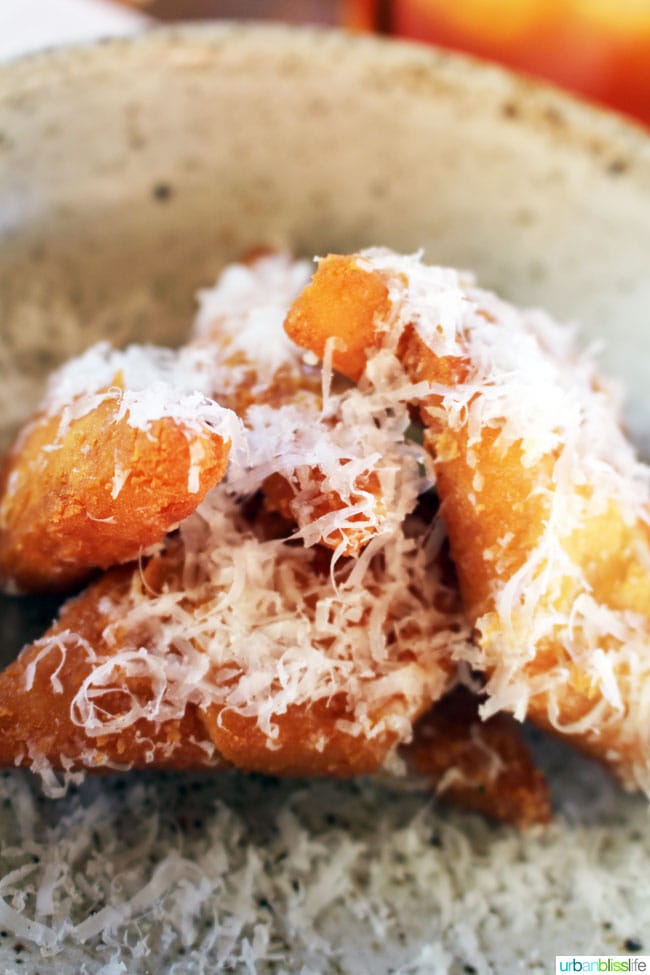 Ceci Bean Panelle: Pecorino, lemon $7
Piadina: Broccoli pesto, ham, ricotta $10
Panzerotti: mozzarella, marinara $9
Polpettine - lamb and beef meatballs
Dinner
Dinner at Renata is a special treat as well. If you love housemade pastas with simple yet elegant sauces, like I do, then you'll love Renata's full dinner menu. Note: like most restaurants, the main menu items do change from time to time.
Salads are well-portioned and are hearty enough to enjoy if you are looking for a light dinner, but also light enough to enjoy as a starter before your main course.
You could order a variety of hearty main dishes, such as a big ol' rib eye, grilled swordfish, or wood fire octopus, but one of the few places I will order pasta when dining out these days is at an Italian restaurant. And here at Renata, they do pasta so very well.
The above photo is of agnolotti with butternut squash and sage ($19).
This pasta dish is a beef bolognese canestri ($17).
Pasta dishes usually cost between $17 to $22, while pizzas cost between $15 to $22, and meatier fare such as the pork, fish, or steak dishes, cost anywhere from $24 to $30.
Hubby and I actually enjoyed a lovely dinner at Renata for my birthday this year, and they surprised me with tasty almond cookies and a birthday candle. So sweet!
Each time I have been to Renata, I've been welcomed with a smile from each staff member I came across, and service was both friendly and timed well. I can't wait to go back, especially to take advantage of Apertivo hours on the patio soaking up some of our beautiful Pacific Northwest sunshine season!
Visit
Renata also has a small parking lot, which is always a welcome feature for any hot restaurant in the Portland area, but I've also found street parking within a couple of blocks fairly easily when I've dined here, no matter what time of night.
HOURS:
Aperitivo Hour: Monday – Friday 4:00pm-6:00pm
Sunday through Wednesday 5:00-9:00pm
Thursday & Friday 5:00-10:00pm
Saturday 5:00-10:00pm
Thanks to Renata for the complimentary blogger happy hour pictured here. The dinner items pictured in this post were paid for out of my own pocket. As always, all opinions and photos are my own.