Cucumber canapés are classic party finger foods that always please a crowd! These easy entertaining recipes with shrimp can be customized to help your next party stand out.
Shrimp is one of my favorite foods in the entire planet, and I'm the only one in my family who eats shrimp. Do you know what that means? More for me!
It also means that any chance I get to cook with shrimp for guests, I take it. There are so many delicious, easy shrimp appetizers, shrimp side dishes, and shrimp main dishes and it makes me so happy when I get the opportunity to make a big batch for others who love shrimp as much as I do.
One party appetizer that I've been making for several years is a classic cucumber cup canapé with shrimp and cream cheese.
What is a canapé?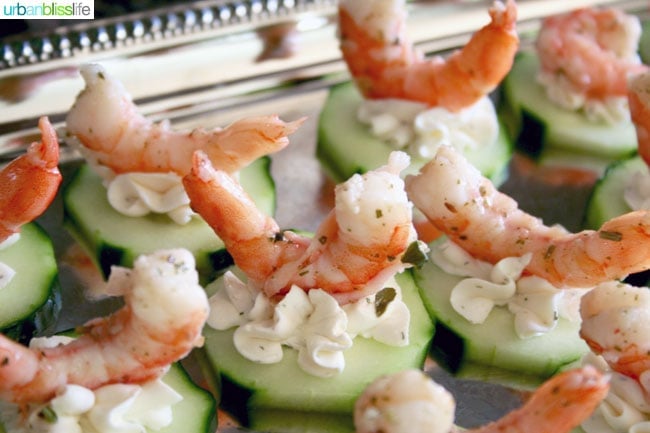 When I started throwing parties in my twenties, I kept seeing three main terms being thrown about in the world of party planning: canapés, hors d'oeuvres, and appetizers. They are all, basically, the same thing and are often used interchangeably.
However, some food folks will tell you that canapés tend to refer to finger food that can be eaten in one bite. This cucumber canapé dish can definitely be considered one-bite appetizers and fast finger food.
Shrimp Cream Cheese Cucumber Canapés Two Ways
I like to make both of these versions of this super easy, fast, delicious Shrimp Cream Cheese Cucumber Canapé dish. The first uses larger shrimp and cucumber slices; the second consists of bay shrimp with cucumber cups.
Shrimp and Cucumber Canapés AND Shrimp & Cream Cheese Cucumber Cups
Slices of cucumber are topped with a small dollop of herbed cream cheese and marinated shrimp
PRINT
PIN
RATE
Ingredients
For Shrimp & Cucumber Coins
3

tablespoons

olive oil

2

tablespoons

lime juice

1

finely minced garlic

1

teaspoon

finely chopped cilantro

1

large cucumber

peeled and sliced into ¼ inch slices

1

cup

herb cream cheese

commonly found as chive cream cheese; use dairy or non-dairy

24

medium pre-cooked shrimp

deveined and tails off
For Shrimp & Cucumber Cups
2

large cucumbers

peeled and sliced into 1-inch pieces

2

cups

herb cream cheese

½

pound

of pre-cooked bay shrimp

2

green onion stalks

sliced into ½-inch pieces
Instructions
To Make Shrimp & Cucumber Coins
In a large bowl, mix together olive oil, lime juice, garlic, and cilantro.

Add shrimp and mix together until shrimp is coated with the marinade; refrigerate for 5-10 minutes.

Lay out cucumber slices - the cucumber "coins" - onto a serving tray in a single layer.

Place cream cheese into a plastic Ziplock bag with one corner cut. You can also use a fancy icing piper for this to create a pretty pattern.

Gently squeeze out about a tablespoon full of the herb cream cheese onto each cucumber coin.

Top with one medium pre-marinated shrimp.

Serve immediately.
To Make Shrimp & Cucumber Cup Canapés
Using a melon baller or small spoon, carefully scoop out the center of each cucumber piece, taking care not to scoop through to the bottom.

Place cream cheese into a pastry bag with fancy piping tip or into a ziplock bag with a corner cut out. Fill each cucumber cup with cream cheese, just past the top of each slice.

Top each filled cucumber cup with 1-3 bay shrimp and one green onion piece.

Serve immediately.
Notes
Option #1: Makes approximately 20-24 individual canapés
You can use frozen pre-cooked shrimp that is thawed, buy pre-cooked shrimp from your grocery store's meat & seafood department the day you are serving this, or you can even buy pre-cooked, pre-marinated shrimp at the grocery store. I love the lime garlic shrimp at the Costco deli! Option #2: Makes approximately 15-20 individual canapés.
You can usually find pre-cooked bay shrimp in your grocery store's seafood department. You can also use frozen pre-cooked bay shrimp instead; just make sure you thaw it out accordingly before serving.
Bonus: Vegetarian Cucumber Canapés!
Another detail that I love about these canapés is that it's so easy to make them vegetarian!
Simply leave the shrimp off. If you are making both the shrimp version and the vegetarian version, remember that some vegetarians do not eat food that has also been prepared with the same kitchen tools or on the same appliances as the meat versions, so I like to make sure I am using different knives, cutting boards, and serving trays if I offer both the seafood and the vegetarian options. Just to be safe and ensure everyone enjoys these delectable little treats!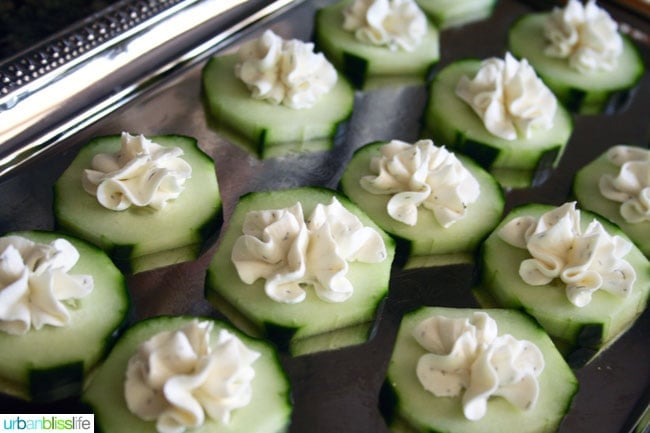 Have you made any of these versions of shrimp and cucumber canapés before? What's your favorite one-bite finger food at parties?