These homemade healthy peanut butter cups with silky chocolate are so easy and better for you than store-bought versions!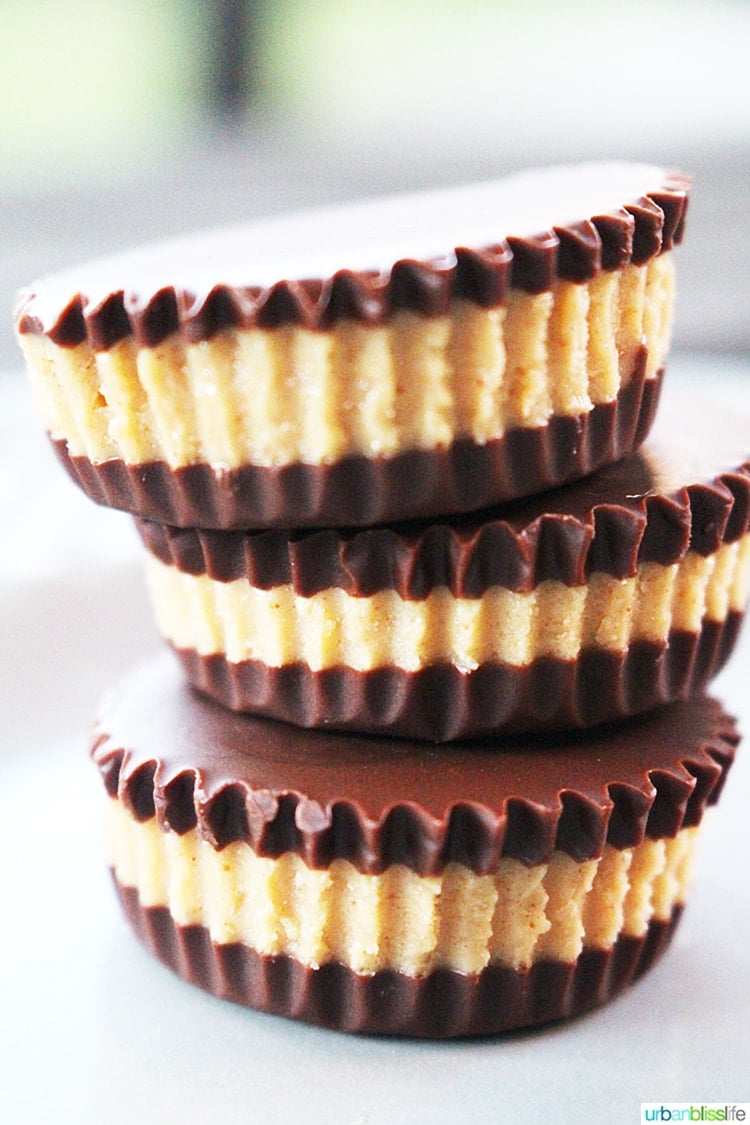 Peanut butter cups may be the perfect sweet treat. I mean, let's be real... Chocolate is divine on its own. I've never understood people who claim they're "not big on chocolate." What the WHAT?! Have they even ever had good chocolate? Real chocolate?
And while chocolate is my kryptonite, chocolate + peanut butter -- now that's my sweet tooth heaven.
Easy Healthy Chocolate Peanut Butter Cups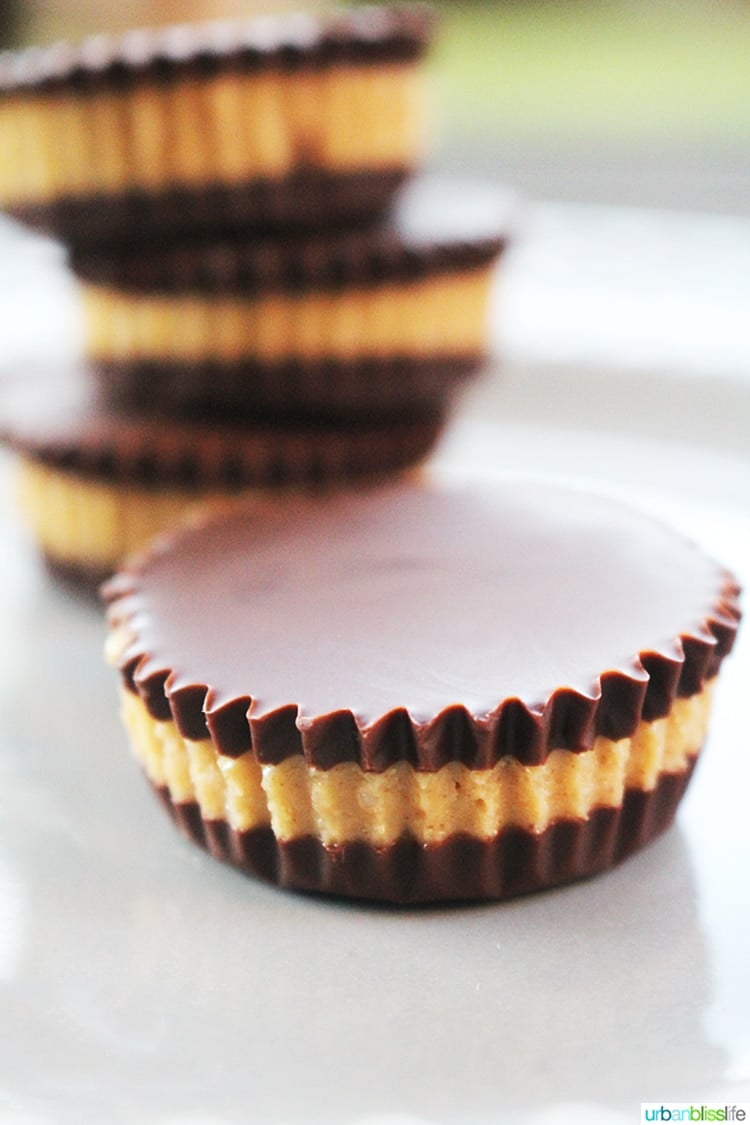 Growing up, I always loved Reese's Peanut Butter Cups. I especially loved the smaller mini peanut butter cups that used to come in a box, frolicking inside and co-mingling all loosey goosey – before the minis started being individually wrapped.
I'm not sure what it was that made those different than the individually wrapped minis you get in bags/boxes at the store today, but man alive, those original minis were amazing!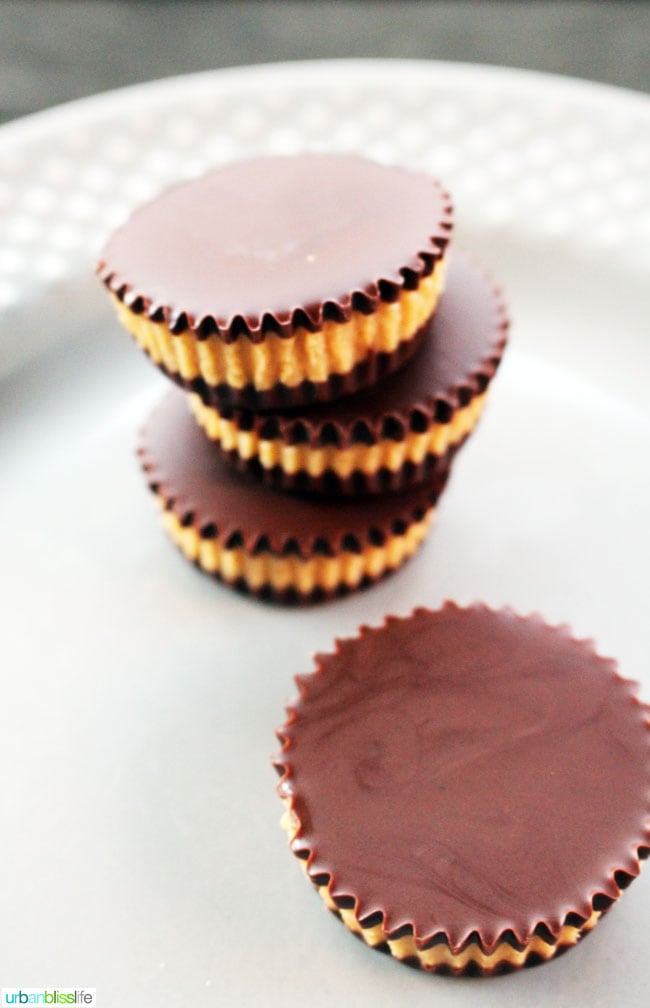 So now I'm (reportedly) all grown up, but my love for this candy hasn't wavered.
As with most store-bought items, I've made my own version at home a few times now. These homemade healthy peanut butter cups only have 3 ingredients, can easily be made vegan, paleo, and/or dairy-free, and any way you make them, they are absolutely delicious!
How do I make this recipe paleo?
To make this PALEO, use almond butter instead of peanut butter
How do I make these peanut butter cups dairy-free and vegan?
To make these dairy-free and vegan desserts, use vegan chocolate.
Ingredients
1-¼

cup

chocolate

I prefer this dairy-free vegan chocolate

¾

cup

peanut butter

for paleo: substitute with almond butter

3

tablespoons

melted coconut oil

divided
Instructions
Prepare a 24-cup mini muffin tin with mini cupcake liners. The liners give the sides of each peanut butter cup that classic ridged edge look.

Melt the chocolate and 1-½ tablespoons coconut oil over a double boiler until just melted. If you don't have a double boiler, simply melt in a glass bowl over a simmering pot of water.

Pour approximately 1 teaspoonful of chocolate mixture into the bottom of each cupcake liner, just enough to create an even base layer. Place in the refrigerator to chill.

Meanwhile, melt 1-½ tablespoons coconut oil in the microwave. Mix with peanut butter in a large bowl until well blended. Set aside.

Once the first chocolate layers have hardened, remove from the refrigerator and pour just enough of the peanut butter mixture, approximately 1 teaspoon, to create a middle layer in each cupcake liner. Refrigerate for about 10 minutes.

Once the peanut butter layer is firm, pour another teaspoonful of the remaining chocolate mixture to create a top layer for each peanut butter cup. Refrigerate for another 10 minutes.

Keep refrigerated in an airtight container for up to one week... but I bet they won't even last that long!
PIN IT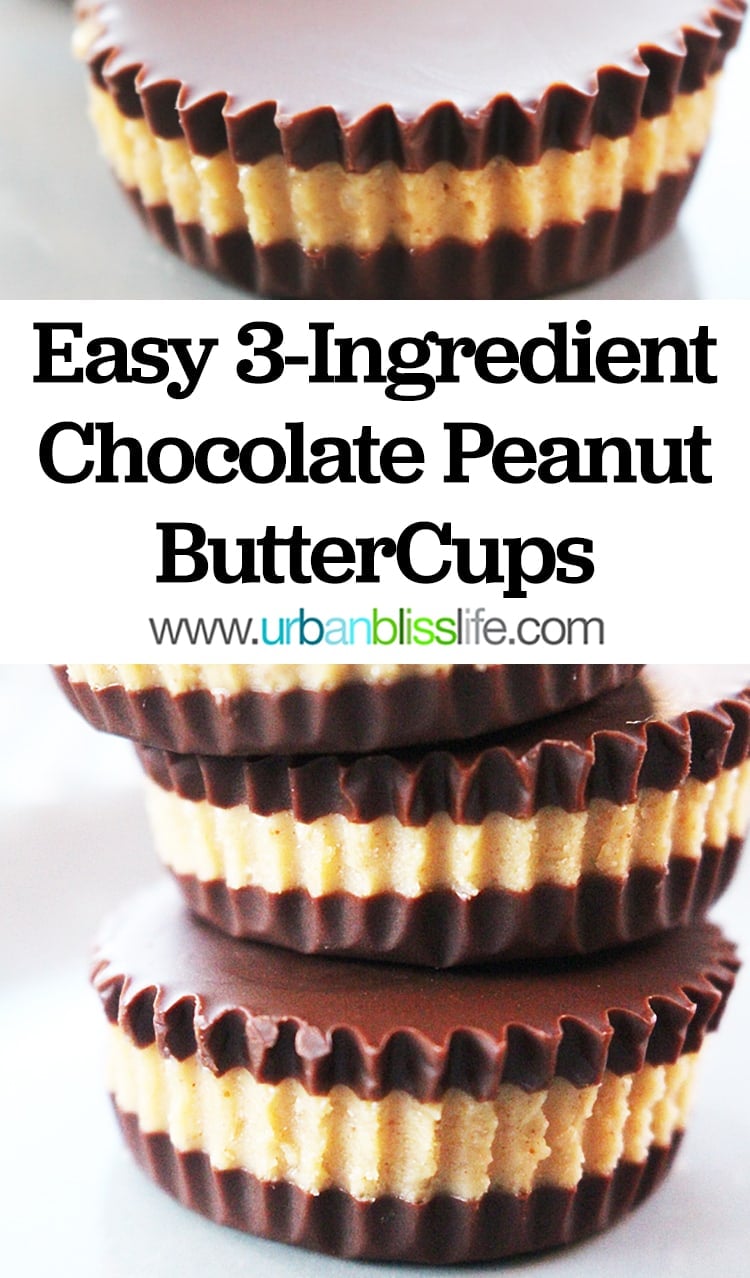 More Easy Dessert Recipes