From a hip, modern boutique to a classic comfortable hotel to one-of-a-kind canal boat rentals, here are our top picks of where to stay in Amsterdam.
Where to Stay in Amsterdam, The Netherlands
So far in my TRAVEL BLISS: AMSTERDAM series, I've shown you a glimpse of how much you can do, visit, and see within 48 HOURS IN AMSTERDAM, and we've also taken a gastronomic tour through a few classic Dutch foods and some Amsterdam restaurants, cafés, and bars in my WHAT TO EAT & DRINK IN AMSTERDAM post.
Today, I share two lodging recommendations for your next trip to Amsterdam, as well as a bonus, fun option.
NH Carlton Amsterdam
Our first stop on our tour of where to stay in Amsterdam is The NH Carlton. The NH Hotel Group has more than 400 hotels in 25 countries, with 12 hotels alone within the city of Amsterdam. The NH Carlton is one of the largest hotels in the city.
It is centrally located right next to the floating flower market and within walking distance from many museums and other attractions.
All of the rooms in the NH Carlton Amsterdam were renovated two years ago, and decor and furnishings are nice: not luxurious, but not cheap either. The bed was very comfortable, the room was spacious and clean, and I loved the extra seating area with the view of the city.
You have several room and suite options at this hotel, some with terraces and most with similar views to the one from my room (pictured above). Prices range between 200-350 EUR per night, which seems to be quite reasonable for the location. I was able to walk to so many places listed in my 48 Hours in Amsterdam post from this hotel. When I needed a cab or Uber, the front desk staff was happy to call one ahead for me.
For about 20 EUR extra, you can add on the breakfast service, which is served in their beautiful banquet room above the main lobby. And, since I am a food lover, please indulge my many photos of the breakfast service.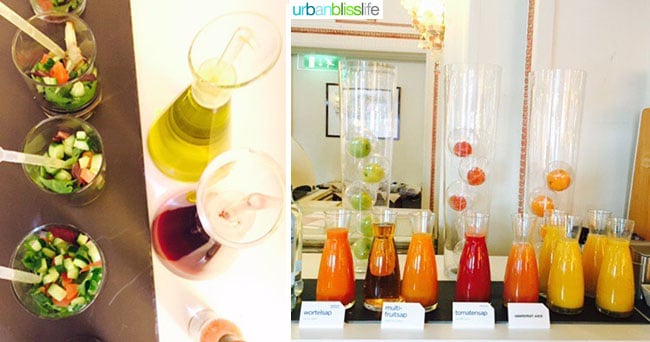 The NH Carlton also has a small bar at street level, which serves food, wine, beer, and cocktails. Room service is also available.
Overall, I really enjoyed my two-night stay at the NH Carlton Amsterdam. The staff was pleasant and helpful, my room was so spacious and a comfortable spot to relax and recharge after my nonstop busy days and nights exploring the city, and the location was very convenient. I definitely recommend staying here!
NH Carlton Amsterdam
Vijzelstraat 4, 1017 HK
Amsterdam, Netherlands
Phone Reservations: +34 91 398 46 61
http://www.nh-hotels.nl/hotel/nh-carlton-amsterdam
Where to Stay in Amsterdam:
Morgan and Mees
If you're looking for where to stay in Amsterdam that's more on the boutique end, check out Morgan and Mees. I've shared a bit about the restaurant and bar at Morgan and Mees in my previous post. The hotel itself is located in a renovated historic building which opened in 2015.
I fell in love with the exterior of the building: the red brick, the arches, the classic font. And then I stepped inside, and immediately fell in love with the inside, too.
The restaurant is located immediately to the right of the front entrance, with high gloss white subway tiles contrasting beautifully with sleek black chairs and black design accents and gorgeous wood floors.
Art plays a huge part of the ambience of this boutique hotel. There are some permanent art pieces mixed in with rotating art featuring local artists.
The bar is to the left of the front entrance, and includes a cozy seating area with stunning vintage-inspired pieces.

Rooms
Morgan and Mees currently has 9 rooms, with plans to expand in the near future.
Each room or suite has its own distinct layout and design features. Some are single-level, others are lofts, and no two rooms are alike.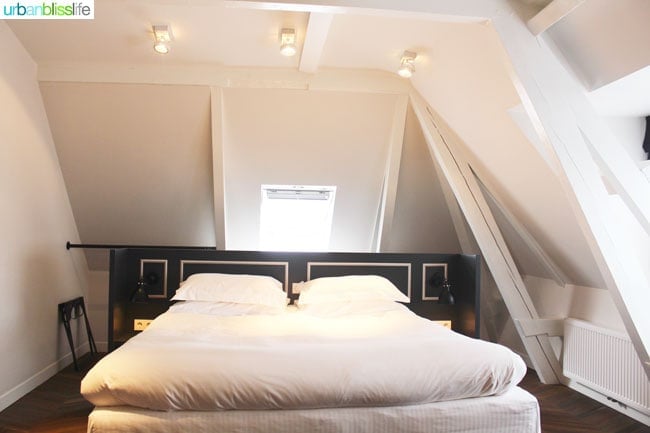 Because of the size of the rooms and configuration of the hotel, I would recommend a stay at Morgan and Mees for solo travelers, couples traveling, or if you're traveling with a good friend. It's not ideal for families, as it's a very quiet hotel with thin walls, nor for elderly travelers, due to the steep, tight staircases. I would definitely stay here if I were traveling by myself or with just my husband, though.
The owners have done a magnificent job with the design and decor of the space, and some of the rooms have a little terrace where you can enjoy lovely views of the city.
I really loved dining in Morgan and Mees' restaurant, and I would definitely love to stay here in the future. You should check it out and see if the style fits your travel style, too!
Morgan and Mees
Tweede Hugo de Grootstraat 2-6
1052 LC Amsterdam
The Netherlands
Phone: +31 (0)20 2334930
http://morganandmees.com/
Where to Stay in Amsterdam: Houseboats
During my long weekend in Amsterdam, I met two different sets of fellow travelers who were each staying in Airbnb houseboats. One man from Australia was staying in an Airbnb boat along one of the canals, and another girl from London and her friends were all staying in another, larger canal houseboat rental. A houseboat in one of the canals would be the ultimate Amsterdam lodging adventure, wouldn't it?
Prices range from just $45 per night for a teeny tiny little boat, on up to a couple hundred dollars per night for larger, more plush canal boats.
Of these three options, which do you think you would opt to stay in during your next trip to Amsterdam?
More TRAVEL BLISS: AMSTERDAM posts:
Where to Eat & Drink in Amsterdam
Many thanks to the Port of Portland for the complimentary hotel stay at NH Carlton during my #NextStopAMS press trip to Amsterdam. The quick nonstop flight from Portland, Oregon to Amsterdam made it so easy to have a long weekend European getaway! As always, all opinions and photos are my own.