Traveling to Portland, Oregon and looking for some fun day trips? From downtown Portland, the mountains, lakes and rivers, dessert, ocean and beaches are all a short drive away. These 35+ Day Trips from Portland are all within driving distance to enjoy a day of adventure.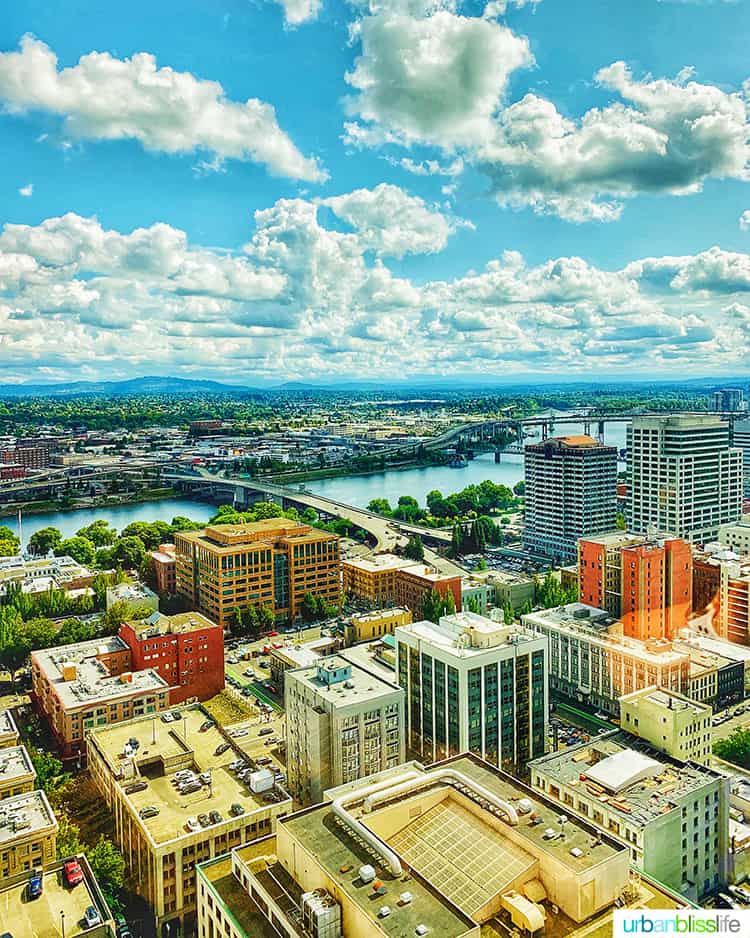 Portland, Oregon is a magical destination.
As the largest city in Oregon, it's surrounded by dozens of similarly amazing destinations where you can drive to and back within a day.
Having lived in and around Portland, Oregon for more than 40 years, I'm so proud to call this beautiful part of the Pacific Northwest my home. I raised my kids here, and built businesses in the Rose City. And I am always excited to share all of the best day trips from Portland that await your next visit here!
Jump to:
Portland travel tips
What should we pack for a Portland day trip?
The weather changes quickly and often in Portland, Oregon. No matter what time of year you visit, it's wise to pack layers. This includes a light cardigan or sweatshirt, a light jacket with good wind and rain resistance, waterproof boots, and a hat. Most hotels have umbrellas you can borrow (but the secret is that most locals don't use umbrellas!).
What's the best time of year to visit Portland, Oregon?
In general, summer is the best time of year to visit. Temperatures a usually in the 70s with low humidity and few rainy days. The whole state of Oregon comes alive in the summer, with tons of festivals, events, outdoor concerts, and family-friendly activities. That said, I truly think Portland, Oregon is a beautiful place to visit any time of year!
How much does it really rain in Portland?
Portland's annual average rainfall is less than Seattle. The month with the most rain is November; the month with the least rain is July.
Is Portland, Oregon safe?
Yes, Portland is a safe place to visit. You need to take the same travel precautions you would take in any other city of similar or larger size. You can read this Travel Portland page for the latest e in-depth crime statistics and safety reports.

I grew up hanging out in downtown Portland as a kid, but honestly, today's downtown is not the same vibrant community that I grew up with. Most of the charm of Portland, Oregon is found in the surrounding, close-in areas. Northeast Portland, Southeast Portland, North and Northwest Portland are all wonderful places with their own unique neighborhoods and places to visit.
What's the best way to get around Portland?
Public transportation options are fantastic in Portland, Oregon. You can get around the city by bike, take a bus or MAX lightrail, and find numerous ride share options like Lyft and Uber. For day trips, I do suggest renting a car.
Portland day tours
From walking tours of the best Portland donut shops to brewery tours to wine tasting tours, choosing a day tour is a great way to see the city or enjoy a day trip outside of Portland.
Use the tool below to find and book your next Portland tour!
About this list of day trips from Portland
It's almost impossible to list every single amazing adventure that's a best day trip from Portland. But we try to list our favorites in this list!
Every day trip listed here is:
not actually in the city of Portland, Oregon.
within a 3-hour (ish) drive from Portland.
family-friendly, unless otherwise noted.
Ready for a road trip? Let's go!
If you visit, please be sure to let them know that you read about it on Urban Bliss Life! And if you snap some pics, tag us @UrbanBlissLife and #UrbanBlissLife on Instagram, TikTok, Twitter, and Facebook.
🏖 Beaches near Portland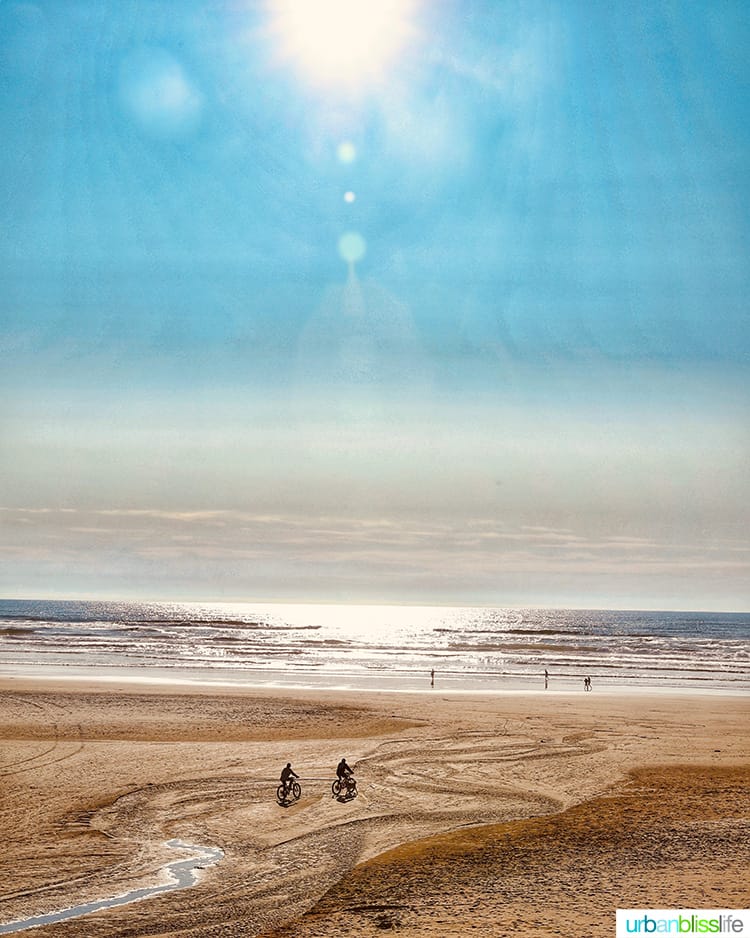 Driving to the Oregon Coast is one of our family's favorite day trips from Portland.
From picturesque Cannon Beach to the sand dunes in the southern coastal towns like Coos Bay.
North Coast
Astoria (1 hour, 47 minute drive) - This charming town was made famous by the movie Goonies. Now it has some of the best restaurants and breweries on the Oregon Coast. And, it has a fantastic Saturday farmer's market. Astoria is on the Oregon-Washington border and the Northernmost town on the Oregon coast, so it does tend to be slightly cooler and windier here. Read our Astoria, Oregon travel guide.

Gearhart/Seaside (1 hour, 25 minute drive) - This area is a longtime popular spot for families on Spring Break. There's a cute little main street with shops and restaurants. The main street takes you to a boardwalk along a large stretch of sandy beach.

Cannon Beach (1 hour, 25 minute drive) - home of the iconic Haystack Rock (one of 2,000+ sea stacks along the Pacific Ocean coastline in Oregon). This is a popular destination for tourists and Oregonians alike year round. We love Cannon Beach, but it does get crowded during summer months. Read our Top 10 Things to do in Cannon Beach article.

Rockaway/Garibaldi (1 hour 40 minute drive) - these smaller fishing towns have a lot to offer in terms of fishing and crabbing. Rent a boat or go dock crabbing at Kelly's Marina in Rockaway Beach. From Garibaldi, you can ride the Oregon Coast Scenic Railroad or rent a guided deep sea fishing charter boat. Read about our Tillamook Coast tour with more travel ideas for this area.

Pacific City (1 hour 52 minute drive) - arguably the best place to go surfing - or watch surfers - on the Oregon Coast. What used to be a beautiful sleepy town that I'd travel to when I wanted to get away from tourists has become a tourist spot in its own right. Climb the huge sand dune. Enjoy local microbrews at Pelican Brewery with ocean views. This is also one of the designated beaches you are allowed to drive on in the Oregon Coast.
Mid-Coast
6. Lincoln City (1 hour 53 minute drive) - Very family friendly spot. Kids love exploring tide pools at low tide. Read our Lincoln City travel guide.

7. Depoe Bay (2 hour, 12 minute drive) - This cute town is known as the whale watching capitol of the Oregon Coast -- for good reason! In addition to great whale watching, there are some delicious seafood restaurants here and scenic spots. Check out Devil's Punchbowl State Natural Area and Otter Crest State Scenic Viewpoint.

8. Newport (2 hour, 15 minute drive) - You'll find lots of great shops and restaurants along the main street, and you can see sea lions perched on the dock nearby. Top attraction for families: the Oregon Coast Aquarium.

9. Florence (3 hour, 5 minute drive) - Further down the coast is the charming town of Florence. Home to the famed Sea Lion Caves, and near the Oregon Dunes National Recreation Area. You can also hike around the Heceta Head Lighthouse State Scenic Viewpoint, and check out the cute shops, cafes, and galleries in the town's main street.
South Coast
Because the South Coast beaches are more than 4 hours away from Portland, we're not including them in the official numbered list. However, if you are looking for a weekend getaway from Portland, consider driving down to Bandon, Gold Beach, or Coos Bay.
Read our Things to Do in Bandon travel guide.
Hiking near Portland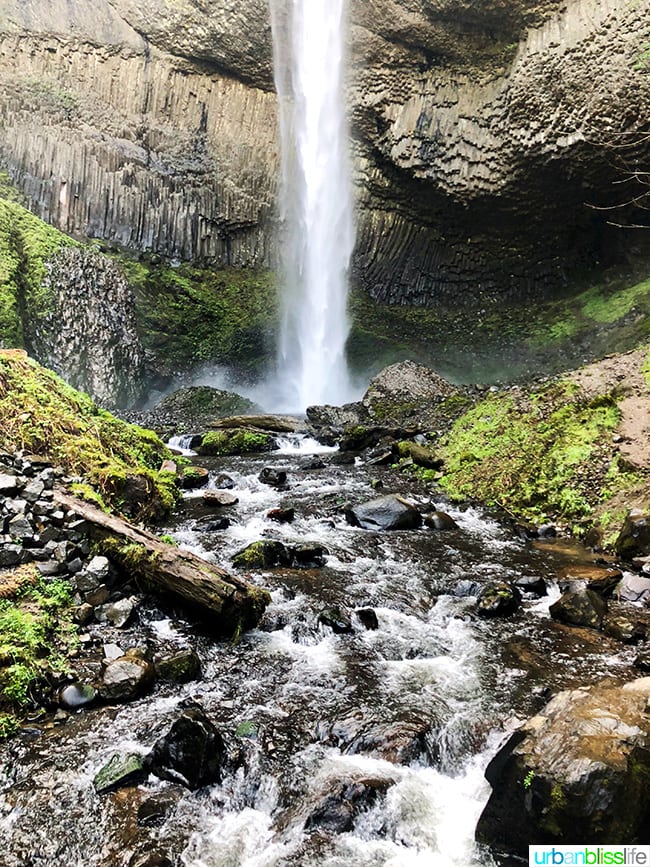 There's no shortage of beautiful hiking trails of all levels in and near Portland, Oregon. From short hikes within the city limits to longer, challenging hiking trails through old growth forests with gorgeous views of the Columbia River Gorge, here are some great places for day hikes outside of Portland proper.
10. Tryon Creek State Park (14 minute drive) - just 5.7 miles outside of Portland, Tryon Creek is a mix of paved pathways and dirt paths through a dense forest. The entire loop is just about 5.7 miles, with several route options if you don't want to do the whole loop. There's ample parking, a visitor center, restrooms, and it's dog-friendly (dogs must be on leash). This is a very kid-friendly hike - we've done it many times since our own kids were toddlers!
11. Latourell Falls (36 minute drive) - A short scenic drive along the Historic Columbia River Highway about 30 miles outside of Portland is Latourell Falls. This is a fave family hike because it's pretty short - just 2 miles - and it's fairly easy. It can get quite slippery, and there are a few narrow pathways. Read our Latourell Falls travel article.

12. Silver Falls State Park (1 hour, 8 minute drive) - One of my personal favorite places to hike is Silver Falls State Park in Silverton, Oregon. Located about an hour south of Portland, Silver Falls is a massive, sprawling place 66.4 miles of hiking options for hikers of all levels. You can hike under waterfalls here, there is a huge parking lot, plenty of public bathrooms, and a cafe and gift shop.

Read our articles about Hiking Silver Falls Trail of Ten Falls and Cabin Camping in Silver Falls Lodge.
There are so many other great places to hike outside of Portland, but those are the top ones that we've personally hiked and loved. Two great options we hope to hike in the near future are Angel's Rest, along the Columbia River Gorge, and Cape Falcon, along the Oregon Coast.
Mountains near Portland
While there are small "mountains" within Portland city limits, within an hour from downtown Portland you can be enjoying
16. Mt. Hood (1 hour 17 minute drive) - A short drive from Portland city center is Mount Hood National Forest. Here, you'll find yourself hiking in the lush mountainside, skiing on Mount Hood's fresh powder, and cozying up by the fire at Timberline Lodge.
17. Mt. St. Helens (1 hour and 57 minute drive) - You can't miss this mountain with the concave top, which it received during the eruption of Mount Saint Helens on May 18, 1980. Known as the most active volcano in the contiguous United States, you can climb the volcano and even take a helicopter tour, weather permitting. Read our Visiting Mt Saint Helens guide.
18. Mt Rainier (2 hour and 11 minute drive) - That's the approximate drive time to Mount Rainier National Park. You'll drive about 45 more minutes to the base of the mountain it's about a 3-hour drive. Another active volcano, you can hike, bike, ski, camp and more.
At all of these and other surrounding mountains in the Pacific Northwest, you'll find an abundance of hiking, snow sports, kayaking and stand up paddle boarding at nearby lakes, mountain biking, and other outdoor activities.
As a side note/bonus mountain: Mount Bachelor is a popular tourist spot for winter sports enthusiasts. Because it's an almost a 4-hour drive from Portland, we're not including it in the official numbered list. But check it out if you have the time!
Oregon wine tasting near Portland
One of the best things to do in the Willamette Valley is to enjoy a day of wine tasting. With more than 700 wineries in the Willamette Valley alone, and approximately 1,000 wineries in the state of Oregon, there's a wine tasting experience for everyone.
Because we could very easily create a list of the top 35+ wineries alone that would be great day trips from Portland, we're breaking them up into cities.
19. Dundee/Dayton wineries (46 minute drive) - We love Knudsen Vineyards, Argyle Winery, and Cramoisi Vineyards. Read our Dundee wineries wine tasting guide.
20. Newberg wineries (39 minute drive) - Our faves: Hazelfern Cellars, Bells Up Winery, Et Fille Winery. Read our Newberg wineries wine tasting guide.
21. Dayton (49 minute drive) - Dayton wineries we adore include Durant Vineyards, Stoller Family Estate, White Rose Estate, and Domaine Drouhin.
22. Yamhill-Carlton (50 minute drive) - We love Lenne Estate, Gran Moraine, Soter Vineyards. Read our Yamhill-Carlton wineries wine tasting guide.
23. Eola-Amity (1 hour drive) - A little further out in the Willamette Valley is another one of our faves: Brooks Winery. You'll also find exceptional wines at Lingua Franca, and a picturesque wine tasting experience at Keeler Estate.
24. Hood River wineries (1 hour, 3 minute drive) - While the aforementioned wineries are all west of Portland, Hood River is to the East. Located along the scenic Columbia River Gorge, the city is home to numerous wineries. Check out Phelps Creek Vineyards and Stave and Stone. The Gorge White House is a picturesque spot for wine and cider tasting and an outdoor lunch.
Lakes near Portland
25. Blue Lake (23 minute drive) - Located in Fairview, Oregon, Blue Lake is a short 30-minute drive from downtown Portland. When I was a kid, this was a popular spot for our Fil-Am (Filipino-American) group to meet for barbecues, picnics, and softball games. There's a splash pad, disc golf, and shoreline fishing.
26. Henry Hagg Lake (44 minute drive) - 25 miles south of Portland, Hagg Lake is a popular family spot. It's great for fishing, hiking, picnicking, boating; overnight camping is not allowed here.
27. Trillium lake (1 hour, 21 minute drive) - near Mt Hood, this is a popular camping, hiking, kayaking spot with a picture perfect backdrop of the mountain.
28. Lost Lake (1 hour, 50 minute drive) - another popular spot in the Mount Hood National Forest, Lost Lake is a great day trip for families. You can rent kayaks, paddle boards, clear bottom boats, row boats and more.
Family fun near Portland
U-Pick Farms - when my kids were little, one of our favorite things to do was what I called Farm Fresh Fridays. Each Friday, we would visit a different farm in the Portland area. There's still an abundance of farms around Portland that are super family friendly. Here are a few of our family faves:
29. Sauvie Island (36 minute drive) - Just 10 miles north of downtown Portland is 24,000 acres of outdoor adventure! Sauvie Island is a local favorite day trip, where you can go hiking, berry picking, biking, bird watching, swimming, fishing, kayaking, and more.
30. Hood river fruit loop (1 hour, 6 minute drive)- A scenic drive along the historic Columbia River Gorge Highway leads you to Hood River. This growing city still has small town charm. Follow the Hood River Fruit Loop that will take you to 28 different farm stands, wineries, breweries, cideries, and flower fields. Read our Hood River travel guide.
31. Oregon Heritage Farms (28 minute drive) - This is a great fourth generation apple orchard that's perfect for a day of family fun in the fall! They've got a pumpkin patch, hay maze, farm animals, picnic area, bouncy castle (in the shape of an apple!), and so much more.
32. Alpacas (34 minute drive) - There are plenty of places to visit llamas and alpacas around Oregon. A short drive south of Oregon Heritage Farms is the Alpacas of Oregon in Sherwood. If you're out in this part of town visiting farms or going berry picking, book a tour and visit the alpacas!
33. Evergreen Space & Aviation Museums & Wings & Waves Waterpark (56 minute drive) - A super fun day trip from Portland for families with kids of all ages, you'll find both museums and the waterpark right next to each other. The space & aviation museums are packed with interesting exhibits and rich history. The large waterpark is a year-round indoor adventure park with miles of slides and water fun.
34. Mt. Hood Ski Bowl (1 hour 14 minute drive) - Mount Hood Ski Bowl has mountain inner tubing and the world's only Cosmic Tubing! That's tubing down the mountain at night with a light show. There are also snowmobile tours and snowshoe tours. Great snowcapped fun for all ages!
Day trips to Washington state
From downtown Portland, the Washington border is just a short drive.
35. Vancouver WA (15 minute drive) - Just across the Columbia river is the Washington border. And along that border is the city of Vancouver, Washington. Once thought of as a suburb of Portland, Vancouver has grown over the years to become its own destination city. Here you'll find plenty of great restaurants, shops, and many Walla Walla-based and Woodinville-based wineries have tasting rooms now in Vancouver.
36. Seattle, WA (2 hour, 46 minute drive) - On a good day with no traffic, it can take less than 3 hours to drive from Portland to Seattle. However, there is almost always traffic. If you're traveling from far away and really want to try for a day trip to Seattle while visiting Portland, it can be done -- just be prepared for a lot of traffic.
We have a few different articles all about Seattle. Start with our Seattle family vacation and Things to Do in Seattle with Kids travel guides.
🏨 Find a hotel in Portland, Oregon
Looking for a place to stay during your Portland, Oregon travels? Use the search bar below to book your next hotel room!
More Portland, Oregon travel guides
If you visit, please be sure to let them know that you read about it on Urban Bliss Life! And if you snap some pics, tag us @UrbanBlissLife and #UrbanBlissLife on Instagram, TikTok, Twitter, and Facebook.