In the world of winemaking, Oregon is still very young compared to much of the rest of the world. Yet we still have a rich history full of fascinating players and stories to be told, including that of Knudsen Vineyard.
One of the things I love most about Oregon, is that from the very beginning and still very much to this day, winegrowing and winemaking is more often than not a family business.

In 1971, Oregon wine country pioneers Cal and Julia Lee Knudsen purchased a 200-acre walnut grove and turned the property into what is now Knudsen Vineyards, one of the oldest and largest vineyards in the Willamette Valley. Over the next 30 years, they, along with their three sons and daughter, produced Pinot Noir, Chardonnay, and Riesling grapes.

Cal and another Oregon wine pioneer, Dick Erath, formed the Knudsen Erath Winery in 1975. For a decade the two produced award winning wines from the adjoining Knudsen and Erath vineyards.
In 1987, Knudsen began providing grapes for Argyle Winery. To this day, Knudsen Vineyard grapes are used to make Argyle's Spirithouse Pinot Noir as well as two vineyard-designated sparkling wines, Argyle Knudsen Vineyards Brut and Argyle Blanc de Blancs.

The partnership with Argyle continues further as Argyle's winemaker, Nate Klosterman, and Argyle's founding winemaker (now consultant) Rollin Soles, are working together to make wines that Knudsen Vineyards is producing under its own label.
Recently, I had the opportunity to attend a luncheon at Knudsen Vineyards with two of Cal and Julie Lee's children, Colin Knudsen and Page Knudsen Cowles.

Together with their brothers David and Cal Jr., Page and Colin hold shared ownership of Knudsen Vineyards. They're committed to staying true to their father's passion for winemaking, and are focused on producing small batches of wine each year, with gradual instead of accelerated growth.
The Knudsen Vineyard label first graced a 2012 Pinot Noir. The initial 125 cases sold out in just a couple of weeks.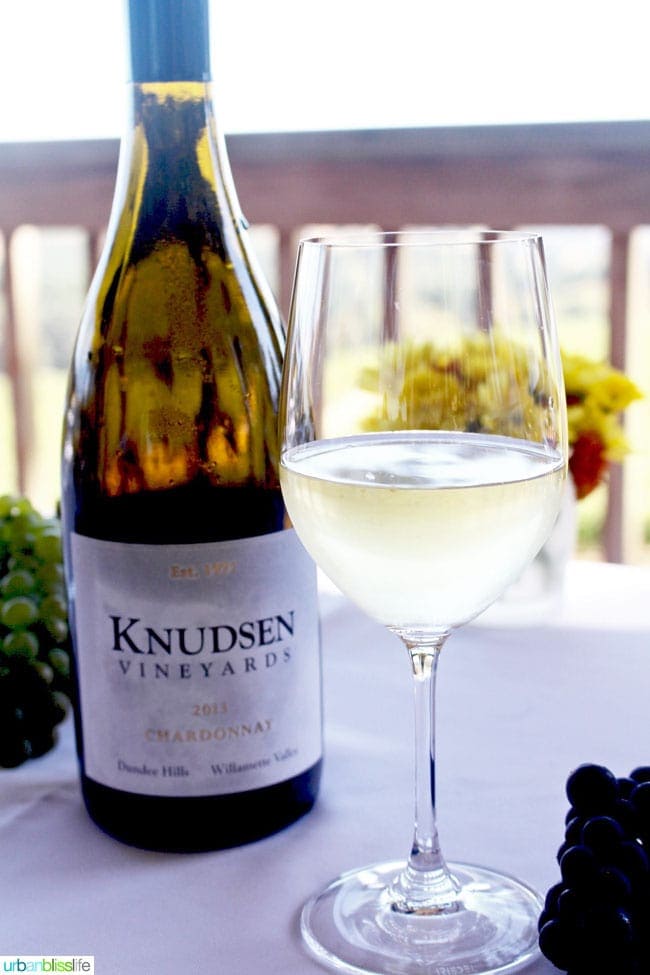 The 2013 Chardonnay ($45) was released earlier this spring, and is still available in limited supply. It's a light, refreshing wine with hints of peach and pear notes, and bright but not overpowering acidity. It pairs well with the chilled corn bisque we enjoyed at the luncheon, but I imagine it would also be delightful with most cold appetizers, including a spicy ahi tuna crisp or seafood ceviche.
250 cases of the 2013 Knudsen Vineyards Pinot Noir were produced, and we enjoyed this wine at the luncheon paired with Pinot braised chicken thighs with pepperonata and cherry-braised kale. This pairing was excellent: the flavors all complemented each other smoothly.
The Knudsen heirs do have expansion plans, but from what they shared with us at this luncheon, they seem tempered, with more long-term planning compared to many surrounding counterparts, which I think is a smart move based on the Oregon wine industry growth patterns and general current economic purchasing patterns. Their wines are expertly developed and are ideal refined wines for dinner with friends over beautifully prepared meals. These are wines that you can tell were not rushed, and are aptly made to be enjoyed at a refreshingly un-rushed, deep conversation, breathe-in-the-air-and-slowly-take-in-the-wine type of leisurely pace.
While the 2012 Pinot Noir was slightly more elegant than the 2013, I, for one, truly enjoyed the 2013 Knudsen Vineyards Pinot Noir. And, I have a feeling that the 2014 will be event better. I can't wait for that release! For more information about Knudsen Vineyards and to join their mailing list to stay up-to-date on their newest releases, visit knudsenvineyards.com.
More wine ideas