Oregon is known for being a state of collaboration and innovation, and that spirit extends deep into Oregon wine country. Many winemakers collaborate with other winemakers and vineyards, and the Durant family
of Dayton, Oregon pride themselves on doing just that for the past 40 years. In 1973, they were among the first to attempt to plant wine grapes in Oregon, and have a long tradition of working with some of Oregon's most renowned as well as creative winemakers. Currently, their Red Ridge Farms 120-acre estate includes the state's first and only commercial olive oil mill, Oregon Olive Mill; the 60-acre Durant Vineyards; and event space and lodging options.
This Sunday, September 13th, you have the opportunity to experience an intimate look at the family's extensive vineyards, unique olive grove and state-of-the-art olive mill during a Vineyard Walk and Alfresco Lunch Tour (more details on that later in the post). Having recently visited Durant Vineyards, I highly recommend getting tickets to this event, or other similar events in the future. It's an excellent way to get the inside scoop on this unique property.

Collaboration over competition
During a recent tour of Durant Vineyards, I met with owner Paul Durant, as well as two winemakers who work with Durant Vineyards: Joe Dobbes of Dobbes Family Estate, and Chad Stock of Omero Cellars.


Together, the three represent the combination of long standing tradition as well as creative risk-taking that make Oregon wine growing and winemaking so interesting and diverse.
Durant Vineyards currently works with a total of 14 vineyard clients and winemakers in the region. For owner Paul Durant, these collaborations are important to his parents' vision and are also a key element in informing the family's wine growing practice.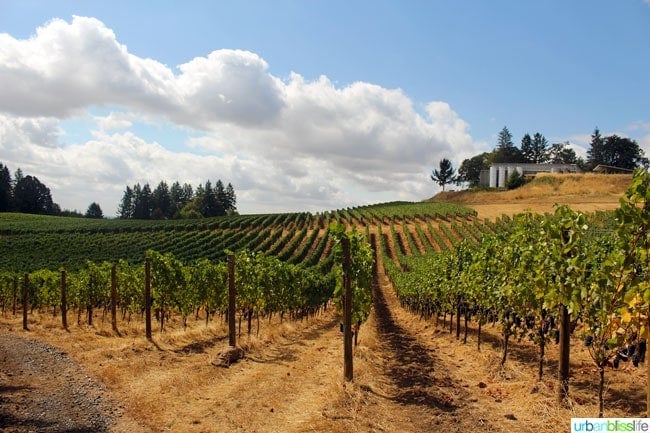 We began our tour at the edge of the Durant Vineyards property in the lowest elevation vines, the La Paloma block, then worked our way up to the property's Stoneycrest Cottage. Paul Durant shared stories of growing up on the property, surrounded by some of the fellow longstanding prominent wine growing families of Oregon.
While the majority of grapes grown on the property are sold to other wineries, Durant Vineyards is dedicated to making single vineyard wines that allow the grapes to shine.
Joe Dobbes (Dobbes Family Estate) is the winemaker behind the La Paloma Pinot Noir. Made with the grapes from one of the lowest elevations on the property, 100% de-stemmed and aged for 9 months in 100% French oak, the 2012 Durant Vineyards La Paloma Pinot Noir ($50 retail) is a bright red bursting with fresh cherry, raspberry, and strawberry notes.
Chad Stock (Omero Cellars) is the winemaker behind the 2012 Durant Vineyards La Casita Pinot Noir ($50 retail). The La Cosita block is situated at a higher elevation, and I found this to be a richer red with dark plums and currant, and soft tannins. This is a nice refined wine that is only available to club members.
In addition to being at the forefront of the wine growing industry in Oregon, in 2004, the Durant family also planted the first olive orchard in the state. To date, the family's Oregon Olive Mill is the only commercial olive mill in the state, producing handcrafted olive oils made in the old world traditional style.
During events such as the upcoming Vineyard Walk & Alfresco Lunch Tour, you will get to experience the variety of olive oils made from their orchards. While your meal will consist of different offerings, here's a taste of what Red Ridge Farms events have to offer, from the lunch we enjoyed at the culmination of our particular vineyard tour at Stoneycrest Cottage.
Vineyard Walking Tour & Alfresco Lunch: September 13
Red Ridge Farms
11:00 am
$65 per ticket
If you'd like to experience your own behind-the-scenes look at the Durant family's extensive vineyards, unique olive grove and state-of-the-art olive mill, be sure to get your tickets ASAP for this Sunday's event. You'll get a tour of the olive mill and tasting of their award-winning olive oils, then you'll head into the vineyard and explore the journey from grape to glass, as owner Paul Durant leads you through tastings of the family's estate wines. You will also get a special barrel tasting mini vertical (2012, 2013 and a sneak peek of 2014 vintages) of Bishop Pinot Noir – the property's flagship vineyard block, featuring some of the oldest vines in the valley.
Your tour will conclude with an al fresco gourmet catered lunch that showcases the distinctive Oregon Olive Mill extra virgin olive oils and Durant Vineyards estate wines in a private and secluded area of the vineyard. Because this is a tour through the vineyards, remember to wear appropriate footwear and clothing for outdoor hiking. In the case of rain, the tours will not be cancelled; but the lunch will be held in a covered area, outdoors.
Learn more about the Vineyard Walking Tour & Alfresco Lunch at RedRidgeFarms.com.
Red Ridge Farms/Durant Vineyards/Oregon Olive Mill
5510 NE Breyman Orchards Rd.
Dayton, OR 97114
503.864.8502
info@redridgefarms.com
http://redridgefarms.com/sip#durant-vineyards