Today we continue on our Travel Bliss: Travel to Western Montana series with a stop at the National Bison Range in Montana, a vast open space home to these majestic animals.
Located in Dixon, Montana, the National Bison Range was not too far off of our travels between leaving Missoula and heading for our next home away from home: Kalispell. After eating, drinking, and playing in Missoula, we were ready to hit the road again -- and hopefully see some wildlife!
National Bison Range
President Theodore Roosevelt established the National Bison Range in Montana 1908, to help save the bison population. At one time long ago, up to 60 million bison roamed the continent, but by the 1800's, there were as few as 100 bison in the wild. When President Roosevelt made the decision to appropriate funds to buy land for the specific purpose of wildlife conservation, he made history -- and saved an incredible species.
Today, there are between 300 and 400 bison roaming the 18,700 acre National Bison Range in Montana. And my family was ready to see ALL of them.
The kids were fascinated by the antler art installation (that's what I'm calling it, anyway) located in the Visitor Center parking lot.

We learned that elk shed their antlers each year, and you can reportedly find piles of dropped antlers like this one throughout western Montana (this is the only one we saw). Elk are one of several wildlife you can spot at the National Bison Range.
After taking some tourist photos, be sure to head into the Visitor Center Office and pay your appropriate vehicle fees, then take one of the maps showing the routes and wildlife you may see at each. The pamphlets also include helpful information, such as what to do if a bear approaches you.
Luckily, we did not need to put the bear information to use, although I know the kids would have loved to have seen one of the black bears that roam the range -- from a distance, of course. The woman who gave us our map told us that earlier in the morning, visitors had spotted a couple of black bears, as well as many bison.
There are two main loops that you can drive at the National Bison Range in Montana: a shorter loop that takes about 30 minutes, and a longer loop. I highly recommend that you be sure to carve out enough time to take the longer loop, which is a 19-mile long, hilly drive on a mostly one-way gravel road. This loop includes a few switchbacks and takes you up to 2,000 feet in altitude. The entire route takes anywhere from an hour and a half to two hours, depending on how busy it is. Be sure to read up on vehicle restrictions and weather conditions before you head out here.
The drive itself is a beautiful way to view the range.


As pretty as the drive was, after we rounded a few hills and were almost halfway through the loop, we were ready to finally see some wildlife.
Then my son saw them: pronghorn antelope, walking through tall grass.
And then, we spotted the magpies. These birds are surprisingly majestic in their appearance and the grace of their movements.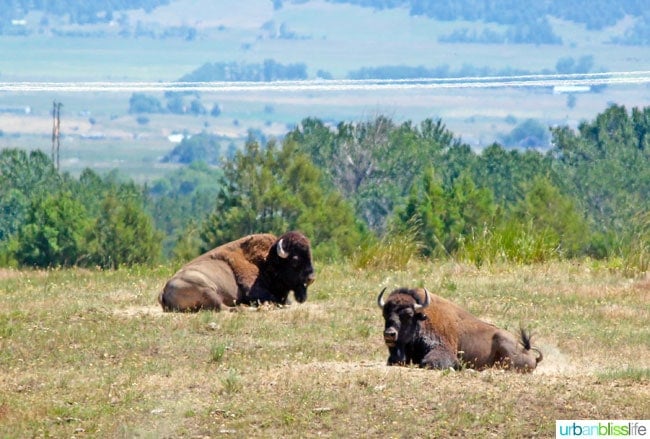 Then, at long last, we spotted them: two bison, just hanging out.
These animals are larger than life in person. Their size, even from a safe distance, is imposing.
Bison are so beautiful. I think we were all in shock that we actually, finally, spotted a couple of bison, that we just stared at them quietly for a bit, so as not to disturb them . . . even though they were so far away (TIP: remember to bring your zoom lens!).
As we rounded another corner, we saw a hillside dotted with several dozen bison. All of the little dots you see in the photo below? Bison!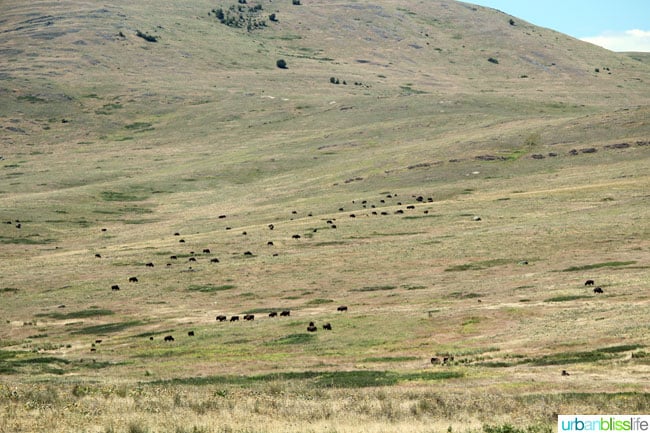 The excitement level in our vehicle at this point was off the charts. Our kids were so in awe - as were we. We saw bison lay down, get up, kick around some sand, feed off the land, and nap in the sunshine.
Finally, as if Hollywood decided to drop into our lives and give us a show-stopper we wouldn't forget, this beautiful bald eagle flew right above us as we neared the end of the loop.
We will never forget our trip to the National Bison Range in Montana. It's a space that feels so wild and free; we were definitely guests of the wildlife here. There is a great feeling of respect for these animals and the land that overwhelms you as you drive through. When you go, and I do hope you will visit the National Bison Range someday, go with patience and appreciation for what you are about to experience. I am so grateful for land like this that is dedicated to wildlife conservation, and I hope that visitors will continue to honor it with great respect so that future generations can experience the wonder that our family did.
To learn more, be sure to visit the National Bison Range website.
More travel ideas