Looking for things to do in Missoula, Montana with kids? Outdoor adventurers and families will find no shortage of hiking, camping, boating, and other activities to keep them busy.
Hiking the "M" trail
One of the activities my family was consistently told we "HAD" to do while visiting Missoula, Montana, was hiking the M Trail. The trail starts at the edge of the University of Montana campus, and ends at the top of the large "M" on the hill overlooking the city. The views at the top are spectacular and make the hike totally worth it.
But first, you have to hike. It's less than a mile, but don't let that fool you: it's almost a mile up a steep, rocky, dusty trail that has 11 switchbacks.

My kids (ages 8 and 11) did well on this hike, and I'm glad we went earlier in the day to avoid the hot sun. There are several benches at the switchback corners where you can stop and enjoy the views -- and catch your breath if you need to.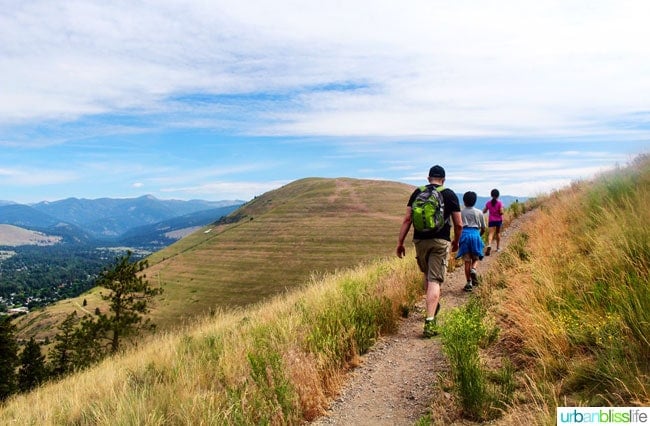 Once at the top, you're rewarded with a beautiful view and more seating space on the actual "M" that you see from the highway.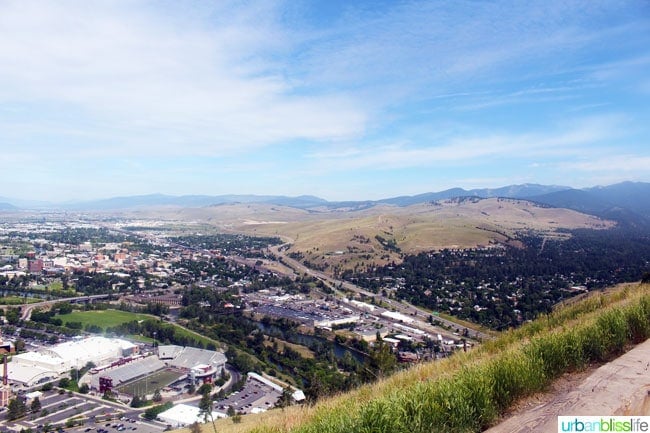 I recommend wearing hiking boots or tennis shoes with a good grip, and be sure to wear and bring sunscreen and water.
Hiking up the M Trail was probably our favorite activity during our time in Missoula, Montana. Definitely carve out a morning where you have a couple of hours free. It was a fabulous way to start the day!
For more information about the M Trail, visit Destination Missoula.
The Carousel

In Caras Park is A Carousel for Missoula, a structure that is a testament to the spirit of community that thrives in this city. What began as the dream and passion of a Missoula cabinet maker turned into a project that took over 100,000 hours of volunteer time. Locals were taught to carve the dragons, horses, and other animals that now twirl around the carousel, while mechanics restored more than 16,000 pieces of antique frame and motor. In 1995, A Carousel for Missoula came to life.
A Carousel for Missoula
101 Carousel Drive
Missoula, MT 59802
406.549.8382
www.carouselformissoula.com

HOURS
Every day, 11am to 5:30pm; Sept. through May
Every day, at least 11am to 7pm; June through August
COST
75¢ for children (<16) and seniors (>55)
$2.25 for adults; $1.50 for an adult and child sharing a seat
People with disabilities are always welcome to ride free
SpectrUM
In downtown Missoula toward the end of Front Street (and across from the Dram Shop), is a cute little science center for kids called SpectrUM. This children's museum is part of the University of Montana. There are interactive science labs and stations, and when we visited, we enjoyed checking out the ecosystem exhibit, a brain exhibit, bee exhibit, and a cool tornado simulation chamber. SpectrUM also has staff to guide kids through experiments, and they offer camps for local kids as well.
I recommend stopping by SpectrUM while your family is out and about exploring the main streets of downtown Missoula. It's a great place to get their brains active and involved after a family lunch at Tamarack Brewing up the street. I love that it also doesn't take a huge amount of time out of the day; we spent about 20 minutes here, but I could see families spending anywhere from 20 minutes to an hour exploring all of the stations.
SpectrUM
218 E Front St, Missoula, MT 59802
(406) 728-7836
spectrum.umt.edu
HOURS
Wed-Fri 11-6
Sat 10-5
COST
Ages 4 and over: $3.50
Ages 3 and under: FREE
Non-family groups of 10+ must book a field trip.
Adults must accompany anyone under 16.
More family-friendly fun in Missoula
There are SO many more outdoor activities and indoor activities for families to experience while visiting Missoula, Montana. This is what we had time for in one day, in addition to all of the great food & drink we experienced. Here are some helpful links with even more options for your family travel trip to Missoula:
Day Trips from Missoula, Montana
Horseback riding in Missoula, Montana
More travel ideas
Many thanks to Glacier Country Tourism and Destination Missoula for their incredible hospitality while we were in Missoula & planning an amazing itinerary for us. They are SO helpful; whatever you are looking for in Missoula, they can help! Some of the activities seen here were enjoyed thanks in part to Destination Missoula gift cards. As always, all opinions and photos are my own.