Ready to hit the open road for an epic road trip in the United States? If you're looking for a fun family trip, check out this itinerary from Portand, Oregon to Boise, Idaho.
This article was originally published on July 21, 2015. It was updated and republished on July 22, 2023.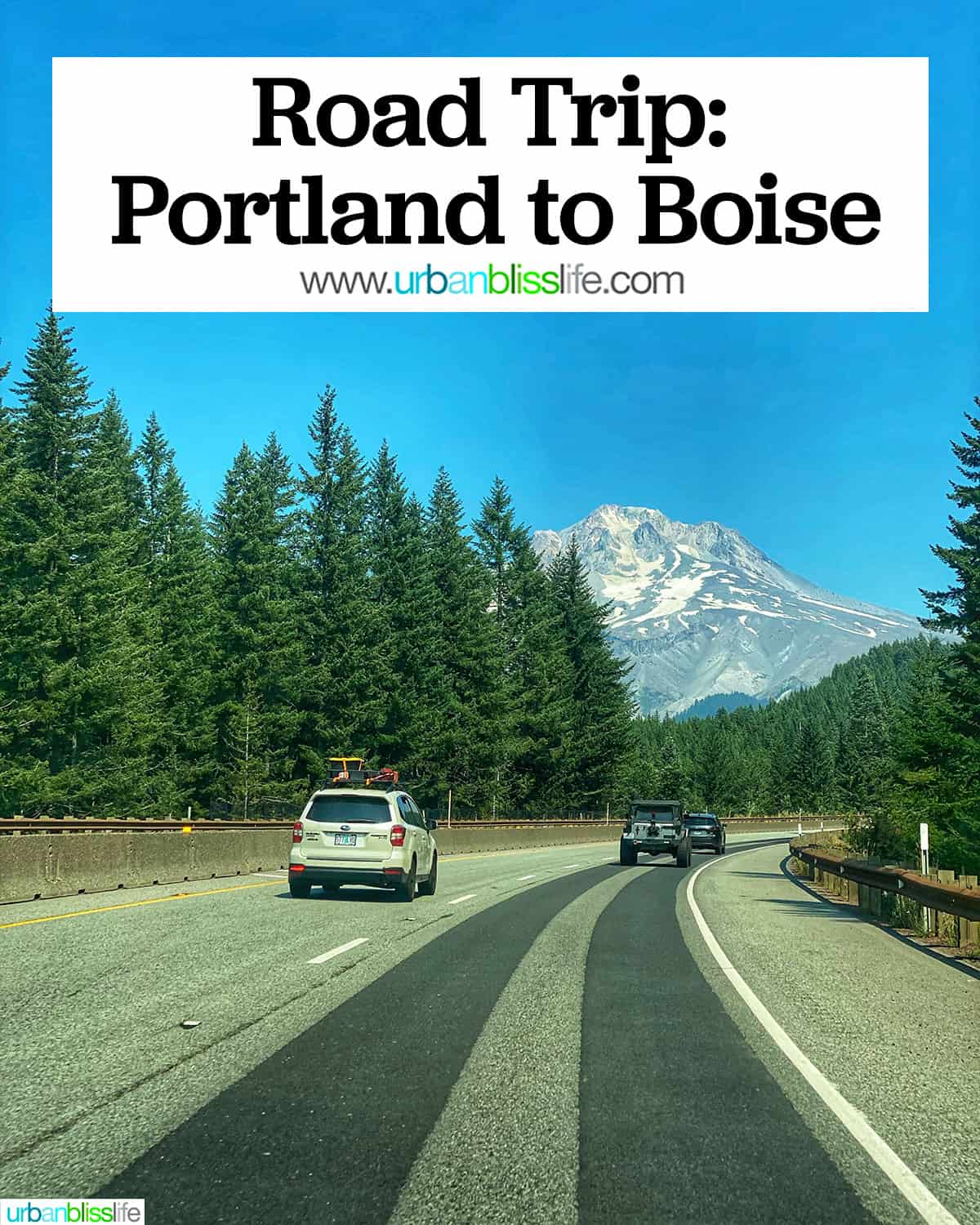 The Pacific Northwest is one of the best places for road trips. With the diverse landscape, interesting list of cities, and scenic nature at every turn, road trips in the Pacific Northwest always have the potential to be so much fun!
And one popular route is the one from Portland, Oregon to Boise, Idaho.
Living in Portland, we find that it's the perfect place to start many amazing road trip adventures. We've done the Portland to Boise drive a few times over the years. It's a scenic drive that is mostly a straight Oregon route into Idaho.
---
🚗 Before you hit the open road, be sure you are road trip-ready with these pre-travel articles:
---
Portland, Oregon to Boise, Idaho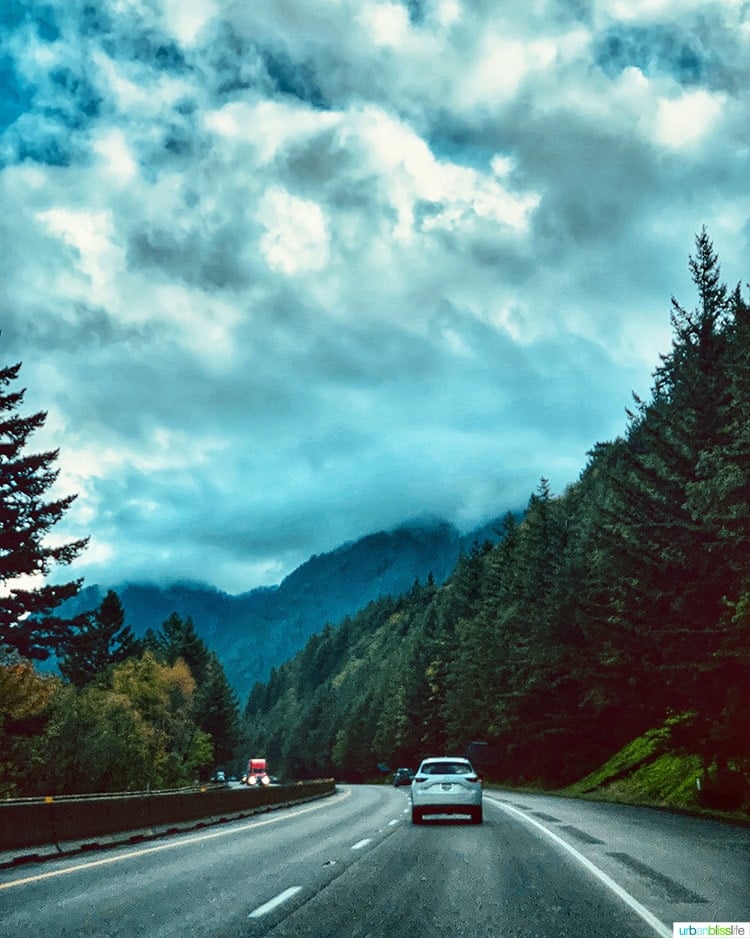 The city of Portland is in northwestern Oregon, between the Willamette River and the Columbia River.
The drive from Portland, Oregon to Boise, Idaho is approximately 430 miles, depending on your exact starting and ending points. It's a nice, mostly straight shot across Highway 84. This makes it an excellent option if you're looking for a summer road trip.
What is the total travel time from Portland to Boise?
It takes approximately 6 hours, depending on how fast you're driving and how many stops you take. So while it's not a day trip from Portland exactly, it is a road trip that you could do in one day each way.
How many stops should you plan for between Portland and Boise?
With two kids and a dog, we stopped about three times during the drive to Boise, Oregon.
What's the best route from Portland, Oregon to Boise, Idaho?
The best road trip route is to follow the Columbia River Gorge, which divides Oregon and Washington, until you pass Boardman, Oregon. At that point you will follow I-84 south through the Eastern, Oregon towns of Pendleton, LaGrande, Baker City, and Ontario as you enter Idaho. Boise is just about 60 miles from the Oregon-Idaho border.
What is the speed limit between Portland and Boise?
The max speed limit on I-84 is 65 MPH in Oregon. But once you hit the Idaho border, the speed limit increases to 80 MPH in rural stretches of I-84 (raised in 2014 from 75 MPH). Definitely helps put a little extra pep in your step as you're driving into the home stretch of this leg of the road trip!
What are road conditions like on this road trip?
You'll be driving along rivers, through mountain passes, and some desert. So road conditions can change quickly along this route. Along the Columbia Gorge, wind speeds are typically 10 to 25 miles per hour. However, it can get very windy along 1-84 along the Gorge, up to 25 to 35 miles per hour. During winter months, it's a good idea to carry chains or traction devices if you plan to drive through the snow, especially in the mountain passes and along the Columbia River Gorge.
What time zones are Portland and Boise in?
Portland, Oregon is in Pacific Daylight Time and Boise, Idaho is in Mountain Daylight Time.
Rest areas along this route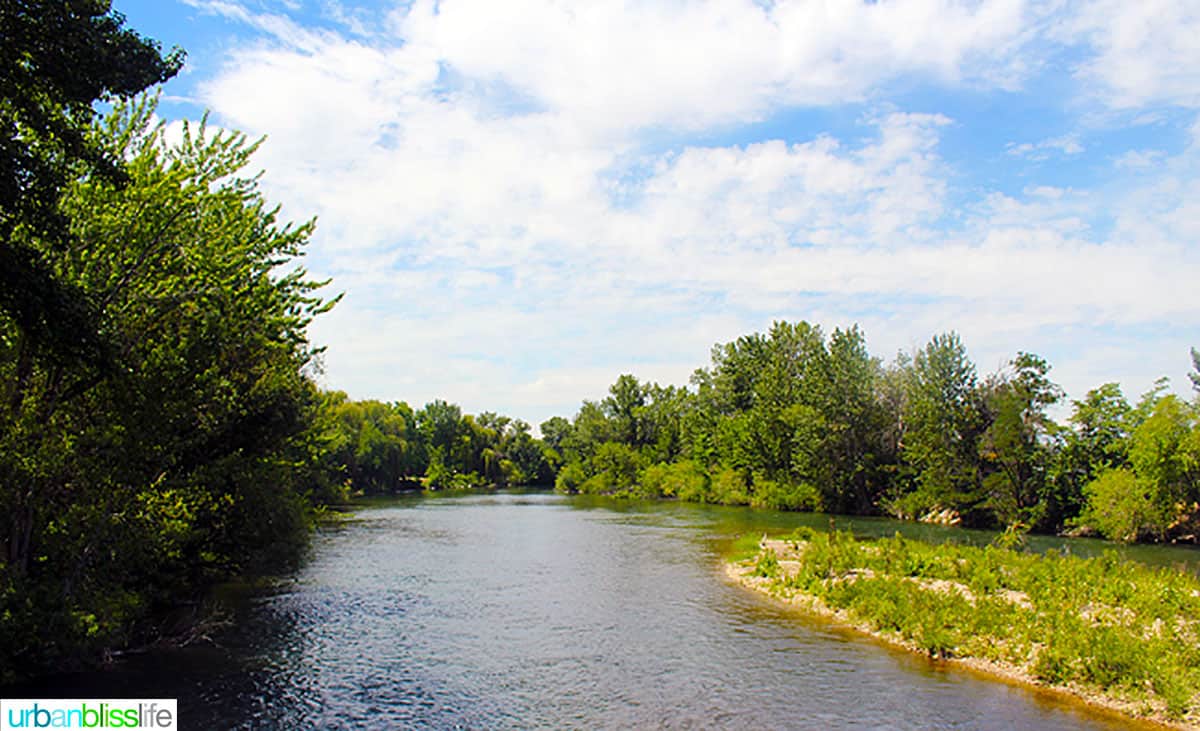 Between downtown Portland and Boise, there are many rest areas along the way.
Rest stops on Highway I-84, starting from Portland:
Mile Marker 65 – Hood River
Mile Marker 73 – Mosier
Mile Marker 160 – Boardman
Mile Marker 187 – Stanfield
Exit 228 – Pendleton
Exit 252 – La Grande
Mile Marker 269 – La Grande
Mile Marker 295 – Baker City
Exit 335 – Huntington
Exit 374 – Ontario
Mile Marker 377 – Ontario
✈️ Visiting Portland, Oregon? Be sure to check out our 35+ Day Trips from Portland.
Great road trip stops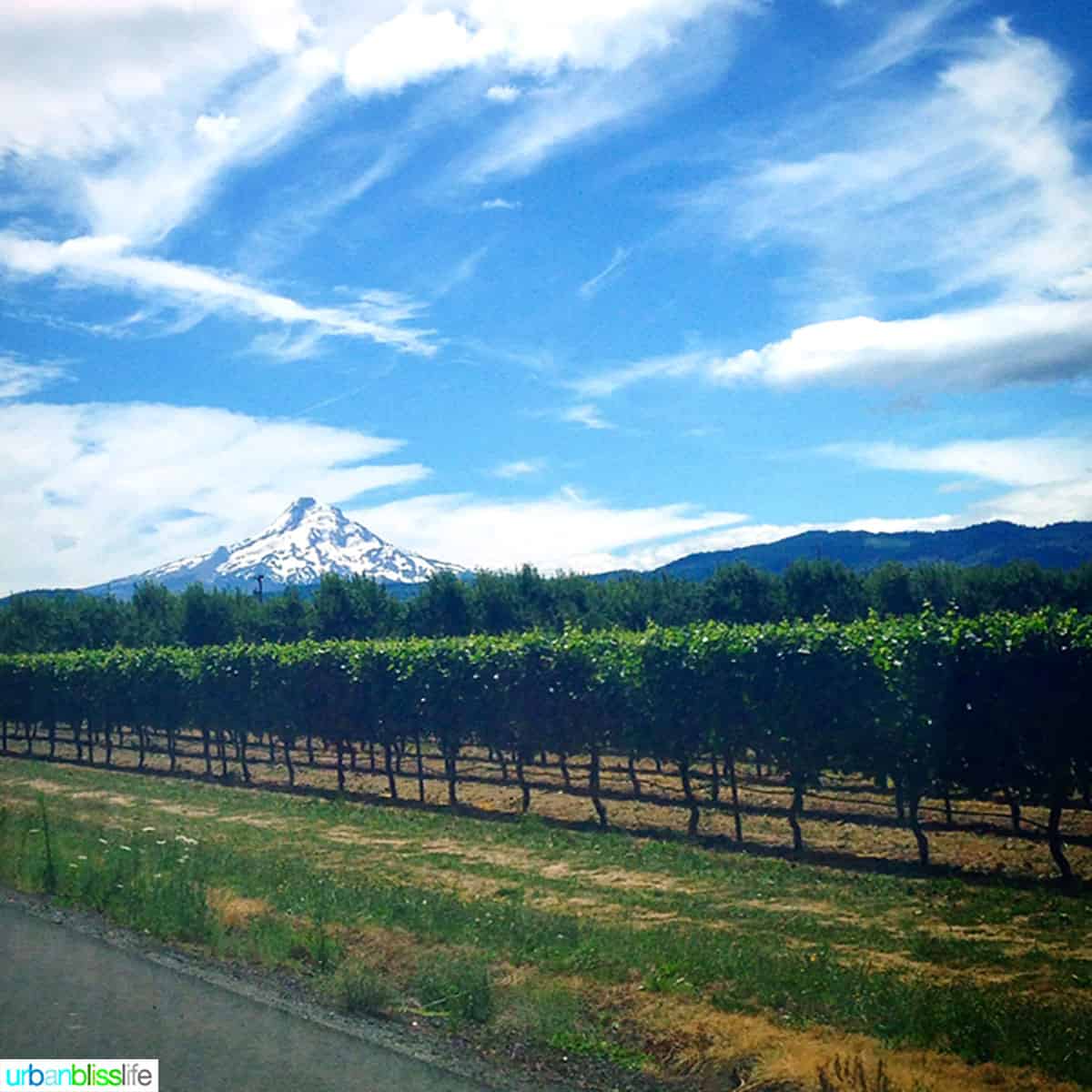 Between Portland and Boise, these are some good rest stops, restaurants, scenic view points, and small towns where you can stretch your legs.
Hood River - cute town with lots of great restaurants with good food, breweries and wineries, shops, and farms. There is also a great waterfront park with outdoor activities that's perfect for families.
The Dalles - A cute town with some good restaurants and the Columbia Gorge Discovery Center & Museum.
Mt. Hood - A great place to stretch your legs about 45 minutes to an hour outside of Portland.
Pendelton - Home of the world famous Pendelton Round Up, this rodeo town
Baker City, OR - Check out the National Historic Oregon Trail Interpretive Center here.
Walla Walla, WA - This charming wine country town will take you about 30 minutes north of your route, but it's a worth a stop for wine lovers (just be sure you are not drinking and driving!). There are some amazing restaurants here, too!
Road trip photo tour
The drive from Portland to Boise is as picturesque as it gets. It's pretty amazing to watch the landscape go from city to suburbs to river towns to desert towns to city again.
I-84 is flanked by impressive high ridges that go from forest to dry desert to rock throughout the drive.
The barren landscape of Central Oregon and Eastern Oregon is a stark canvas on which rows and rows of towering power lines rise from the earth.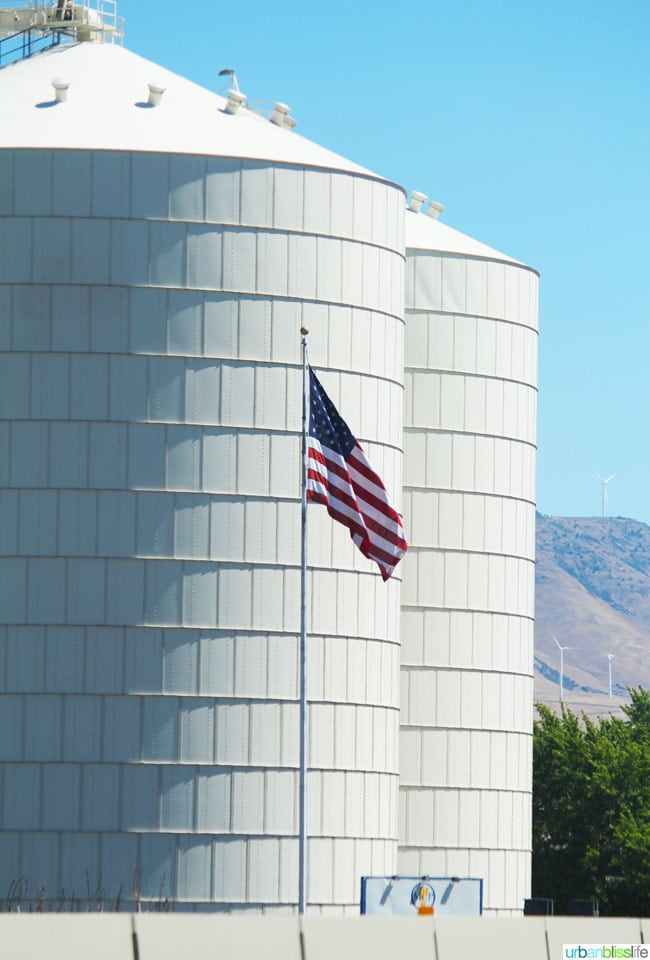 I love the iconic symbols of Americana peppered along I-84 in Eastern Oregon. American flags waving proudly. Huge silos. Weathered barns and large farms. Massive production plants in the middle of nowhere.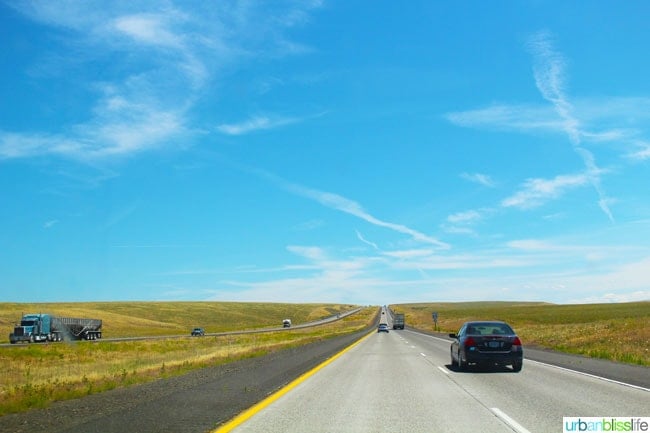 Visiting Portland, Oregon? Be sure to check out our Portland, Oregon Restaurant Guide and our 35+ Day Trips from Portland!
If you visit, please be sure to let them know that you read about it on Urban Bliss Life! And if you snap some pics, tag us @UrbanBlissLife and #UrbanBlissLife on Instagram, TikTok, Twitter, and Facebook.
More family road trip articles