This Fall Road Trip Essentials post is sponsored by Acqua Panna® Natural Spring Water and contains affiliate links. All thoughts and opinions are my own.
Fall is such a beautiful time for road trip travels. Colorful fall foliage as the leaves change color almost lights the path to your destination. The weather tends to be just right—not too cold, not too hot. And during the fall months, you tend to not be fighting the crowds of tourists as much as during the summer.
I grew up taking road trips regularly with my parents. Now, my own family is road-trip ready. We often stop at our local Safeway to load up on snacks and Acqua Panna® Natural Spring Water 1 Liter Plastic Bottles before we head out on road trip adventures.
Fall Road Trip Essentials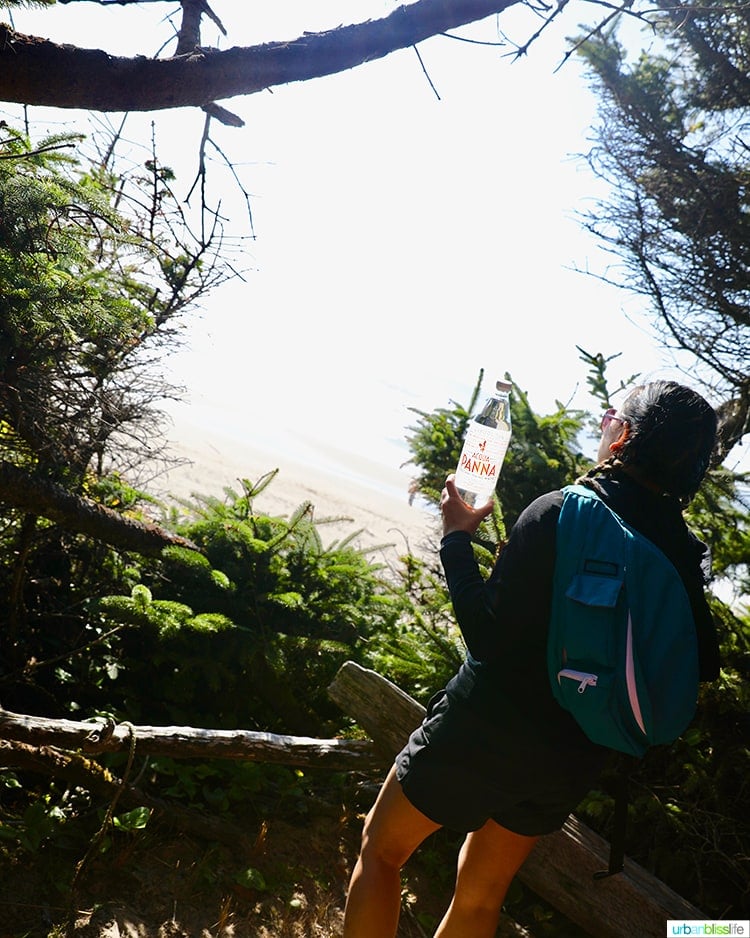 Before you hit the open road, here are some fall road trip essentials to help make your trip the best it can be.
1. Bring Plenty of Water
You can honestly never pack too much water for a road trip. Sometimes, you can even find coupons on the Safeway app to save on Acqua Panna® Natural Spring Water 1 Liter Plastic Bottles—which are perfectly portable and road-trip ready. This water has a special mineral balance for the smoothest taste, and it's naturally Alkaline with a pH of 8.0 or higher. I find them in the beverage aisle of my local Safeway store.
Try today and save at your local Safeway! The resealable cap makes it easy to take with you from car, to hike, to cabin/hotel, or anywhere, really. Bring at least one 1 liter bottle per person, per day.
2. Pack Extra Blankets
With the weather changes that happen during the fall months, I like to pack extra blankets in the car. They're great for long road trips when one part of the car might feel colder than the other. Pack one for each person. You can also use blankets for the beach, picnics at the park, and as extra layers when sitting around a campfire.
3. Stock up on road trip snacks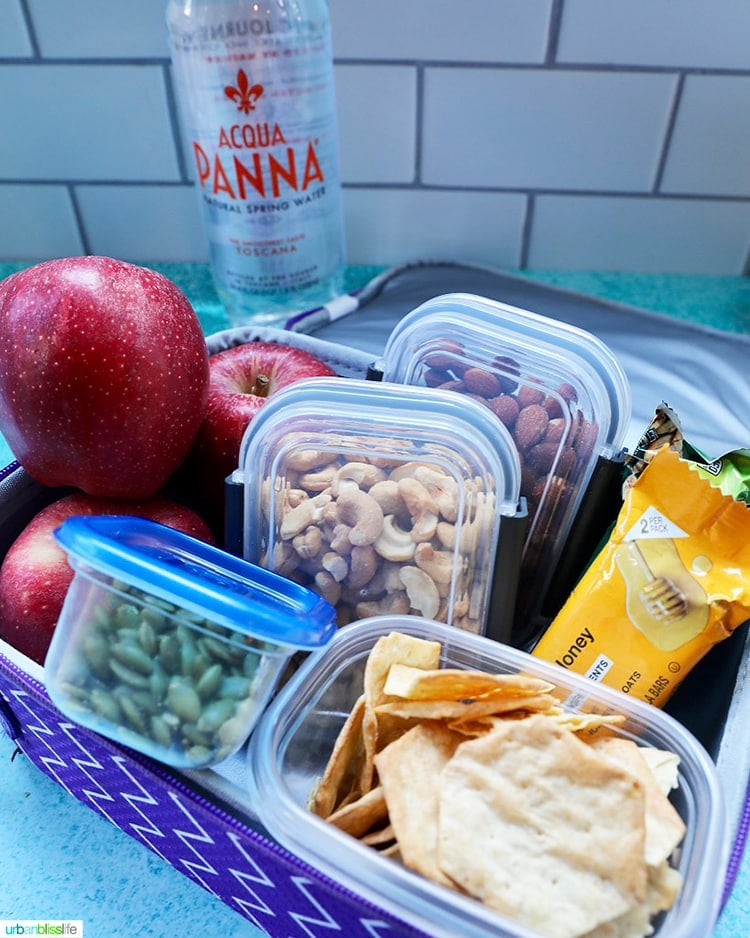 For road trips, you want food that doesn't necessarily require refrigeration or will spoil easily and quickly. Pack portable food that is rich in nutrients to sustain you during the trip. You still want to pack a tote with packs of ice or cooling packs. Then, fill it with these fall road trip essentials:
Apples
Pears
Bananas
Crackers
Nuts like almonds or cashews
Granola bars
Jerky
Root vegetable chips
4. Don't Forget Cell Phone Chargers
In today's plugged-in world, making sure your technology is fully charged on road trips is an essential safety procedure. But you should also always be prepared for unexpected tech problems.
I always keep a couple of cell phone chargers in my car, just in case.
5. Keep it clean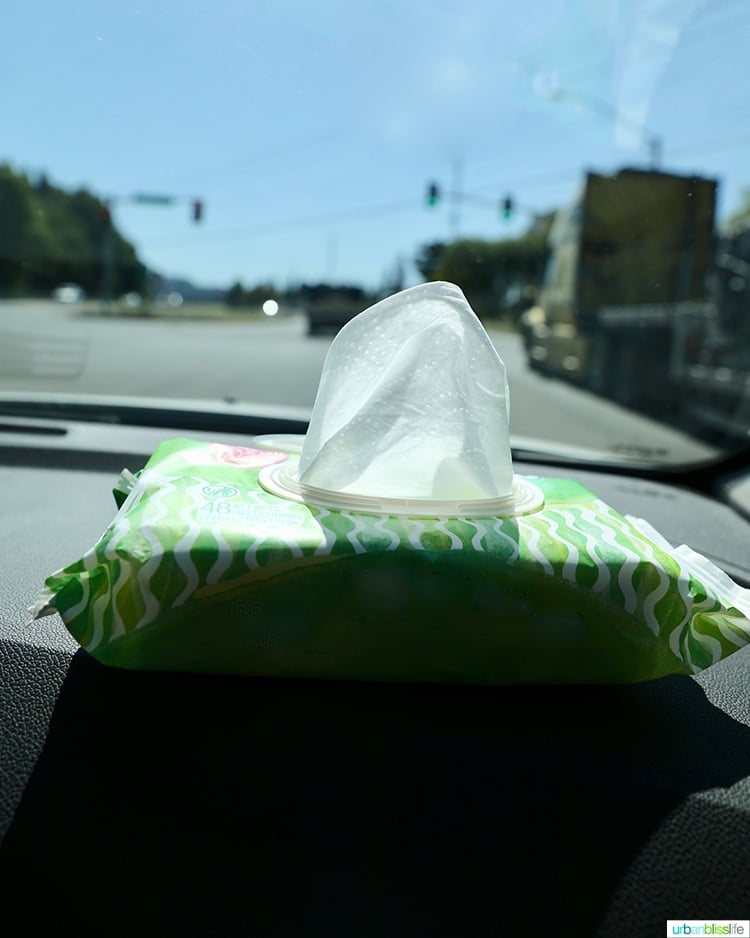 You never know what will happen on road trips. Spills are almost inevitable. So are sticky messes if you've got kids. And you can't always rely on rest stops having fully stocked soap dispensers. So, pack some hand sanitizer or sanitizing wipes (I pack both!) where they are easily accessible in the car.
6. Pack an Emergency Car Kit
You should always have a small car emergency kit stowed away in the trunk of your car. But you especially want to make sure you have it with you on road trips.
Make sure it includes emergency safety items like:
It should also contain some light medical supplies, such as:
Bandages
Antibiotic ointment packs
Cold packs
Gauze.
Water should also be part of your car emergency kit. We keep a couple of the Acqua Panna 1L bottles in the trunk along with our kit to make sure we have some that are reserved for emergencies.
What to Wear on Your Fall Road Trip
When planning what to wear for your fall road trip, dressing in layers of comfortable clothing is best. I usually wear jeans or leggings, a t-shirt or tank top (depending on dates and locations), and a sweatshirt or sweater.
You'll want to bring a light jacket and then also possibly a heavier jacket and/or waterproof rain jacket, depending on your destination and the areas you'll be traveling through.
Fall Road Trip Essentials
PIN IT: