If you're looking for the perfect centerpiece for your next Halloween party, make this easy Halloween charcuterie board. A Halloween-themed board is a great way to add even more fun to this holiday!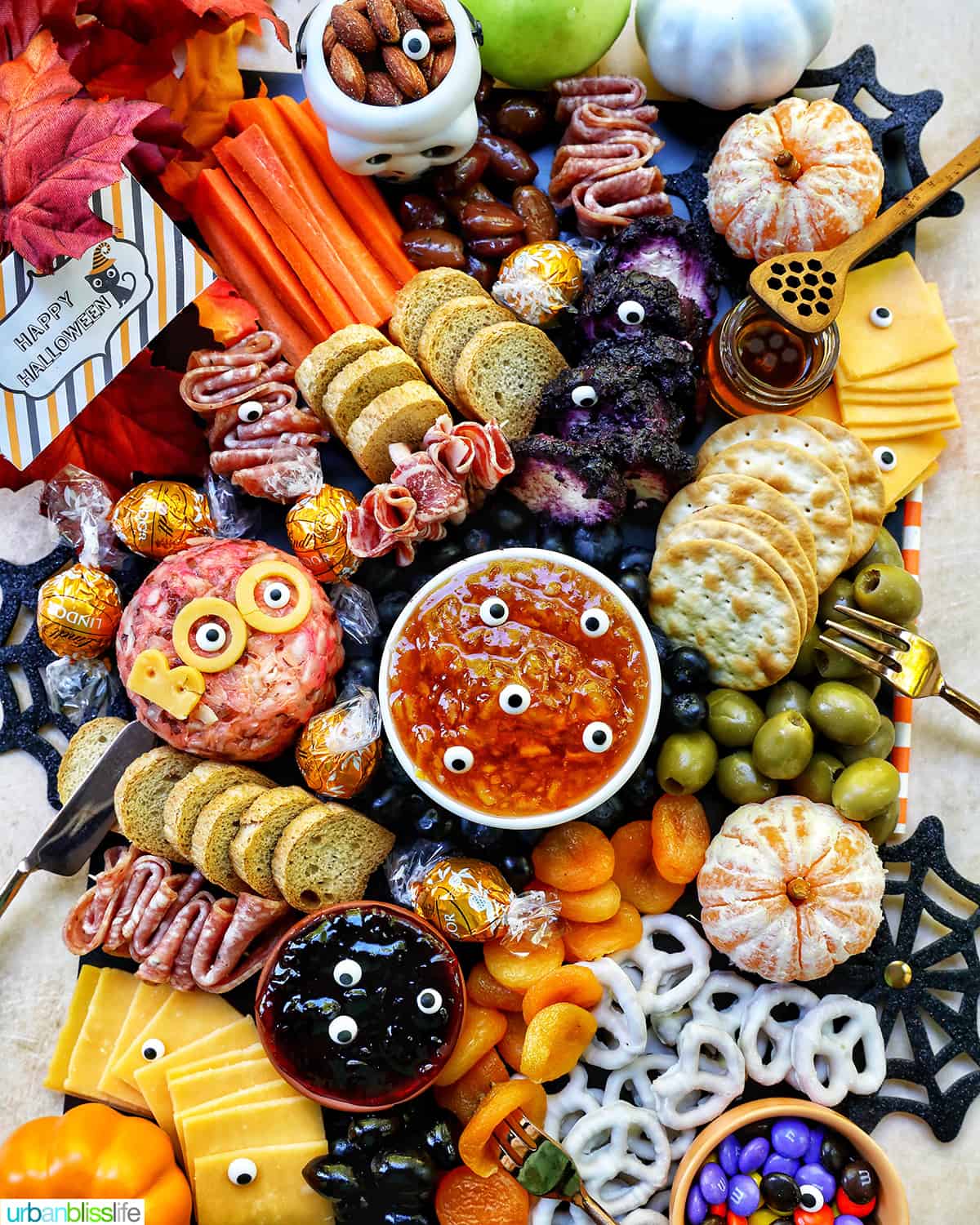 When Halloween season rolls around, it's time to get creative with some spooky fun ideas!
From mini pumpkins to Hocus Pocus themed snacks to treats with a spooky twist, there are so many different ways to use fun Halloween foods to create a festive Halloween charcuterie board.
So tap into your creative side and get ready to put together a unique charcuterie board that will delight your Halloween party guests of all ages!
Jump to:
🌟 Why this recipe works
A traditional charcuterie board is an awesome appetizer or side dish for any holiday gathering. And a Halloween themed charcuterie board is extra fun!
Easy - One of the reasons charcuterie boards are so popular is because they are so easy to put together. Anyone can make this!
Simple - You can make the perfect charcuterie board using simple ingredients you can easily find at your local grocery store.
Fun - This Halloween dish is a fun dish that's great to put together with the help of kids of all ages.
Something for everyone - the best charcuterie board has something for everyone. Read on for some of our best suggestions for creating a beautiful dish that's a true crowd pleaser!
🛒 Ingredient notes
Jams, jellies, and candies
Jams and jellies - Spoon orange marmalade, fig jam, and blackberry, blueberry, or grape jelly into small bowls.
Candies - A selection of Halloween sweet treats is always a welcome addition to any Halloween charcuterie board! We love truffles in individual orange wrappers, candy corn, candy pumpkins, gummy worms, and chocolates in pumpkin shapes. It's also so much fun to use candy eyeballs throughout the board.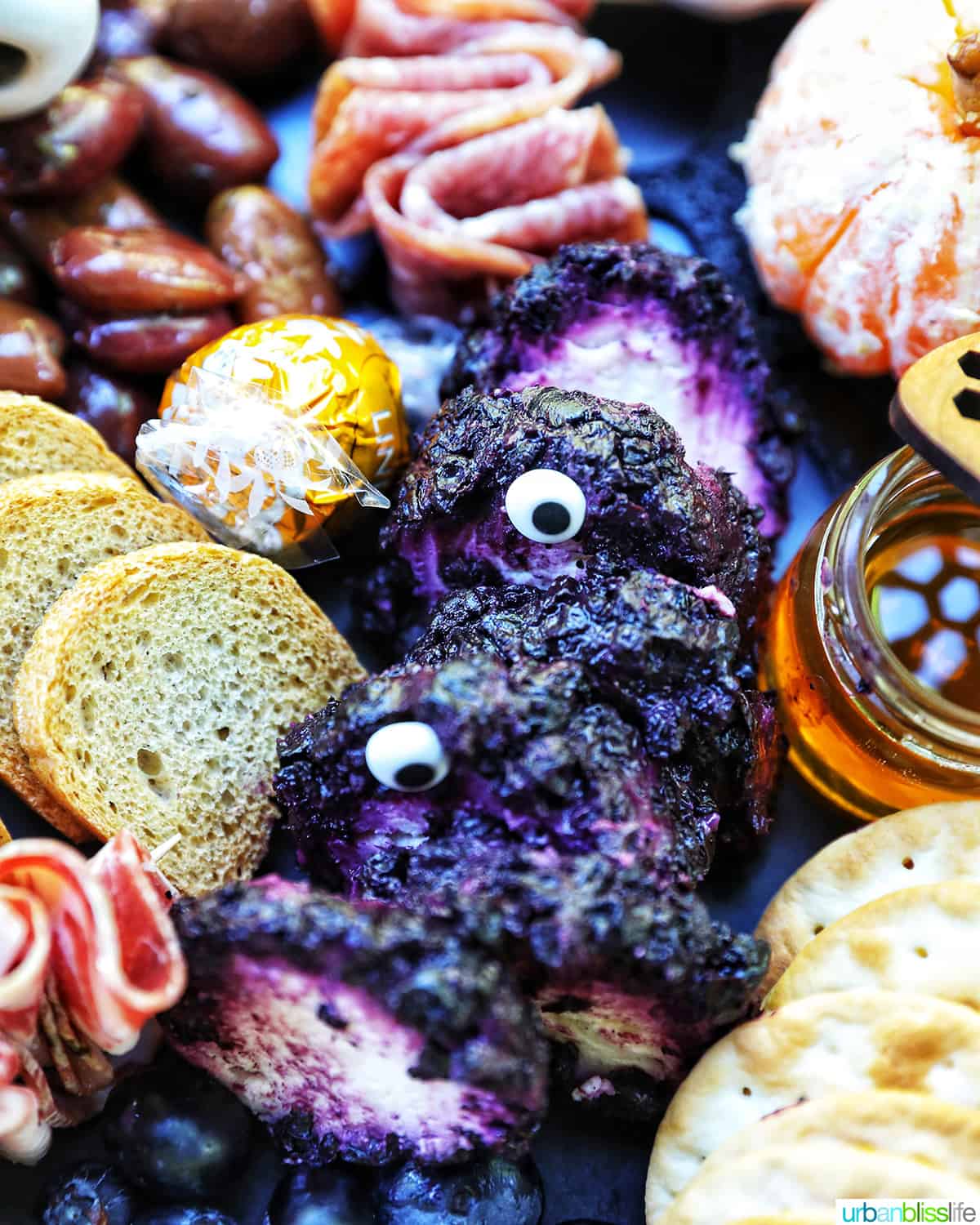 Meats, cheeses, and crackers
Meats - You can use a variety of meats. We especially love using both thin salami and hard salami slices, prosciutto, pepperoni, and other meat products.
Cheeses - Get creative with the assortment of cheeses you use on your Halloween cheese board. Traditional cheeses like goat cheese, blue cheese, brie cheese, and other soft cheeses are always a hit. But for extra Halloween fun, add cheeses with purple or orange outer coating. In the photos here, we've used a blueberry-covered goat cheese (the purple-tinged sliced soft cheese). And we've used a port wine and almond cheddar cheese (the orange round cheese ball with the letters BOO on top).
Crackers - Add a variety of crackers to go with the meats and cheeses. For this board, we've used mini toast crackers (they're SO super cute - and tasty!) and classic water crackers. During the Halloween season, you can also sometimes find crackers in fun Halloween shapes.
Fruits and vegetables
Round out the ingredients of your board with fruits and vegetables.
Fruits - Peeled mandarin oranges with pretzel sticks sticking out of the top look like cute little pumpkins. Green apple slices, green grapes, black grapes, blueberries, green olives, black olives, and blackberries are great fruits to add. Also think about adding dried fruits like dried apricots
Vegetables - Orange vegetables like carrot slices, orange bell pepper slices, and green vegetables like cucumber slices, celery sticks, and broccoli are all great to use.
✅ Step-by-step instructions
While there's no hard and fast recipe to creating the best Halloween charcuterie board, here are some tips to help you create a beautiful bountiful board:
Use small bowls in varying sizes and colors to hold jams, jellies, and honey, and to corral small ingredients like nuts. They'll also help keep fruit that may "bleed" onto other foods, like raspberries, separate.
🧀 Charcuterie board variations
With Halloween, there are so many
Classic Halloween Board: Sink your fangs into miniature cheese balls shaped like adorable pumpkins, or cackle with delight as you munch on witch's finger breadsticks adorned with almond fingernails. Ghost-shaped marshmallows will haunt your taste buds, while chocolate-covered pretzel rods, looking like delicious mummy wraps, will make your sweet tooth howl.
Haunted Graveyard Board: Venture into the eerie world of the Haunted Graveyard Board, where tombstone-shaped crackers lead the way to a slimy guacamole dip. Crunch on pretzel rod skeleton bones, and gaze into the abyss with olive and cheese eyeballs. Gummy worms and bugs add the final touch of creepy crawly perfection.
Witch's Cauldron Board: Join us at the Witch's Cauldron Board for a bubbling brew of fun. Dive your broomstick-shaped breadsticks into a cauldron of spinach and artichoke dip. Savor the crunch of carrot and cucumber witch's fingers as you concoct your spells. And for dessert, indulge in cauldron-shaped cookies and sip on potion bottle-shaped drinks that'll leave you feeling spellbound.
Monster Mash Board: Get ready to mash it up with our Monster Mash Board. Snack on cheese slices shaped like goofy monsters, or giggle at the mummy-fied Rice Krispie treats. Keep an eye out for monster cake pops that stare back, and don't forget to gobble up candy corn and a mix of nuts and dried fruits to keep your energy levels monstrous!
Vampire Feast Board: Join us for a Vampire Feast Board that will leave you thirsting for more. Sink your teeth into red velvet cupcakes dripping with "blood" raspberry sauce, or ward off vampires with garlic breadsticks. Tomato and mozzarella "eyeballs" add a touch of elegance to this dark banquet, and wash it all down with red wine or blood orange sangria. Finish with red velvet whoopie pies that are to die for.
Each of these Halloween charcuterie board themes promises a spooktacular culinary adventure, with flavors and visuals that will enchant all your senses. Enjoy your Halloween celebration in devilishly delightful style!
👩🏻‍🍳 Recipe FAQs
How long can a charcuterie board stay fresh?
Food such as dips, meats, and cheeses should only be out at room temperature for a maximum of two hours. After that, food can become a breeding ground for bacteria and you run the risk of becoming sick if you eat it. Better safe than sorry -- if you are concerned about the freshness of any food that has been left out, better to toss it out than run the risk of illness.
Can I make a charcuterie board ahead of time?
You can prep many of the components of a traditional charcuterie board ahead of time and refrigerate up to overnight. Then assemble them together on the large serving board just before serving.
🍽 Serving ideas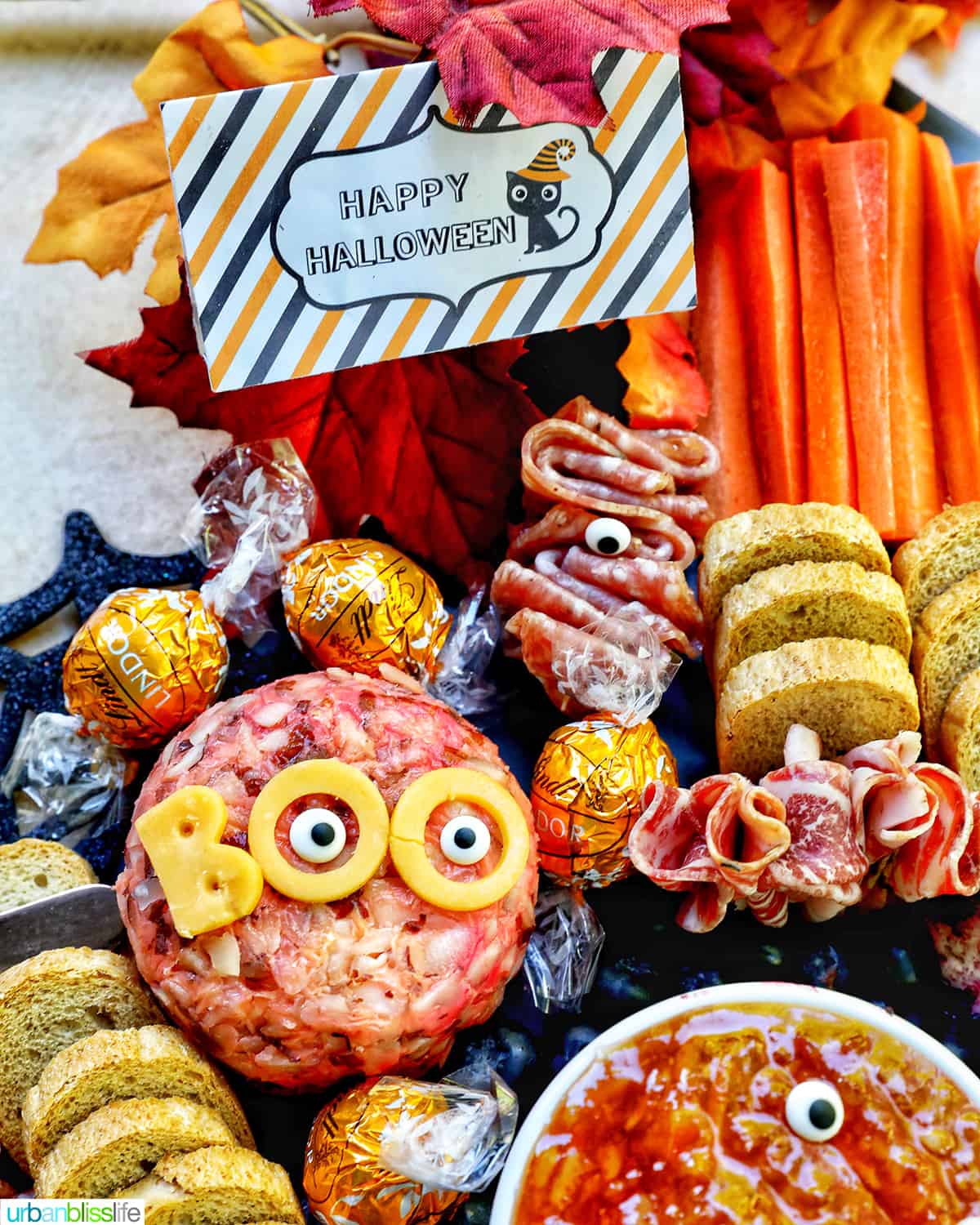 Ready to make this recipe? Here are the kitchen tools and equipment, as well as decorations, you'll need to help you put together this charcuterie board for Halloween.
Board - Choose a large cutting board or decorative Halloween serving board or tray to hold all of the ingredients.
Small bowls - Use a variety of small bowls for jams, jellies, dips, nuts, and other small foods.
Cheese knives - Have small cheese knives on the board near the cheeses
Serving forks and spoons - Set out some small spoons and forks near dips, jams, jellies, and fruits and veggies.
Decorations - Add some fun Halloween decorations like small plastic spiders, plastic bats, and witches hats throughout the board.
More Halloween recipes
Did you make this recipe? Don't forget to leave a 5-Star 🌟🌟🌟🌟🌟 rating in the recipe card, and if you really loved it, please leave a comment further down on the page. Thank you!
Halloween Charcuterie Board
This easy Halloween charcuterie board is fun and festive, with something for everyone at your next Halloween party!
PRINT
PIN
RATE
🤍 SAVE
Saved!
Ingredients
Jams and jellies: orange marmalade, fig jam, blackberry jam, blueberry jam

Assortment of crackers

1

package of assorted charcuterie meats, such as salami, pepperoni, prosciutto

Assortment of sliced cheeses (Cheddar, Gouda, Swiss, Havarti)

assortment of fruits: grapes, blueberries, green apple slices, oranges

Almonds or other nuts (Pecans, Cashews, Walnuts)

Halloween candies: candy pumpkins, candy eyeballs, candy corn, gummy worms, small Halloween candy.
Instructions
Lay out the board and any small bowls or outer decorations. If creating any cheese greetings using mini alphabet cookie cutters, cut those out now and set them aside. Or, go ahead and place them on the board where you would like them.

Start by filling the bowls with jams, jellies, dips, nuts, and any small round fruits. Place the bowls in various places on the boards.

Next, start filling in the board with crackers, meats, and cheeses.

Then fill in with fruits and vegetables.

Finally, fill in the spots with some candies and nuts.

Add any decorations and feel free to move items around to make your board look the best it can be! Set out to serve immediately.
Notes
Ingredient options
• Meats: turkey slices, hard salami slices, prosciutto slices, thin salami slices, pepperoni slices. • Cheeses: cheddar, gouda, mozzarella, swiss, havarti, feta crumbles, brie, goat cheese. • Jams: orange marmalade, blackberry jam, blueberry jam • Fruit: red and/or green grapes, apple and/or pear slices, mandarin oranges • Nuts: pecans, almonds, walnuts, cashews, peanuts • Candies: candy corn, candy pumpkins, candy eyes, gummy worms, • Crackers: water crackers, rice crackers, grain and seed crackers
Tried this recipe?
Please leave a star rating and comment! Then snap a pic of your dish and share it on social media. Tag @UrbanBlissLife and #UrbanBlissLife!
Nutrition
Calories:
124
kcal
|
Carbohydrates:
10
g
|
Protein:
4
g
|
Fat:
9
g
|
Saturated Fat:
1
g
|
Polyunsaturated Fat:
2
g
|
Monounsaturated Fat:
5
g
|
Trans Fat:
0.1
g
|
Sodium:
53
mg
|
Potassium:
130
mg
|
Fiber:
2
g
|
Sugar:
3
g
|
Vitamin A:
5
IU
|
Vitamin C:
1
mg
|
Calcium:
49
mg
|
Iron:
1
mg
Nutrition information is a general estimate. Actual nutrition details may vary depending on the exact foods & brands you use to make this recipe. It does not take into account any substitutions, toppings, or optional ingredients.