This Monster Halloween Bark is a fun, colorful, and easy Halloween treat to make. It's a great no-cook kitchen activity you can do with your kids, and everyone will eat up the results!
This post contains affiliate links. Please see my policy page for details
Looking for a super FUN and incredibly easy Halloween dessert that you can make with (or without!) your kids? Try my Monster Halloween Bark candy!
I'm a huge fan of customizing chocolate bark for different holidays. Every year, I make at least one batch of Peppermint Holiday Bark, or my Cranberry Peppermint Holiday Bark.
Monster Halloween Bark
Holiday bark is the closest thing to the most perfect holiday candy that you can make at home. That's my personal opinion. Here's why:
The base for holiday bark is always the same: chocolate. Something you probably already have on hand in your pantry.
It's easy to customize holiday bark for any occasion by switching up the color of the candy melts.
You can have so much fun choosing creative toppings for each holiday.
Kitchen Tools and Equipment
To make these adorable and tasty Halloween treats, you'll need:
Baking sheet - use a standard half baking sheet or two quarter baking sheets
Parchment paper - line the baking sheet(s) with parchment paper to keep the chocolate from sticking to the pan, and to lift the set chocolate out easily.
Large glass bowl - Use a large heatproof bowl to melt the chocolate over a pot of simmering water.
Pot - to bring water to a simmering boil to melt the chocolate
Whisk - as the chocolate begins to melt, use a whisk to stir the unmelted chocolate into the melted chocolate until the chocolate is fully melted and smooth.
3 medium microwave-safe bowls - you'll need one microwave-safe bowl each to microwave and melt the caramels, the orange candy melts, and the orange candy melts.
Spatula - Use a heatproof silicone spatula to spread the chocolate and candy melts out over the parchment paper.
Ingredients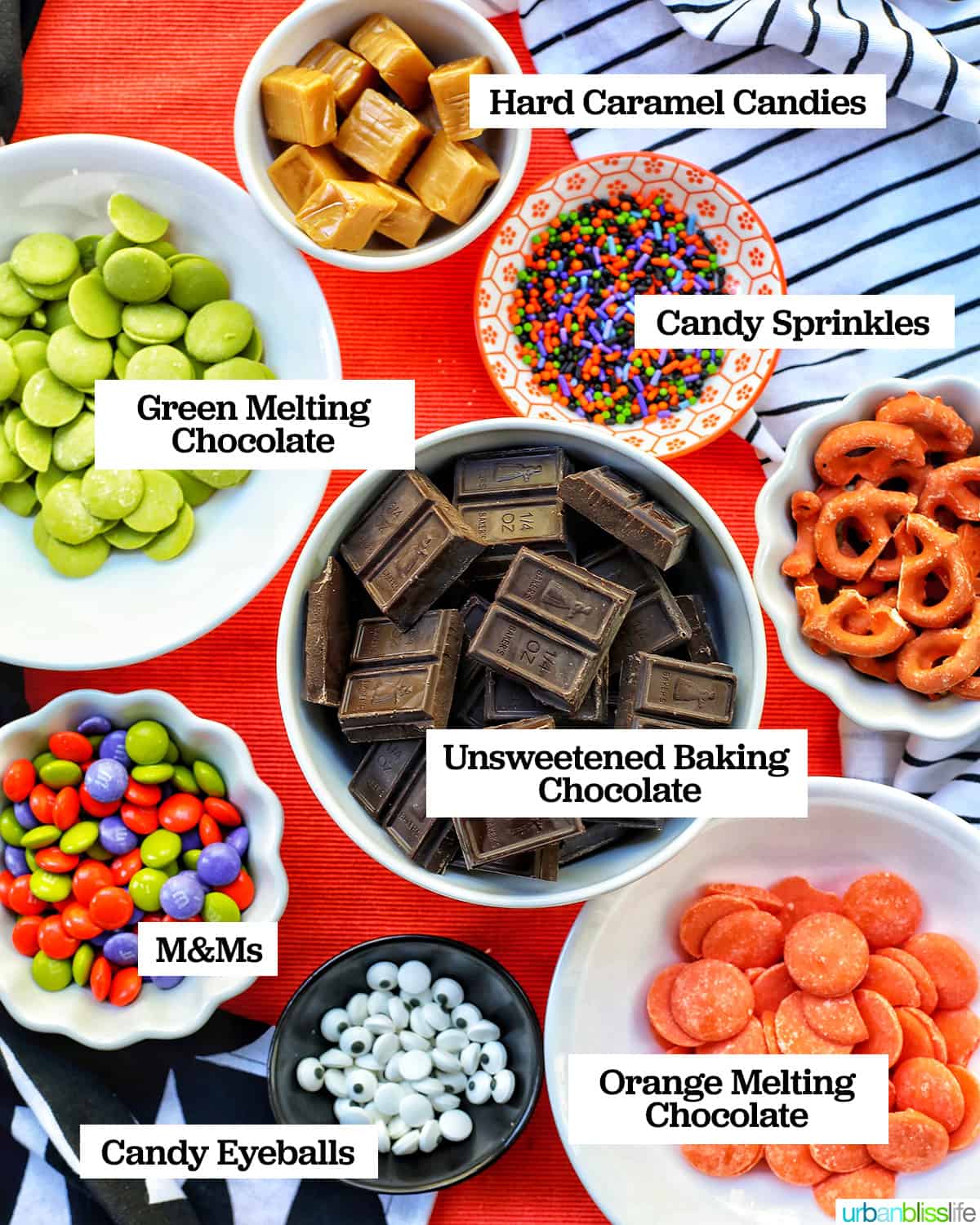 To make this Halloween Bark, you'll need:

Chocolate - chop up semi-sweet chocolate baking bars that you find in the baking aisle of your local grocery store.
Colorful melting chocolates - I use orange candy melts and green candy melts, but you can also use purple, white, and black to go with the Halloween theme!
Hard Caramels - melt these in the microwave and spread onto the chocolate. This is an optional ingredient - you can easily leave it out! - but I love the added fall flavors caramel adds to the Halloween bark.
Pretzels - If you can find pumpkin spice pretzels, I suggest using those. The fall flavors really add to the Halloween bark! But you can also use yogurt-covered pretzels or plain salted pretzels. These add a nice crunch to the bark!
M & Ms - If you can find the Halloween colored M & Ms, use those. Otherwise, regular green, brown, and orange colored M & Ms from the year-round traditional packs work too.
Sprinkles - Halloween themed sprinkles add pops of fun color throughout the bark.
Candy eyeballs - these are usually pretty easy to find year-round in the baking section of grocery stores, but you can also find candy eyeballs online.
Other Halloween Mix-In and Topping Ideas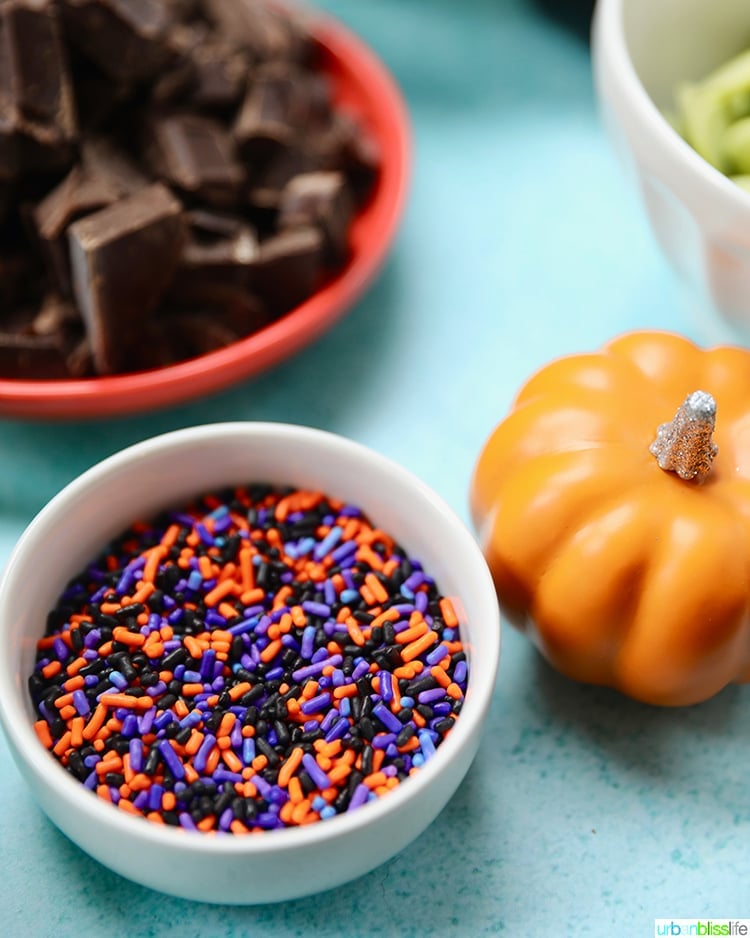 Some other Halloween candy mix-ins and toppings ideas:
Candy corn (I personally am not a fan, but it would look great in Halloween holiday bark!)
Pumpkin-shaped candy
Black licorice pieces
Reese's Peanut Butter Cups
Nuts (almonds, cashews, or pistachios would work well)
Popcorn - either regular or Halloween-colored popcorn
How to Make Halloween Bark
Line a baking sheet with parchment paper and set it aside.
Start by melting the chocolate bar pieces in a large glass bowl over a pot of simmering water. Make sure the water does not touch the bottom of the bowl, but is a simmering boil right below the bottom of the bowl.
Use a heatproof silicone spatula or a whisk to stir the chocolate as it melts.
Carefully pour the melted chocolate onto the prepared baking sheet lined with parchment paper. Use a silicone spatula to smooth the chocolate out over the entire baking sheet.
Melt the caramels in a microwave-safe bowl in 30 second increments, just until the caramel has bubbled up and melted. Immediately drizzle the caramel over the chocolate and use the spatula to help distribute the caramel while it is still melted.
In separate microwave-safe bowls, melt the orange and green candy melts. Then drizzle those over the chocolate and caramel.
Immediately sprinkle the chopped pretzels, M & Ms, sprinkles, and candy eyeballs over the chocolate bark. Do this quickly before the candy melts and chocolate hardens.
Allow the chocolate to set at room temperature. Or place the baking sheet in the refrigerator until the chocolates and candies have set.
Break the bark up into pieces and store in an airtight container at room temperature or in the refrigerator for up to 4 days.
Here's a fun YouTube video you can watch to see how it's made!
More Halloween Recipes, Printables, Crafts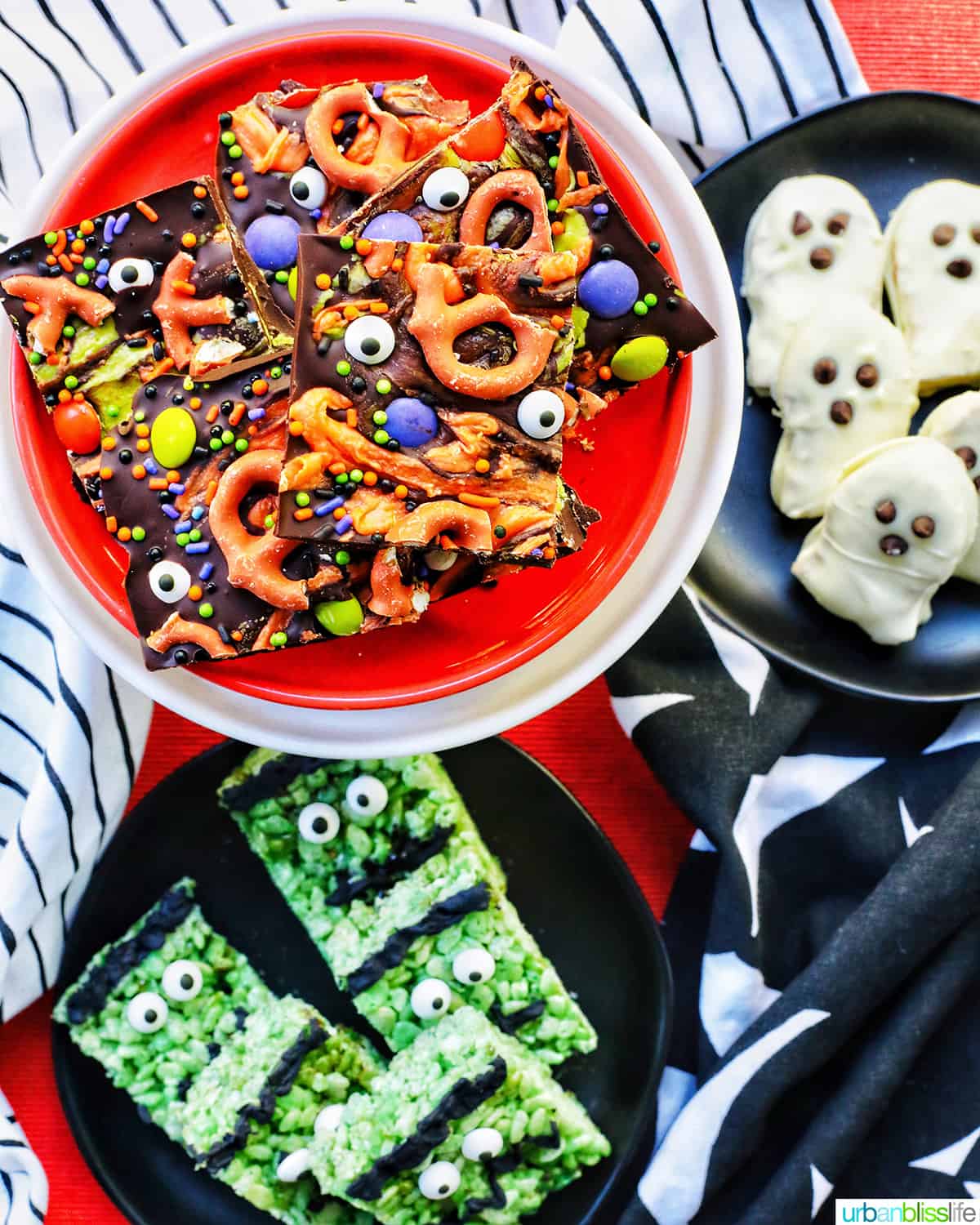 Monster Halloween Bark
This Monster Halloween Bark candy is a fun, easy treat to make for the holiday!
PRINT
PIN
RATE
Ingredients
16

oz

semi-sweet or unsweetened baking chocolate, roughly chopped

½

cup

hard caramel candies

¾

cup

green melting chocolate

¾

cup

orange melting chocolate

½

cup

M & Ms

½

cup

chopped pretzels (I use pumpkin spice but you can use white chocolate or yogurt covered)

¼

cup

Halloween-colored candy sprinkles

2

Tbsp

candy eyeballs
Instructions
Prepare a rimmed baking sheet (or two quarter baking sheets) by lining it with parchment paper. Set aside.

Add one inch of water to a medium saucepan and bring to a low boil over medium heat. Lower to a simmer and then add chocolate to an oven-proof glass bowl and place over the water in the saucepan.

Whisk the chocolate (or fold over using a heatproof spatulover the simmering water until all chocolate melts and is smooth. Remove from heat and pour the chocolate onto the prepared parchment paper-covered baking sheets. Use a spatula to guide the chocolate into an even layer. Set aside to cool slightly.

In a heatproof bowl, melt caramel candies in the microwave until warm and whisk together into a smooth melted caramel. Using a spoon, add caramel over the chocolate in strips. Be creative here: you can decorate in lines and then use a fork to drag through the lines to create fun swirls, or create fun swirls just using the spoon. Once you've added all the caramel you want (you don't need to add ALL of the melted caramel -- just how much you want!), set aside the baking sheet to cool slightly.

In two separate heatproof bowls, microwave the green chocolate melts in one bowl and the orange chocolate melts in another bowI in 30-45 second intervals until softened. Use a whisk or fork to smooth out the chocolate, then pour each over the chocolate caramel layers any which way you choose.

Now you can add any additional toppings you want. I added Halloween-colored sprinkles, candied eyeballs, pumpkin spice yogurt covered pretzels, and Halloween-colored M & Ms.

Allow to cool in the refrigerator for at least 30 minutes before breaking up or slicing into smaller pieces.
Notes
A NOTE ABOUT MEASUREMENTS: These are the measurements I used for the Halloween holiday bark you see here. 16 ounces of semi-sweet or unsweetened chocolate is a good amount of chocolate to cover a regular baking sheet - or two quarter sheets as you see in these pics. But with the toppings, use as much or as little of each of the colored chocolate, caramel, and sprinkles as you would like.
TOPPING IDEAS: you can use M & Ms, sprinkles, pretzels, white chocolate, black licorice, candy corn, pumpkin-shaped candies, Reese's peanut butter cups, colored chocolate chips, nuts, or even popcorn!
STORAGE: This Monster Halloween Bark will stay good in an airtight container in the refrigerator for up to one week.
GIFT IDEAS: These make great teacher gifts! Simply place in food-safe bags and tie an orange, green, purple, or black ribbon at the top.
PIN IT:
More Fall Recipes