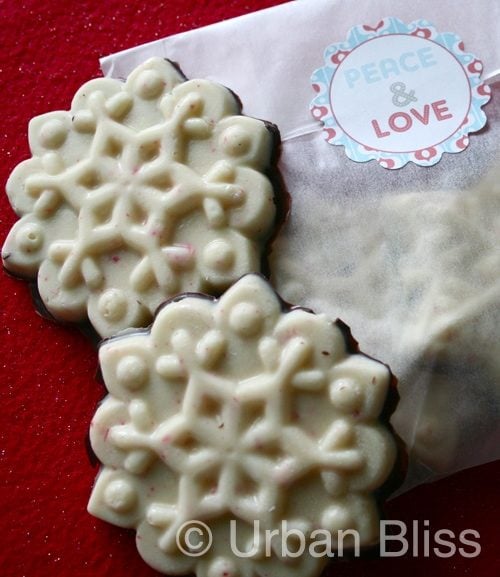 Peppermint Bark is a tradition in my holiday gift-giving repertoire, mainly because it seems to be something people actually love and enjoy, but also because, quite frankly, it is SO super easy and does not take too much time. Let's face it: we can all use more time around the holidays.
This year, I decided to try my hand at using candy molds for the first time. I'll tell you this: it definitely will not be my last time! I am ADDICTED to using candy molds now!
For just $1.12 each on sale (normally $1.99 each), I picked up these great Wilton snowflake candy molds from my local JoAnn Fabrics store.
PEPPERMINT BARK: 4 EASY INGREDIENTS
2 pounds of high quality white chocolate, broken into pieces (I like Lindt chocolate, but Ghiradelli works too)
12 candy canes or 24 mini candy canes
1 teaspoon peppermint extract
1-½ cups of dark chocolate candy melts
DIRECTIONS
1. Place candy canes into a ziplock bag (I usually double bag because some bits can poke holes in one bag). Using a mallet - or even a hammer if, say, you're like me and can't find the mallet when you need it - pound on those candy canes until they are crushed into tiny bits. This is a great job for kids to do, supervised of course. Or, a great job to do if you are really, really pissed and need to get some aggression out. Either reason yields the same results.
2. In a double boiler, melt the white chocolate, stirring consistently. If you don't have a double boiler, just put the chocolate into a heatproof bowl (I use one of our large, heatproof glass mixing bowls) and then place the bowl on top of a medium saucepan that has enough water simmering to *almost* touch the bowl. (Note: you can also melt white chocolate in the microwave, but I have found that white chocolate does not melt as evenly as regular chocolate does when nuked, so I prefer the stovetop method to ensure a smooth white chocolate mix).
3. When the white chocolate is nearly all melted, add the crushed candy canes. Stir until the candy cane bits are completely mixed in. Stir in peppermint extract. Remove the white chocolate candy cane mixture from heat.
4. Spoon the mixture into each candy mold, carefully ensuring that the white chocolate covers the entire bottom surface of each mold and goes slightly up the sides (but do not fill to the top of the mold!). Place the candy mold trays aside in the refrigerator to let the chocolate set.
6. Melt the dark chocolate in the microwave at 30 second intervals until just melted, stirring in between intervals.
6. Take the candy mold trays out of the refrigerator and then carefully spoon the melted dark chocolate over the slightly chilled white chocolate mixture in each mold.
7. Place the candy mold trays back into the refrigerator until the dark chocolate has hardened. Take the trays out, flip over onto a plate or other flat resting surface, and gently push out the chocolate snowflakes. If the chocolate is completely set, the shapes should pop right out as soon as you flip over the trays.
8. Package up prettily, then keep in the refrigerator until you are ready to give as gifts! Don't forget to keep a few in the fridge for yourself & your family ;)
Enjoy! Happy Holidays, Urban Bliss Life friends!
More Holiday Bark Recipes