This simple Chocolate Oreo Truffle Recipe is super easy to make, and is always a crowd pleaser. Wrap these treats as gifts or serve at your next party! Bonus recipe below: Peppermint Oreo Truffles!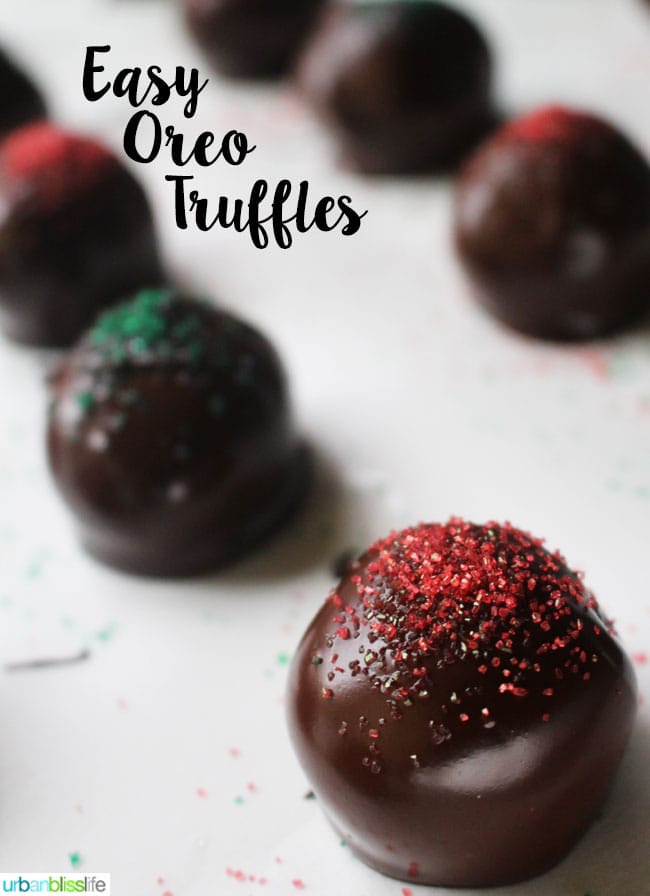 Friday! We saw Star Wars last night and it was AWESOOOOOME!
No spoilers though, besides: you need to go see it. And then when you see it, let me know what you thought. I NEED to discuss the movie with other people right now; there were so many great moments and I have so many theories...
In the meantime, I almost didn't share this recipe because I thought it was one of those recipes that everybody had seen a billion times and didn't need. I've made different variations over the years myself. But, I brought these Oreo Truffles and Peppermint Oreo Truffles to Bunco night this month, fielded a lot of questions about how to make them, and was highly encouraged to share the recipe here. So here it is!
Easy Oreo Truffles and Peppermint Oreo Truffles
Let me preface this by saying, I am not a huge fan of pre-packaged store-bought cookies. They're full of all sorts of oddities that are bad for you, and are definitely a "sometimes" food. Can you make your own Oreo-like cookies and use them in this Oreo Truffle recipe? Sure. Go for it! But, if you want to save a lot of time, use the store-bought Oreo cookies. You'll need one package.
For this recipe, you can either make a whole batch of regular chocolate Oreo truffles, or you can do what I did and make half a batch of chocolate Oreo truffles and half a batch of Peppermint chocolate Oreo truffles. All I do is save half of the batter, and then add one teaspoon of peppermint extract to it, pulse just one or two times in the food processor, and then coat with white chocolate and top with crushed candy canes.
Aren't the peppermint ones so cute and festive? I love them! These are great to give as gifts.
Tips for Making Oreo Truffles and Peppermint Truffles
I fielded quite a few questions about how I got the truffles to be so round and have such even coating. Some of my chocolate truffles over the years have been super smooth, like these, and others have been more, well, let's call it "rustic" looking... uneven with bumps and curves. Both are fine, but here's a tip to get smooth chocolate coating:
Start with good baking chocolate. I use Baker's Semi-Sweet Baking Chocolate.
Melt more than you think you will need. The clumping happens when you don't have enough chocolate to fully and evenly coat the inside Oreo balls.
Be patient when melting the chocolate. You can use a double boiler but for this chocolate, I prefer the good ol' microwave version. Most baking chocolate will come with specific directions on the back of the packaging, but in general, with regular chocolate or dark chocolate, you'll want to start by microwaving the chocolate for 30 seconds, stirring, then microwaving at 10-second intervals, stirring in-between, until fully melted.
Watch the chocolate carefully to make sure it doesn't seize up!
Use a fork to gently dip the Oreo balls into the bowl of melted chocolate, coat all around, lift out with the fork, then gently set down onto wax or parchment paper. I then use a second fork in my other hand to keep the truffle in place while I guide the first fork up and away from the truffle.
Easy Oreo Truffle Recipe (and Peppermint Trufflee Recipe)
This is really, almost a no-fail Oreo Truffle Recipe that your guests at any gathering will absolutely love. Kids love them, adults love them – these are so easy to make, and absolutely delicious.

Easy Oreo Truffle Recipe & Peppermint Oreo Truffles
These Oreo Truffles and Peppermint Oreo Truffles are SO easy to make, and are always a crowd-pleaser. Bring them to your next holiday party or give them as gifts!
PRINT
PIN
RATE
Ingredients
36

Oreo cookies

one package

1 8-

oz

block cream cheese

set out at room temperature for 5 minutes, divided into 4 even sections

16

oz

Baker's semi-sweet chocolate

Optional: sprinkles

To make Peppermint Oreo Truffles:

16

oz

white baking chocolate

1

teaspoon

peppermint extract

3-4

finely crushed candy canes
Instructions
In a food processor, blend Oreos and cream cheese until the cream cheese is well blended. I like to divide the cream cheese into 4 even sections and then place on top of the Oreos throughout before starting the processor. This helps ensure the cream cheese gets evenly distributed.

Using the best kitchen tools available - your hands - form 1-inch balls. Simply roll them around between the palms of your hands until they are nicely rounded.

Place onto a baking sheet covered with wax paper or parchment paper.

Place in the refrigerator for about 10-15 minutes. This really helps set the truffles and also helps the chocolate coating go on more smoothly.

In the meantime, melt the baking chocolate in the microwave for 30 seconds. Stir, then microwave in 10-second intervals, stirring well in between each one, until chocolate is just melted.

Remove the truffles from the refrigerator and dip half of them in the baking chocolate, fully coating all sides.

Sprinkle colored sugar sprinkles over each truffle, if you wish.

Place coated truffles onto wax or parchment paper on a baking sheet and set aside in the refrigerator.

Next, remove the second half of the Oreo balls from the refrigerator.

Melt the white baking chocolate in a microwave, in similar fashion as you did for the regular chocolate.

Repeat the dipping process with the white chocolate.

Sprinkle each truffle with some crushed candy canes.

Refrigerate until you are ready to serve these.
Notes
This makes about 24-28 chocolate Oreo truffles and about 24-28 peppermint Oreo truffles.

Have you made chocolate truffles before? What's your favorite kind to make at home?
Want more truffle recipes?
Try my Honey Bourbon Truffles
This post contains affiliate links. Thanks for supporting this blog so I can continue to bring fresh, helpful content to help YOU all find and live your bliss!