Looking for an easy, go-to meal for those days when you just need a fool-proof dinner recipe? Try my Classic Chicken Marsala!
Life is busy enough without having to perpetually be stumped by the "what's for dinner?" dilemma. While I love to experiment in the kitchen, between kids and work and, well, life, it's impossible to stir up the energy every single day to think of new dishes or try out something new to us. And let's face it: some days there's barely enough energy to place the pizza order online, am I right? I'm thrilled to be partnering with Foster Farms® for this sponsored post.
Too-Tired-To-Think Dinner List
For those days when I'm too tired to think, but still want a hearty home cooked meal, I keep a list of our favorite dishes handy, like this Classic Chicken Marsala. That way, I just need to go down the list and pick one. The list includes dishes that can be made with items we usually already have on hand – no fancy ingredients or extra trips to the store needed.
Chicken Marsala is a dinner recipe that I know will always turn out to be delicious, filling, and there's usually enough leftovers for me to enjoy for lunch the next day (bonus!).
Delicious dishes start with the freshest ingredients, and my family has relied on Foster Farms® chickens for decades.
Foster Farms Simply Raised Chicken
For this Chicken Marsala dish, I use Foster Farms® Simply Raised Thin-Sliced Chicken Breast Fillets, which I buy in my neighborhood grocery store. I find that the thin-sliced breast fillets are PERFECT for Chicken Marsala. I don't have to pound them flat as I would other chicken fillets. Anything that can save me a step (and some precious minutes) is a fabulous bonus in my book!
The Foster Farms® Simply Raised chicken fillets are 99% fat free and raised without any antibiotics. Plus, they are American Humane Certified and fed a 100% vegetarian diet, without any added hormones or steroids.
You can find the Foster Farms® Simply Raised chicken at most grocery stores in Oregon, California, and Washington now, and I just love (of course, being an Oregon girl) that it's a family-owned company and the chickens are raised in farms here in Oregon, as well as California and Washington. What I'm super excited about coming up, is that Foster Farms also introduced a full Organic line that is in Costco and select grocery stores.
I honestly believe that the way these chickens are raised, fed, naturally produced sets the foundation for a FABULOUS meal.
This Chicken Marsala that you see right here? ABSOLUTELY BLISSFUL, my friends.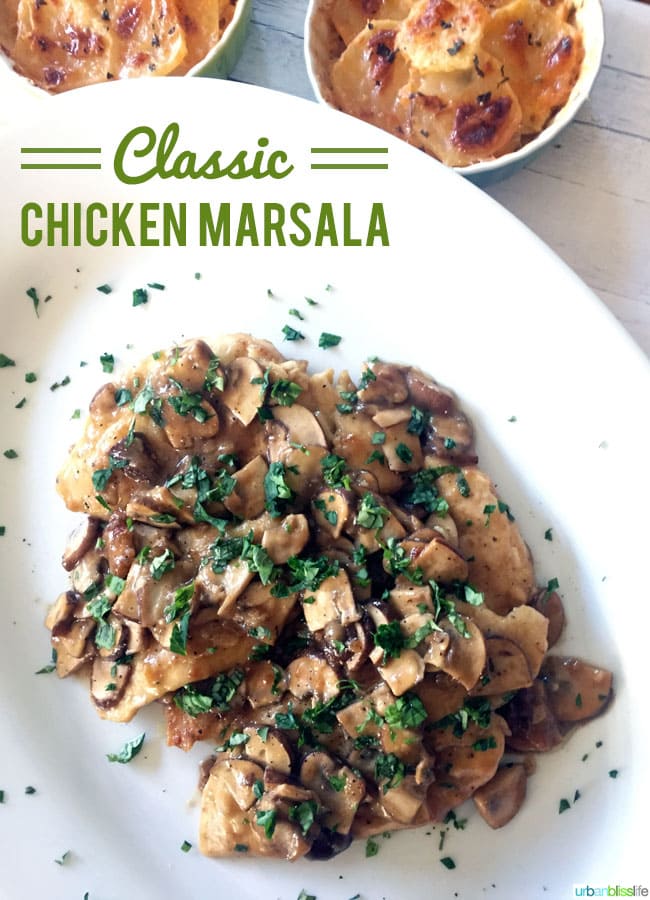 Classic Chicken Marsala
I've tried a few different chicken marsala recipes over the years, and the one I keep going back to is an adaptation of one I found in Saveur magazine several years ago. My adaptation includes more butter (because butter, duh), I omit the shallots since I think it competes with the marsala flavor, and the addition of tons of fresh herbs at the end. This is one dish where I definitely recommend using fresh herbs over dried herbs; it makes a big difference with this chicken marsala.
Classic Chicken Marsala Recipe
What to Serve with Chicken Marsala
I serve my Classic Chicken Marsala recipe with a variety of side dishes, depending on our mood:
a simple salad of mixed greens
mashed potatoes
rice pilaf
with my latest scalloped potatoes au gratin recipe
with sauteed carrots, broccoli, zucchini
Ingredients
1

pound

Foster Farms® Simply Raised Thin-Sliced chicken breast fillets

4 pieces

Salt and pepper

½

cup

all-purpose flour plus 1 tablespoon

I use a gluten-free flour but you don't have to

5

Tablespoons

oil

8

Tablespoons

unsalted butter

1 stick

8

ounces

crimini mushrooms

sliced

1

garlic clove

minced

⅓

cup

dry Marsala wine

⅓

cup

chicken stock

1 ½

tablespoons

finely chopped basil

1

tablespoon

finely chopped flat leaf parsley

although regular parsley will do!
Instructions
If necessary, pound the chicken breast fillets flat until they are about ¼" thick. You want them really thin!

Season each side of the chicken breasts with salt and pepper, then dredge each into the ½ cup of flour.

Heat 3 tablespoons of oil in a large skillet over medium-high heat.

Add chicken to the skillet, making sure not to crowd the chicken. Work in batches if you need to. Cook for about 3 minutes on each side, or until each chicken is slightly golden brown.

Transfer to a plate and set aside.

Add 2 tablespoons of oil and 4 tablespoons of butter (or more if you want, don't be shy) to the skillet.

Add mushrooms and cook until golden brown (about 7 minutes), stirring constantly to ensure all of the mushrooms are properly coated in the buttery goodness.

Remove the mushrooms and add them to the plate with chicken, and set aside.

Add the remaining oil to the skillet and add the garlic. Stirring slowly, cook for about 1 minute to soften the garlic.

Add 1 tablespoon of flour, then slowly add the Marsala and chicken stock to the skillet. Use a wooden spoon to stir the garlic in the liquid and also to gently scrap up the bottom of the skillet. Cook the liquid and keep stirring for about 2-3 minutes. The mixture will start to thicken slightly.

Once the mixture starts to thicken, return the chicken and mushrooms to the pan, along with remaining 4 tablespoons of butter. Cook for about 2 minutes.

Add basil and parsley, stir and cook for another minute or two, and then remove from heat.

Sprinkle with salt and pepper to taste. Serve immediately.
Notes
For added flavor, top with freshly grated parmesan cheese before serving.
Have you made chicken marsala at home before? What do (or would) you like to serve this dish with?
This is a sponsored post written by me on behalf of Foster Farms®. All opinions and photos are, as always, my own.