Today is my son's elementary school graduation. I can't believe it. I'm an emotional mess, but also: I'm so ready for summer fun with the kids and enjoying these gorgeous sunny days (it's been in the 90's in Portland this week!) before he goes off to middle school in the fall.
High on our Summer Fun list each year is the Oregon Coast. It's only an hour and a half away to Lincoln City, Cannon Beach, and Pacific City: three of our favorite coastal towns. Just south of Lincoln City, approximately two and a half hours away from Portland, is the adorable town of Newport, Oregon.
Newport is home to a fun lighthouse, whale watching adventures, and a family-friendly boardwalk full of cute beach shops, cafes, and restaurants. It's also home to the Oregon Coast Aquarium, which my family had the pleasure of visiting during our last trip to the Oregon Coast.
Oregon Coast Aquarium
The Oregon Coast Aquarium is one of the state's top tourist attractions and educational resources, with more than 40,000 students visiting each year. It's a living classroom that strives to not only entertain the young and the young at heart with its beautiful and dazzling displays, but also to teach ocean literacy through dynamic educational displays and hands-on exhibits. The aquarium works hard to also play an active role in conservation and animal rehabilitation efforts.
Here, you can be wowed up close by the bright and fascinating jellyfish; enjoy watching fish of all colors, shapes, and sizes and learn about their habitats, feeding habits, and survival skills; and learn more about tide pool inhabitants in the interactive touch pool, which is supervised by aquarium staff.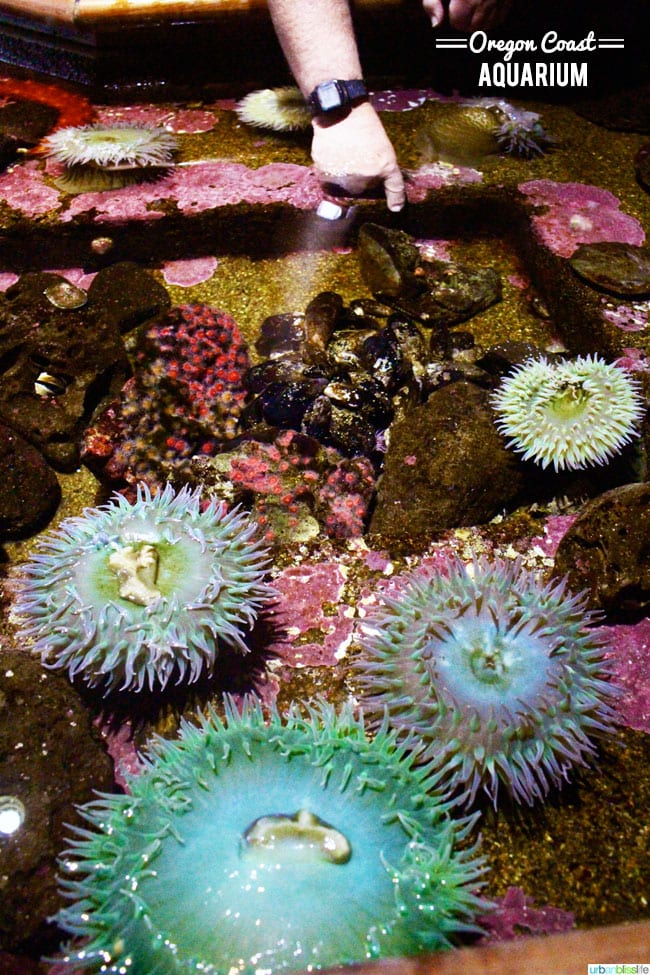 You can even watch the wolf eels being fed if you time your visit right. It's an awesome and slightly eery sight to behold. These creatures may look menacing, but they are known for being shy and gentle.
Passages of the deep
By far, my favorite part of the Oregon Coast Aquarium (and my kids' favorite as well), is the Passages of the Deep exhibit. Here, you will walk through a 200-foot underwater tunnel sectioned into three large ocean habitats, and watch 5,000+ marine animals swim above your head, beside you, and below your feet in an absolutely thrilling, unbelievable 360-degree experience.
Seals & sea lions
Meanwhile, back on land level, you can enjoy the playful antics of the resident seals and sea lions. Recently, the aquarium gained three new baby harbor seals. They are adorable!
You can wave to them as they swim by in the Seals and Sea Lions exhibit area. Or better yet: try to catch the feeding times and watch the aquarium trainers talk about the differences between seals and sea lions, a little about their behavior, and watch the feedings where the seals and sea lions do a few tricks.
Sea lions are fed every day at 11:00 a.m. and 3:00 p.m., and the harbor seals are fed each day at 1:30 p.m.
Secrets of shipwrecks
The newest underwater adventure at the Oregon Coast Aquarium is the Secrets of Shipwrecks exhibit. This was still under construction when we visited, but it is now open to the public. You and your kids can become underwater archeologists as you view replicas of artifacts from sunken ships, and learn more about the science and technology used to excavate the ruins of forgotten shipwrecks.
Visit

Plan to be here for at least one to two hours. This is not a tourist spot where you will be satisfied just popping into for 30 minutes. Take your time and really explore!
While much of the Oregon Coast Aquarium exhibits are indoors, there are parts of the aquarium that, like the zoo, are open-air. Because Oregon weather can be unpredictable -- and change drastically within minutes -- you might want to bring light jackets and/or hats in case the winds pick up or it starts to rain.
The aquarium can get very busy during summer months and school breaks, and the layout can be a bit of a maze. It's easy for kids and parents to get separated so I find it helpful for each person to carry a map (they have them at the front desk), and a set meeting place in case of separation.
It's a good idea to remind children before entering the aquarium about not tapping on the glass (and there is a lot of glass so for some kids, it is mighty tempting!) and being gentle with the marine life in the touch pool.
Bring your camera! You will most definitely want to take some photos of these photogenic creatures -- next to your photogenic kids, of course.
Check the Daily Schedule online before your visit so you can plan to be there during specific presentations or feeding times that you think your family will enjoy the most.
2820 SE Ferry Slip Rd
Newport, OR
541-867-3474
www.aquarium.org
Summer Hours:
May 24, 2014 - Sep 2, 2014
9 am – 6 pm daily
Winter Hours:
Sept 3, 2013 - May 23, 2014
10 am – 5 pm daily
Admission prices:
Adults (18-64) $19.95
Seniors (65+) $17.95
Young Adults (13-17 )$17.95
Children (3–12) $12.95
Toddler/Infants (2 & Under) FREE
Have you been to the Oregon Coast Aquarium before, or any other aquarium in the U.S.? What was your favorite part?
More Oregon Travel Guides
Oregon Coast: A Seafood Lover's Tour