The Oregon Coast is a magical place.
I've lived in Oregon most of my life, and we love taking family trips to the Oregon Coast as much as possible. However, for a family of four with a large dog, those hotel room costs add up quickly. I couldn't believe my luck when I recently discovered an adorable little neighborhood that helps make the Oregon Coast even more fantastic -- and is easily affordable for a family of four.
Olivia Beach Houses
In the historic Nelscott District of Lincoln City, a storybook village is rising.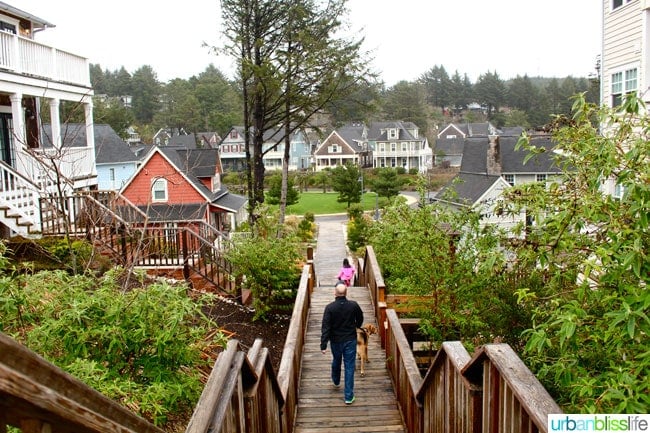 Two-story picturesque cottages line wide, well-paved streets with sidewalks perfectly sized for family walks, and shared greenspace including a playground and picnic space. A mix of personal beach homes, vacation rentals, and available lots for future building, Olivia Beach is a quiet, family-friendly neighborhood within walking distance to the beach.
Currently, there are 28 vacation rental homes available, and you can find everything from 2-bedroom to 4-bedroom homes that sleep up to 10. Each vacation rental comes with full size bathrooms, stocked kitchens, and standard vacation home amenities such as bedding, towels, dishes, cookware, and more.
Each vacation home is different, and you are sure to find one that suits your family. Here's a look at one particular Olivia Beach vacation rental home that we had the pleasure of staying at. Keep in mind that not all homes offer the same features shown below.
The Dog Paddle
Our family of four loves to vacation at the beach with our trusty dog, and we often end up paying way too much for a tiny hotel room in order to stay someplace nice that allows larger dogs.
At Olivia Beach, you can find dog-friendly cottage rentals of different sizes. We recently stayed at - and fell madly, gloriously in love with - The Dog Paddle.
The Dog Paddle is a two-story rental close to the property management office. It has a driveway suitable for two cars, a shed, large front porch, and sweet backyard with fire pit, picnic area, and fully-fenced, dog-friendly gravel foundation.
The living room is light, airy, and comfy cozy. Stocked with board games, books, WiFi access, and three flat screen TVs.
The open layout moves into a dining area. . .
. . . and fully stocked kitchen, which looks out to the living area and to the backyard. Perfect for families with pets and kids.
There is also one half bath downstairs.
Upstairs, there are two master suites with large beds and full baths.
I love the little touches throughout the rental house. The owners have done a fabulous job of making it comfortable and coastal, but not too cheesy beachy.
There are also several dog-friendly amenities, such as a basket full of toys, spot to hold leashes, and a welcoming cookie jar full of dog treats.
At the Dog Paddle, every family member is made to truly feel welcome.
My husband, kids, dog, and I all loved staying at Olivia Beach. We enjoyed many visits to the beach, playing in tidepools, building sand castles, and exploring the historic Nelscott district's quaint shops, galleries, and restaurants.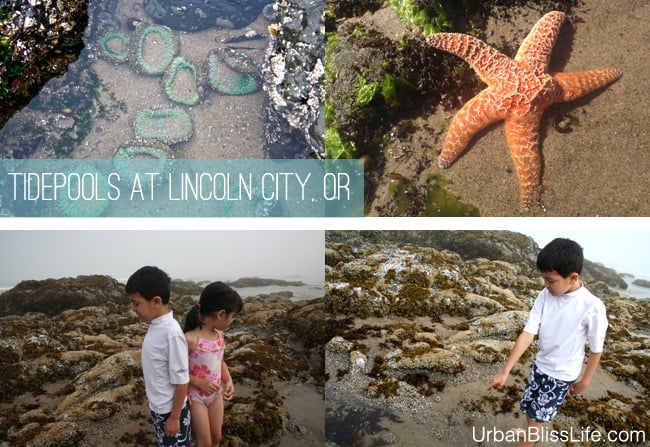 [above photos taken from last year's visit to Lincoln City, Oregon]
Vacation rentals range in price, but start as low as $100 per night up to $500 per night for the entire vacation home during non-peak seasons, and generally are higher during peak seasons. I can tell you based on my personal experience of staying at many, many different hotels along the Oregon Coast, that Olivia Beach rentals are very affordable -- and you get SO much more for your money by staying at a vacation rental versus a cramped hotel room. One night at The Dog Paddle was at least $100 less than one night at one of our favorite dog-friendly, family-friendly hotels on the coast.
At Olivia Beach, you have your own temporary vacation home in a storybook neighborhood right next to the beach. Magical.
More Oregon Coast Travel:
Lincoln City, Oregon travel guide
Travel to Pacific City, Oregon
Have you been to the Oregon Coast? If so, where are your favorite places to stay and to visit?