Bubbly. Champs. Sparkles. Brut.
Whatever you choose as your favorite sparkling wine these days, I'd like to introduce you to one of my favorite sparkling wines producers of Oregon: Argyle Winery.
Recently, Argyle Winery hosted its annual PDX Bubbles Week. From tastings at various venues throughout the Portland-metro area, to fabulous themed sparkling wine and food pairing events at night, PDX Bubbles Week is a citywide celebration of sparkling wine. This is an annual event, so if you missed it this year, be sure to catch it around the same time next year.
Now, Argyle also happens to also make other wines, such as Oregon Pinot Noir, but their sparkling wines truly shine. They currently produce six different kinds of sparkling wines, and it's amazing to me how different they are from one another.
Desserts and Bubbles
I attended the Encore & Desserts event: an evening where, for $25, you could try five Argyle sparkling wines paired with special desserts crafted by some of Portland's top pastry magicians. Each attendee was given a tally sheet where they could vote for the best pairing of the night.
The event was held at Union Pine in SE Portland, and one of my favorite little touches was the ceiling of "bubbles" - silver mylar balloons adhered to the ceiling. Clever and fun!
The Pairings
I was fascinated by the Argyle Black Brut. Most sparkling wines are a mix of Chardonnay and Pinot Noir grapes, but this one is 100% Pinot Noir. The result is a hearty sparkling wine with very deep berry tones. I would love to cook summer berry desserts with this sparkling wine.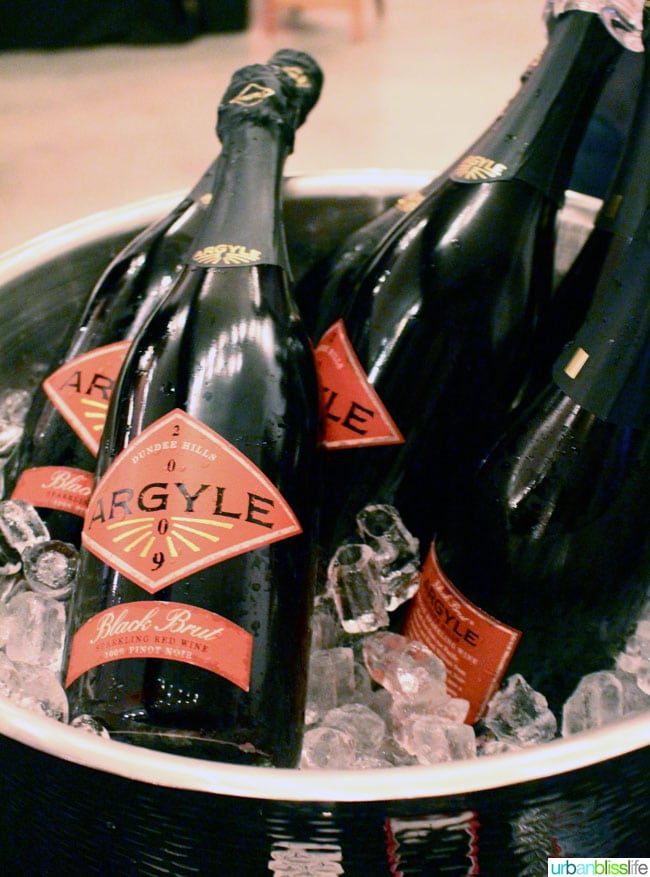 The Black Brut was actually softened by the sweetness of the paired chocolate ganache, which is interesting because usually you think of the opposite: a sparkling wine usually softens the tang or tartness of a dish (at least, for me it does).
The sign below says pickled pink peppercorn, but Owner David Briggs told me that he decided at the last minute to switch it up to szechuan peppercorns to better match the Black Brut. Good call. This was a pairing of two very distinct flavors, but it worked well.
2010 Blanc de Blanc
The 2010 Blanc De Blanc is what I consider to be a safe sparkling wine: it's good, and if you serve it at a dinner party people will drink it up, but it doesn't have any truly memorable characteristics for me. At least, when it is sipped on its own.
However, when paired with these cupcakes from Petunia's Pies and Pastries, the flavors come out a little more: some pear and citrus.
All of the pastries made by Petunia's Pies & Pastries are gluten-free AND vegan. If you've ever tried to make gluten-free baked goods, you know how challenging it can be to make them moist and truly, TRULY delicious. These cupcakes were divine! Owner Lisa Clark was so kind to share some of her secrets to making her gluten-free and vegan pastries taste so delicious (we might share some of those secrets in an upcoming post. . . stay tuned!).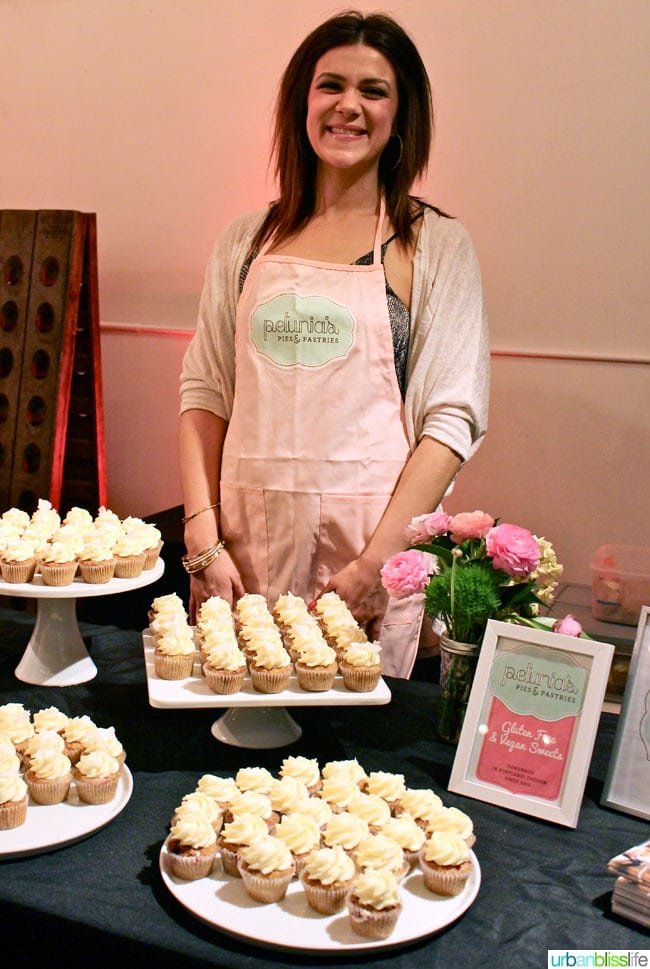 2010 Vintage Brut
The 2010 Argyle Vintage Brut is one of my favorite local Bruts: comprised of 55% Chardonnay and 45% Pinot Noir grapes, it is a nicely balanced dry sparkling wine that is magnificent on its own, but is also versatile in terms of food pairings. This is a sparkling wine I would bring on picnics, serve at dinner parties with appetizers, enjoy with a nice bowl of seafood pasta, or, as served here, pair with a fruity dessert. It's that versatile.
Pix Patisserie has outdone itself with this spectacular dessert, to pair with the 2010 Argyle Vintage Brut. It not only looked like an absolutely stunning work of art, but it tasted so fresh and sweet.
2009 Knudsen Vineyard Brut
The 2009 Knudsen Vineyard Brut has more familiar notes of sparkling wines: citrus, plum, ginger. The Strawberry-Rhubarb Tart paired nicely with it, although there just seemed to be something off in the pairing. I can't quite describe it, but there were two distinct flavor conflicts that didn't make this one my absolute favorite.
2009 Argyle Club Brut
Finally, there was the brut that is only usually available to Argyle Club members -- and this tasting made me want to become a club member STAT. Perfectly balanced with slight hints of apple and vanilla, this was an excellent sparkling wine to be paired with ice cream.
And, not just any ice cream, but Salt & Straw's special mimosa sherbet which has the same Argyle Brut blended in! Oh my. This sherbet. I hope they bring it back again soon. It was fantastic.
The Winning Wine
In the end, the audience favorite was . . . (drumroll, please) . . . the Argyle Vintage Brut with Pix Patisserie Dessert! That was my favorite! Although, the chefs all did a fantastic job in crafting beautiful and delicious desserts to pair with the Argyle sparkling wines.
Common Types of Sparkling Wine
Sparkling wine can only go by the name of Champagne on its label if it is produced in the Champagne region of France.
Cava is sparkling wine made in Spain.
Prosecco is sparkling wine made in Italy.
Brut is the most popular style of sparkling wine, which means it is dry -- this kind typically pairs well with food.
Extra Brut means it is extra dry
Demi-Sec means it is a very sweet sparkling wine, like a dessert wine.
The bubbles in sparkling wine come from the second fermentation process which occurs within the bottle. The winemaker adds sugar and yeast, which produces carbon dioxide and traps millions of bubbles inside the bottle.
Argyle Winery
Though PDX Bubbles Week is only once a year, I encourage you to visit Argyle Winery's tasting room in Dundee, Oregon, open 11am - 5pm daily. They are located at 691 Highway 99W.
More Wine articles