If you are looking for a destination race, then consider putting the Oregon Wine Country Half Marathon on your list. Here's a preview of what to expect.
Oh dear. What have I done?
I'm an adventure junkie who (foolishly) says yes to most things I've never done before because I like - no, I LOVE - trying new things all the time. But this time, I fear I may be in over my head. The adrenaline rush from being on a working vacation got the better of me and I seem to have agreed to run my first partial half marathon.
It's in 2.5 weeks. And I haven't been training . . . I went on one pathetic 3-mile run/walk with the kids post-vacation, and then got sick shortly after officially registering. I am now finally back to feeling 100%.
I've never run a half marathon before, so I was ECSTATIC when I found out there was a relay option and immediately signed up Mr. Bliss to run the final 7 miles while I would run the first six miles.
Six miles. I don't know if I've ever run six miles in a row in my life. I've got a couple of 5Ks under my belt now, so I suppose it's time to double the distance.
Plus, there's wine at the finish line, so there's always that. Right? ;-)
Oregon Wine Country Half Marathon
The Oregon Wine Country Half Marathon is Saturday August 8th and starts at 7:00 am at Stoller Winery in Dundee, Oregon (pictured above).
The scenic race route winds through the absolutely stunning wine country, through the quaint town of Lafayette, and into the town of Carlton for the finish.
Even though I've never run 6 miles before in my life, I love the idea of running through some of my favorite land in the entire state. Even if I have to walk really fast during some parts, I don't think I could pick a more idyllic view to enjoy along the way.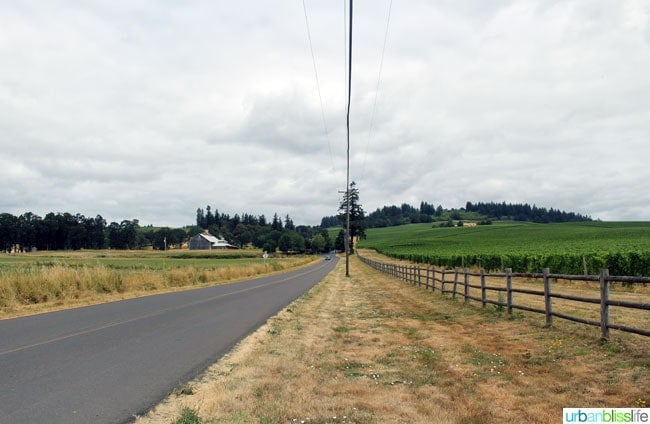 Why run the Oregon Wine Country Half Marathon?
This is a race that is about so much more than just running. The Oregon Wine Country Half Marathon is coordinated by Destination Races, whose slogan is Cool Races in Beautiful Places. I know there will be plenty of competitive runners there, but from what I'm told by friends who have run the race in years past, there's a low-key vibe and authentic camaraderie among the masses. These runners are here for the destination, the adventure, and the fun that both precedes the race and awaits them at the finish line.
The night before the race, there's an optional welcome reception at Ken Wright Cellars; an optional fun run designed for families; and optional dinner at the Allison Inn & Spa in Newberg, Oregon.
After you cross the finish line, you immediately enter the Wine & Music Festival - a true reward with more than 20 wineries ready to serve you samples and Lagunitas Brewing Company pouring their beer. There will also be live music throughout the festival. It is open to the public so your friends & family that were cheering you on along the way can help you celebrate. If they wish to partake in wine tastings at the post-race festival, you can pre-purchase up to 3 wine glasses per race registration for your guests.
So now that I've kicked the summer bug, I'm laced up and ready to hit the trails to try to get as much training as I can in these short two weeks before the race. Trust me on this: if I can do this, YOU can too! Won't you join us?
Visit Oregon Wine Country Half Marathon's website for more information and to register online.
Here's a little video motivation to get you to sign up too. Join me, won't you?
Have you ever run a half marathon or full marathon before? If so, please share your tips & advice for newbies like me in the comments below! :)
Thanks to Destination Races for sponsoring our relay team race registration. All photos and opinions are, as always, my own.