As much as I love change and all things new and shiny, there is a lot to be said for those longstanding traditions, especially when it comes to food: restaurants you can count on for quality meals, wines, and top notch service that stand the test of time and trends.
This year, RingSide Steakhouse celebrates 70 years of serving the Portland community. Impressive, considering the seemingly revolving door of restaurants in this town at times. Throughout its 70 years, RingSide has built a strong reputation for consistently providing diners with the best a steakhouse can offer to generations of Portlanders.
Now, RingSide is preparing to celebrate its 70 years in style, with a special ongoing menu and a series of special events open to the public. A portion of the proceeds from the events will benefit New Avenues for Youth, an organization that provides programs to help homeless and at-risk youth.
Last night, my husband, Alain, and I attended a media preview event of the RingSide 70th Anniversary celebration that kicks off tomorrow, June 1st, and runs through June 30th. If you are in the Portland, Oregon area next month, you won't want to miss it.
Celebrating 70 Years
The media preview event took place in RingSide's sophisticated, stylish Barrel Room, which is very close to what I would imagine as my husband's dream Man Cave (it's just missing the large flat screen televisions and humidor stocked with cigars). It's quite an elegant room that I would recommend reserving for special events (my birthday is in February, friends. Just in case you want to start planning now. . . ;)
When we arrived, we were greeted with these delectable tartare bites. Perfect light little nibbles to whet the appetite in preparation for the more hearty dishes that await.
We also enjoyed an amazing Japanese A5 Kobe Nigiri hors d'oeuvre. Oh my.
3-Course Menu
Throughout the month of June, you will be able to dine on an impressive 3-course feast for $70 per person.
You'll start with an Oregon Bay Shrimp Salad, made with butter lettuce, endive, celery leaf, red onions, and green goddess dressing.
Then you'll delight in a trio of beef that will knock your tastebuds out with deliciousness. We sampled the trio of beef at the media event, and each one so expertly showcased the beauty of the particular cut of beef.
The Rib Eye Cap was charbroiled and sliced, served simply to perfection: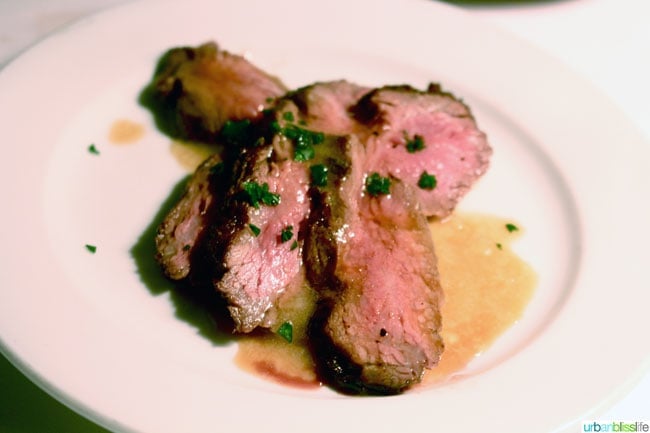 I am very much a lover of sophisticated surf and turf dishes (because why ever choose between seafood or beef, when you can have both!), and the Tenderloin Beef Oscar did not disappoint. A petit filet mignon served with Dungeness crab, asparagus, and sauce Bernaise. This was a beautiful medley of textures in my mouth.
Alain and I decided to save what all of our fellow diners were declaring the best of the trio for last: Braised Short Rib with a Cabernet Demi-glace.
The meat was so tender, and the demi-glace was the perfect pairing to compliment this cut.
A Family Business
To help support its growing operations and continue its tradition of excellence, RingSide underwent renovations at the end of 2010, the majority of which diners don't actually see but definitely makes a difference in the restaurant's capabilities. The third generation of owners in the Peterson family kindly gave us a tour of both the newer climatized wine cellar that was added, the kitchen (which was also expanded), as well as the dry aging meat locker.
The cellar houses an impressive collection of local and international wines, including a large selection of the California and Washington cabernets that pair so well with steakhouse meals.
Oh, and a bottle of $10,000 Pomerol wine. Every wine cellar has one of these, right? ;)
Owner Craig Peterson gave us a tour of the climate-controlled meat locker, which lovingly houses those delicious cuts of beef served above in the dining room.
Lest you think RingSide is a steakhouse that only does steak well, they put the same attention to flavors and presentation on a delicious array of charcuterie, cheeses, salads and other vegetable sides to help round out your dining experience.
And, of course, there are the tempting desserts. These truffles were melt-in-your-mouth amazing!
If you partake in the 70th Anniversary Celebration 3-Course menu, you will get to enjoy their Fromage Blanc Cheesecake as your dessert.

And, to complete your steakhouse experience, you simply must try their onion rings. Because: ONION RINGS.
If this sneak peek of the Ringside Steakhouse 70th Anniversary Celebration tempts you, be sure to make your reservations in advance to enjoy the special 3-Course Menu, and also check out all of the great events they are offering throughout the month of June.