If you're traveling to the Oregon Coast, here are the Top 10 Best Things to Do in Cannon Beach, Oregon.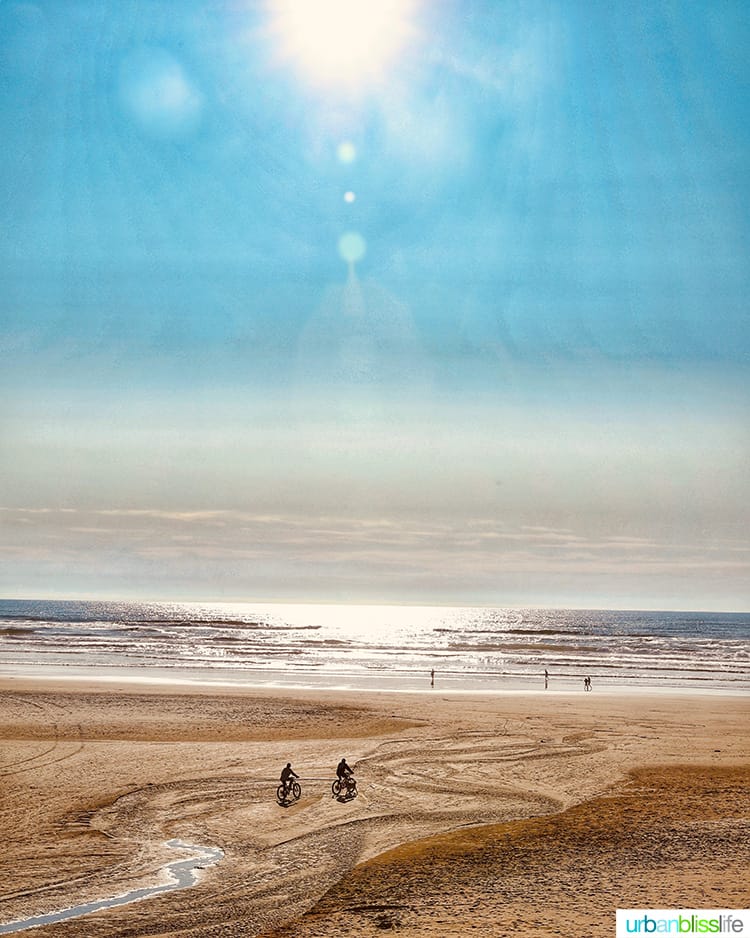 The Oregon Coast is my happy place. If you've been there, you can understand why.
No matter the weather, there's a misty salty magic about this beautiful meeting of sand, rock, and ocean. Where the sunshine, wind, and rain dance together in an awkward embrace above. And one of my favorite places along the 364 mile stretch of land is Cannon Beach.
How far is Cannon Beach from Portland?
Cannon Beach is only about an hour and a half away from the city of Portland. It's a quick drive going west on Highway 26, and then a few miles south from the Highway 101 junction.
What is it like in Cannon Beach?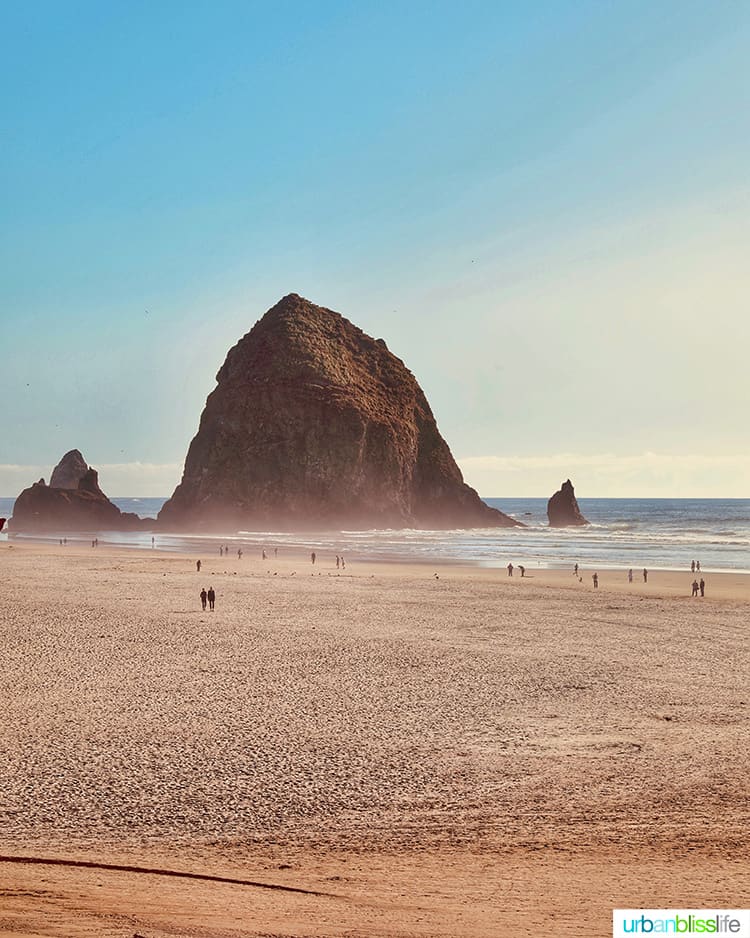 While it's one of the larger towns along the Oregon Coast, Cannon Beach retains that small town, PNW casual, cozy vibe.
What to wear on Cannon Beach: T-shirts and shorts or jeans are welcome pretty much everywhere you go in Cannon Beach. Always bring a sweatshirt with a hood or a light rain jacket, just in case.
Weather on Cannon Beach: The weather often changes quickly from sunny and mild (average temps are in the 50s to low-60s) to whipping wind and sideways rain.
Navigating Cannon Beach: The main street is Hemlock, which runs north and south along the Pacific Coast and alongside Highway 101.
Transportation on Cannon Beach: Ubers and Lyfts are rare here, as is public transportation. Your best bet is to drive to Cannon Beach. Once here, you can drive or ride a bike to most places.
What is there to do in Cannon Beach?
Cannon Beach is a popular tourist town, with plenty to do for visitors of all ages. Here are the top 10 best things to do in Cannon Beach.
Visit Haystack Rock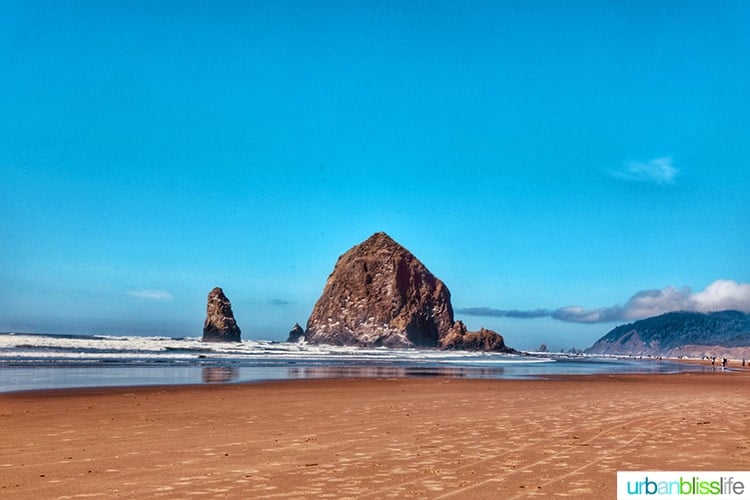 While there are 2,000 different sea stacks and rocks located along the Oregon Coast, the most famous is Haystack Rock in Cannon Beach. You may recognize it from the movie The Goonies.
This 235-feet sea stack is said to be the third tallest in the world. It was formed millions of years ago by lava flows. Kids and adults alike can enjoy the tidepools surrounding the area at low tide. During late spring and early summer, you might catch sight of some tufted puffins!
Haystack Rock is a highly photographed area. You can see how popular it is on Instagram, where the hashtag #haystackrock currently has about 150,000 posts.
Lunch at Wayfarer Restaurant
There are so many wonderful places to eat in Cannon Beach. One of the restaurants I like to recommend to those visiting Cannon Beach for the first time is Wayfarer Restaurant and Lounge.
The Wayfarer is the one of the few restaurant with oceanfront views. And, there's beach access right next to the restaurant.
Located across from the Surfsand Resort, this spacious classic American restaurant serves fresh Pacific Northwest seafood. You'll also find sandwiches, salads, burgers, and an impressive dessert tray. The wine and beer lists feature beverages predominantly from Oregon and nearby Washington. This is a great spot for breakfast, lunch, or dinner with the whole family! But I especially recommend having lunch here, since the central location makes it an easy stop in-between beach activities.
You can read my full restaurant review here: Wayfarer Restaurant Cannon Beach.
Ride fun cycles on the beach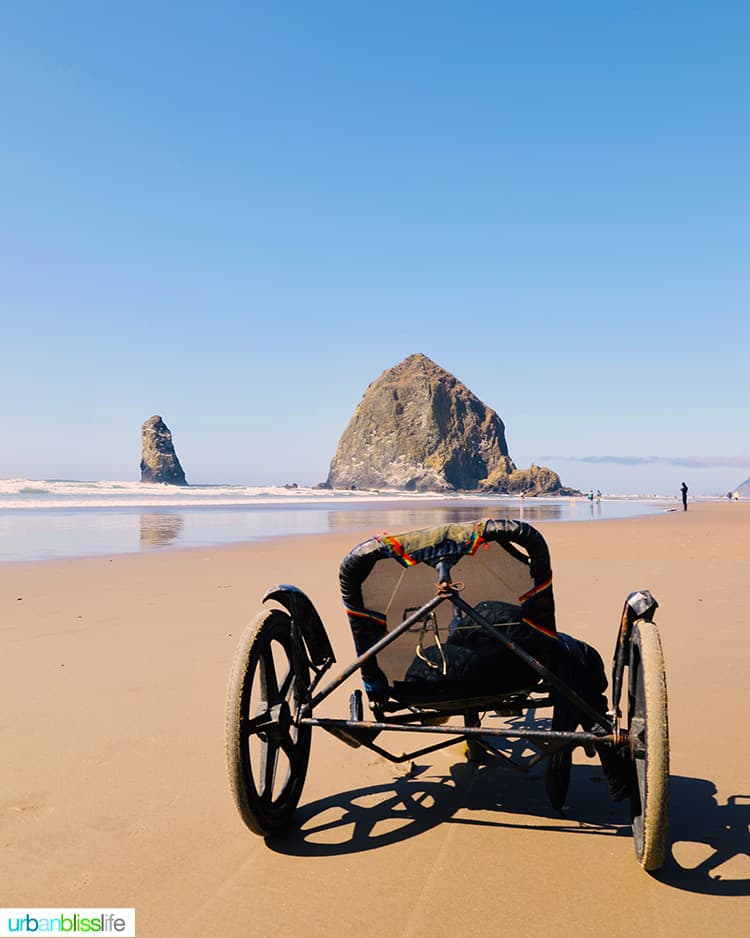 Fun cycles really are FUN. These human powered vehicles have two large wheels in the back and one small central wheel up front. You sit into the fun cycle seat more as you would a go-kart versus a bicycle, but you pedal with your feet and steer/brake using a handbrake.
Have you ever ridden a fun cycle? It's a lot harder than it looks, but is so much fun! It's a wonderful way to explore the beach.
You can learn more on the Cannon Beach Family Fun Cycles Facebook page.
Cannon Beach Family Fun Cycles
1160 S Hemlock
Cannon Beach, OR 97110
(503) 436-2247.
Stop by Public Coast Brewery for Some Beers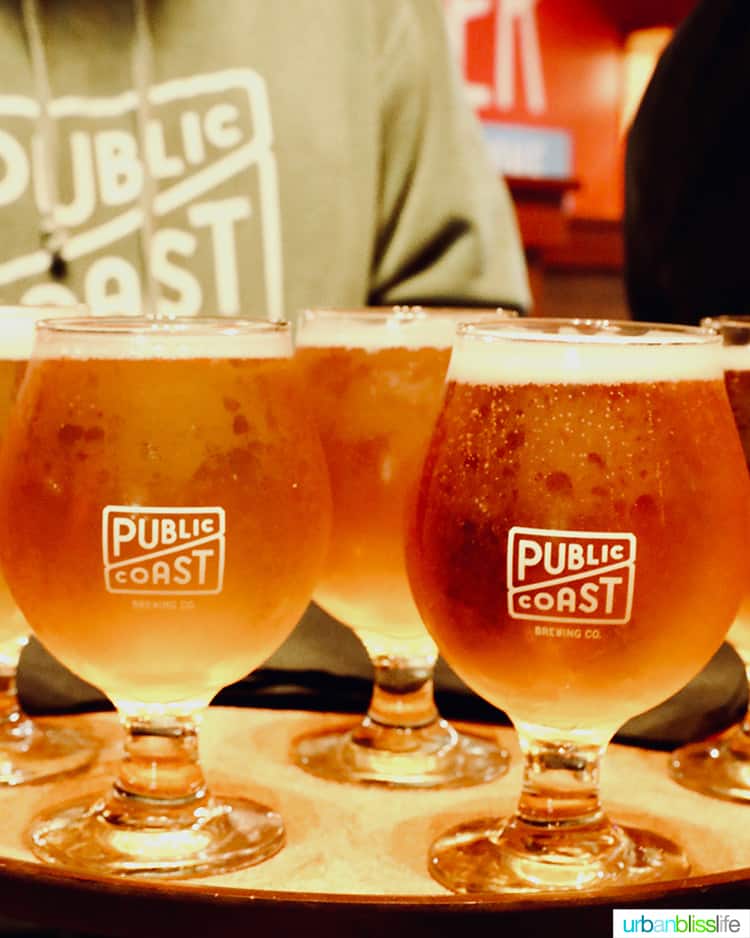 Near the North entrance of the main street of town, you'll find Public Coast Brewing. This is a great place to grab a bite to eat, sample some local beers, and soak up the family-friendly Pacific Northwest microbrewery vibe.
A large mural with "Beaches Forever, Beer for Everyone" greets you as you walk in, and reminds you of the welcoming spiring in which Public Coast Brewing operates. During a recent visit, I was fortunate enough to meet owner Ryan Snyder and brewmaster Will Leroux, and learn more about the brewery's mission and operations. They are truly passionate about crafting beers their customers will love, and matching those beers with classic PNW bites in their family-friendly brewery.
Public Coast Brewing Co.
264 Third Street
Cannon Beach, OR 97110
hello@publiccoastbrewing.com
(503) 436-0285
Learn more at the Public Coast Brewing Co. website
Take a hike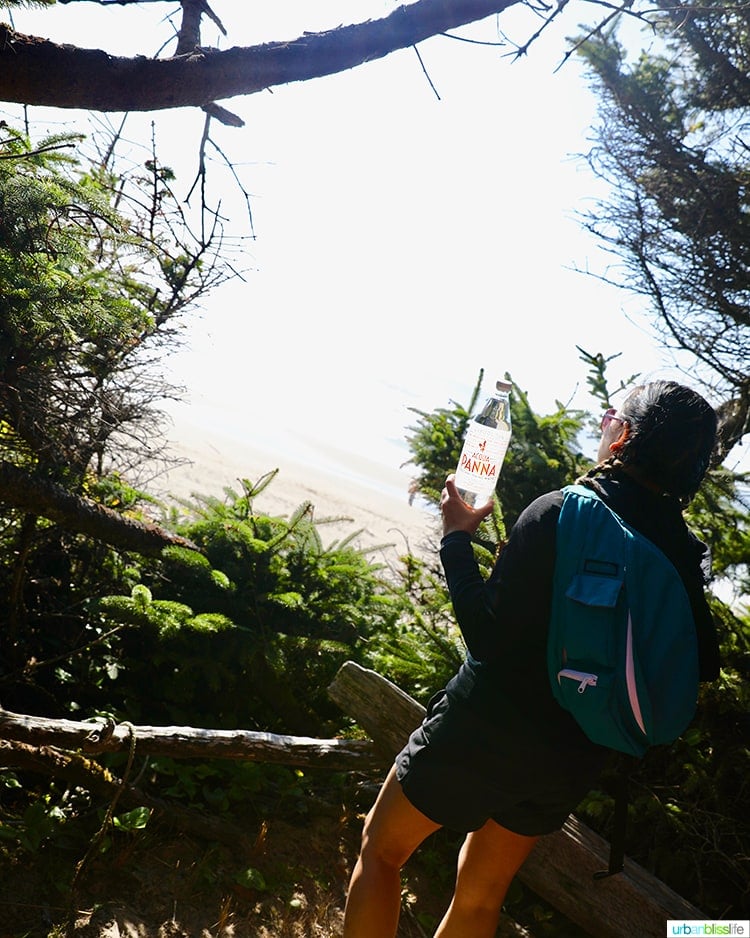 The Cannon Beach area is full of opportunities to enjoy a nature walk or hike. Ecola State Park is a popular stop, and a nice starting/ending points for a few different trails. For an easy hike, check out the Indian Beach Trail. It's just 2 miles out and back.
For a more challenging hike, Saddle Mountain is a popular option during the spring and summer. Technically outside of Cannon Beach, it's 5.25 miles out and back, and reaches over 3,000 feet in elevation. There are some steep spots but the view is worth it for the more experienced hiker!
Shop Local
The middle of the main thoroughfare in Cannon Beach, Hemlock Street, is flanked on both sides of the street with great local shops, cafes, bakeries, and bars.
Step beyond the candy pink and white striped facade of Bruce's Candy Kitchen for some traditional Oregon coast taffy. Then check out the toy shop to discover a useful souvenir for your kiddos. Find unique jewelry, arts and crafts, and more at Cannon Beach Makers.
You can also sign up for surf lessons, sip some Pacific NW wines, and even pick up some special treats and toys for your pet!
Dine at the Stephanie Inn restaurant
Since 1993, the Stephanie Inn has been Cannon Beach's premiere romantic getaway destination for couples. Even if you are not staying at the Inn, you can experience Stephanie Inn luxury by making dinner reservations at the Inn's restaurant.
Dining here offers you a delicious taste of the Pacific Northwest, and more specifically, the Oregon Coast. Chef Aaron Bedard and his team develop seasonal menus featuring mostly local, in-season ingredients. The dishes are as mouthwatering as they are stunning. Choose from a seasonal prix fixe, five-course dinner, or order from the à la carte menu.
Stephanie Inn & Dining Room
Cannon Beach, Oregon 97110
hello@stephanieinn.com
(855) 977-2444
Enjoy a bonfire on the beach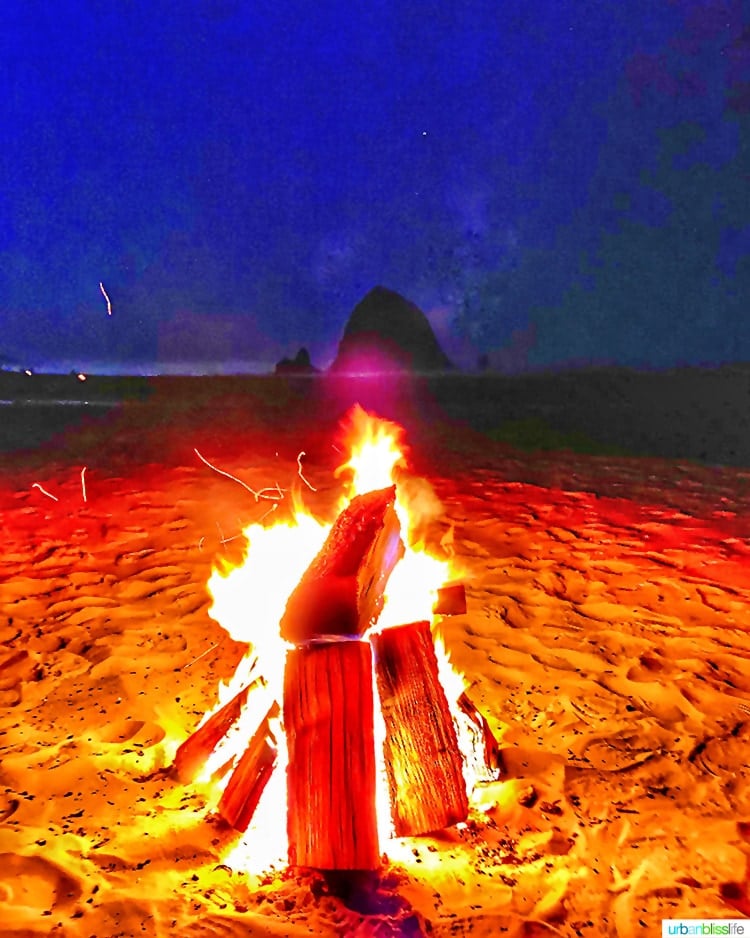 There's no better way to end a day at Cannon Beach than with a beach bonfire. Looking up at the stars while cuddled up under blankets, sharing stories with friends while drinking hot cocoa or some of that local Public Coast Brewing beer, with a warm fire keeping you toasty... It is one of the top Oregon Coast experiences not to be missed!
Here are some rules re: beach bonfires in Oregon:
All beach fires must be a minimum of 50 feet away from seagrass or other combustible materials (driftwood, seawall, etc.).
The fire must be attended at all times.
Do NOT burn driftwood, as it can smolder for several hours after it has been extinguished, later causing a fire to ignite.
The best way to extinguish the fire is by pouring water over it until all the red embers have gone out. If possible, try not to cover remnants with sand as people might walk over the hot sand.
Guests of Surfsand Resort, where I stayed during my last visit, can enjoy nightly beach bonfires with s'mores. The Surfsand Resort staff can help you set it up and are there to make sure it's all put out properly. They're amazing. If you are staying elsewhere, check if your hotel will do the same for you.
Surfsand Resort
148 W. Gower
Cannon Beach, Oregon 97110
Grab Some Local Coffee To Go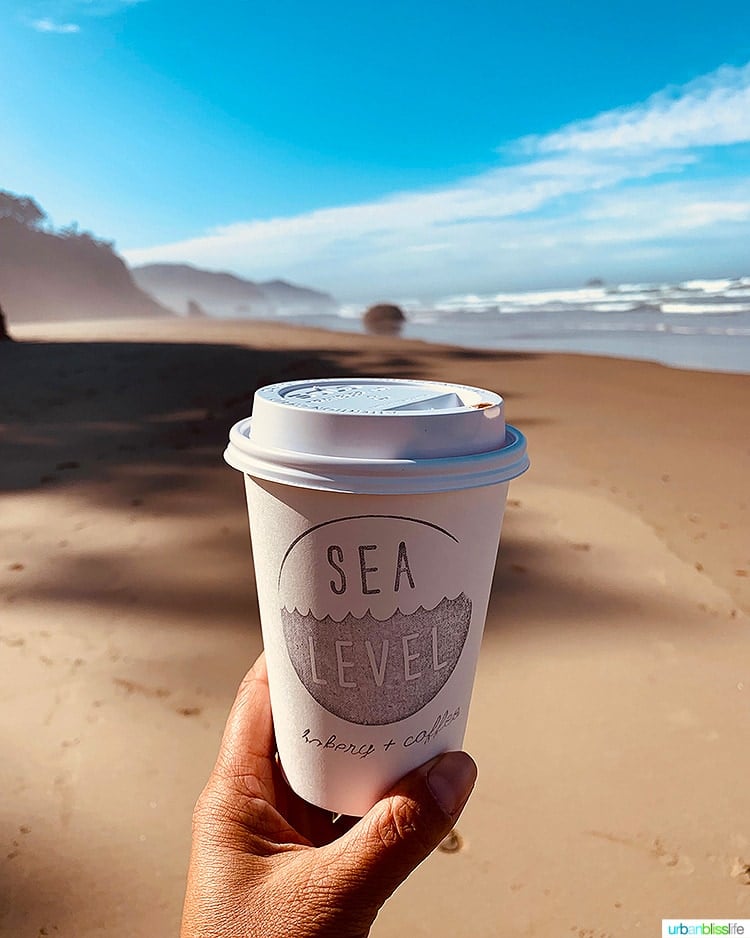 In true Pacific Northwest spirit, coffee rules the Oregon Coast. With several locally-owned coffee shops from which to choose, my two fave are Sleeping Monk and Sea Level Bakery and Cafe. Sleeping Monk roasts their own coffee, whereas Sea Level serves Heart Coffee Roasters.
Sleeping Monk is located just north of Haystack Rock, right on Hemlock Street. Look for the Irish flag flying out front! It's a quirky, cozy little spot that fills up fast, so be prepared for a bit of a wait in prime morning coffee run hours.
Sleeping Monk Coffee
1235 S Hemlock St
Cannon Beach, OR
Sea Level Bakery and Cafe is one of the newer coffee shops in Cannon Beach. It, too, is located right on Hemlock Street. It's an adorable coffee shop with some small tables inside. They have a great selection of pastries, including some gluten-free and/or dairy-free pastries.
Sea Level Bakery and Cafe
3116 S Hemlock St, Cannon Beach, OR 97103
Soak Up the Scenery at Hug Point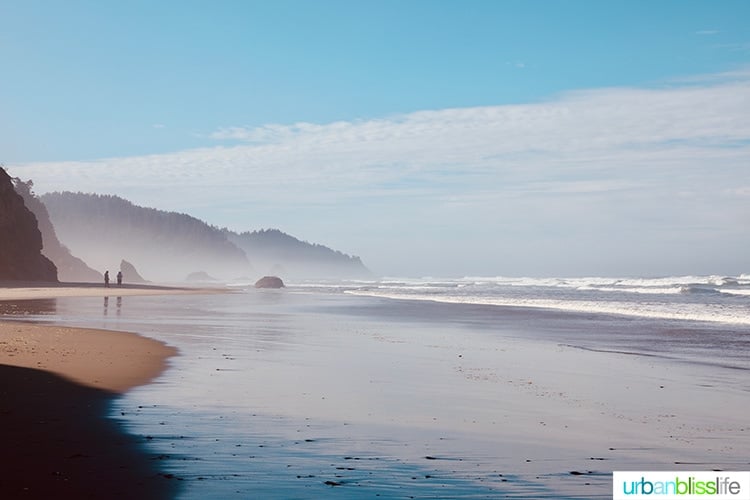 What was once my secret, always empty or near-empty beach, is now a popular spot. Located just south of central Cannon Beach on Highway 101, Hug Point still gives beachgoers a bit more sand space during peak tourist season than central Cannon Beach.
Follow the signs south on Highway 101 to Hug Point. You'll drive down a large narrow parking lot (with public restrooms), which leads you to Hug Point beach access.
Enjoy exploring the waterfalls, caves, and hiking in and around Hug Point. During the off-season, it can still be pretty quiet and a lovely beach to simply sit and watch the waves roll in.
Where to Stay in Cannon Beach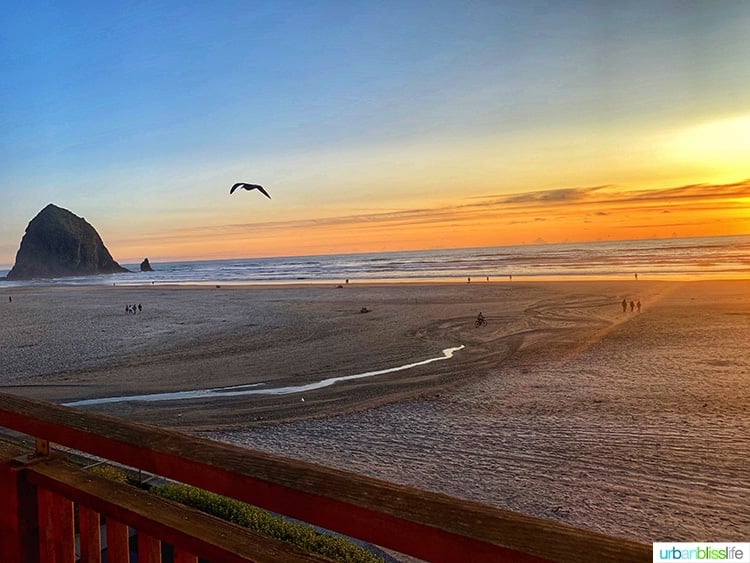 Surfsand Resort $$$ - one of my fave oceanfront places to stay with the kids and Urban Bliss Dog! Nice rooms, great staff, gorgeous views of Haystack Rock and the Beach, right next to the Wayfarer restaurant, beach bonfire fun, and lots of family activities and events.
Hallmark Inn Cannon Beach $$-$$$ - Another great oceanfront property. Pet-friendly; pools, saunas, and a spa;
Stephanie Inn $$$$ - oceanfront luxury hotel. I haven't stayed here overnight but have enjoyed dinner in the restaurant.
For more travel tips for the whole Oregon Coast, check out Visit the Oregon Coast.
PIN IT: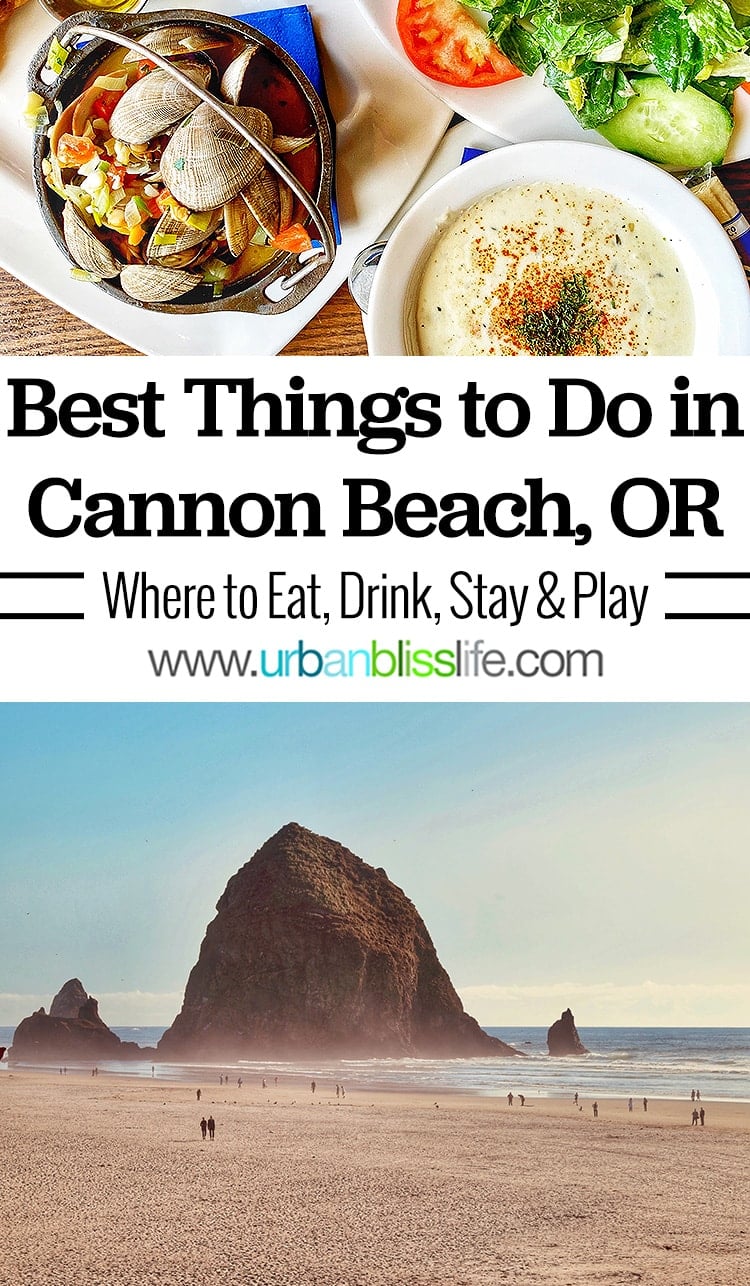 More Oregon Coast Travel Guides
Oregon Coast Travel Guide: Lincoln City, Oregon
Where to Eat on the Oregon Coast: Tidal Raves Restaurant