My childhood memories of Astoria, Oregon are grey. Not grey, as in, fuzzy; grey, as in: dark, drizzly, damp Oregon grey. Full of fog and an overpowering scent of salt and seafood. As with most childhood memories, mine were only to be partially trusted: fragmented images of shipping docks and older, weathered homes.
Over the past few decades, this tiny town has been inching out of its cocoon and emerging, one new or restored place at a time, as a tourism industry butterfly. Once best known for being the location for one of my childhood film favorites, The Goonies, Astoria, Oregon is making a name for itself in the food and beverage world, and becoming quite the coastal tourist destination.
Recently, my daughter, son, husband, and I decided to check out the town. It was high time I dusted off those fragmented old memories and checked out Astoria: the new Astoria.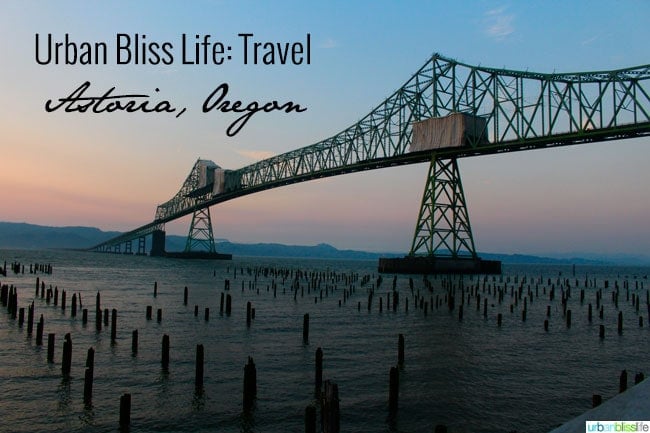 Jump to:
On the Beautiful Oregon Coast
Astoria, Oregon is the northern most point of the Oregon coast. Located on the Columbia River, Astoria is approximately two hours west of Portland, Oregon and three hours south of Seattle, Washington. The Astoria-Megler bridge (pictured above) connects Oregon to Washington. It's an impressive bohemoth of a bridge, and worth driving over to visit the Washington side if you have the time.
Where to eat & drink in Astoria
The number one change in Astoria that I had heard about was its reportedly growing food & drink scene. While you can still visit the classic coastal breakfast chain Pig & Pancake, along with longtime local fave Stephanie's Cabin Restaurant, Astoria is now home to several modern coffeehouses, breweries, and restaurants to fit travelers tastes and budgets of all varieties.
Street 14 Coffee
1410 Commercial Street
Astoria, Oregon
Street14Coffee.com
Open daily 6:30am - 6:00 pm
Street 14 Coffee was my personal favorite find on this trip. Street 14 Coffee offers a large selection of housemade pastries and hot breakfasts, as well as an impressive lunch menu that begins at 11am each day. The modern decor and super friendly service are what I loved most about this coffeehouse. Portlanders and travelers alike will also enjoy that they serve Portland-based Stumptown Coffee and Steven Smith Teas.
Bowpicker Fish & Chips
Corner of 17th & Duane Street
Astoria, Oregon
Bowpicker.com
CASH ONLY
The top lunch spot that was recommended to me in Astoria was the Bowpicker. You can't miss it: it's an old converted gillnet boat, and, except in questionable weather, you'll most likely see a line of people waiting outside. It took us more than one hour to wait in line, and be warned: because the Bowpicker serves fresh caught fish, they do sometimes (I am told often) run out.
I was told the Bowpicker serves THE absolute best fish & chips on the Oregon coast by several different people. Instead of halibut or cod as most restaurants serve, Bowpicker serves fresh caught TUNA fish. And, it is delicious.
The tuna is fried up in what is likely one of the most delicious batters I've ever enjoyed with fish & chips, and the fish is very meaty, not flaky like cod or halibut.
Just don't forget to bring cash, because the Bowpicker absolutely does not take any credit or debit cards.
Fort George Brewery
1483 Duane Street
Astoria, Oregon
http://www.fortgeorgebrewery.com/
Located at the end of the main strip of downtown Astoria, Fort George Brewery offers a mid-price range, family-friendly spot for travelers to kick back and relax. It's loud, very casual, and there are always lots of families dining here for lunch and dinner. Their handcrafted beers are distributed only in the Pacific Northwest, and range from light, approachable IPAs to sassy seasonal ales such as the 3-Way IPA (a collaboration between three breweries: Fort George, Block 15, and Boneyard).
Their menu features classic pub fare, including pizzas, burgers, fries, salads, sandwiches, and fish & chips. I was told their housemade sausage was a must-try. I suggest ordering the Sausage Sampler (pictured below), which gives you three of their classic housemade sausages plus the Sausage Du Jour, which was my personal favorite.
Bridgewater Bistro
20 Basin Street
Astoria, Oregon
Open 7 days a week, from 11am (closing hours vary seasonally; call ahead)
http://bridgewaterbistro.com/
For dinner one night, my family and I decided to splurge and treat ourselves to a nice restaurant with a gorgeous view and gourmet meal. We decided on Bridgewater Bistro, one of the fine dining dinner options that takes reservations -- and we all know how very important reservations are when you have little ones in tow!
Bridgewater Bistro is located right on the water, with massive picture windows to allow you to enjoy views of the Astoria-Megler bridge while you dine. We were treated to large cargo barges and what looked like a cruise ship pass by during dinner. The experience alone is worth the splurge, and the food and beverages just add to the incredible experience.
We started with an appetizer of smoked salmon with a maple onion glaze, paired with Amity vineyard's 2009 Pinot Blanc.
For dinner, I very much enjoyed the scallops special. The scallops were sauteed perfectly, and served with a light cream sauce, risotto, and steamed vegetables.
My husband ordered the ahi tuna steak, which was hearty and rich thanks in part to a mushroom-veal demi-glace sauce, served with vegetables and lemon risotto.
Bridgewater Bistro Kids' Menu
Bridgewater Bistro offers a generous kids' menu, featuring all of the traditional kid favorites plus fresh grilled salmon, kid-sized. My kids went for the tried & true grilled cheese, and gave the meal two thumbs up.
We ordered a few different items for dessert to share, of course. All were gobbled up with great enthusiasm.
The space was expansive and thoughtful, the food and drink (check out their wine and cocktails menu!) were divine, and the service was attentive and friendly. What completed the positive experience at Bridgewater Bistro was the welcoming, warm atmosphere, where our kids really enjoyed themselves and felt comfortable the entire time. We had a lovely time dining here with our children, and we will definitely be back here again. I highly recommend trying Bridgewater Bistro for a date night, family night out, or girls night out.
Places to go in Astoria, Oregon
Astoria Column
1 Coxcomb Drive
Astoria, Oregon
Hours: M - F 9:00am - 5:30pm, Sat & Sun 9:00am - 5:00 pm
Cost: Free column entrance, but there is a $2 per vehicle parking fee
http://astoriacolumn.org/

Standing 600 feet above sea level is a 125-foot high structure known as the Astoria Column. It was built in 1926 and modeled after Rome's Trajan Column, and features a spiraling hand-painted frieze depicting historic events in the Pacific Northwest: the discovery of the Columbia River by Captain Robert Gray; the end of the Lewis and Clark Expedition; and the arrival of the ship Tonquin.
Visitors can climb up all 164 steps to the very top of the column for stunning views of the valley and the Columbia River. If you have kids, definitely buy little biplanes at the gift shop located in the parking lot, and have them fly the biplanes out from the top of the column. It sounds silly, but trust me: just do it. The joy it brings the kids is priceless, as they watch their planes spiral outward, then eventually down, from the tower.
My son was actually able to retrieve his biplane from a grassy area where it landed and still holds onto it as a memento from our trip.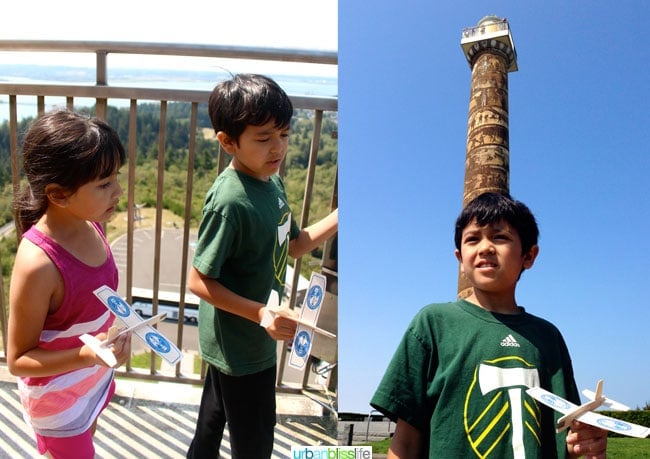 If you don't want to climb up the column or have fellow travelers who can't, you can still enjoy a stop to Astoria Column. The viewpoints along the parking lot offer gorgeous views of the rivers connecting, of all of the tiny little towns around the valley, and on a clear day, you can see the mountains that surround the area.
Columbia River Maritime Museum
1792 Marine Drive
Astoria, Oregon
Open daily 9:30am - 5:00 pm
http://www.crmm.org/
Another stop that travelers of all ages will enjoy is the Columbia River Maritime Museum. I know what you're thinking: maritime museum is code word for BORING, right? Wrong!
This is a large museum (see photo above) that houses six galleries, a tugboat simulator, photo galleries and research library, and an impressive collection of touring exhibits throughout the year. Right outside of the museum is the Lightship Columbia, the last serving lightship in the United States, which was retired in 1983.
Full disclosure: the interior museum was closed by the time we reached here, but we could peek inside, and I must say, it exceeded my expectations without even having to step foot inside. I look forward to the day we can check out the interior exhibits with the kids!
Instead, we enjoyed walking around the outside of the museum, where we could take a look at the Lightship Columbia, and take in peaceful views of the sun setting over the Columbia River and the Astoria-Megler bridge.
Where to go shopping
Downtown Astoria and the Waterfront
Another part that has changed quite a bit since I was a child is the main street of Astoria, Oregon. Commercial Street is the main street that runs through downtown Astoria, Oregon, and is bustling with shops, cafes, restaurants, bars, and small businesses. I would suggest parking on Commercial Street or one of the parallel streets (Duane Street and Marine Drive) and walking around to explore downtown Astoria. We found a cute toy shop and home goods shop by just walking around after refueling with coffee and pastries at Street 14 Coffee on Commercial Street.
There is an Art Walk on the 2nd Saturday of each month, and a Sunday Market each week in downtown Astoria.
Where to stay
The Commodore Hotel
258 14th Street
Astoria, OR 97103
http://www.commodoreastoria.com

This hotel is super cool...if you don't have a large family. If it's just you and your honey, or you have one small child, then I recommend staying here. Old world meets modern style. Love it.
The KOA Astoria
1100 Northwest Ridge Road
Hammond, OR 97121
http://koa.com/campgrounds/astoria/
My family stayed at the nearby KOA, just 5 minutes from downtown Astoria, and really enjoyed it. You can read about our KOA Cabin in Astoria review. I highly recommend this for travelers of all kinds because you can choose to camp in the traditional sense, or stay in a deluxe cabin with all amenities. Plus, they have a pool to rival fancy hotel pools, mini-golf, bike rentals, and tons of activities for the whole family.
Visit Astoria
As with most trips, there were so many more things we could have done and places we could have visited. We had two nights and two and a half days to explore the town with our two children, and I'm sharing the highlights of our trip here. You might also want to visit Fort Stevens, ride the trolley downtown, or rise early enough to buy fresh caught fish down on the docks. You can check out Cannery Pier if you like more traditional lodging options on the waterfront, and eat at one of several other hot spots, each offering a variety of food & beverage.
There's a lot more to do in Astoria, Oregon than meets the eye. Or, in my case, than meets my childhood memories. I'm glad to have had the chance to explore this town and replace those grey fragmented childhood memories with new experiences full of top notch food, beer, and wine, beautiful scenic views, and interesting historical perspectives.
Go visit Astoria, Oregon. It's travel bliss for the whole family.
More Oregon Travel