Traveling through Southern Oregon? Here's a list of top Things to Do in Roseburg, Oregon.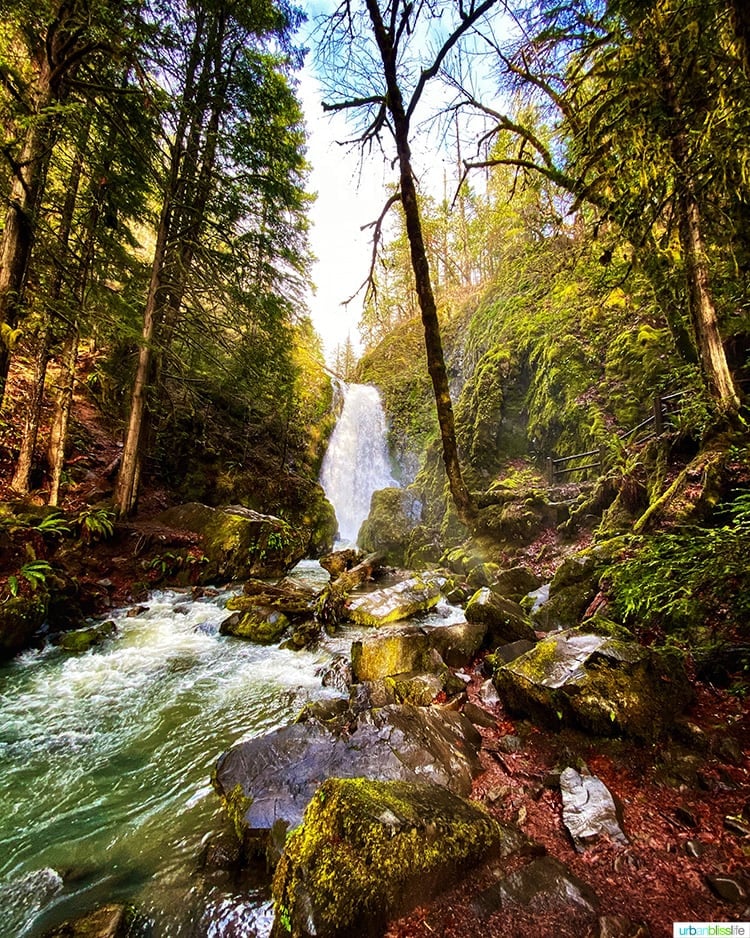 Jump to:
Southern Oregon is a beautiful getaway destination, any time of year.
Recently, I had the opportunity to spend three days in the Southern Oregon city of Roseburg. Situated in the Umpqua Valley, the town of just under 25,000 people offers numerous scenic hikes, a growing food scene, and booming wine industry.
Over the next few posts, I'll share more in-depth details about restaurants in Roseburg, top wineries in Roseburg, as well as one of my favorite waterfall hikes in the area. Here's an overview of what is known as the Timber Capital of the Nation.
Where is Roseburg, Oregon?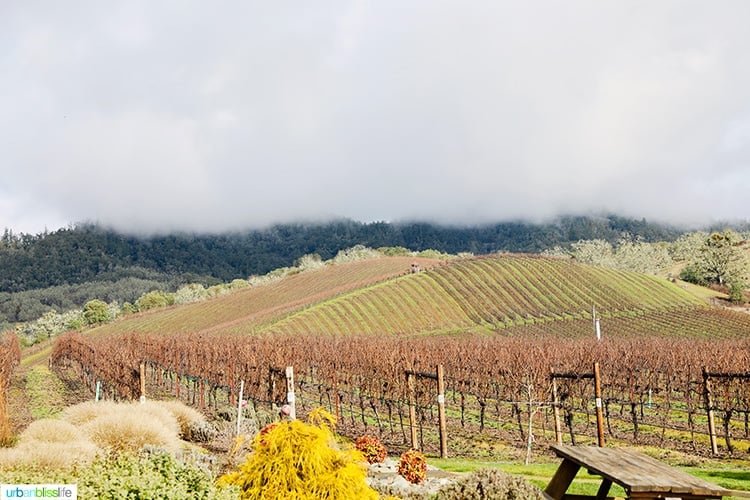 The city of Roseburg is just about a three-hour drive south of Portland, Oregon. It's just about two-hours north of the California border, making it a great pit stop along your journey if you're doing a road trip between California and Oregon.
Where to Stay in Roseburg: Cooper Ridge Winery Guest House
Cooper Ridge Vineyard Guest House
1389 Old Garden Valley Road
Roseburg OR 97471
(541) 671-2373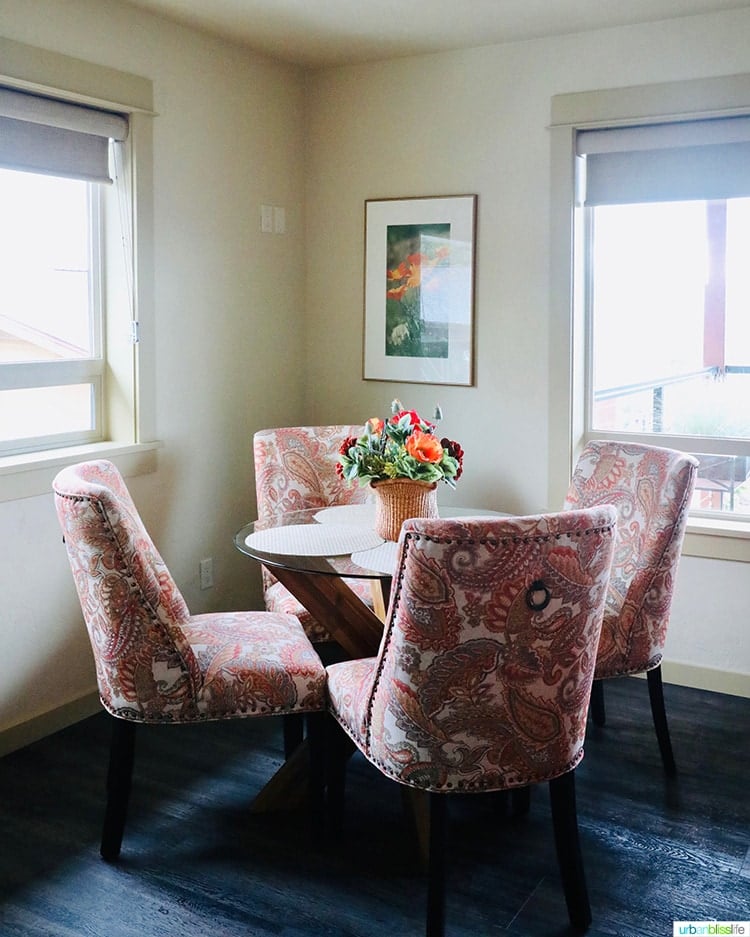 If you're traveling as a couple or with 3 friends, consider booking a stay at the Cooper Ridge Vineyard Guest House.
This beautifully decorated 1,200 square foot guest house is located right next to the wine tasting room. A private entrance leads to a half bath and laundry room downstairs. Then you'll find two large master suites, large master bath, stocked kitchen, and spacious living space layout. You can access a large balcony from the main living space and from one of the master suites. The balcony overlooks the vineyard, giving guests stunning views to start and end each day with.
I treasured my stay at the Cooper Ridge Vineyard Guest House, and highly recommend booking a stay here if you are traveling to Roseburg.
Hike Southern Oregon: the Highway of Waterfalls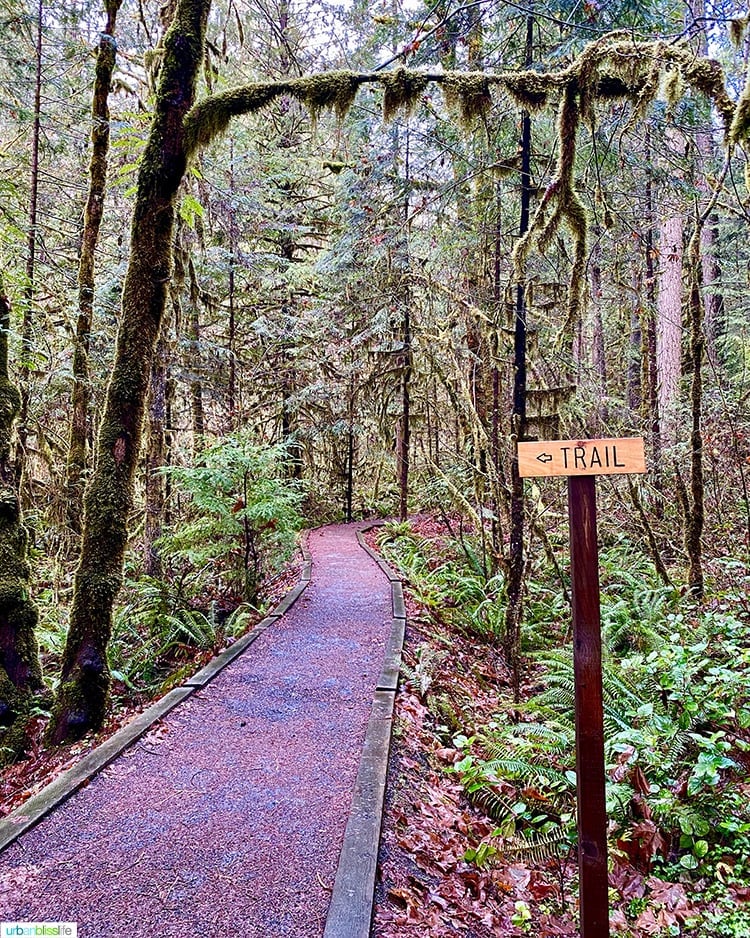 Highway 138 runs along the Umpqua River, and is a hiker's paradise. Along this Highway of Waterfalls, as it is known, you can choose from more than 15 different waterfall hikes.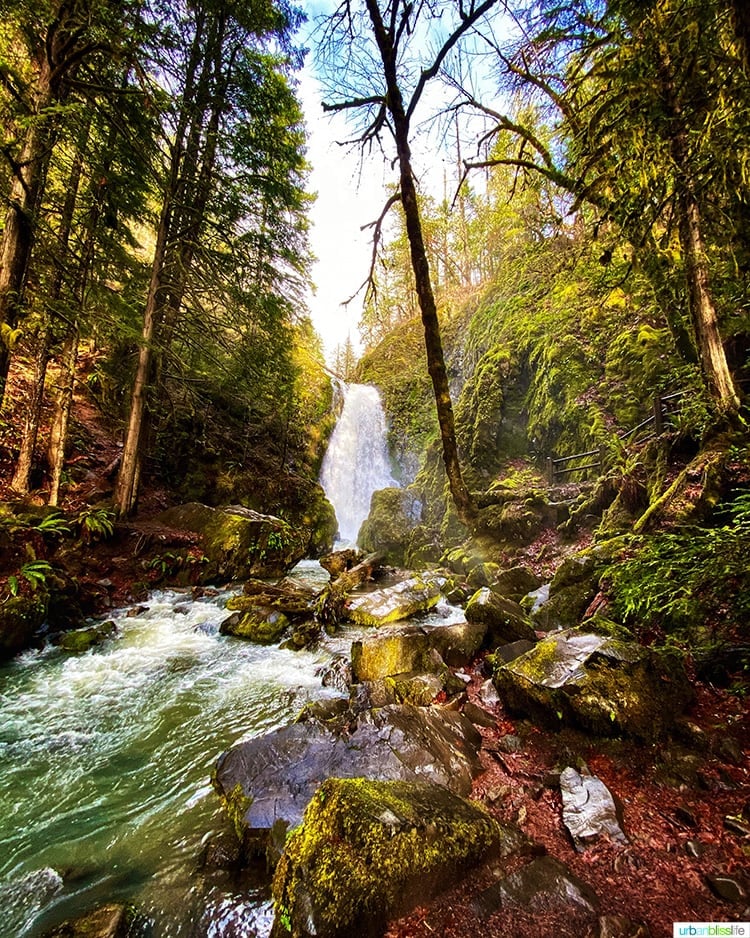 If you're short on time, check out the Susan Creek Falls trail. The trailhead parking lot is right off of Highway 138, about 15-20 minutes outside of Glide, Oregon on your way to Roseburg. The hike is short (less than a mile), fairly flat and paved, with benches for resting along the way.
Great Umpqua Food Trail
Foodies traveling to this part of Southern Oregon will love the Great Umpqua Food Trail. The trail map includes 70 stops for fellow food and wine lovers, from restaurants to farm-to-table events, to breweries and wineries.
Here's a look at a few of my favorite stops along this foodie trail.
River Ranch Olive Oil Farm
River Ranch Oregon Olive Oil
440 S Lone Rock Ln, Glide, OR 97443
Hours: Weekdays, 8am - 12pm, 1-5pm
Call ahead of your visit (541) 496-9700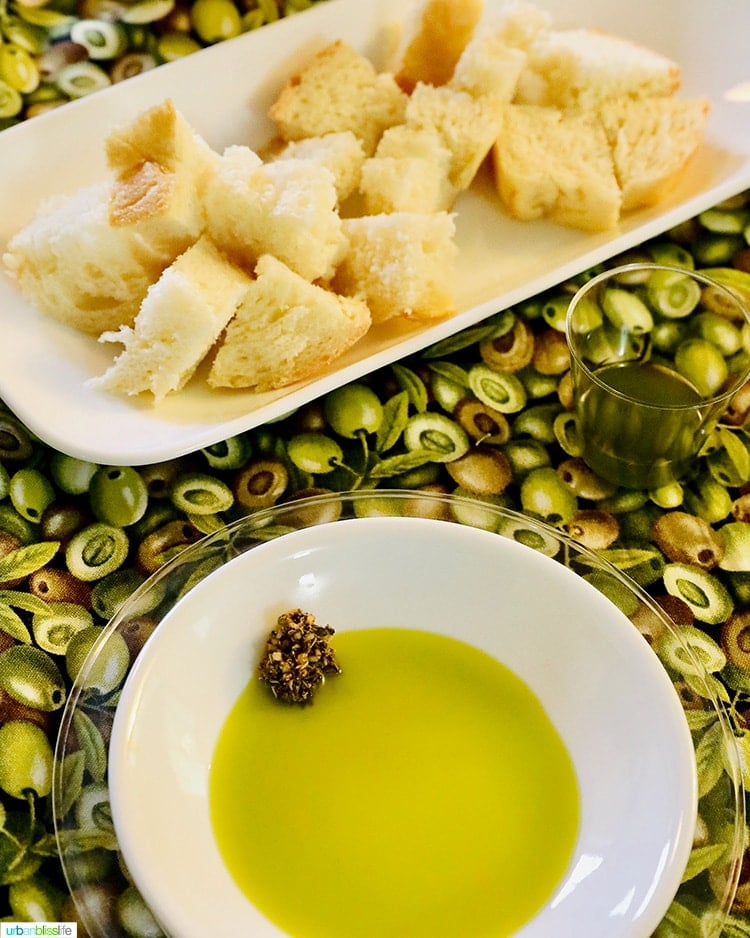 If you're hiking out along the Highway of Waterfalls, definitely plan to stop at River Ranch Oregon Olive Oil farm. Set out a few miles from the main highway, the farm is nestled between the Umpqua River and Brit Creek. Here you'll find 8 acres of Arbequina and Arbesona olive trees, which River Ranch turns into their estate olive oils.
An olive oil tasting here is a real treat. Since this is a working farm, be sure to call ahead. During my tour, River Ranch's Elaine Smith took me through a tasting of the just released 2019 Olio Nuovo (meaning "new oil" ), the 2019 Estate Blend (Arbequina and Arbesona), 2019 Arbequina, and 2019 Arbesona. The difference is amazing, and you will most definitely want to leave with at least one bottle to enjoy at home!
Roseburg Wineries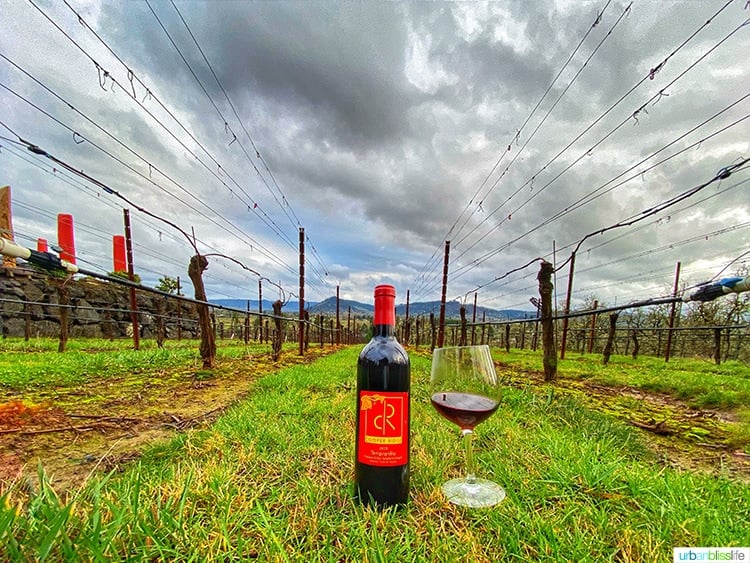 The Umpqua Valley Wine Growers Association currently boasts 27 wineries and 70 vineyards. Not bad for a small-but-growing wine region! The area is known for warmer climate red wines (think Tempranillo and Syrah) and German-style white wines like Riesling and Grüner Veltliner.
Some of my favorites that you should check out: Abacela Winery, Cooper Ridge Vineyard, and Reustle Prayer Rock Vineyard. All three of these are family-owned, and I love that when you go wine tasting here, there's a great chance that the person pouring your wine is either an owner or a winemaker.
If you're making a quick stop through Roseburg and won't have time to head out to the vineyards, you can still go wine tasting. There's a great urban winery in the heart of downtown Roseburg: Paul O'Brien Wines.
Restaurants in Roseburg, Oregon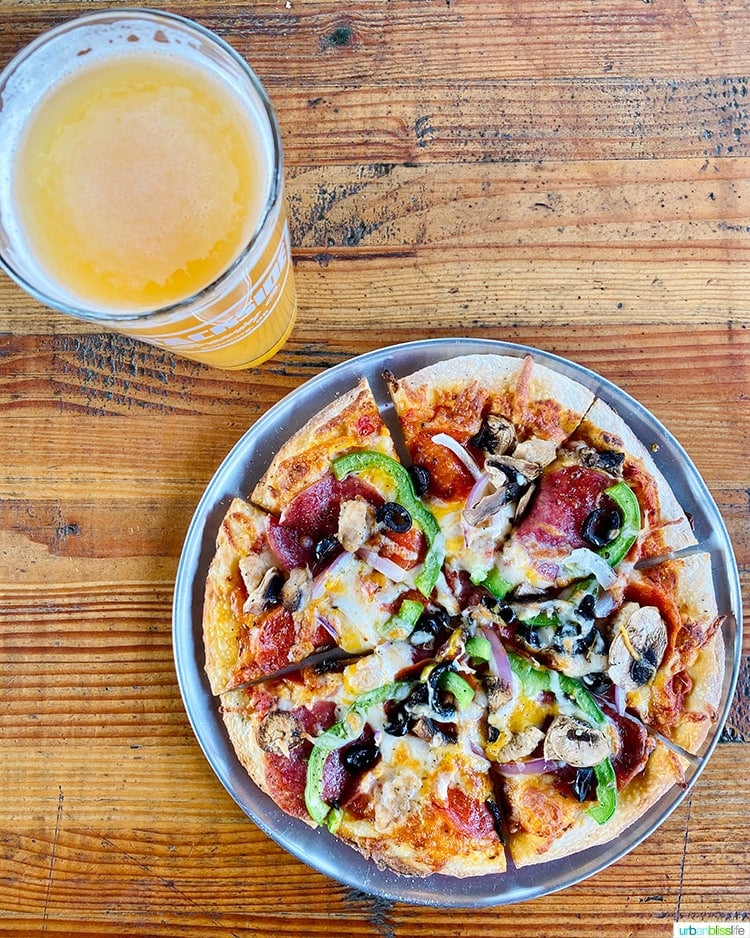 Whether you're looking for a casual pizza place or a fine dining spot to enjoy a romantic date night dinner, there are a variety of restaurants Roseburg, Oregon to suit your style. During my last visit, I stopped by a couple of fun restaurants in Roseburg that are part of the Great Umpqua Foodie Trail: Backside Brewing and The Parrot House.
Backside Brewing is a super casual local brewery with plenty of IPAs (try the Chasing Hazy IPA!) on tap, some of the best pizza I have tasted in Oregon (see pic above), and great outdoor space.
The Parrot House is a Victorian-style home on the National Historic Registry turned into an upscale fine dining restaurant and bourbon bar. The restaurant menu focuses on fresh, local, seasonal ingredients. Definitely peruse the fantastic local wine list while you are here, too!
What to Pack for Southern Oregon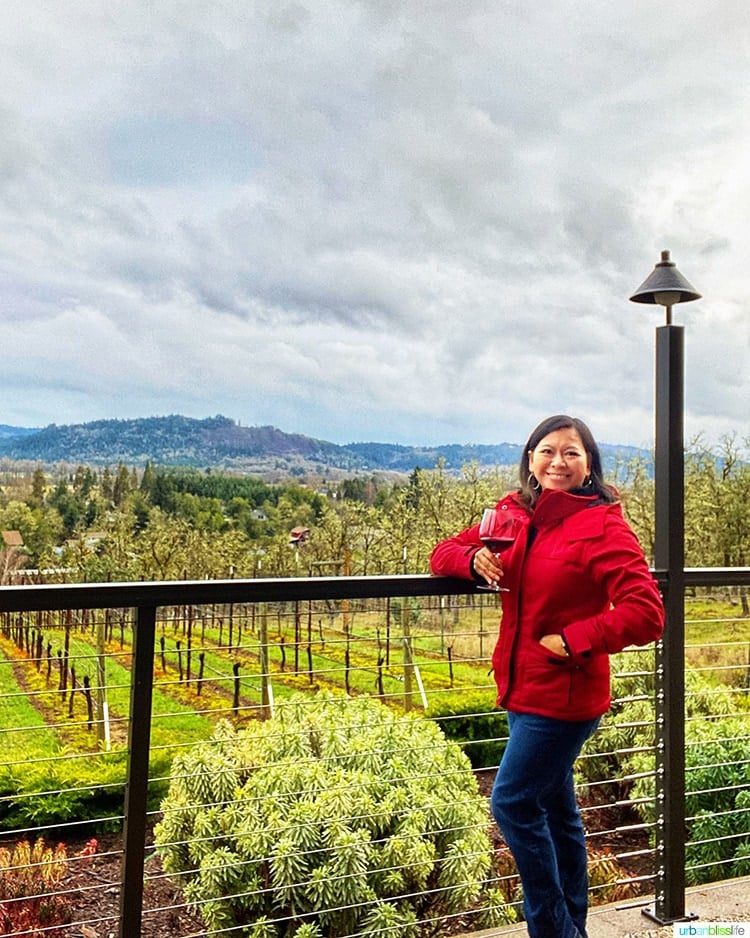 Roseburg is surrounded by mountains, rivers, and waterfalls. During the summer, temperatures are usually between the high 70s to high 80s. During the winter, it can get very wet, cold, and temperatures are between the low 50s to mid 60s.
This area is an outdoor adventurer's paradise, and every place you'll go, casual attire is completely acceptable. Also, most restaurants are kid-friendly. Since you may be going from wet and windy adventures along the river to wine tasting to dinner, make sure you pack:
a waterproof (and windproof, if possible) jacket
waterproof boots or sturdy hiking/athletic shoes
jeans or fleece-lined leggings
layering tops
sweaters or sweatshirts
warm hat and gloves
Discover Southern Oregon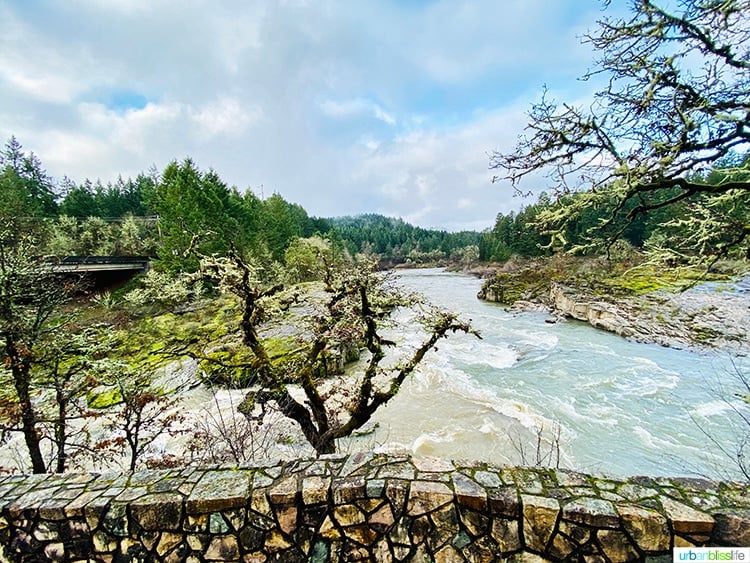 I actually lived in Southern Oregon for a few years, and have lived in different parts of Oregon for most of my life. I've watched the Southern part of my great state grow in so many fantastic ways (more wineries, more restaurants!). And through this growth, the area still retains a lovely small town charm and relaxed atmosphere.
If you're traveling to any part of Oregon, be sure to check out more great travel tips on Travel Southern Oregon and Travel Oregon.
More Weekend Travel Guides
PIN IT:
This post is sponsored by Travel Oregon and Travel Southern Oregon. As always, all opinions and photos are my own.