Visiting New York City for a 3-day weekend? Here are some tips for where to stay, eat, and play if you have 3 Days in NYC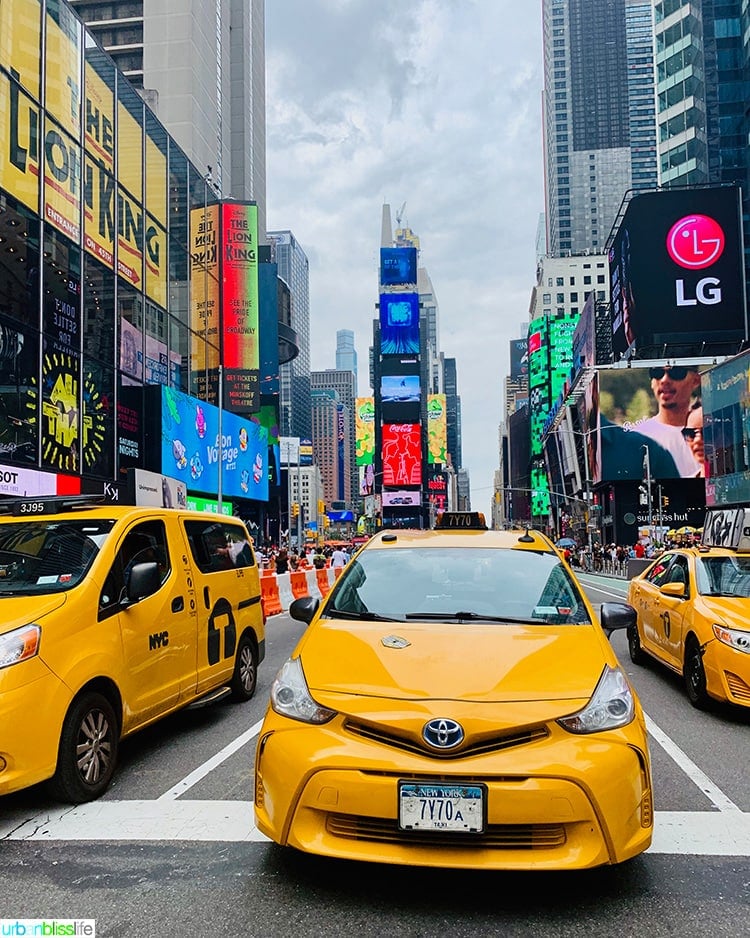 New York City is, without a doubt, one of the best cities in the world. It's a city I will always travel back to time and time again.
No matter how often you travel to NYC, there is always so much more to do, see, eat, drink... New York always has something new to offer, all the time!
Jump to:
3 Days in NYC
Recently, I whisked my husband away for a long weekend in New York City. Just us, no kids.
Our 3 days in NYC occurred two weeks after I had lumpectomy surgery for breast cancer, and was about to start radiation treatments two weeks after the trip. A long weekend away to the opposite coast was the perfect much-needed getaway!
You can learn more about my breast cancer journey in my Instagram stories, from the first mammogram to post-radiation.
Classic New York City stops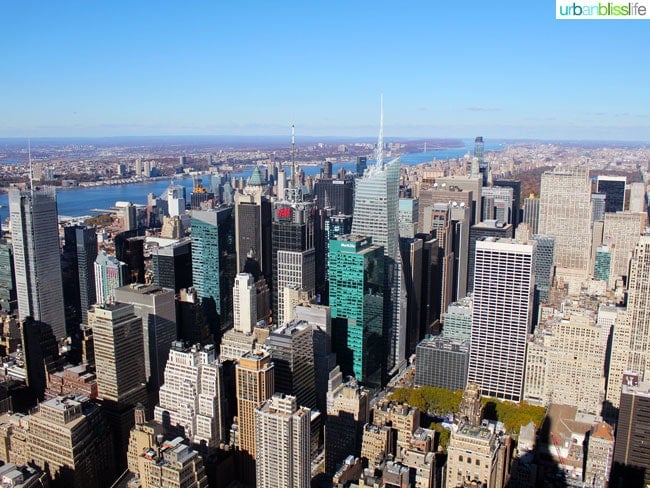 If it's your first time in NYC, you'll probably want to add some top tourist stops to your itinerary.
Go to the top of the Empire State Building
Explore Central Park
See NYC via one of the Hop On Hop Off Buses
Eat at Joe's Pizza
Soak up the vibrant sights of Times Square
I covered a lot of the classic NYC tourist destinations during my 5 Hours in New York City post. Be sure to start there if you want to learn more about some of these top New York City tourist spots.
For this trip, we wanted to try some new restaurants and see some of the newer NYC attractions we hadn't seen before. It all started with treating ourselves to a luxury NYC hotel.
Stay at 1 Hotel Central Park
1 Hotel Central Park ($$$$)
1414 6th Ave
New York, NY 10019
(212) 703-2001
Neighborhood: Midtown Manhattan/Central Park
If you're in the mood to splurge during your 3-day weekend in NYC, 1 Hotel Central Park is the perfect hotel for you. You just can't beat the awesome location.
This posh sustainable hotel is located in Midtown Manhattan. Just one block south of Central Park at the corner of 58th Street and 6th Avenue.
The rooms tend to be slightly more spacious than the average tiny box NYC hotel rooms, although that space does come with a higher price tag.
Though we spent a lot more than we'd normally spend on a hotel, it was worth it. Our room had a separate living area, which made it feel more like an apartment during our stay. The hotel staff here truly goes above and beyond without being too intrusive.
For more hotels, check out these great deals on New York City hotels. I spend a lot of time comparing prices for different dates and hotels and signing up for deal alerts to get the best price on NYC hotels.
Urban Backyard
Urban Backyard
180 Mulberry St
New York, NY 10012
646-692-9957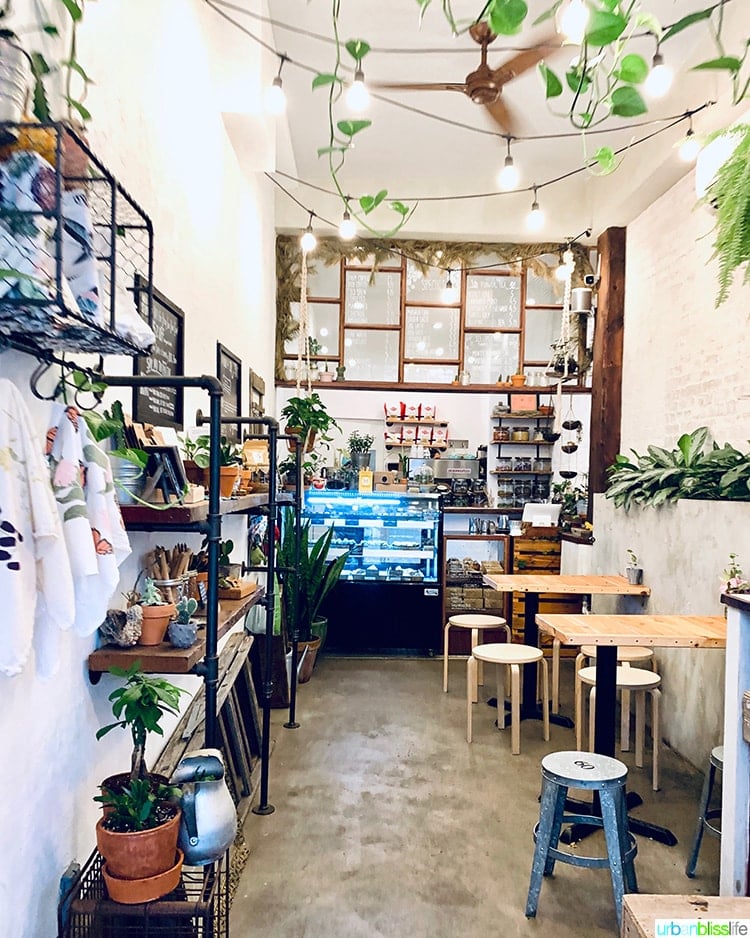 There is no shortage of coffee shops and coffee vendors throughout NYC. Surprisingly, during our NYC weekend getaway, we only had time to check out one of the coffee shops on my list: Urban Backyard.
Urban Backyard is an adorable coffee shop in the Nolita neighborhood. Steps away from the entrance of Little Italy, this tiny spot makes the most of its space. There are a few small tables inside, as well as outside. They serve the most adorable mini cupcakes, as well as delicious espresso drinks.
Epicurie Boulud in The Plaza
Fifth Avenue at Central Park South
New York, NY 10019
Close to Central Park, you'll find the Food Hall at the Plaza. Enter through 58th Street and take the escalators down to choose from several counter-style restaurants, coffee shops, and boutiques. Grab a coffee at Epicurie Bouloud and some macarons at French bakery Ladurée.
NYC places to visit in 2020
Even if you've been to New York City before, there are always a few traditional tourist spots that you may still need to check off your list. Here are the ones that we visited during our 3 Days in NYC.
9/11 Memorial and One World Observatory
180 Greenwich Street
New York, NY 10007
The 9/11 Memorial in downtown Manhattan is a moving tribute of remembrance. The memorial honors the 2,977 people killed in the terror attacks of September 11, 2001 at the World Trade Center site, in Pennsylvania, and at the Pentagon, as well as the six people killed in the World Trade Center bombing on February 26, 1993.
I remember exactly where I was on 9/11 when the planes hit the towers. I remember that entire, excruciating day. And being there at the memorial was so much more profound and moving than I could have ever anticipated. It's a somber place, so please tread lightly with your selfies and respect those around you who may have just found their loved one's name etched into the memorial. Go and pay your respects. It's a beautifully done memorial.
If you would like to go to the One World Observatory at One World Trade Center, be sure to book your tickets in advance.
The Oculus
33-69 Vesey St
World Trade Center
New York City, NY 10003
The Oculus is an imposing structure located across from the 9/11 Memorial. It's the World Trade Center Transportation Hub, and was designed to resemble "a bird flying from the hands of a child," bringing a sense of hope to a site of tragedy.
In addition to serving as a train station, there are many shops at the Oculus as well as dining options. If you're looking for someplace to eat, I recommend checking out Eataly. This large gourmet store includes multiple restaurants within.
Walk the High Line
Gansevoort St. to 34th St. on Manhattan's West Side
Access points: Gansevoort St., 14th St., 16th St., 17th St., 20th St., 23rd St., 26th St., 28th St., 30th St. and 10th Ave., 30th St. and 11th Ave., and 34th St. The entrances at Gansevoort St., 14th St., 16th St., and 30th St. are accessible by elevator. The entrance at 34th St. is a wheelchair accessible ramp.
The High Line is a public park built on a 1.45-mile-long elevated rail structure. It runs from Gansevoort Street to 34th Street on Manhattan's West Side.
We walked the High Line from lunch at Queensyard in Hudson Yards to drinks at Gallow Green. The High Line features public art along the trail, as well as water fountains and public restrooms. It's a beautiful, car-free (and dog-free, sorry fellow dog owners) trail to walk through this part of the city a bit away from the noise of traffic.
Explore Hudson Yards
Between 10th and 12th Avenues from West 30th to West 34th Streets
From the High Line, you can enter Hudson Yards at 30th Street and 10th Avenue.
Hudson Yards is one of New York City's newest neighborhoods. Here you'll find new high rise residences, office space, parks, and upscale shopping and dining. It's also where you'll find The Vessel (pictured above).
We didn't have time to walk up to the top of the Vessel. But, history and architectural buffs will get a kick out of the Secret of Hudson Yards, High Line, and Vessel Tour.
Where to eat in NYC in 2020
Dinner With a View: Manhatta
Manhatta
28 Liberty Street, 60th Floor,
New York, NY 10005
(212) 230-5788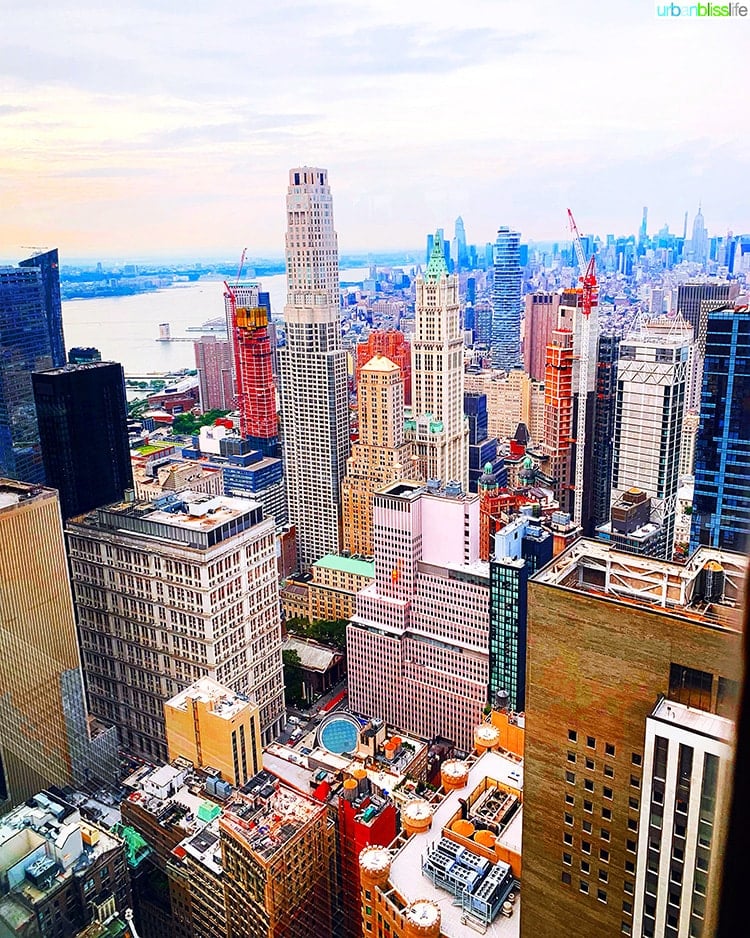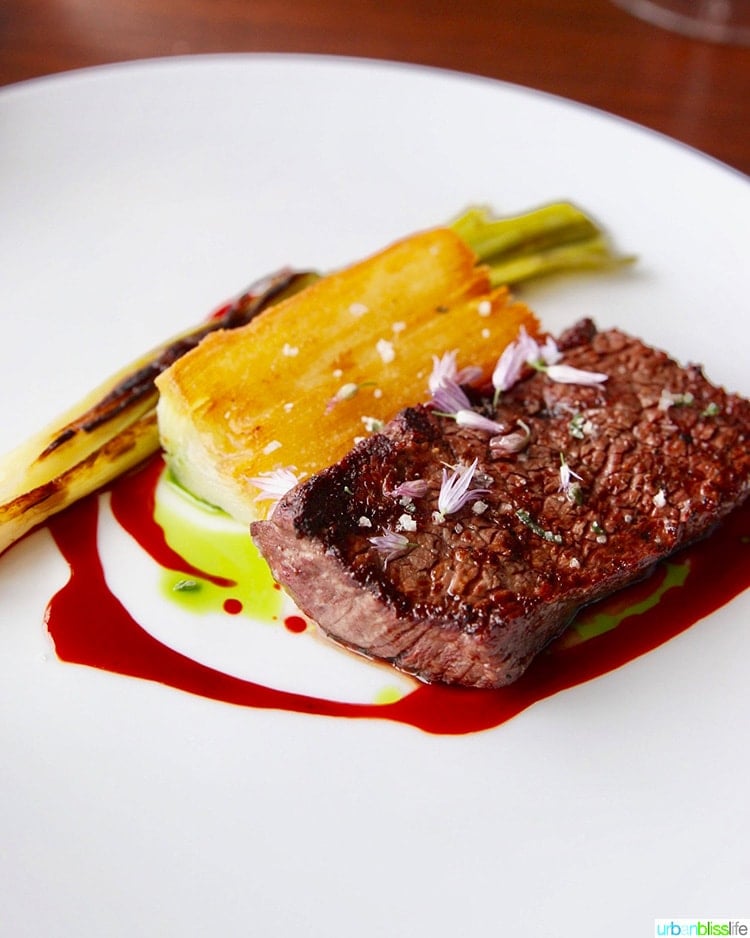 I will recommend dining at Manhatta to everyone I meet who is traveling to New York City. This upscale restaurant sits on the 60th floor of the Liberty Building and overlooks lower Manhattan.
The views are amazing, but the impeccable service and beautiful, delicious dishes make this a Must Visit spot if you have 3 days in NYC (or more!).
You can read my full NYC restaurant review of Manhatta here:
Lunch at Queensyard
Queensyard $$-$$$
20 Hudson Yards, Level 4
New York, NY 10001
Neighborhood: Chelsea, Midtown West
Our favorite lunch during this 3 Days in NYC was at Queensyard. This restaurant is located on the 4th floor of the new-ish Hudson Yards shopping center. Here you can dine with clear views of The Vessel. Luck was shining on us that day, as our table had front row seats.
The service was warm, friendly, and on point. You can enjoy a meal in the main restaurant. Or, you can dine from an abbreviated menu in the bar/kitchen area.
Above all, my husband and I truly enjoyed the entire meal. Each dish was thoughtfully crafted and presented, and a beautiful balance of textures. We had the tuna tataki, the baked Alaskan halibut, and the truffle mushroom risotto.
Lunch at Frenchette $$-$$$
Frenchette
241 W Broadway
New York, NY 10013
between Walker St & Beach St
Neighborhood: TriBeCa
Normally, if I haven't had a great experience someplace, I simply won't write about it. However, Frenchette was named one of Food and Wine magazine's Best New Restaurants of 2019. It also garnered the Best New Restaurant title from the James Beard Award Foundation. Because of these accolades, I'm including Frenchette in this guide.
The food was fine, other than the lobster being tough and disappointing. The service, however, was abrupt, odd, and off-putting. But, we've only had the chance to dine here once so far. I am hopeful that we were just there on an off day. Others apparently have had vastly different dining experiences here than we did.
So I say: go to Frenchette. Give it a shot. Then let me know how your experience was!
Dinner at Upland $$-$$$
Upland
345 Park Ave S
New York, NY 10010
betwee 26th St & 25th St
Neighborhood: Flatiron
Last February, Gigi Hadid shared her love of Upland burgers on the Jimmy Fallon show. I say, come for the burgers, but stay for literally everything else!
The vibe at Upland is casual, hip California meets buttoned up, traditional East Coast. We were welcomed in from the cold into Upland's cozy, convivial arms and made to feel right at home. The staff is warm and attentive.
In a city where Cacio de Pepe seems to be served everywhere, Upland's peppery, cheesy Bucatini Cacio e Pepe ($20) reigns. The Shrimp + Rice ($36) is a beautiful medley of succulent pacific prawns atop rice that's been perfectly crisped in a cast iron pan and drizzed with a yummy garlic aïoli.
Rooftop Bar: Gallow Green
Gallow Green
542 W. 27th St.
New York, NY
Neighborhood: Chelsea
This rooftop garden setting is a breath of fresh air in a crowded city. Gallow Green is a lush rooftop bar at the top of The McKittrick hotel in Chelsea. Get the Sleep No More cocktail (the bright purple one in the pics above), named after the interactive theatre experience in the hotel. Feast on tuna crudo or an artisanal cheese board, and pair it with one of their seasonal cocktails.
Wine Bar: Petrarca
Petrarca
34 White St
New York, NY 10013
Neighborhood: TriBeCa
In the heart of TriBeCa is Petrarca Cucina e Vino. This is within walking distance from Frenchette. So if you're headed to Frenchette for dinner, consider stopping for a glass of wine at Petrarca.
If you have 3 Days in NYC, I definitely recommend trying to find time to enjoy lunch or dinner here. Petrarca is a lovely family-run restaurant and wine bar that was recommended by a childhood friend of mine. The wine selection is stellar, and the menu offers classic Italian dishes prepared beautifully. It's the kind of neighborhood spot I wish we had nearby; if I lived in TriBeCa, I'd dine at Petrarca often!
More New York travel deals
If you visit, please be sure to let them know that you read about it on Urban Bliss Life! And if you snap some pics, tag us @UrbanBlissLife and #UrbanBlissLife on Instagram, TikTok, Twitter, and Facebook.
More New York City travel articles
PIN IT: