Looking for the best dinner with a view in New York City? We loved everything about Manhatta restaurant!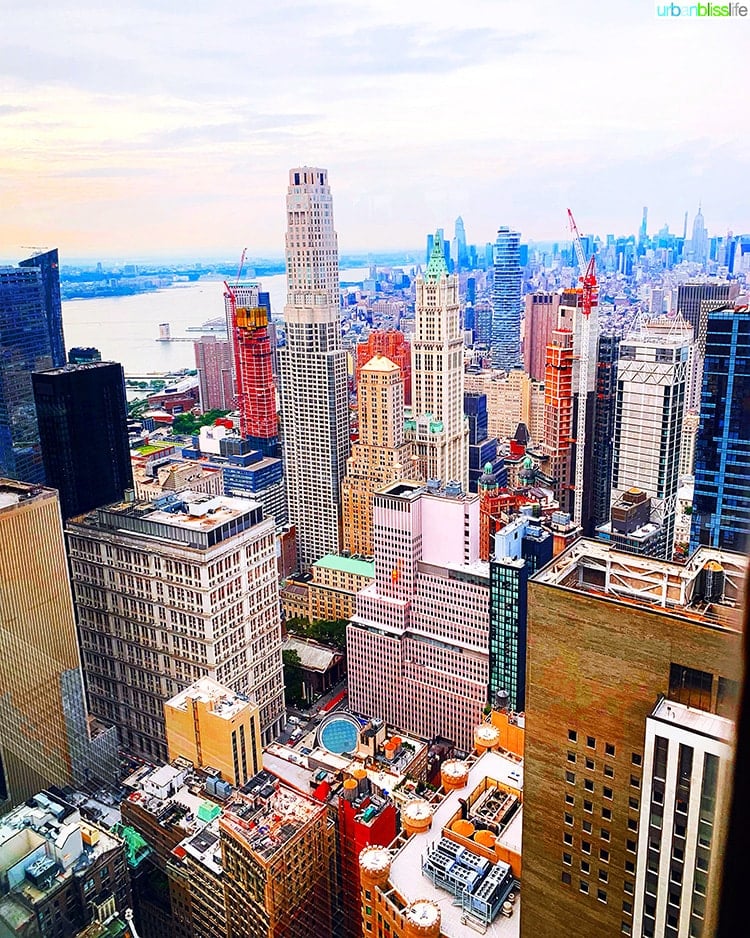 Dinner with a view. It's a cliché phrase, but there's good reason this type of dining experience is highly sought after. Especially when you're traveling, who wouldn't want an incredible meal with a stunning view? Yet often, restaurants deliver on one but fall short on the other.
Manhatta restaurant in Lower Manhattan does not disappoint those searching for the best dinner with a view in New York City. It delivers on both -- and so much more.
This was one of my favorite dining experiences of 2019.
Best Dinner with a View in New York City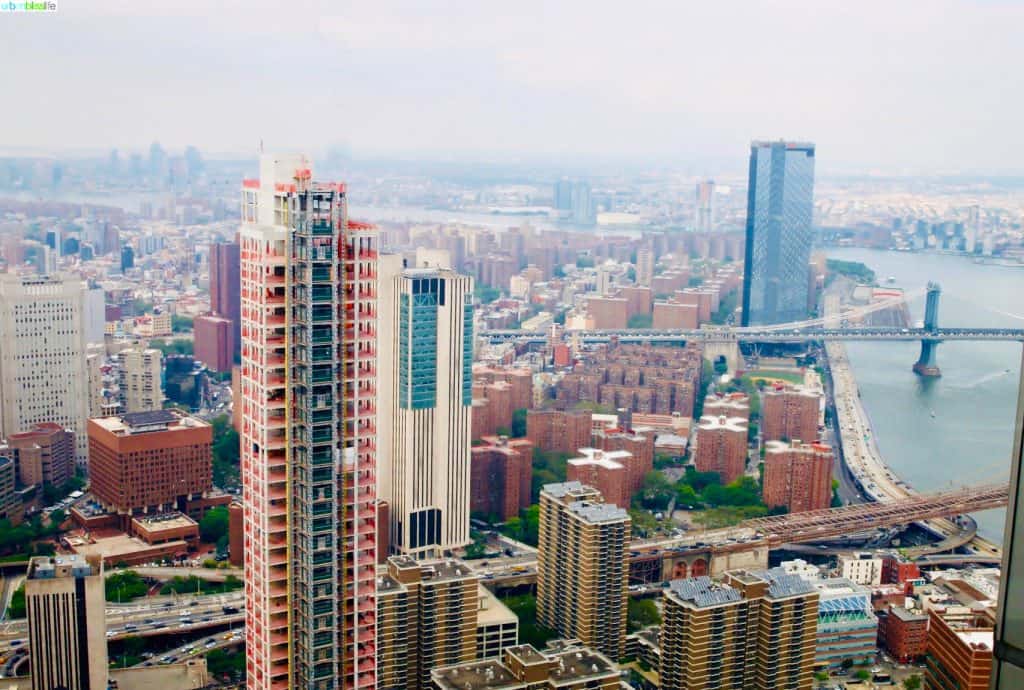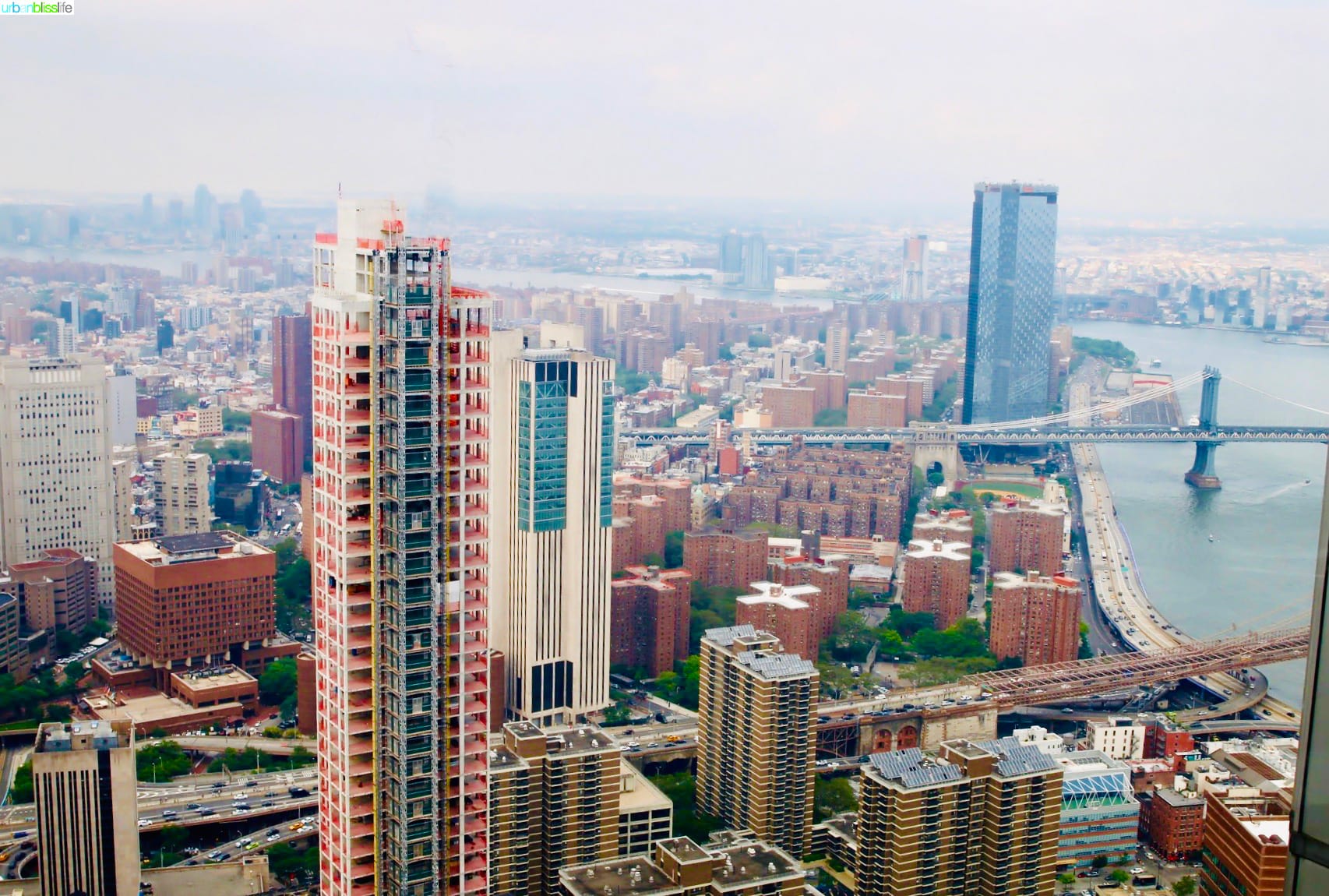 This summer, I whisked my husband away for a long weekend getaway to wine and dine our way through New York City. In addition to seeing some newer sights that we hadn't seen on previous trips, we wanted to find one spot where we could enjoy a gourmet meal AND take in skyline views of this stunning city.
I'm so glad my research lead us to Manhatta restaurant.
Manhatta restaurant
Manhatta restaurant opened in July of 2018, and is part of hospitality giant Danny Meyer's Union Square Hospitality Group. This upscale establishment sits on the 60th floor of the 28 Liberty building and overlooks Lower Manhattan.
To get to the restaurant, enter through the dedicated Manhatta lobby at the corner of Liberty and William Streets. In the lobby, you'll give the host your name for your reservation, and they'll call you an elevator taking you up to the restaurant and bar.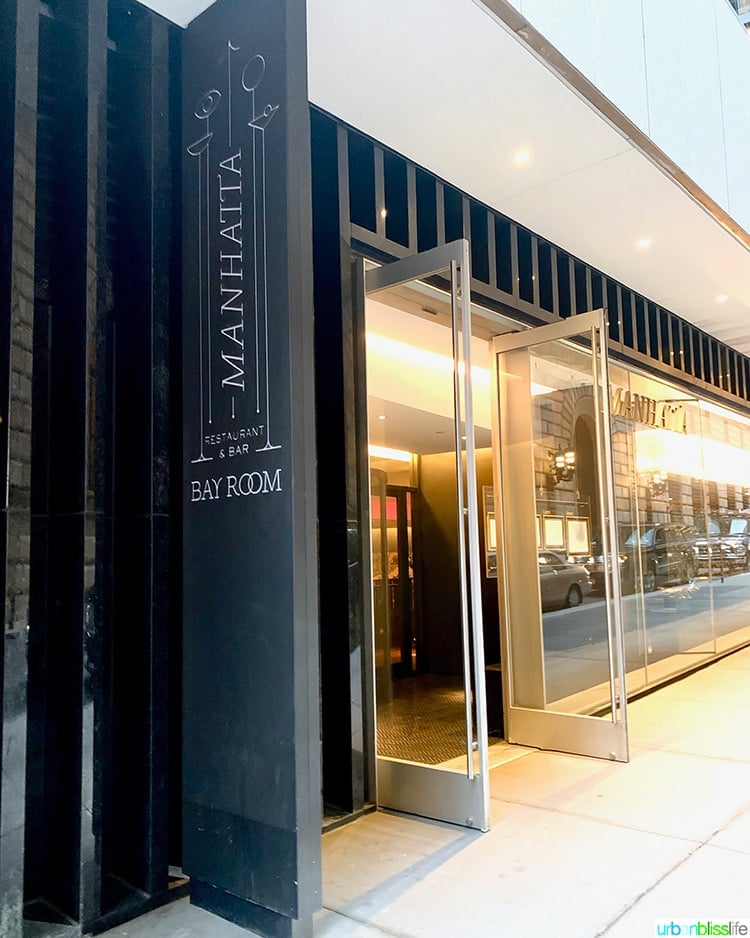 The main dining room offers a set prix fixe 3-course menu at $94 per person. You can order from an a la carte menu in the bar.
Wine and Cocktails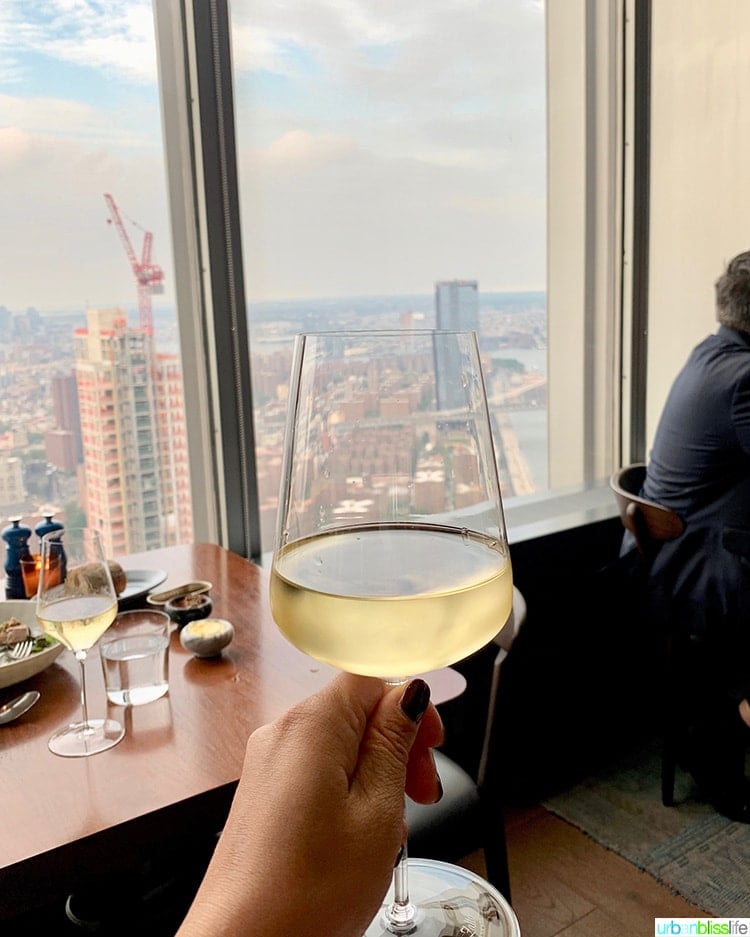 Beverage Director Matt Whitney manages a beverage book that is 75 pages long. It includes an impressive wine list that leans heavy on Burgundian wines, but also features some superstars from my beloved Willamette Valley as well as a few of my favorite Anderson Valley and Sonoma wines.
Manhatta's 3-Course Dinner Menu
The best dinner with a view in New York City also serves one of the best meals you might enjoy in the Big Apple.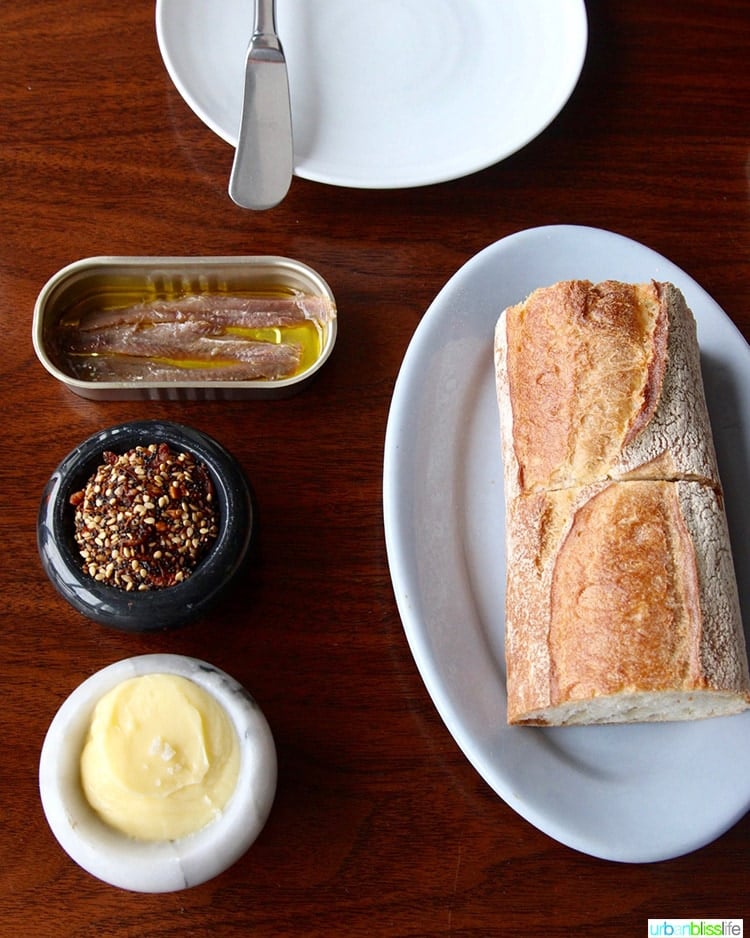 The bread you are served before a meal can speak volumes about the restaurant. Is it freshly made in-house or from a local bakery, daily? What is the quality of butter or oil accompanies the bread?
I loved the fresh crusty bread served at Manhatta, alongside a trio of toppings: salted butter from Normandy, chicken liver with everything bagel topping, and a cute open tin of anchovies from Sicily.
First Course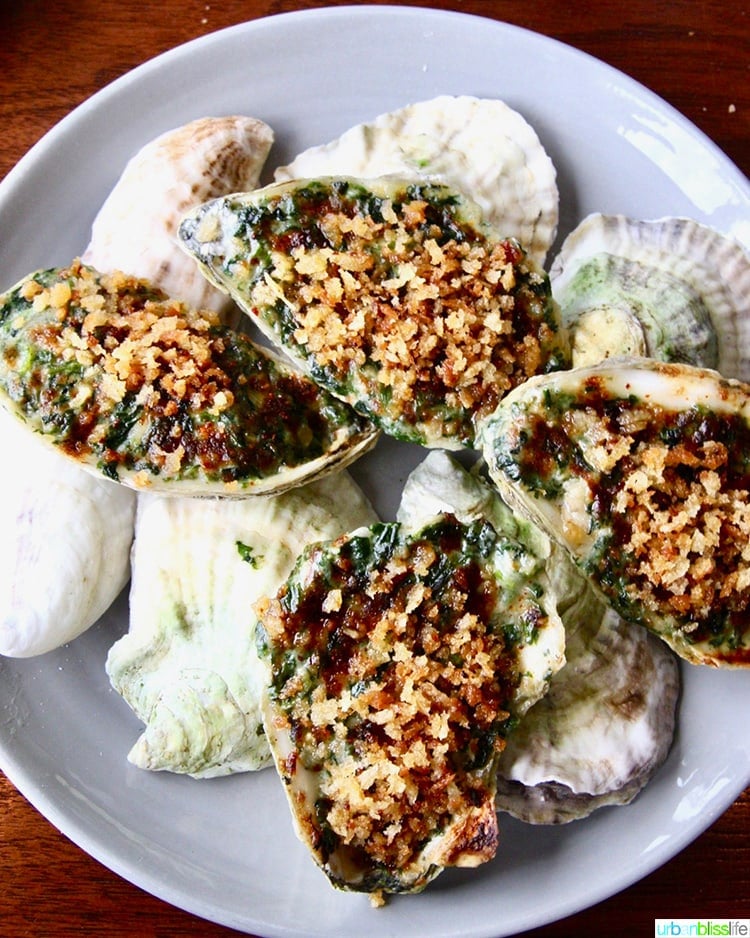 I started my meal with Oysters Rockefeller. Because, hello, I'm in New York and my ideal meal always starts with oysters. Our server did warn me there was some dairy, but I told him I would happily suffer the consequences. It was totally worth it. The oysters were topped with watercress mornay, Pernod, and delightfully crisp garlicky breadcrumbs.
Fun fact: Manhatta was once an employee-only dining hall owned by David Rockefeller. True story (according to Manhatta's social media managers).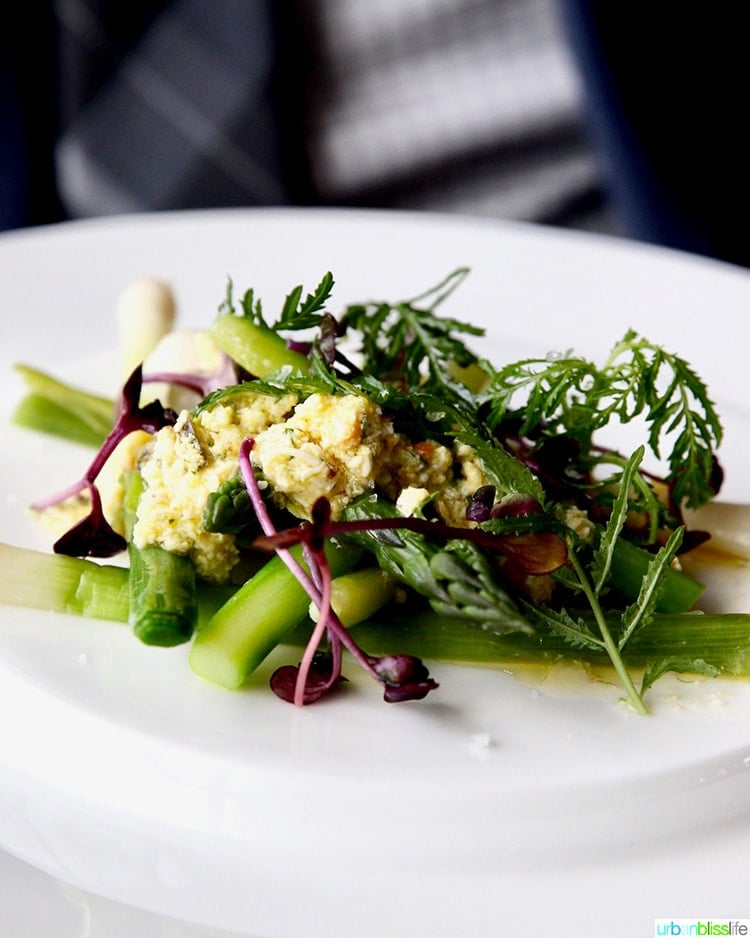 My husband ordered the Asparagus Salad, which was topped with sauce gribiche (a mayonnaise-style egg sauce).
Second Course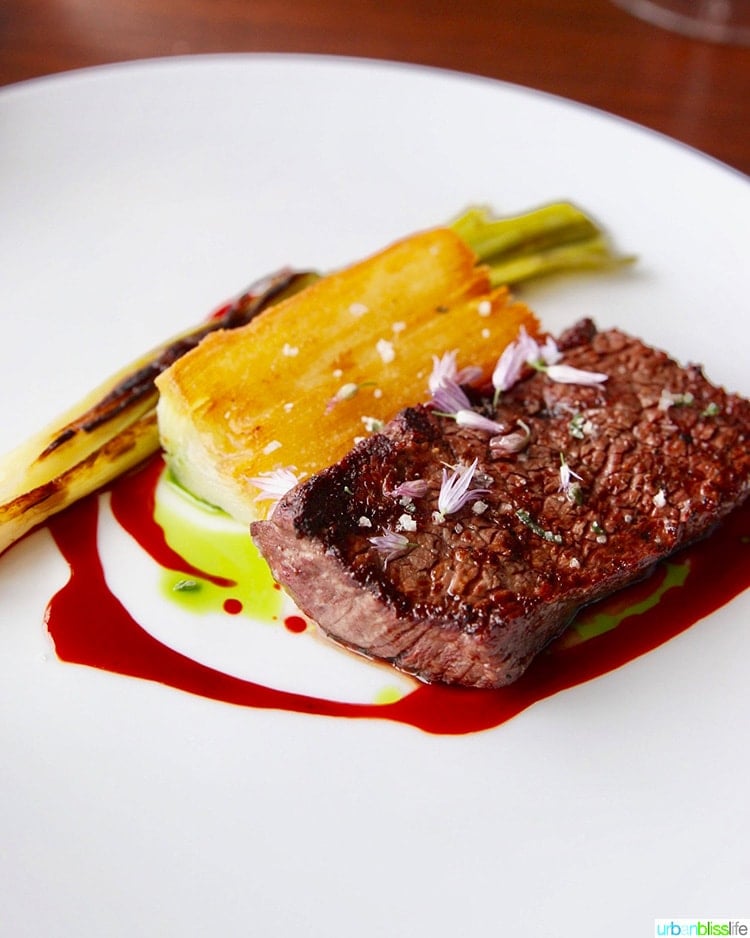 For my second course, I ordered the Grilled Wagyu Coulotte. Served with leeks, potatoes, and whey-shallot jam. The meat was perfectly seasoned and a beautiful medium rare. And, I love the flaky layers of potato. The presentation was gorgeous, and the flavors definitely delivered.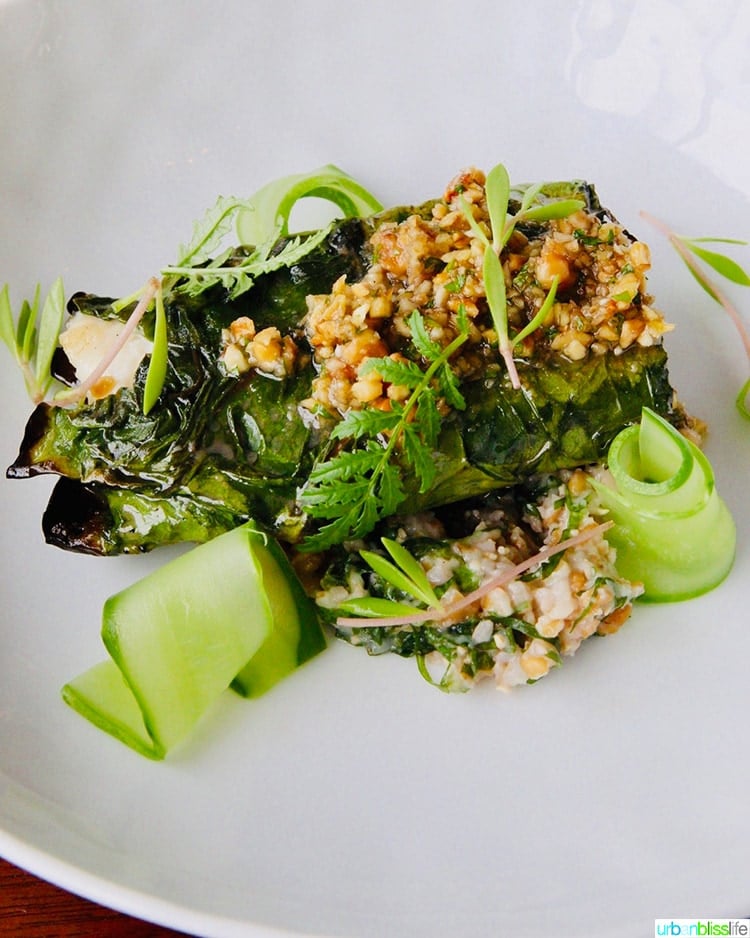 My husband ordered the Brook Trout which was wrapped with Swiss chard, topped with sorrel and bulgur wheat, and adorned with cucumber ribbons. This is a beautiful entree and while it's one of the healthier options for the second course, it's packed with delicate flavors, a medley of textures, and is quite filling.
Third Course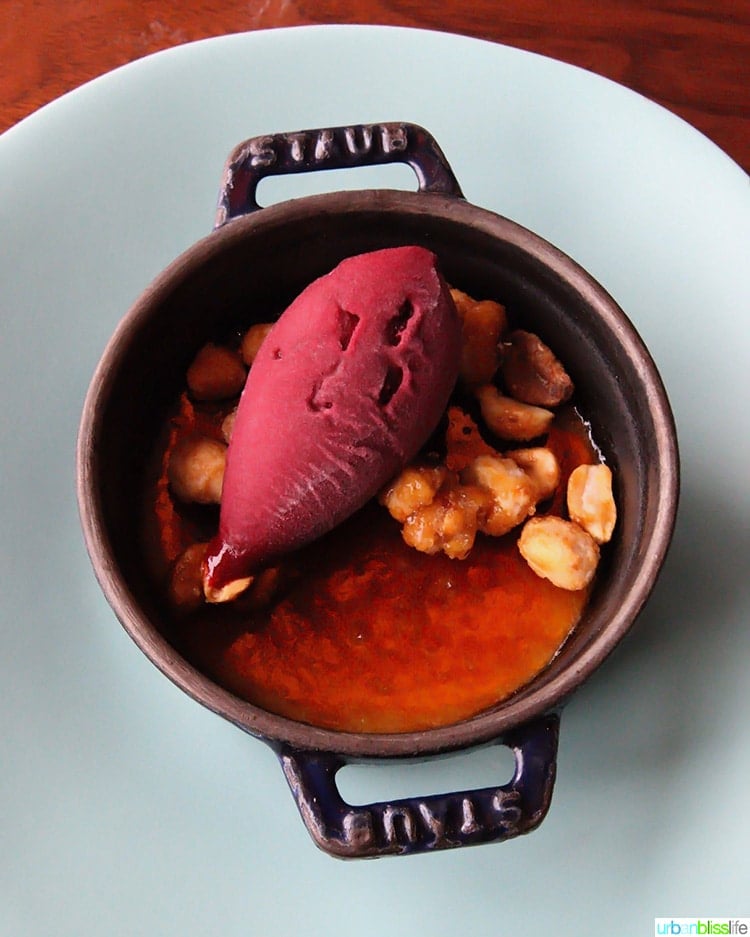 Knowing I have a dairy intolerance, the fine folks at Manhatta made me a lovely Berry Sorbet with candied nuts for dessert. It was a light and delicious way to end a beautiful meal.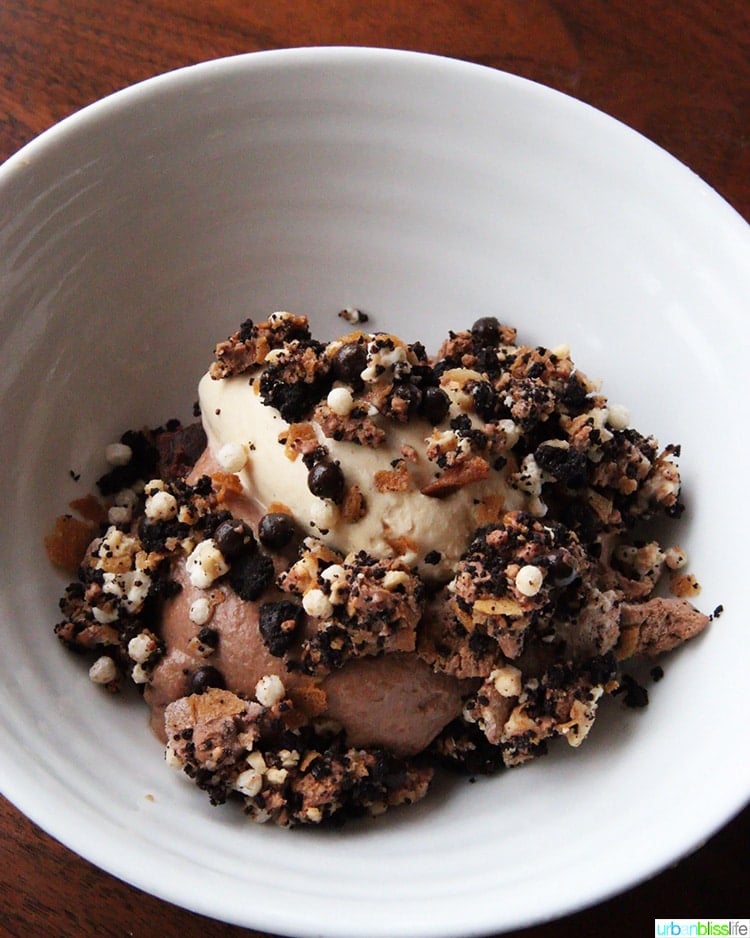 Meanwhile, my husband ordered the decadent Chocolate Mousse. Served with brown butter ice cream and Earl Grey sabayon, and topped with crunchy cocoa nibs, this is definitely the dessert I'd order if I had no problems with dairy.
What's the Dress Code at Manhatta?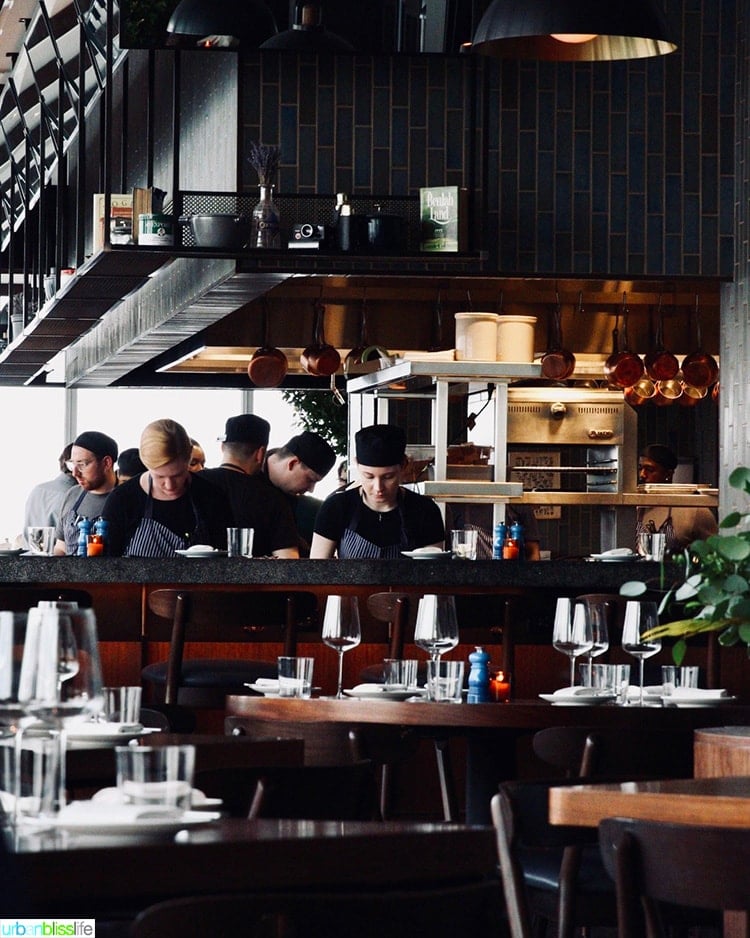 While there is no formal dress code at Manhatta, it's an upscale restaurant and you might want to dress accordingly. I wore a nice dress and my husband wore a suite and tie. Most men dining there wore suits or at least jackets and slacks; most women wore suits, dresses, or blouses and slacks. There were a few folks in jeans, but this is definitely not a shorts and t-shirts kind of place.
Is Gratuity Included?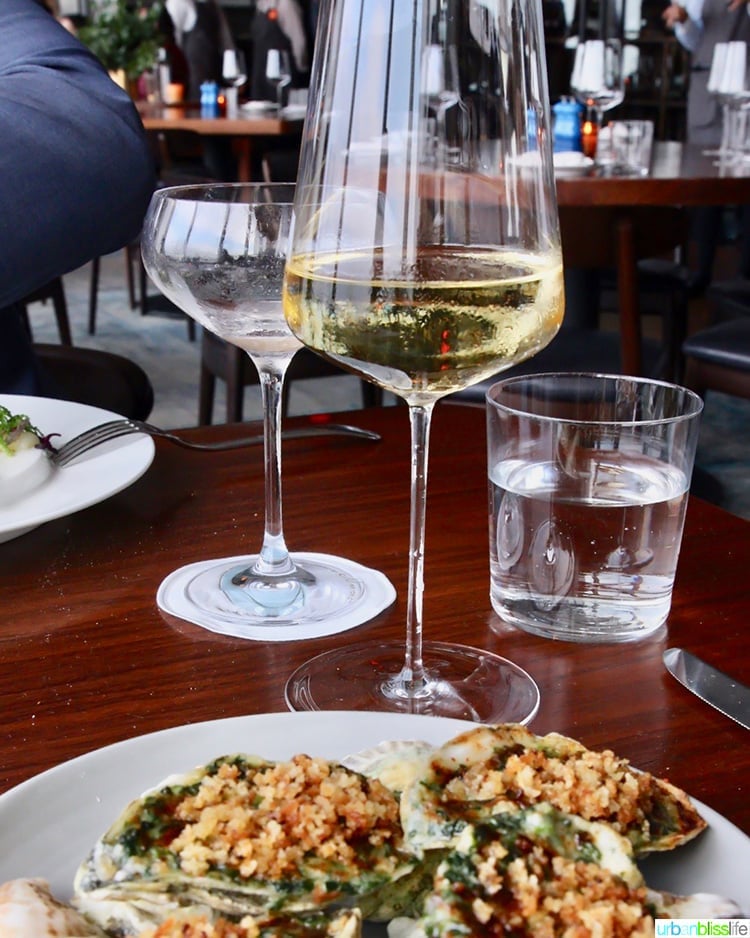 Like most of the group's restaurants, Manhatta is a non-tipping restaurant, with hospitality included in the price of your meal.
I love this: it shows me that the staff are compensated adequately (I hope) and it takes the guesswork out of tipping, which can especially be stressful and confusing for tourists from out of the United States.
Dine at Manhatta restaurant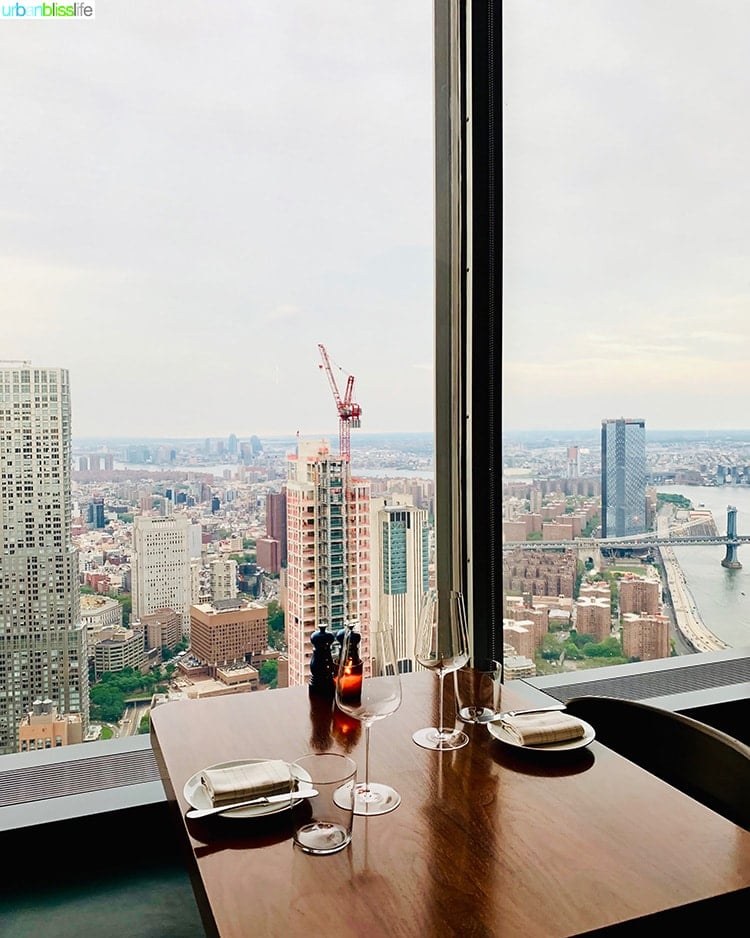 This experience was hands down the best dinner with a view in New York City that we could have hoped for. The staff excels in making all guests feel special, the dishes were executed beautifully and deliciously, and all with a a gorgeous view of NYC.
28 Liberty Street, 60th Floor,
New York, NY 10005
(212) 230-5788
HOURS:
Lunch:Daily 11:30 AM- 2 PM
Dinner:Sunday — Wednesday 5pm-9:30pm; Thursday — Saturday
5pm-10pm
Happy Hour: every weekday from 4-6pm
To make reservations or for more information, visit the Manhatta restaurant website.
3 Days in NYC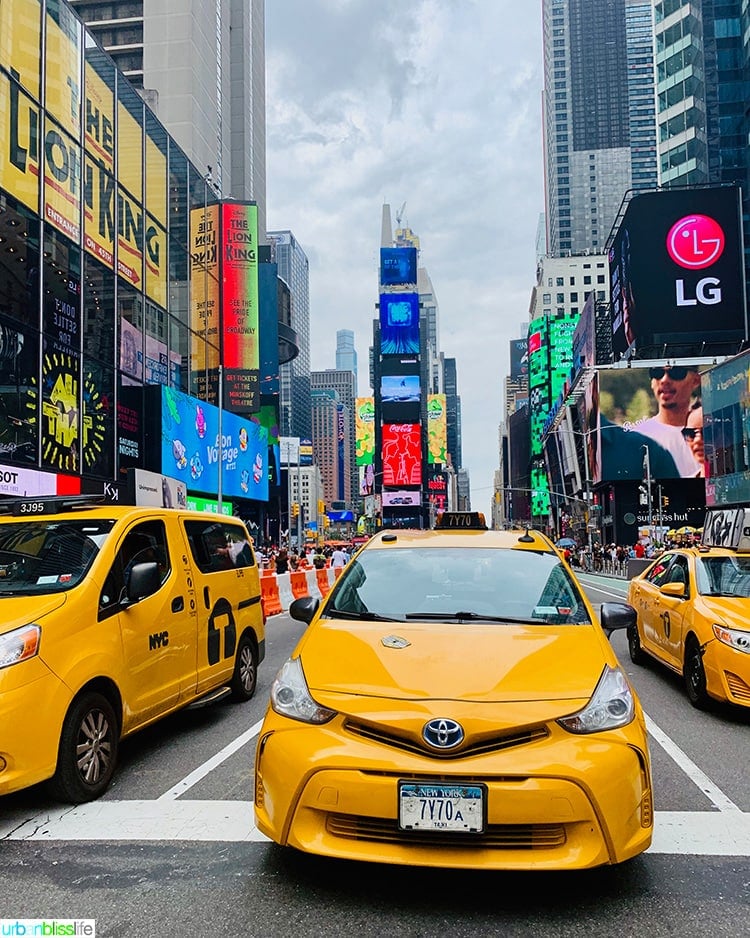 Stay tuned for more posts from our 3 Days in NYC, coming up throughout the month!
In the meantime, check out all that you can do in just 5 Hours in NYC. If you've got solid walking shoes and the motivation, you can do A LOT!
More Foodie Travel Guides