Jackrabbit restaurant offers upscale dining with a one-of-a-kind menu, in the heart of downtown Portland, Oregon.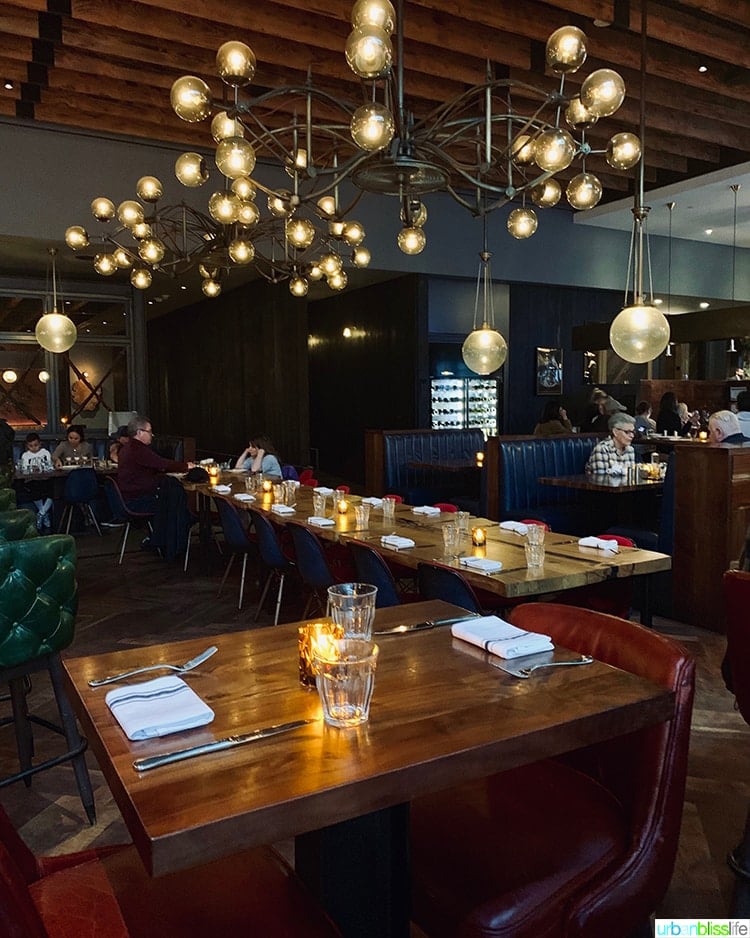 Jackrabbit is one of those local restaurants that feels as if it has existed as part of the city forever. The octopus-arm chandeliers (constructed with bike parts), high-back tufted emerald bar stools, the funky mix of Portlandia and seemingly random but then obviously carefully curated books, oddities, and memorabilia on the wall shelves... Jackrabbit is a bit of old and new, a bit classic comfy Portland meets big city aspirations.
The Jackrabbit dining experience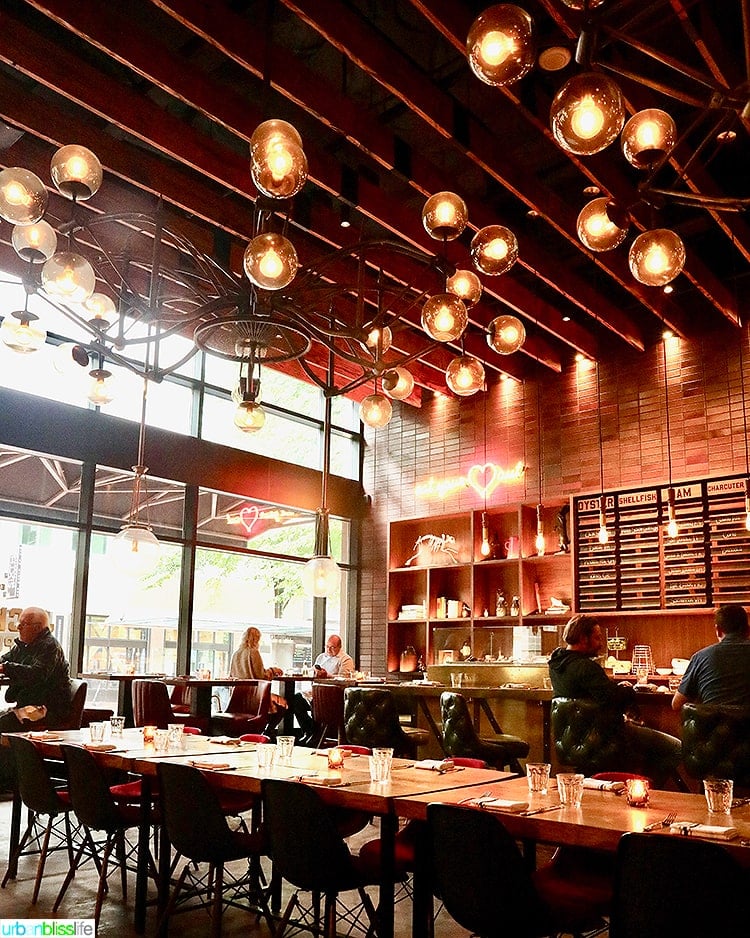 I've dined at Jackrabbit many times since it first opened in Spring of 2017. I've enjoyed breakfast, lunch, dinner, a Portland Dining Month menu, and several special events held here.
Many of the restaurant's classic dishes that I shared here on the blog last year remain on the menu (see photos above). These also happen to be some of my favorite dishes still to enjoy at Jackrabbit.
Recently, my husband and I dined at Jackrabbit as a post-Feast Portland date night. Here are some of the dishes we enjoyed during that visit.
Drinks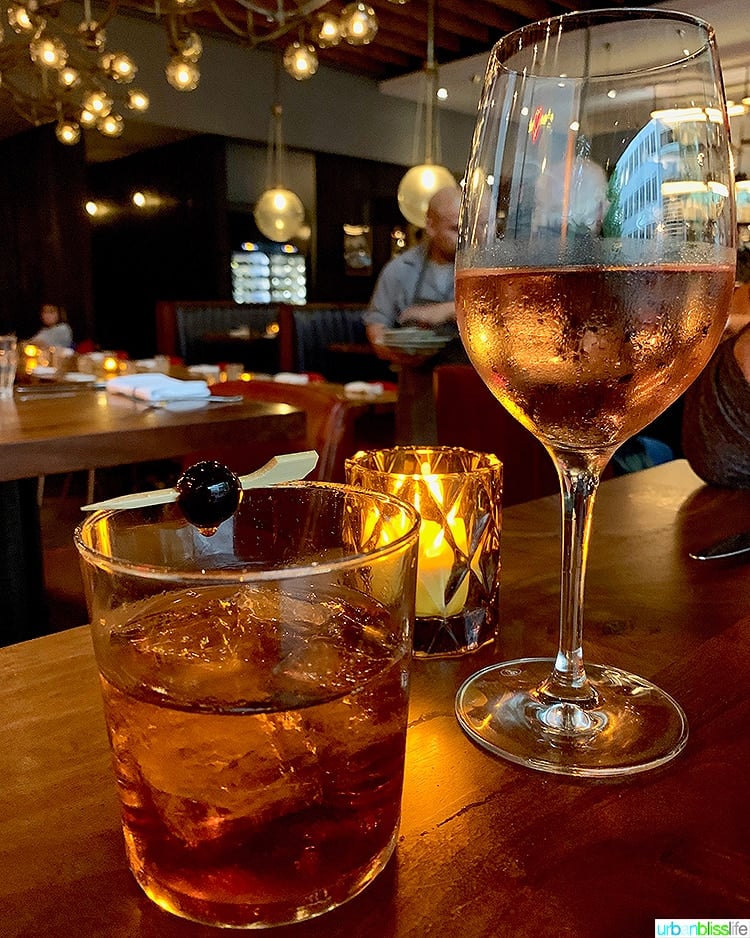 Jackrabbit is known for its gin-focused cocktail program, so I definitely recommend trying one of their signature cocktails during your visit. They have Negronis on tap, as well as a GSM Rosé wine on tap.
Starters
I really love the starters and salads at Jackrabbit, almost more than their main dishes. The half dozen oysters ($18) are always an excellent choice here, as are the deviled eggs ($12) and 3 Little Pigs ($15).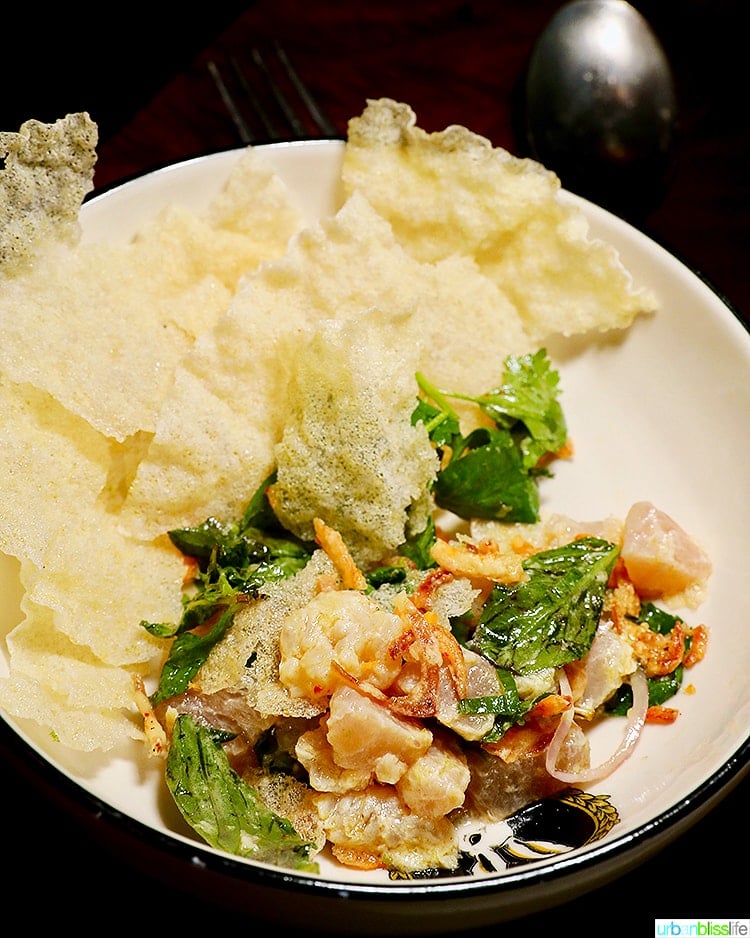 The Tombo Crudo ($14) is consistently a delectable starter, and one of my favorite dishes at Jackrabbit. Crisp rice crackers add a nice crunch to the tuna and herbs.
If you've got vegetarian friends, they'll love the Avocado Salad ($11). Though it's a seasonal dish, I still see it on the menu as of today (Oct 22), so if it's still on the menu when you dine here, I highly recommend ordering this. The radishes, avocado, black lime and cucumber all dance beautifully together on a bed of creamy labneh.
Since this is a seasonal salad, you may find a similar salad to this, with other vegetables in the starring role.
Main Entrees
Vegan friends, I'm not going to lie: the meat dishes are the true stars at Jackrabbit.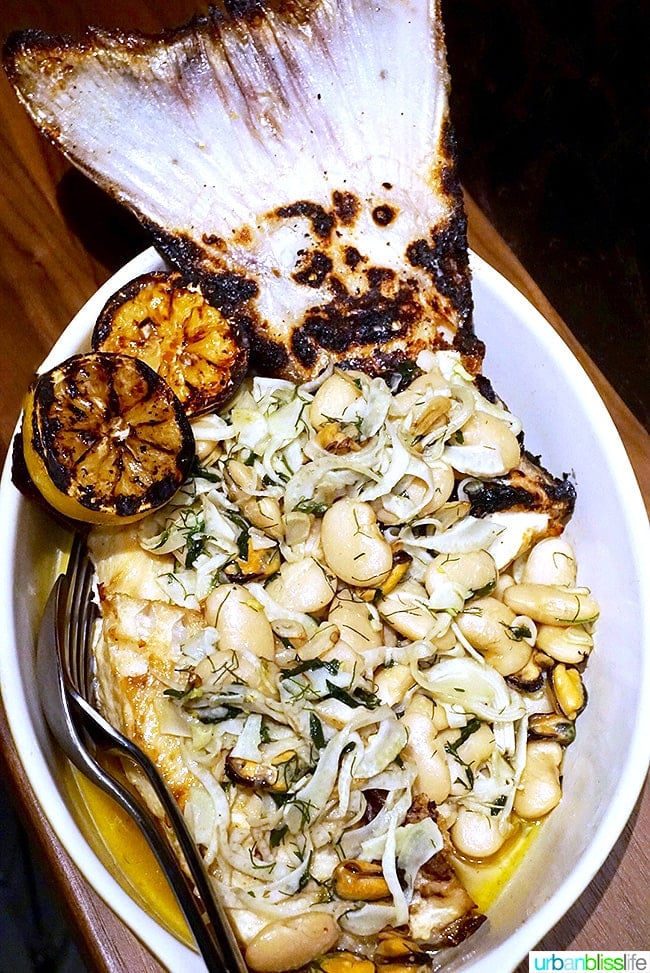 The Local Fish ($32, pictured above from a previous meal), Flat Iron Steak ($35), and Jackrabbit Burger ($17) are consistently delicious options.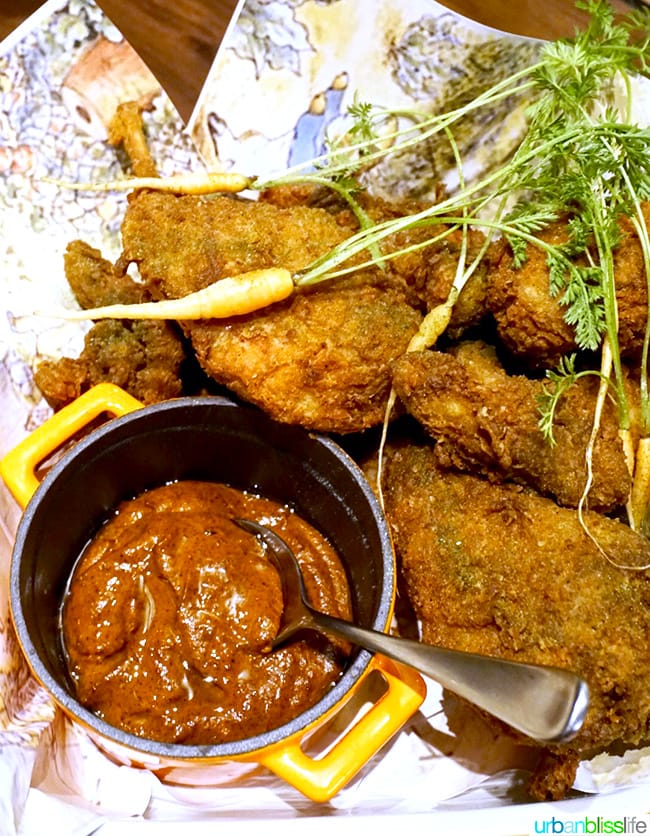 For groups, the large shareable signature plates are worthy of birthdays, anniversaries, and new job/new business deal celebrations. These include the Mr. McGregor's Buttermilk Fried Rabbit ($75, pictured above from a previous meal), Pig's Head Gabacho Style ($65), and 28-day aged four pound pin bone Steak ($120 and so worth every penny, but definitely shareable among 4-8 people).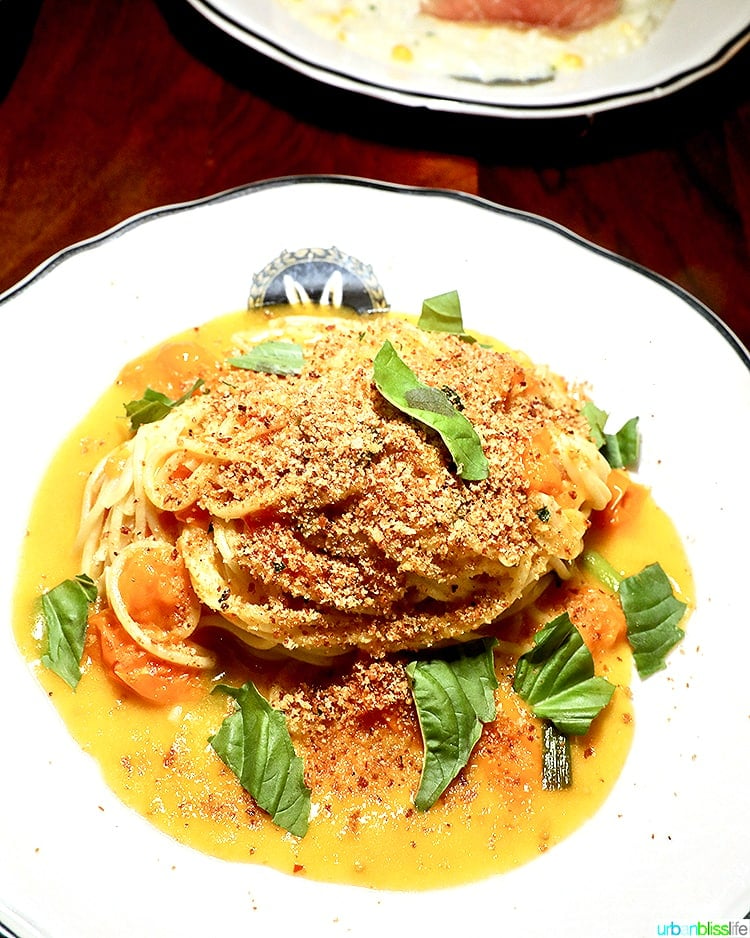 Jackrabbit's pastas, in my experience, have been hit or miss. I love their Rigatoni ($23) with lamb ragu. But my most recent order of Spaghettini ($20, pictured above) was soggy, overcooked, and lacked flavor. But the presentation was beautiful.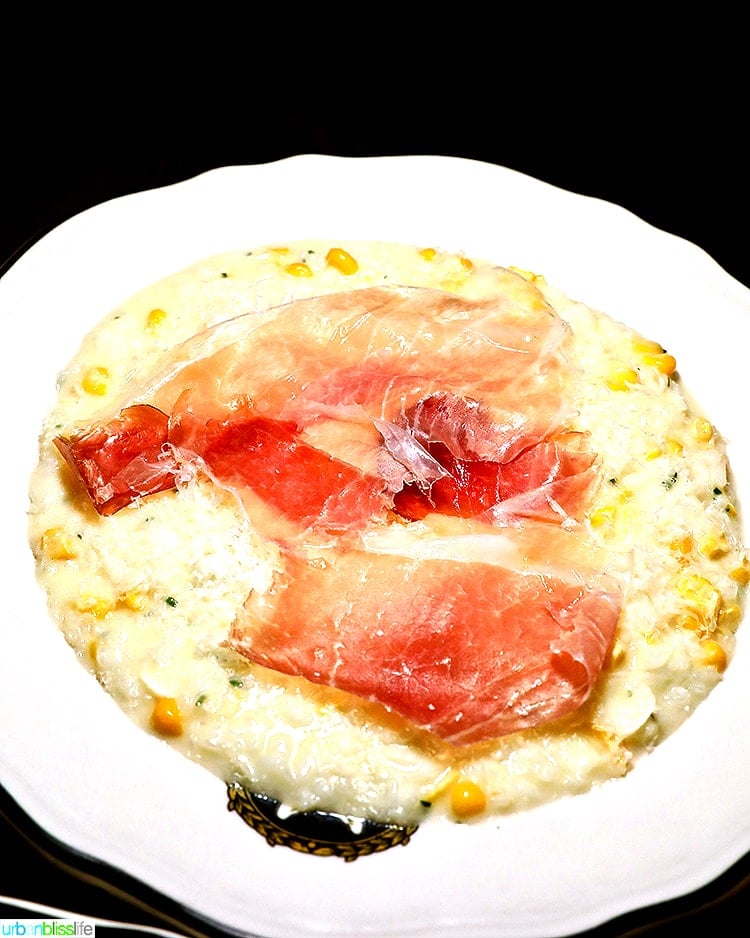 My husband had the Risotto with Sweet Corn and Mascarpone ($21), with added Prosciutto ($5). Though the presentation was lacking, the flavors were there.
So for pastas, I would stick with the Rigatoni, Mafaldine, or the Orechiette. I've enjoyed all of those in past visits.
Dessert
Now the desserts always shine at Jackrabbit.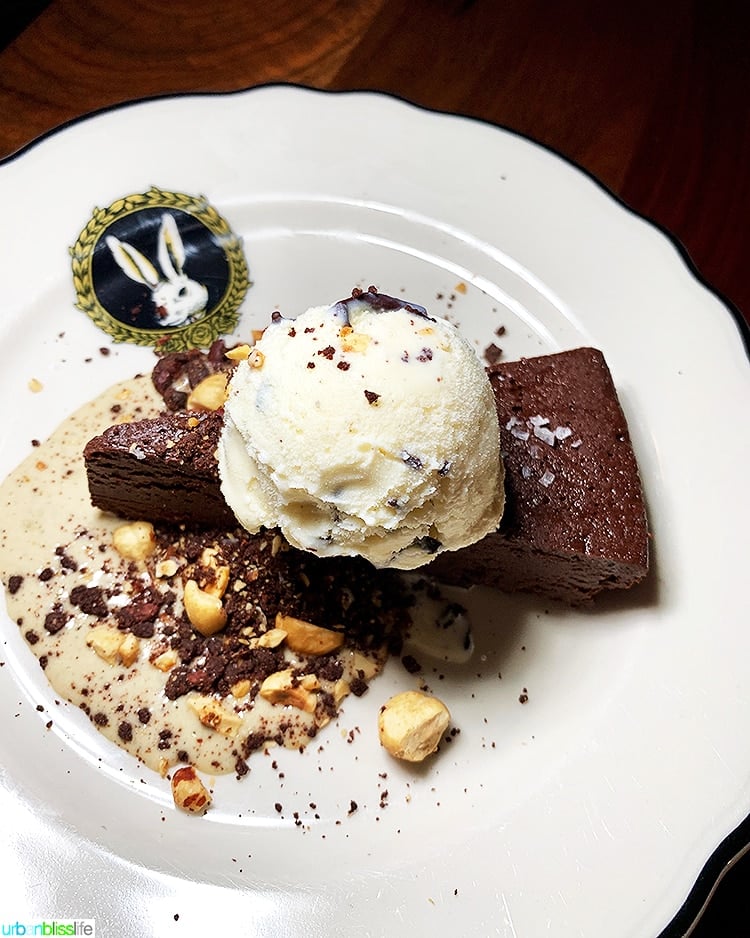 This chocolate cake with hazelnuts was absolutely divine.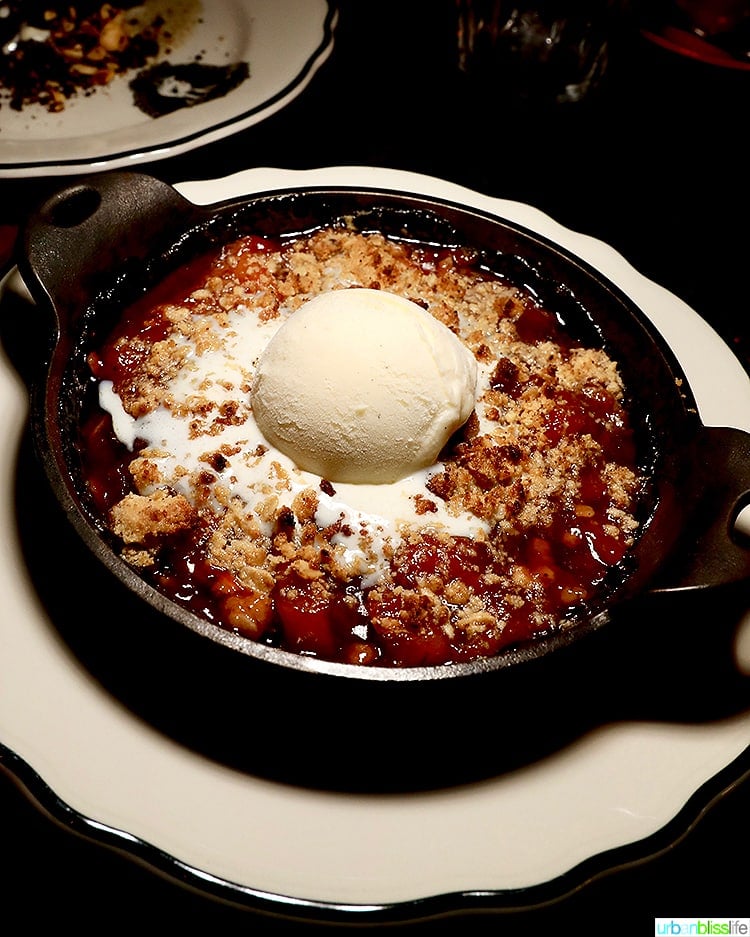 And the seasonal cobbler was absolutely delicious! Perfect for a chilly evening.
Dine at Jackrabbit restaurant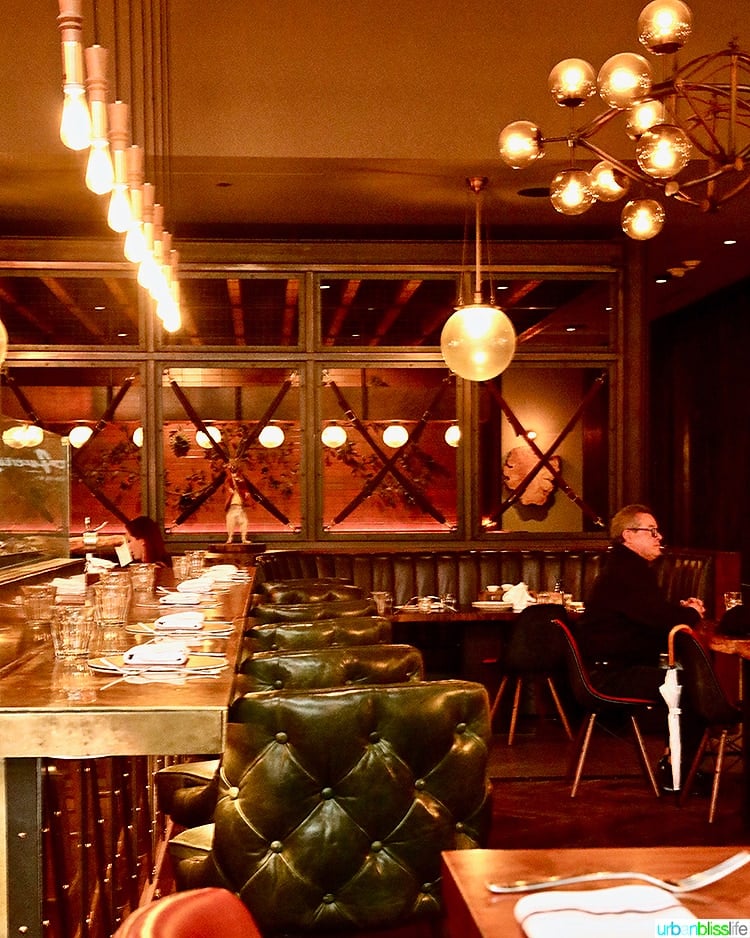 I really do love dining at Jackrabbit. It's such a great spot for date nights, girls' night out, and weekday lunch meetings. Their event space is also quite unique and flexible, with the ability to cater to intimate birthday dinners up to large company parties.
The menu items that shine are definitely seafood and meat dishes. Vegans might find it a bit challenging, but not impossible, to fill up on a hearty meal here. If you're visiting Portland, Oregon, you can't beat the restaurant location - within walking distance of Pioneer Courthouse Square, and many shops, museums, and shows.
Jackrabbit
SW 6th Avenue
Portland, Oregon 97209
www.gojackrabbitgo.com
HOURS:
Breakfast: Monday - Friday 7AM - 10AM
Lunch: Monday - Friday 11:30AM - 2PM
Dinner: Sunday - Thursday 5PM - 10PM; Friday & Saturday 5PM - 1030PM
Brunch: Saturday & Sunday 8AM - 2PM
Happy Hour: daily, 2PM - 5PM
LATE NIGHT Sunday - Thursday 10PM - 11PM and Friday & Saturday 1030PM - 1130PM
PIN IT: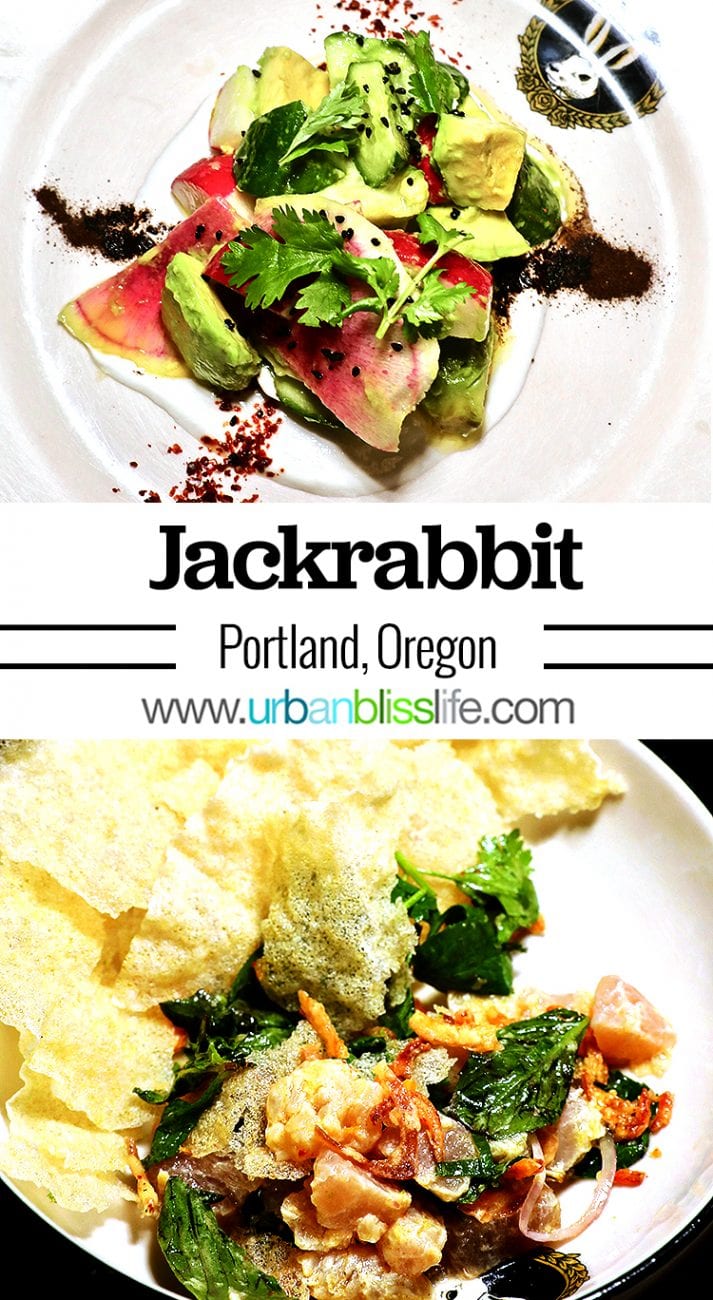 More Foodie Travel Guides: