Tusk, one of the best Portland Middle Eastern restaurants, launches a weekend happy hour full of colorful cocktails and tempting bites.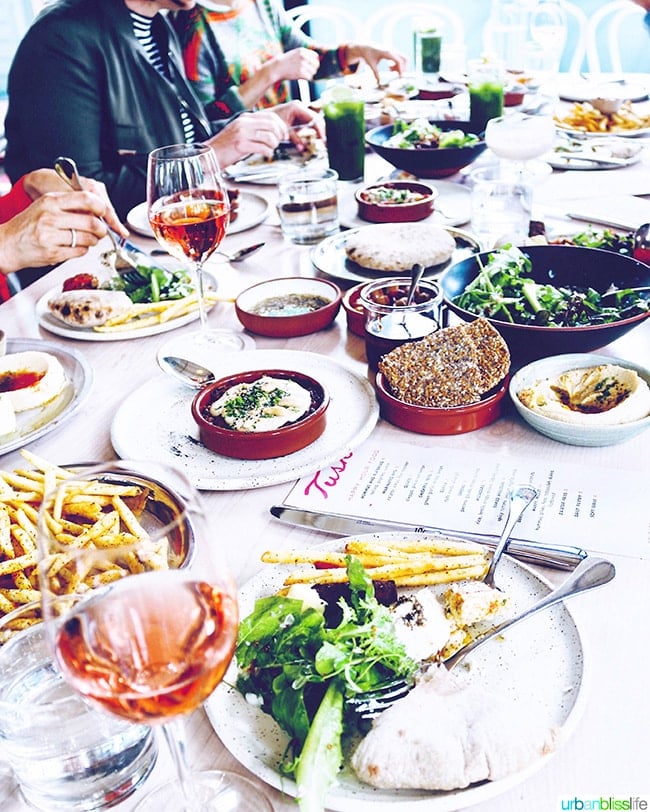 Tusk restaurant's new weekend happy hour to help you celebrate the sunshine in their now-enclosed, all-season patio!
I've waxed poetic about my love for Tusk before. It's a gorgeous, light and airy restaurant on Burnside on the eastside of Portland, Oregon. Everything about Tusk is on point: the elegant speckled plates, bowls, and smiley face coffee cups. The beautiful bar and European cafe chairs.
And of course, the food and beverages. You can't go wrong with almost anything you order at Tusk, and now Portland diners can enjoy weekend happy hour there on Saturdays and Sundays from 2:30 - 5:00 pm!
Happy hour drinks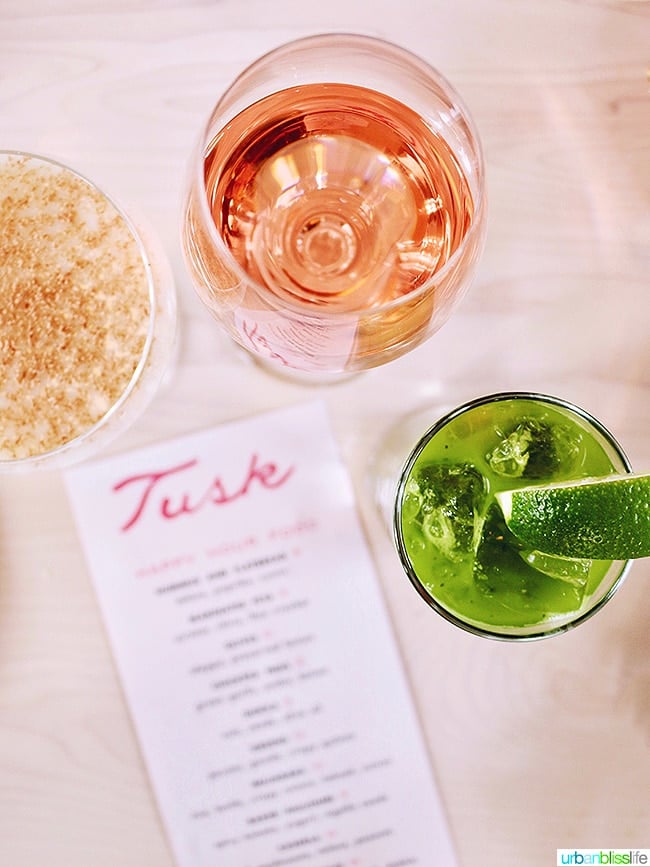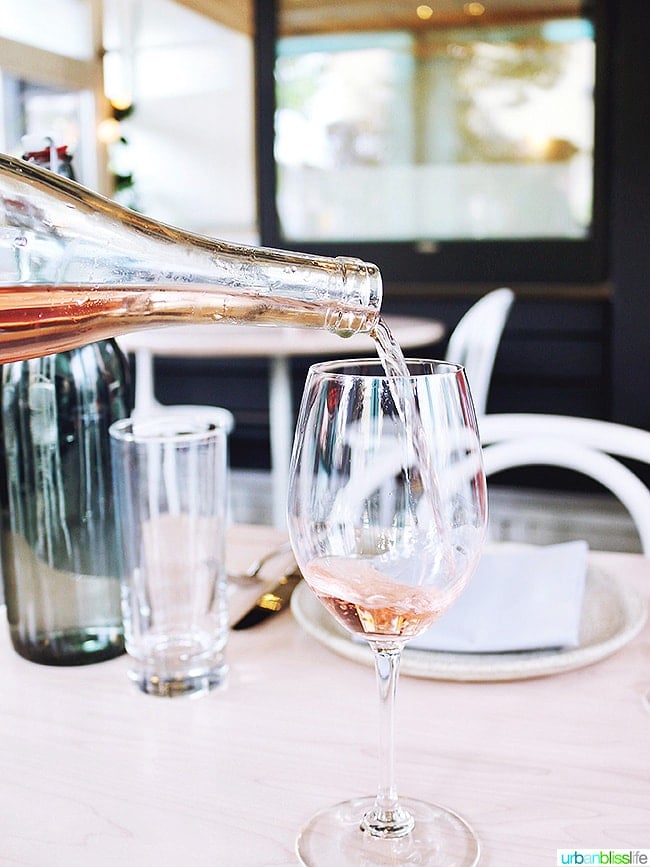 Tusk offers a lovely wine list, and I highly recommend the Soter North Valley Rosé if it's available. A beautiful, elegant rosé to kick off your happy hour.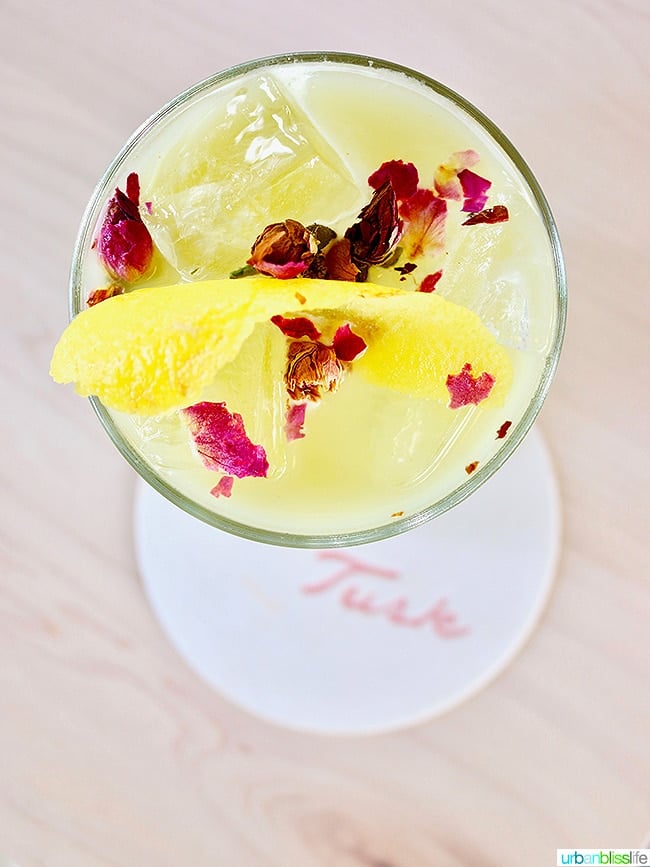 The cocktails are artful and inventive - and totally Instagram worthy. More than that, they are DELICIOUS. The Hazy Jane ($13) is made with Reyka Vodka, almond, hibiscus, ginger, lemon, rose, and yogurt. A luscious, sexy happy hour libation.
Happy hour food
The Happy Hour includes some of the regular menu at slightly lower prices, and some special additions. Here's what I would suggest ordering for your Tusk weekend happy hour.
Marinated feta ($5) - za'atar, citrus, flax crackers. The crackers are perfect!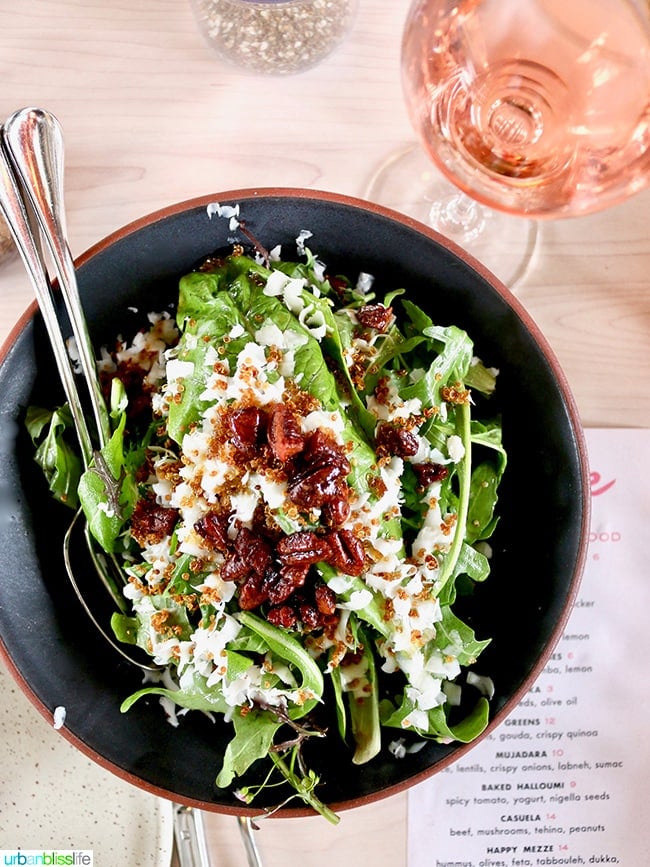 Greens ($12) - pecans, gouda, crispy quinoa. Love this salad. It looks light - and it is - but it packs a punch with the pecans and quinoa, and is quite satisfying.
Chickpea Fries ($6) are served with green garlic, amba, and lemon. The Hummus & Flatbread ($6) is always a good starter option, and the hummus has tehina paprika, and cumin.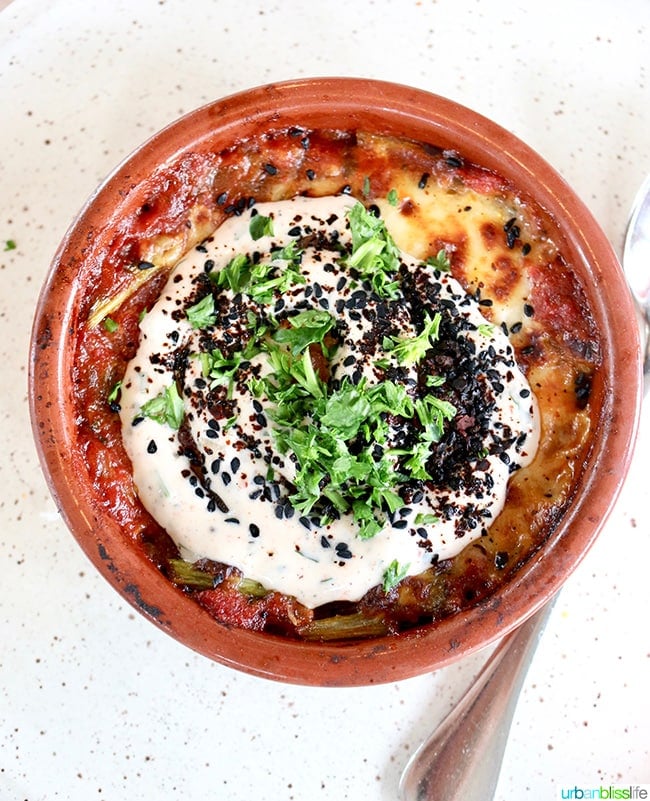 Baked Haloumi ($9) - spicy tomato, yogurt, nigella seeds. So good!
Mujadara ($10) - rice, lentils, crispy onions, labneh, sumac. This is a great dish to share with friends.
Casuela ($14) - beef, mushrooms, tahina, peanuts. THis is my personal favorite. I'm a big fan of casuelas in general, and Tusk makes them so well.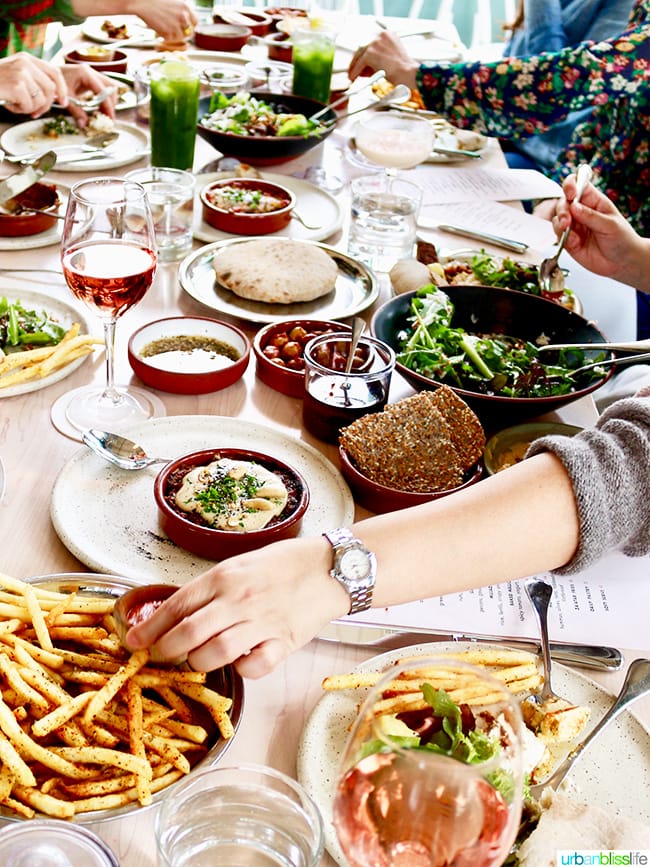 If you're looking for a fun mid-afternoon spot to enjoy the afternoon with friends over beautiful cocktails and delicious Middle Eastern treats in a light and bright setting, I highly recommend Tusk's weekend happy hour!
Dining at Tusk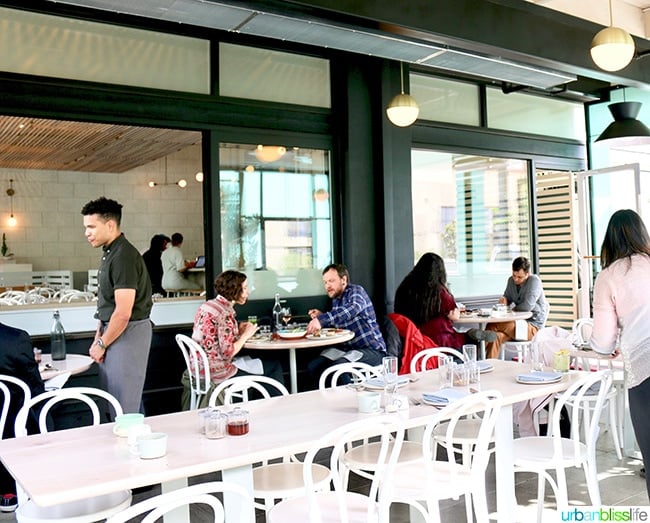 Tusk restaurant
2448 EAST BURNSIDE STREET
PORTLAND, OREGON 97214
503.894.8082
HOURS:
MON–WED: 5PM–10PM
THURS-FRI: 5PM-11PM
SAT: 9AM–11PM
SUN: 9AM–10PM
Weekend Happy Hour: 2:30 -5pm
Visit the Tusk restaurant website for more info
I attended a complimentary media happy hour. As always, all opinions and photos are my own. I adore Tusk, and have visited here several times separately on my own dime. Highly recommend!